Brookville Hotel Creamed Corn is a fantastic way to prepare frozen corn. No one will guess that this was so easy to cook. Give this one a try, when you want to dress up your corn!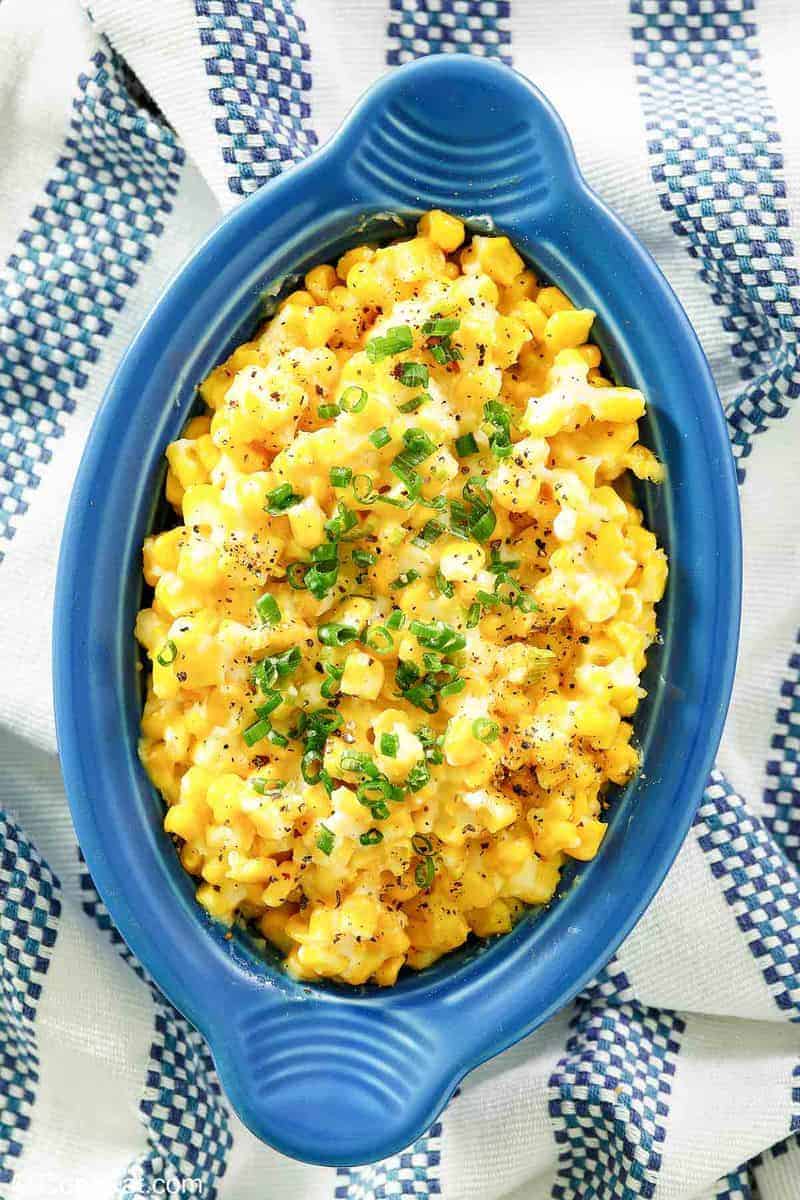 Creamy-Style Corn
Creamed corn may not be as popular as it once was, but that doesn't mean that it isn't still a favorite side dish for a lot of folks. This recipe for homemade creamed corn comes from the famed Brookville Hotel in Abilene, Kansas. Sadly, the hotel and restaurant closed down, but that doesn't mean you can't enjoy its famous creamed corn.
Whatever you do, don't confuse creamed corn for cream-style corn. They are two very different dishes. To get the most from this recipe, you need to use heavy whipping for its rich, creamy taste. Don't skimp and go for half and half or milk. You'll regret it. Make Brookville Hotel Creamed Corn the right way, and it is perfect for any meal and good enough for company!
Talking Corn
Some people think corn is corn, but that's not right. There are six different types of corn grown commercially in the US, and the two that are the best for making homemade creamed corn are waxy and sweet corn.
Each variety of corn gives the dish a bit of a unique taste. Since waxy corn has a low sugar level and a lot of starch, creamed corn made with waxy corn is more savory. For some people, using sweet corn in creamed corn can make the dish almost too sweet. So, choose according to your own preferences.
If you choose to go the waxy corn route, there is a good chance that you won't see the term 'waxy corn' used at the store. You can pretty much guarantee that unless the store advertises corn as 'sweet,' it is waxy.
Creamed Corn With Frozen Corn? Why?
These days, frozen vegetables get a bad rap, and it isn't deserved. In fact, frozen vegetables are often of higher quality and have more nutrition than fresh.
Why? Because unlike so-called fresh produce that has been shipped cross-country, stored for who knows how long and who knows where, frozen veggies are usually picked, processed, and quick-frozen in a day or two. Of course, frozen corn also lasts for months in the freezer and is a heck of a lot cheaper than fresh corn on the cob.
How to Make Creamed Corn From Frozen Corn
It is best to take the corn you plan to use out of the freezer and put it in the fridge the night before. But if you forgot, you can use the microwave.
Pour out the frozen corn into a microwave-safe bowl and use the quick defrost setting at one-minute intervals. Give the corn a good stir, and then back it goes into the microwave for another minute. Be careful you don't overcook the corn.
Avoid cooking directly from frozen for the best taste and texture.
Tips For Serving and Storing Creamed Corn
Serve creamed corn with fried chicken or pork tenderloin. Creamed corn goes well with just about any red meat. It even makes a surprisingly good filling for omelets.
Store creamed corn in an air-tight container in the fridge for 3 to 5 days. Creamed corn freezes surprisingly well. Fill a freezer bag halfway full and freeze laying down flat.
Our recipes look as good as they taste. Check them out on Instagram!
Where is the Brookville Hotel?
The Brookville Hotel is a famous restaurant located in Abilene, Kansas. It is so well known and highly regarded in Kansas that it's officially listed as a finalist for the 8 Wonders of Kansas.
Brookville Hotel has been serving one main dish since 1915 – family-style fried chicken dinners. With your fried chicken, you can enjoy several tasty accompanying side dishes; mashed potatoes and cream gravy, cream-style corn, sweet and sour coleslaw, relishes, and biscuits with butter and preserves. Mmmm….very good!
And for dessert, homestyle ice cream. It's about as legendary a menu as you can find in Kansas.
More History of the Brookville Hotel
The original hotel dates back to 1870 and was located in Brookville, but it was later relocated to Abilene. The new building was made to look as much like the original as possible, and the décor retains the look and feel of the first restaurant.
Inside you will find colorful Kansas murals, and the famous menu is still served on Blue Willow plates. It has been named one of America's Classics by the James Beard Foundation and is the most recognizable eatery in all of Kansas.
If you aren't from the Abilene area but find yourself there someday, don't forget to check it out.
A Brief History of Corn
Corn is native to the Americas and was grown by Native Americans thousands of years before Christopher Columbus arrived on the scene. In fact, petrified corn cobs have been discovered that are thousands of years old.
Native Americans called corn mahiz which means "that which sustains us." Early European settlers transformed the word mahiz to maize, and over time it became known as Indian corn. Columbus took corn back to Spain from where it spread to the rest of Europe and eventually the world.
Corn was a Life Saver
The earliest American settlers may very well have died from starvation if the Native Americans hadn't introduced them to corn. They taught the settlers how to grow it. Kernels were planted in small holes along with small fish to act as a fertilizer.
The Indians also shared the various ways they prepared corn, such as pounding it into meal to make cornbread, corn cakes, corn pudding, and corn soup. Corn was also valuable to the early settlers in other ways – they used it as money and to trade for meat and furs.
Brookville Hotel Creamed Corn
You don't have to travel all the way to Kansas to enjoy creamed corn that tastes just as good as Brookville's. My recipe is so easy and is made with frozen corn. Fellow viewer, Kate Moore has carried this recipe with her for years.
Ingredients
Here's a list of what you need:
Frozen corn
Whipping cream
Salt
Sugar
Cornstarch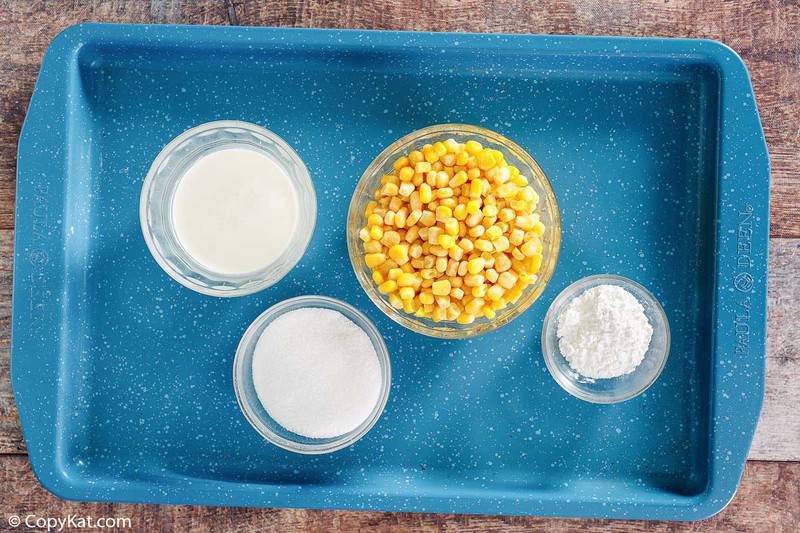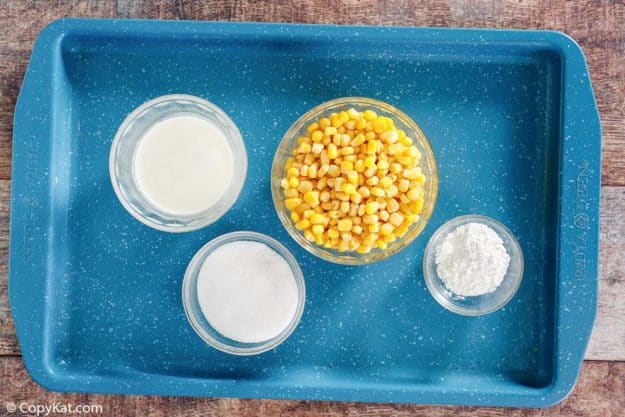 How to Make Creamed Corn with Frozen Corn
Place salt, sugar, cream, and corn in a saucepan.

Bring to a boil then reduce to low and simmer.
Combine cornstarch with cream and add the mixture to the saucepan, stirring constantly.
Cook until creamed corn is thickened.
It comes out thick and creamy, and what's more, it's gluten-free. Creamed corn, even outside of Kansas, never tasted so good.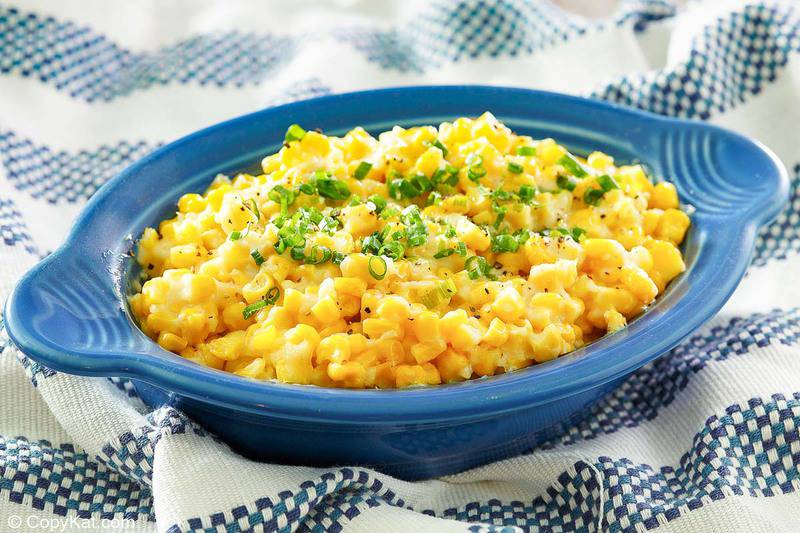 Want some more ways to serve corn? Try these recipes!
Favorite Holiday Side Dish Recipes
Be sure to check out more easy side dish recipes and the best restaurant copycat recipes right here on CopyKat.com!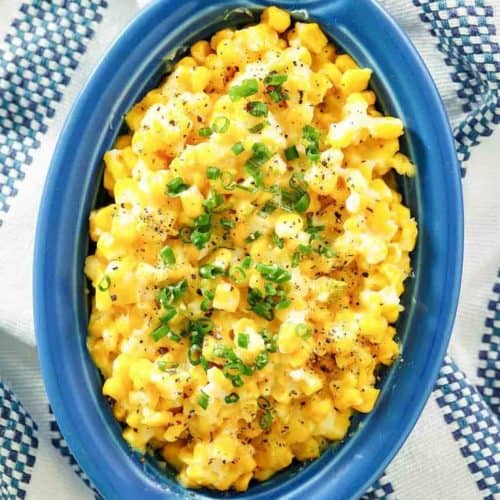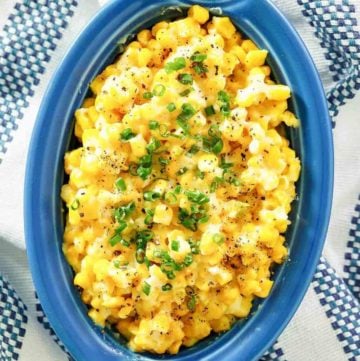 Ingredients
2 1/2

pounds

frozen corn

thawed

3/4

cup

whipping cream

1

teaspoon

salt

3

teaspoon

sugar

2

teaspoons

cornstarch
Instructions
Add salt, sugar, cream (reserve a bit to smooth out cornstarch) to corn bring to a boil, reduce to low or simmer. Thicken with cornstarch and reserved cream. Heat to desired thickness.
Nutrition
Calories:
223
kcal
|
Carbohydrates:
35
g
|
Protein:
5
g
|
Fat:
9
g
|
Saturated Fat:
5
g
|
Cholesterol:
30
mg
|
Sodium:
306
mg
|
Potassium:
433
mg
|
Fiber:
3
g
|
Sugar:
1
g
|
Vitamin A:
330
IU
|
Vitamin C:
10.3
mg
|
Calcium:
20
mg
|
Iron:
1
mg