Make California Pizza Kitchen Sedona White Corn Tortilla Soup at home. The tortillas provide the thickening for this very special CPK tortilla soup while also adding that unique corn masa flavor.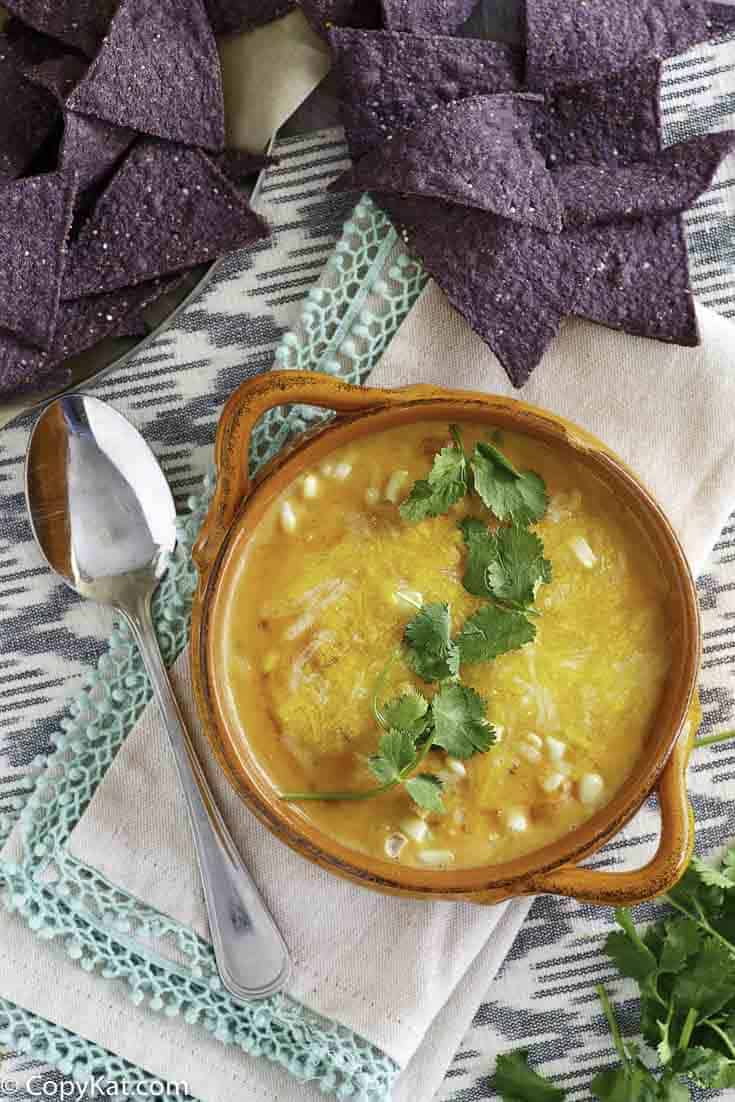 You really can recreate this famous soup recipe at home. All of these ingredients are easy to find, and in no time at all you can make a delicious bowl of soup.
What makes California Pizza Kitchen Sedona White Corn Tortilla Soup so good?

Fresh ingredients make for a delicious bowl of soup. Sure, you can always open up a can of soup, but it is easy to make a tasty bowl of soup in no time at all.
What is Masa?
Traditional Central American and Mexican food would not be the same without masa. Although the word masa literally translates as dough, it might just as well mean food. Without masa there would be no tortillas or tamales. Masa harina is a very soft flour used to make masa dough. This flour is prepared from finely ground dried corn kernels that have previously been cooked and left to soak in limewater. It's this alkaline solution that imparts to corn tortillas and tamales their distinctive and pleasing sour flavor.
About California Pizza Kitchen (CPK)
The first CPK opened In Beverly Hills in 1985. The original CPK menu served innovative, hearth-baked pizzas with a California twist, such as the Original BBQ Chicken Pizza and the Thai Chicken Pizza, that were cooked in an open kitchen. The restaurant gave California a place in the pizza hall of fame alongside New York and Chicago. CPK was not content to stay in California, and now there are more than 250 locations in more than 30 states and 11 countries.
Those interested in CPK recipes can pick up a copy of The California Pizza Kitchen Cookbook. Books are available in CPK restaurants or at their website. All of the proceeds from the cookbooks are donated to children's charities across the country.
CPK Menu – Not Just Pizza and Salad
Brian Sullivan, Senior Vice President of Culinary Development for CPK stated:
For a long time, salad was the only starter we offered. Then we opened in Chicago and we were overwhelmed with requests for soup. In response, we began offering the Sedona Tortilla Soup and it was an instant hit!
Here are some more copycat California Pizza Kitchen recipes for you to try:
California Pizza Kitchen Pumpkin Cheesecake – this is a perfect cheesecake for the fall holidays, their cheesecake recipe isn't a secret anymore.
California Pizza Kitchen Kitchen Chopped Salad with Herbed Vinaigrette
California Pizza Kitchen Thai Chicken Pizza
California Pizza Kitchen Chicken Tequila Fettuccine
California Pizza Kitchen Original BBQ Pizza – you can make this special dish at home, our version of the recipe is no secret.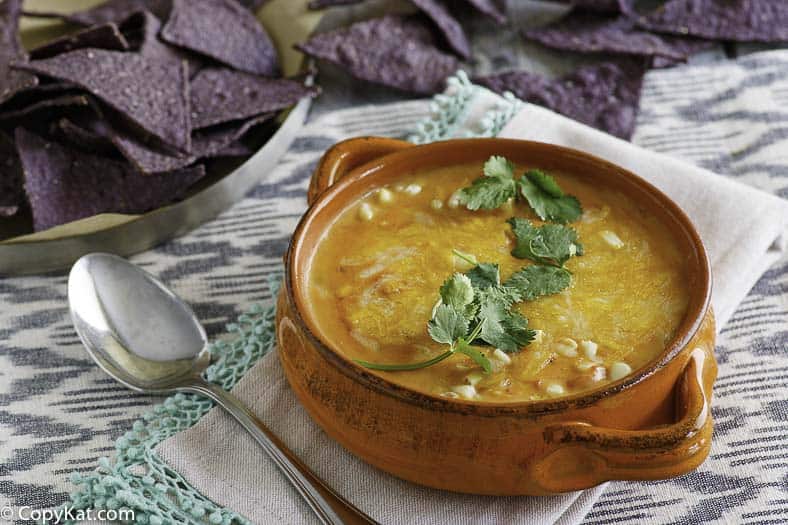 Ingredients
3

tablespoon

Olive Oil

7

corn tortillas

1 1/2

tablespoon

garlic

minced

2

tablespoon

white onion

minced

1 1/2

teaspoon

jalapeno pepper

minced

1

pound

White Corn kernels

1 1/2

pounds

tomatoes

chopped

1/3

cup

Tomato Paste

2 1/2

teaspoons

cumin

1

tablespoon

Kosher salt

1/8

teaspoon

ground White Pepper

1/2

teaspoon

Chili Powder

1 1/2

cup

water

1

quart

chicken stock

24

blue

corn tortilla chips

(optional garnish)

2

cup

shredded cheddar cheese

1/2

cup

cilantro

chopped
Instructions
Over medium-high heat, fry tortilla squares in olive oil until they begin to crisp and turn a golden yellow. Add garlic, onion and jalapeno; cook 1 to 2 minutes, until onion becomes translucent.

Add half the corn along with all other ingredients (except garnishes), reserving other half of corn to be added at the end. Bring the soup to a low, even boil. Boil for 5 minutes. Remove soup from heat.

Use a hand-held propeller blade processor to process in batches to the consistency of a course puree. You can also process in batches in a blender. Return the soup to the burner and add the reserved corn. Bring the soup to a boil once again being extremely careful to avoid scorching or burning the soup. Serve, garnished with blue corn tortilla chips, cilantro and sharp cheddar cheese.
Recipe Tips for the Cook
Don't have any masa? - crush up corn tortilla chips in a blender and use this as a substitute for masa
Nutrition
Calories:
352
kcal
|
Carbohydrates:
35
g
|
Protein:
14
g
|
Fat:
18
g
|
Saturated Fat:
7
g
|
Cholesterol:
33
mg
|
Sodium:
1336
mg
|
Potassium:
658
mg
|
Fiber:
4
g
|
Sugar:
8
g
|
Vitamin A:
1430
IU
|
Vitamin C:
19.5
mg
|
Calcium:
255
mg
|
Iron:
2.1
mg