Steak Marsala is a delicious pan-fried steak with a rich and creamy mushroom sauce. It's great for Father's Day, Valentine's Day, or special occasion dinner.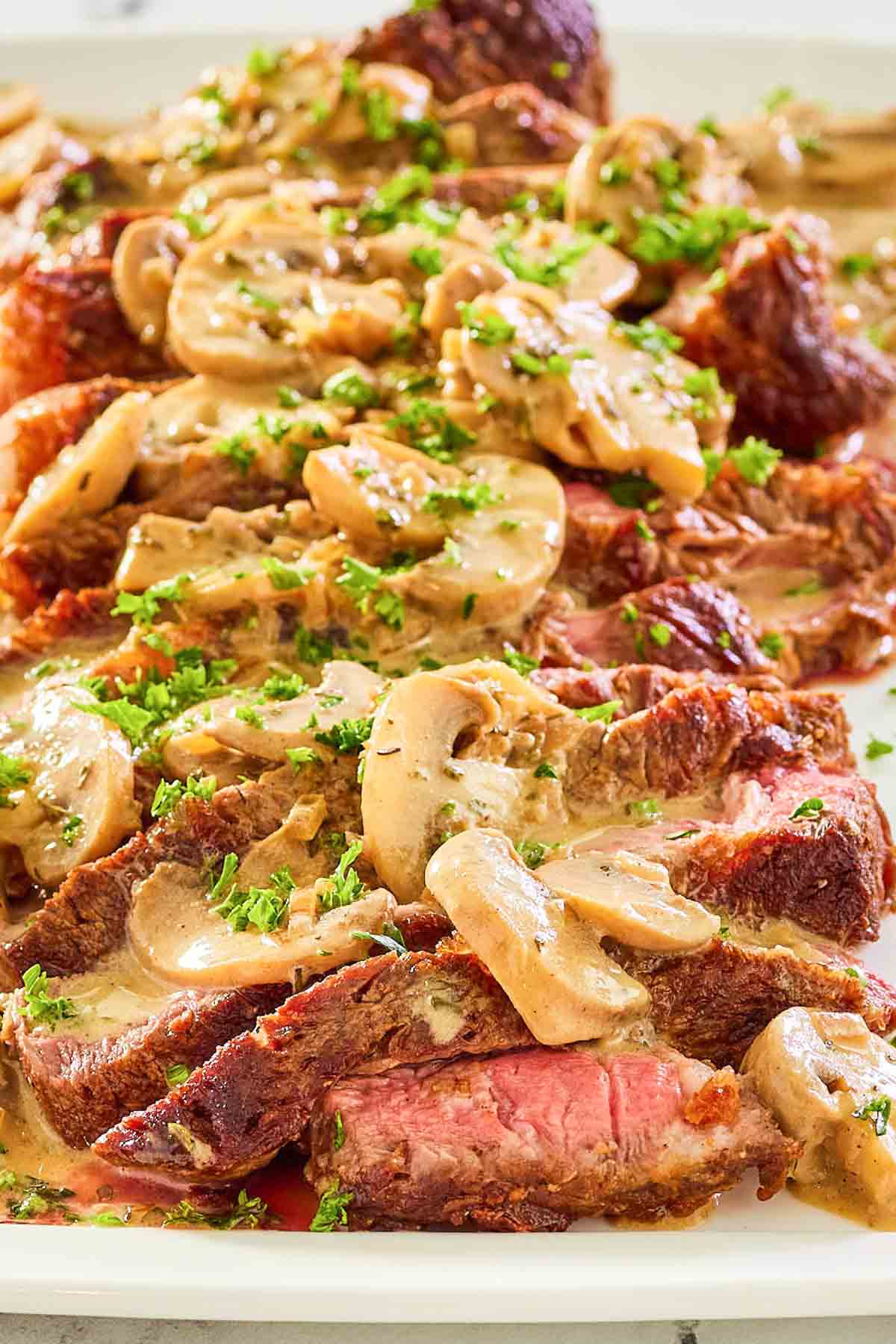 This post contains affiliate links. As an Amazon Associate, I earn from qualifying purchases.
Marsala Steak
This steak marsala recipe is actually a combination of steak Diane and steak Marsala. I had planned to make steak Diane but found I didn't have the right alcohol for Diane. So, I used Marsala instead of brandy which most steak Diane recipes require. This Marsala recipe is the happy accident that resulted!
To make either steak recipe, you quickly sear the steak in butter before adding shallots. For steak Marsala, you then create a rich, creamy sauce made with Marsala wine and finished with Dijon mustard. Marsala sauce is a classic Italian sauce that is rich, luxurious, creamy, bursting with savory mushrooms, and infused with pungent shallots and fresh parsley.
Why This Is the Steak Marsala Recipe You Should Try
If you already love Chicken Marsala, don't just limit Marsala sauce to chicken. It's great on steak too! This recipe gives you a wonderful mushroom marsala sauce for steak. Steak Marsala is loaded with complex flavors and textures.
Marsala sauce is one of those things that will make you sit back and say aah! as your tastebuds savor the moment. Steak Marsala with a buttery mushroom Marsala sauce will be a show-stopper for your next dinner party. This steak Marsala recipe is easy enough for busy weeknights but dressed up enough for entertaining!
Easy Steak Marsala Recipe Ingredients
Steak
Shallots
White mushroom caps
Dry Marsala
Dijon mustard
Worcestershire sauce
Heavy cream
Unsalted butter
Salt
Parsley leaves
What Is the Best Steak to Use
You want a tender cut of meat for this easy steak marsala recipe, such as filet mignon (aka tenderloin), sirloin, or ribeye. Sirloin steak is an option but it isn't as tender as the others. Check out this guide to 17 types of steak.
How to Choose the Right Marsala for This Recipe
Marsala is a wine fortified with brandy. It is produced in Marsala, Sicily, and gets its unique flavor from grapes that are only grown there. Marsala can be either dry or sweet. For more info, read this comprehensive article on Marsala wine.
Dry Marsala is deep in color with an unmistakable flavor. Dry Marsala is used in this steak Marsala recipe because thick, juicy steaks stand up nicely to a robust dry Marsala sauce.
How to Make Steak Marsala
This is an easy steak Marsala recipe. Here are the steps in brief:
Season a steak with salt and black pepper and let it rest for about 20 minutes.
Melt butter or olive oil in a skillet over medium-high heat.
Place the steak in the skillet. Sear and cook it to your preferred doneness. Medium rare is recommended.
While the steak is cooking, add the shallots and cook until translucent.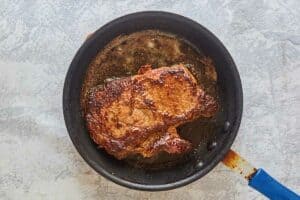 Remove the steak and keep warm.
Cook the mushrooms until soft.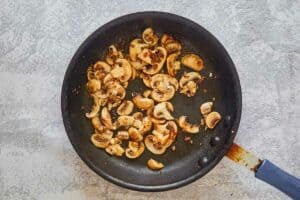 Add the Marsala and ignite.
After burnout, add the mustard, cream, butter, and Worcestershire sauce. Stir or whisk to combine.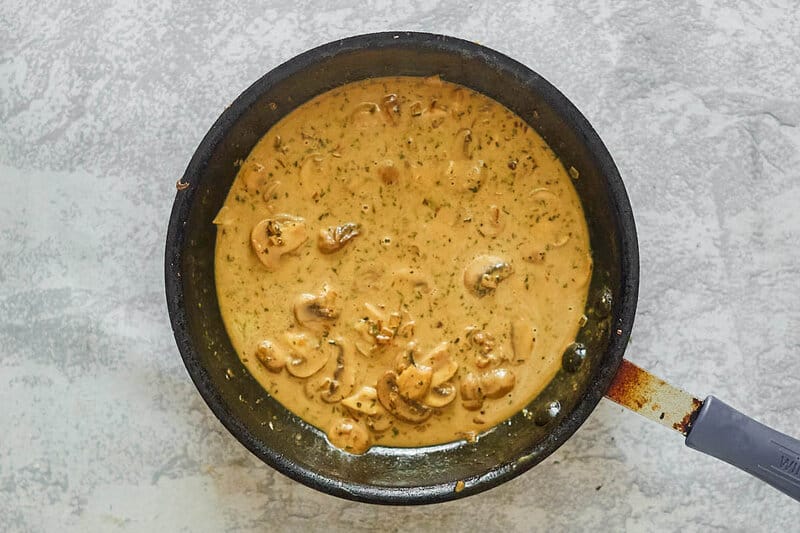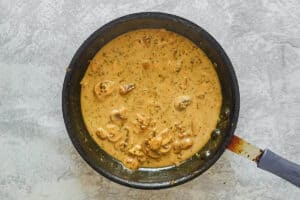 Serve the mushroom marsala sauce over the steak and garnish with fresh parsley or fresh thyme.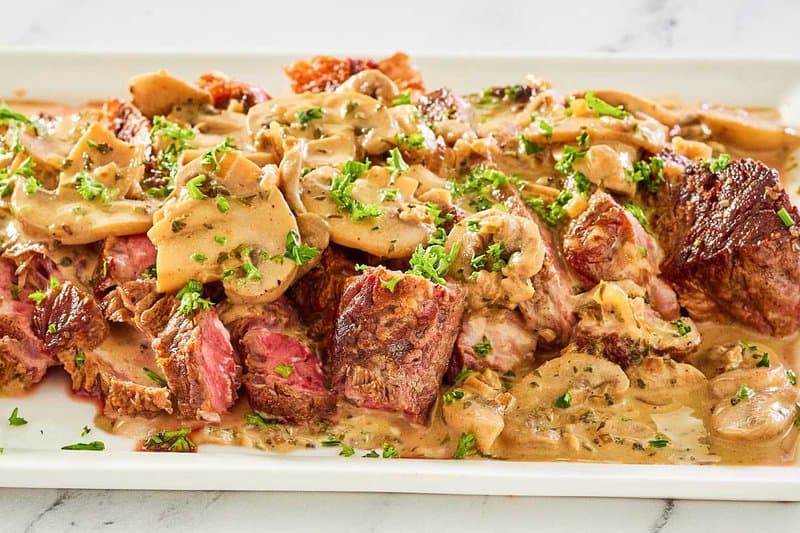 Recipe Notes
This recipe will give you a medium-rare steak. However, note that the thickness of the steaks determines the cooking time, not the weight.
It's a good idea to pull your steaks when they are a little under your desired doneness; they will continue to cook while resting.
Be careful not to overcook the sauce by letting it reduce for too long.
Skillet Cooking Steak Guide
Thaw steaks in the refrigerator overnight.
One hour prior to cooking place on a platter at room temperature. This allows the meat to cook more evenly.
Preheat a cast iron skillet, griddle pan, or skillet to medium-high. Season steaks liberally and place in skillet. Follow the cooking times below.
Remove steaks from heat when they are 5 to 10 degrees from your ideal done temperature. The residual heat will cause the temperature of your steak to rise while resting. Remove the steaks from the pan and allow them to rest for 5 to 10 minutes.
This guide is courtesy of Omaha Steaks:
Thickness
1/2″
3/4″
1″
1 1/4″
1 1/2″
1 3/4″
2″
Rare
120°- 130°F
First Side
After Turning
2
2
4
2
5
3
5
4
6
4
7
5
8
6
Medium Rare
130°-140°F
First Side
After Turning
3
2
4
3
5
4
6
5
7
5
8
6
9
7
Medium
140°-150°F
First Side
After Turning
5
3
5
3
6
4
7
5
7
6
8
7
10
8
Recipe Variations
Chicken Marsala: This marsala sauce goes perfectly with chicken breasts. However, if you use chicken, be sure to cook it thoroughly.
Veal Marsala or Pork Marsala: This mushroom Marsala sauce for steak recipe also shines over veal or pork cutlets.
Marsala: Sweet Marsala is often used for chicken, veal, or pork versions of this dish because the protein is more delicate than that of beef.
Mushrooms: You can use any variety of mushrooms in this recipe! Try a combination of mushrooms for layers of different flavors.
Leeks: If you like a slightly sweeter onion flavor? Substitute leeks for the shallots.
Cheese: If you must have cheese, finish your sauce with a generous sprinkling of freshly grated parmesan, asiago, or pecorino.
Wine: If you don't have Marsala wine but you happen to have Madeira, it can be substituted for Marsala. While Madeira won't taste exactly the same, it will taste similar.
What to Serve With Steak Marsala
How to Store Leftovers
Store: Keep leftovers in a covered container for 2 to 3 days in the refrigerator.
Freeze: Wrap the steak in two layers of plastic wrap and foil, then place it in a plastic zip-top freezer bag. It will be good in the freezer for up to 3 months. When ready to use, thaw the steak in the refrigerator and then follow reheating directions below.
Reheat: Place the steak on a wire rack over a rimmed baking sheet. Cook in a 250-degree Fahrenheit oven for about 20 to 30 minutes or until the internal temperature reaches 100 to 110°F.
Love Beef and Steak? Try These Recipes
Favorite Main Dish Recipes
Find more delicious main dish recipes and the best beef recipes on CopyKat!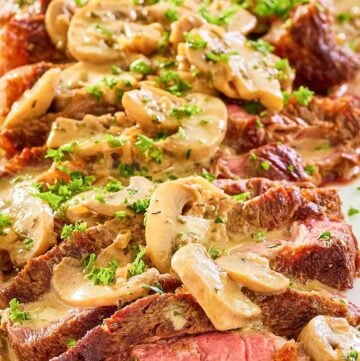 Ingredients
12

ounces

beef filet or other steaks of your choice

1/2

teaspoon

salt

2

tablespoons

unsalted butter

divided use

1

tablespoon

minced shallots

1

cup

sliced white mushroom caps

1/4

cup

dry Marsala

2

teaspoons

Dijon mustard

1/4

cup

heavy cream

2

teaspoons

Worcestershire sauce

1

teaspoon

minced parsley leaves
Instructions
Pat the steaks dry with paper towels and season with salt. Allow them to rest at room temperature for 15 to 20 minutes.

Melt 1 tablespoon of butter in a large skillet over medium-high heat. Add the steaks and cook for 2 minutes on the first side. Turn and cook for about 30 seconds on the second side.

Add the shallots and cook for approximately 30 seconds.

Remove the steaks from the pan and place them on a plate. Cover the steaks with another plate so they stay warm.

Add the sliced mushrooms to the skillet and cook until soft.

Tilt the skillet toward you and add the Marsala. Tilt the pan away from you and ignite the Marsala with a match. (Alternatively, remove the pan from the heat to ignite, and then return to the heat.)

When the flame has burned out, add the mustard, cream, Worcestershire sauce, and the remaining butter. Stir to combine.

Serve the sauce over the steaks and garnish with minced parsley leaves.
Nutrition
Calories:
739
kcal
|
Carbohydrates:
8
g
|
Protein:
33
g
|
Fat:
59
g
|
Saturated Fat:
29
g
|
Cholesterol:
189
mg
|
Sodium:
798
mg
|
Potassium:
767
mg
|
Fiber:
0
g
|
Sugar:
4
g
|
Vitamin A:
785
IU
|
Vitamin C:
1.8
mg
|
Calcium:
38
mg
|
Iron:
4.6
mg