New York Strip Roast with herb crust is a wonderful dinner. Nothing beats a perfectly cooked beef roast that's tender, juicy, and full of flavor.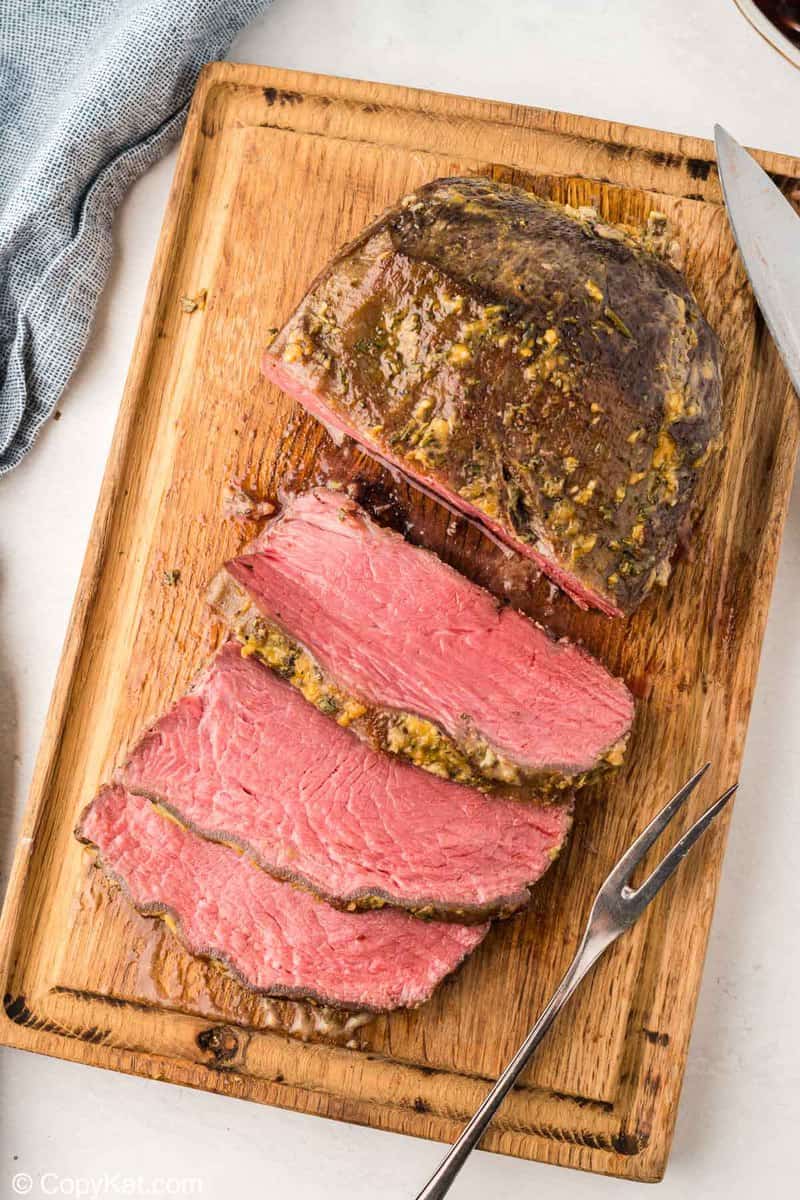 Roast Beef Dinner
Roast beef is perfect for dinner during the holidays or for a special occasion. It's easy to make and will impress your diners.
There are many beef cuts to consider, but a strip loin makes a succulent, elegant roast beef and a wonderful centerpiece for your table. Strip loin is a tender cut of beef with great flavor and texture. When you cook it well, you will receive rave reviews.
Meat Selection – What to Look for in a Roast
How well a roast beef dinner turns out depends mainly on the type and quality of your chosen beef cut. If you use a cut of beef that is not the most suitable for roasting, your roast may turn out tough or tasteless.
Select a cut of beef that comes from the rib, short loin, or sirloin section of the animal.Cuts from these areas are more tender and flavorful than other cuts and tend to roast well. Conversely, meat with little marbling or connective tissue is not as suitable for roasting. Top sirloin, rib, strip loin, tri-tip, and tenderloin are all excellent choices for a roast.
Learn about the different cuts of beef and how to use them.
Meat Grades
The US Department of Agriculture (USDA) classifies meat into different categories based on the age and color of the beef and the amount of marbling (fat dispersed between the muscle fibers). Marbling relates to how juicy, tender and flavorful the meat will be after cooking.
USDA Prime – This is the highest grade of beef and yields the most amount of marbling. Prime beef is produced from young, well-fed animals and is on the menus of upscale restaurants. Only about 2.9% of beef makes the grade of Prime.
USDA Choice – This meat is of exceptional quality but has slightly less marbling than prime. Choice is the most widely available grade of beef in grocery stores and comprises over 53% of consumable beef.
USDA Select – Select graded meat is generally leaner and has significantly less marbling than prime or choice. Although it is lean, appropriate cooking techniques can achieve savory results.
Why Use Strip Loin?
The strip loin is the larger of the two cuts of meat that make up the T-bone. The smaller tenderloin makes up the other side of the T-bone. Strip loin is easy to roast and much more affordable than prime rib or tenderloin.
Other Names for the Strip Loin
Depending upon where you live this cut of beef can have different names. Here are some of the names you may find for this cut of beef:
Top Loin
New York strip
Kansas City strip
Short-cut beef loin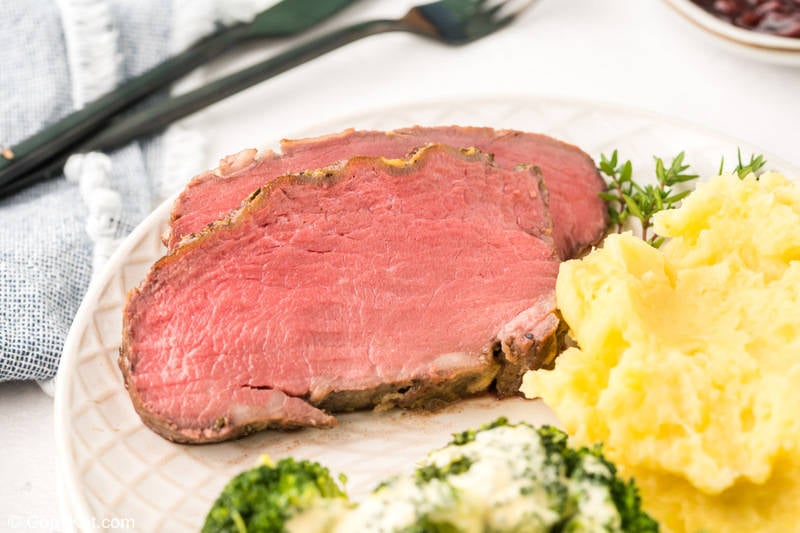 Ways of Seasoning Your Roast Beef
Combine fresh herbs and garlic with salt and pepper in a food processor to form a thick paste. My recipe uses Dijon mustard, garlic, rosemary, and thyme. You could also try brown sugar, garlic powder, onion powder, oregano, thyme, and parsley.
Whatever you use for seasoning, allow 2 tablespoons of marinade for each pound of meat. And keep in mind that salt acts as a kind of meat tenderizer and really gets the meat's juices flowing.
Cooking Your New York Strip Loin
To get the most tender and flavorful roast, low and slow cooking is the way to go. Take your strip loin out of the oven when it is 10 degrees below the temperature you desire. The temperature will go up another 10 degrees as the roast rests. New York roast is most delicious served rare to medium. Here's a guide depending on how well done you want your roast to be.
Rare: 120 degrees F. Remove when the internal temperature reaches 110 degrees F.
Medium-Rare: 130 degrees F. Remove from the oven when the internal temperature reaches 120 degrees F.
Medium: 140 degrees F. Remove from the oven when the internal temperature reaches 110 degrees F.
Frequently asked questions about cooking a short loin roast
Do you need to cover your roast while it is cooking?
The short answer is no. Roasting is a method of cooking meat uncovered in an oven with little or no moisture. To roast beef, you oven-cook it, uncovered, in a shallow pan until it's gloriously brown on the outside but still wonderfully juicy inside. 

How long to cook a strip loin roast
Depending on your roast's size, it will take 25 to 30 minutes per pound. An instant-read thermometer is useful to ensure you don't overcook the roast.

Why you should let the meat rest before slicing
Letting the roast rest after cooking (tented with foil) for about 15-20 minutes allows the juices to redistribute evenly throughout the whole roast. 
Recipe Ingredients
Here's a list of what you need:
New York strip loin roast
Olive oil
Dijon mustard
Garlic
Rosemary
Thyme
Salt and pepper – I prefer kosher salt for this recipe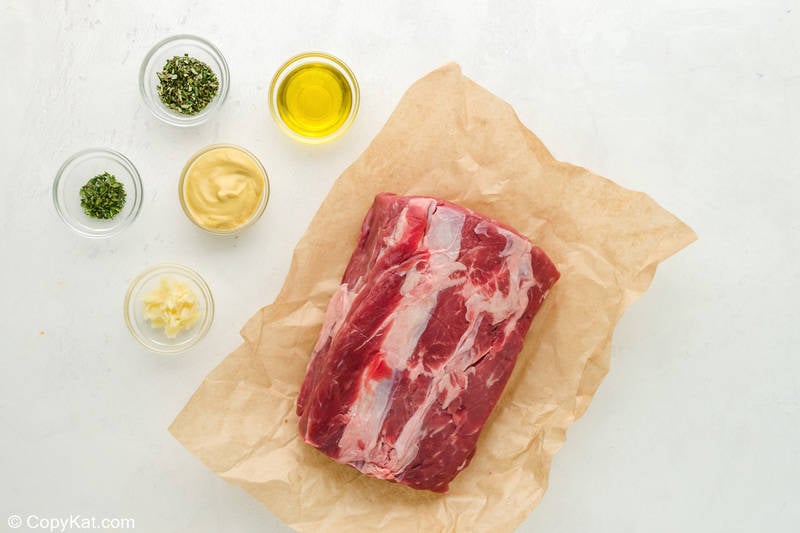 How to Cook a New York Strip Roast in the Oven
Pat beef dry.
Remove excess fat or score fat crosswise.
Sprinkle salt and pepper on the beef.
Heat oil in a pan over medium-high heat.
Sear the beef on all sides until browned.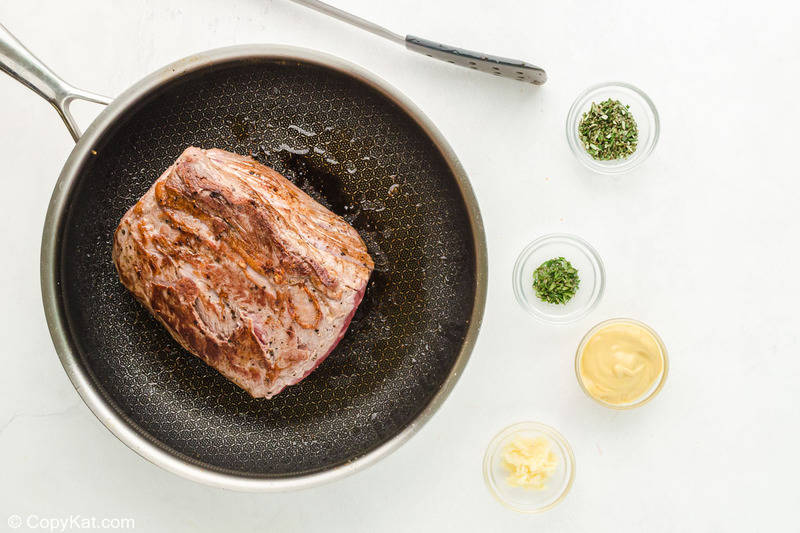 Stir together mustard, garlic, rosemary, and thyme.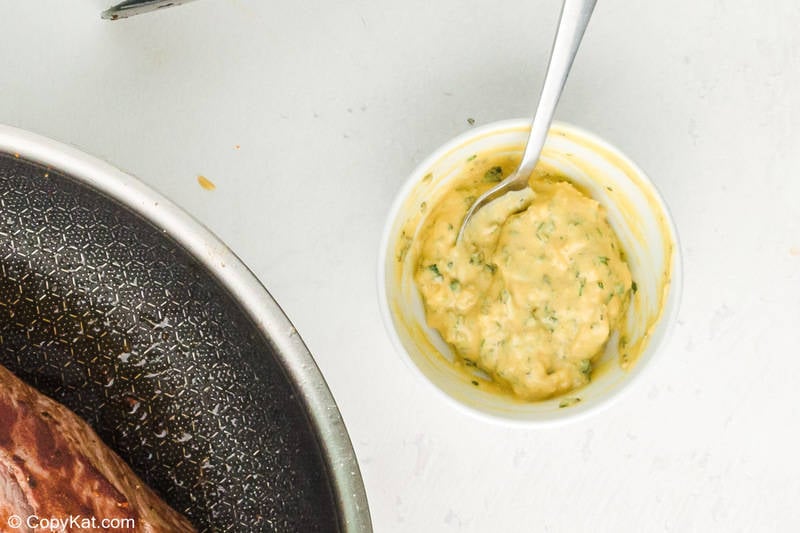 Spread the mixture all over the beef and place it fat side up in a baking pan.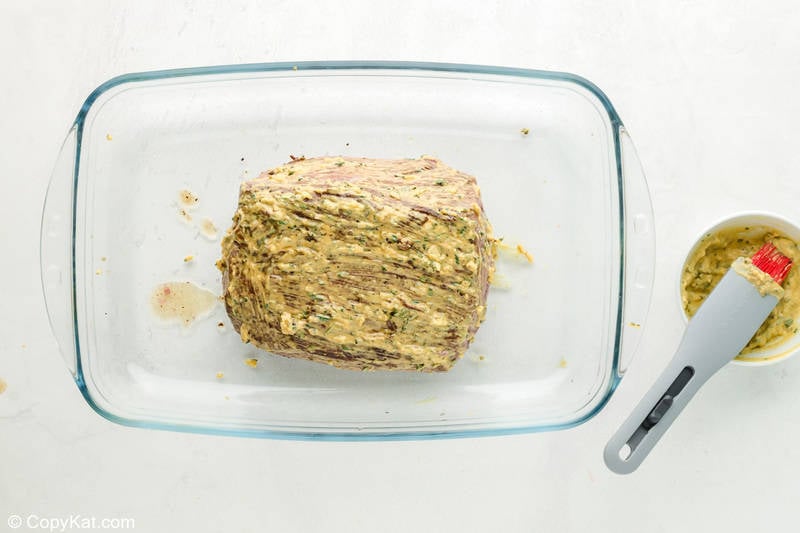 Cook the roast at 325°F in the oven for 2 hours or until the desired doneness is reached.
Let the meat rest for 10 to 15 minutes.
Slice the roast and serve warm or cold.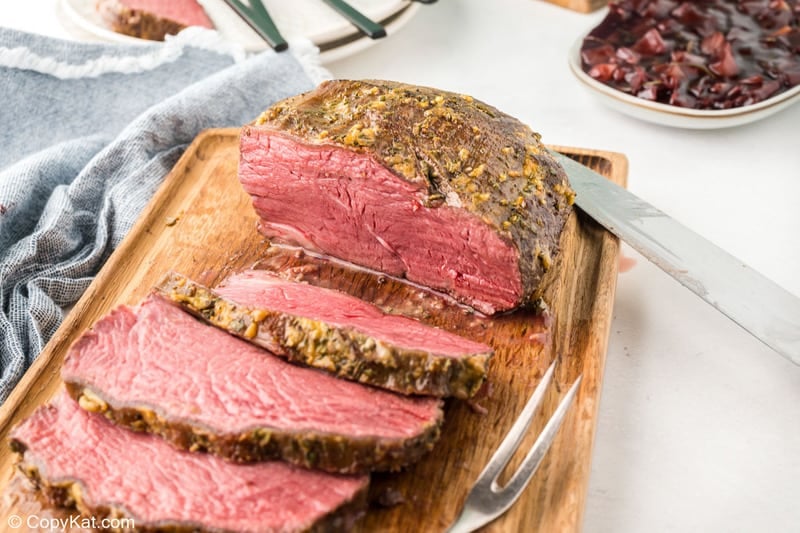 What to Serve With Your New York Strip Roast
Served with roasted potatoes and parsnips and horseradish sauce, it's the quintessential English meal. Here are some other ideas.
How to Store Leftovers
Should you happen to have any leftovers, I recommend waiting for them to reach close to room temperature and then wrap in plastic wrap and store in an airtight container for up to five days in the refrigerator.
Reheat gently by placing the roast in a 350-degree oven and heating through until just warm. You do not want to reheat it for any longer than necessary as the meat may overcook during reheating.
An alternative way to serve the leftovers would be to slice the roast very thin, and then sear off the slices of beef and place them onto a roast beef sandwich.
Love Roast Beef? Try these recipes!
Great Dinner Recipes
Check out more of my roast beef recipes and the best dinner recipes here on CopyKat!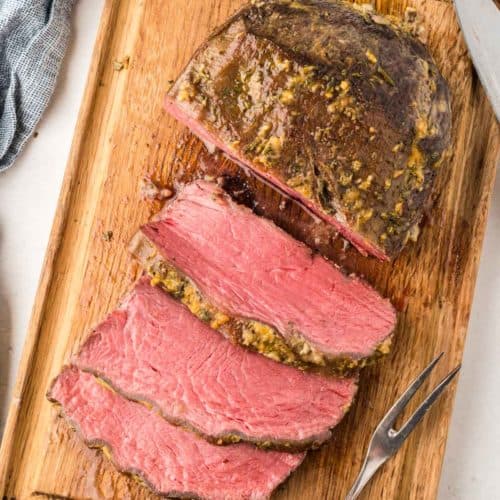 Ingredients
Roast Ingredients
2

pounds

beef roast

2

tablespoons

olive oil
Roast Marinade
2

teaspoons

dijon mustard

2

teaspoons

minced garlic

1

tablespoon

rosemary

chopped

1

teaspoon

thyme

1

teaspoon

salt

1/2

teaspoon

ground black pepper
Instructions
Preheat your oven to 325°F and set aside a baking pan or a sheet pan

Pat the beef dry, remove excess fat, or score fat crosswise if you want to keep it.

Sprinkle both sides with salt and pepper.

Heat the oil in a pan over medium-high heat and sear the beef on all sides for around 2 minutes each until appropriately browned.

Meanwhile, stir together the ingredients for the marinade.

Spread the marinade over the meat and place in your baking pan.

Cook in the oven until the roast reaches your desired level of doneness. I cook a 2 pound roast for about 1 hour.

Let the meat rest for at least 15 minutes before cutting (see notes).
Notes
How long should you cook your roast? 
Look and see how much your roast weighs, it takes about 25 minutes per pound at 325°F for medium-rare. 
Nutrition
Calories:
173
kcal
|
Carbohydrates:
1
g
|
Protein:
24
g
|
Fat:
7
g
|
Saturated Fat:
2
g
|
Polyunsaturated Fat:
1
g
|
Monounsaturated Fat:
4
g
|
Cholesterol:
62
mg
|
Sodium:
371
mg
|
Potassium:
393
mg
|
Fiber:
1
g
|
Sugar:
1
g
|
Vitamin A:
21
IU
|
Vitamin C:
1
mg
|
Calcium:
30
mg
|
Iron:
2
mg