Chicken and Dressing Casserole is a delicious meal. Whether it's Sunday or a weekday, this southern country casserole is a great dinner that's sure to be a favorite.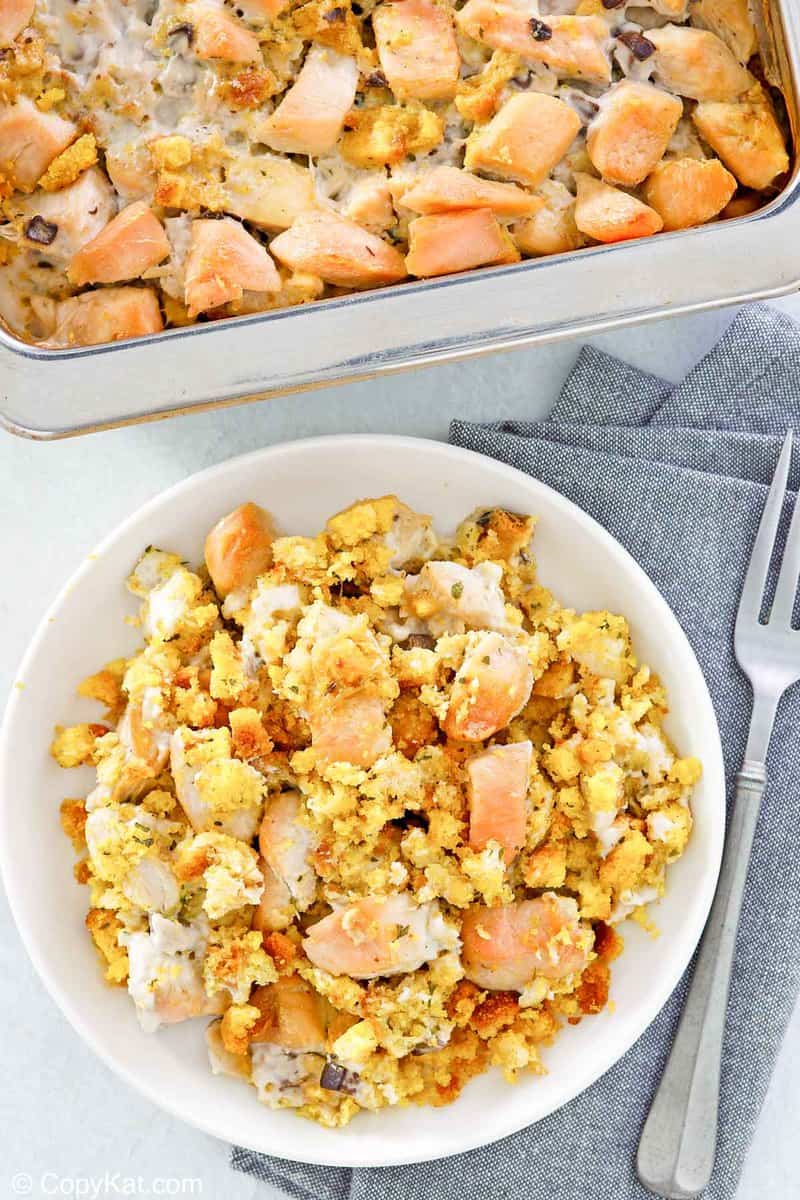 This post contains affiliate links. As an Amazon Associate, I earn from qualifying purchases.
Chicken and Cornbread Dressing Casserole
This chicken and dressing casserole is the perfect Sunday dinner recipe. However, it's so easy you can make this casserole recipe any night of the week in just about 30 minutes. It's a quick, affordable, old-fashioned, cold-weather comfort food.
Chicken and dressing is one of the comfort foods that remind you of dining at Grandma's house. Layers of seasoned chicken and stuffing smothered with a creamy soup, all come together in this delicious chicken and stuffing bake.
This easy-to-make casserole will have you enjoying a familiar taste. This is a chicken dish that's also perfect for potlucks. It is sure to be a favorite of all the chicken and dressing casserole recipes.
Why This Is the Best Recipe for Chicken and Dressing Casserole
If you aren't into making casseroles, this easy chicken casserole recipe will convert you. You'll finally get why people like casseroles so much. Even if you are a beginner cook, you will have success making this dish.
Compared with other chicken and dressing casserole recipes, this one is straightforward and quick. One dish, only a handful of ingredients, and lots of savory flavors!
Using a box of dressing and cooked chicken, you can put together this casserole in just about 30 minutes. What could be better than a meal prepared quickly that tastes just like you spent all day cooking? With this Sunday chicken and dressing casserole, it's like having Sunday dinner on any night of the week!
Your kids will happily finish their plates even if you've sneaked in some veggies. (Any veggie goes in this recipe; it's a great way to use leftovers!)
Recipe Ingredients
Chicken stuffing casserole is totally fuss-free and quick to make with mainly pantry ingredients! Here's what you will need:
Chicken breasts or thighs
Water
Butter or margarine
Cream of mushroom soup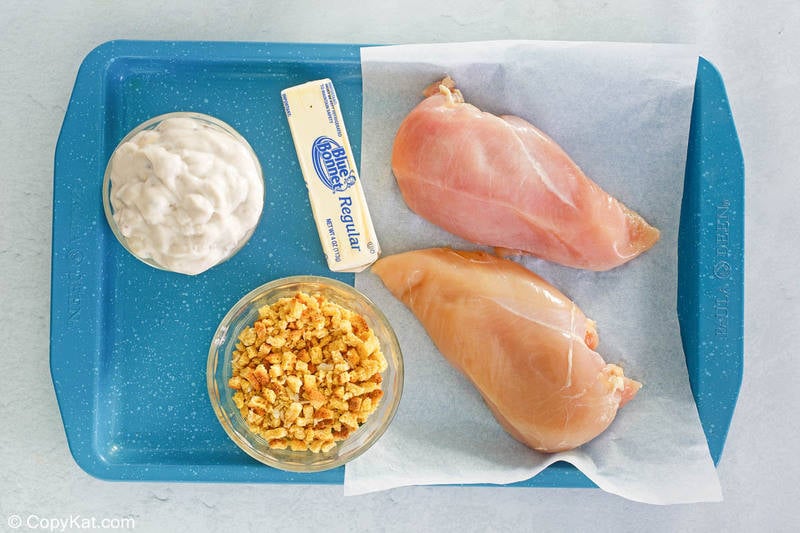 Ingredient Substitutions
If you are watching salt levels, choose low-sodium soup.
Do you have an intolerance to dairy or gluten? Check out this gluten-free and dairy-free chicken stuffing casserole.
Vegans should not be left out! There's a cook that has "veganized" this family-favorite dish from her childhood. See her vegan chicken dressing casserole recipe.
How to Make Chicken and Dressing Casserole
This is a classic chicken casserole recipe that's perfect for your family dinner menu. It does not need hours of prep and cooking. Here's how to make chicken stuffing casserole.
Cook the chicken in water with salt and pepper.
When chicken is done (internal temp of 165°F), remove the chicken from broth and let it cool to room temperature.
Cut the chicken into bite-size pieces.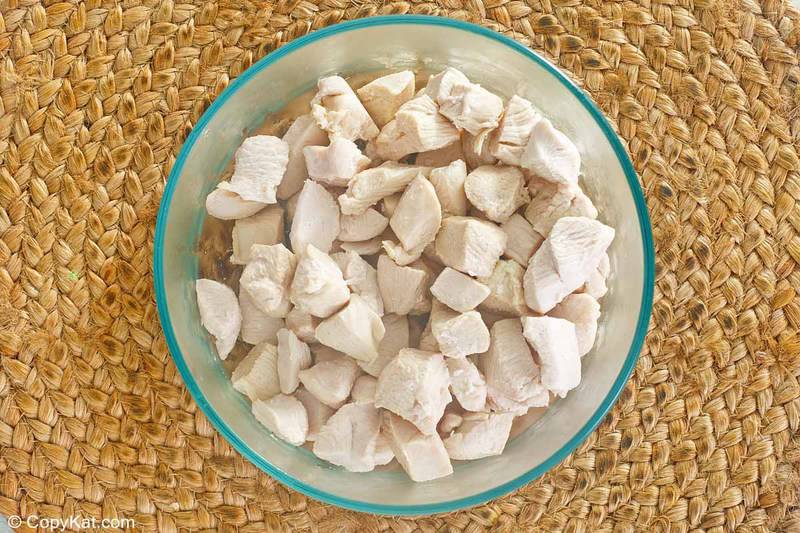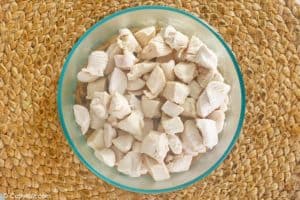 In a bowl, combine broth and cream of mushroom soup.
In a separate bowl, combine dressing mix with melted butter.
Place half of the dressing mix in the bottom of an 8 x 8-inch casserole dish.
Sprinkle half the chicken pieces on top of the dressing.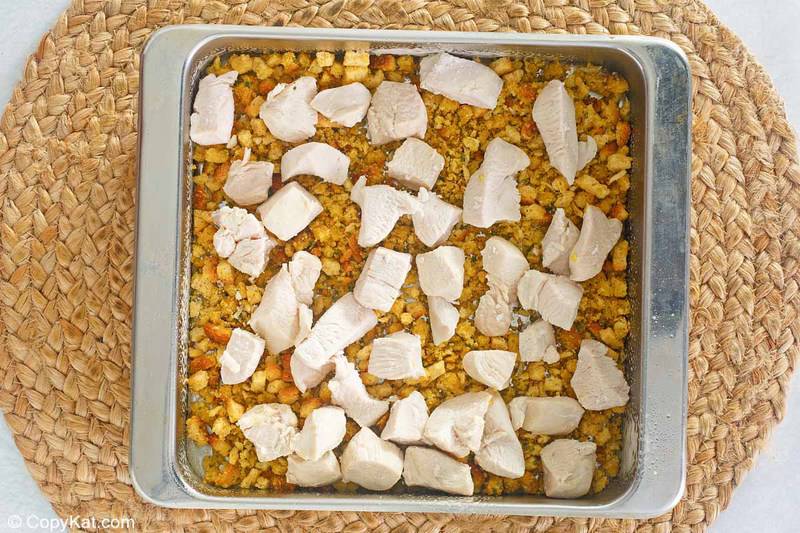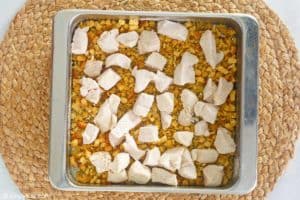 Sprinkle the remaining dressing mixture over the chicken layer.
Place the rest of the chicken on top.
Pour the soup and broth mixture over the entire casserole.
Bake at 350°F for 30 minutes.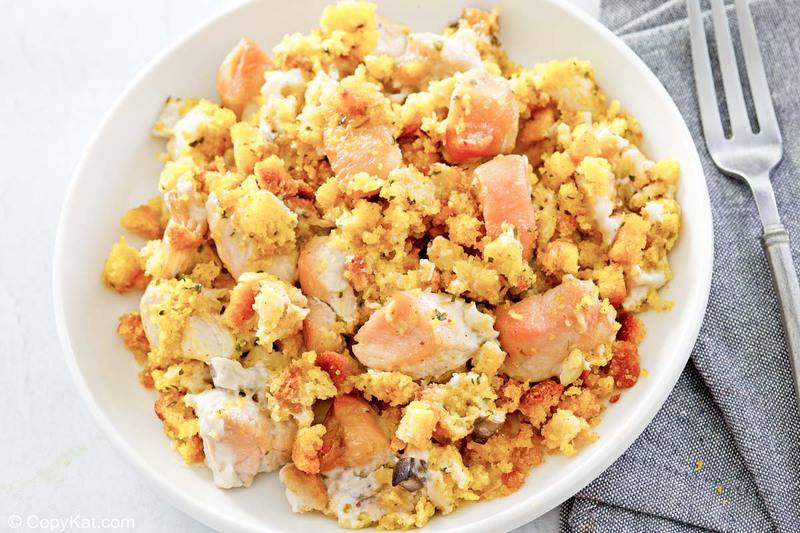 Recipe Variations
This recipe for chicken and dressing casserole lends itself to additions and substitutions. Here are a few suggestions:
You can use leftover chicken or sauté fresh chicken breasts in a small amount of olive oil and butter until thoroughly cooked.
A rotisserie chicken or fully cooked and packaged roasted chicken strips will also work.
Substitute diced leftover turkey for the chicken. Ground beef or ham is also good.
Mix in a cup or two of any cooked veggie – green beans, broccoli, carrots.
Create a pot pie spin by including a package of frozen mixed vegetables.
Add sautéed onions to the stuffing mix.
Vary the soup or mix your soups – e.g., cream of celery, cream of broccoli. Creamed corn also works well.
Top with 1 cup of shredded cheese during the last 5 minutes of baking.
Note: This recipe is perfect after Thanksgiving or Christmas to use up leftover turkey and stuffing. You might even be tempted to make too much stuffing on purpose!
Can Chicken Stuffing Casserole Be Made in a Crock Pot?
Yes, you can make this casserole in your crockpot. Set your crockpot on low for all-day or high for quicker timing. The stuffing may not get as crunchy, but the casserole will still taste yummy.
How to Serve Chicken and Dressing Casserole
This is definitely a tasty and filling chicken dish to put on the dinner table. Serve the casserole with cranberry sauce or creamy coleslaw on the side, along with your family's favorite veggie sides.
What Goes With Chicken and Cornbread Dressing Casserole?
A side of veggies complements this casserole, including:
Can You Make This Easy Chicken Casserole Ahead of Time?
You can prepare the casserole earlier in the day or the night before—cover it with foil and refrigerate it until you're ready to bake. To prevent the stuffing from getting too soggy, don't add the soup until you're ready to bake.
How to Store Leftover Chicken Casserole
Leave the leftovers in the casserole dish, cover the dish with a lid or plastic wrap, and place the covered dish in the refrigerator. The leftovers are good for 3 to 4 days.
To reheat, pop the leftovers in the microwave for 1 to 2 minutes. Easy for next day leftovers at work, too!
If reheating an entire casserole, cover the dish loosely with foil and bake in a 350-degree oven until warmed through (about 20 minutes).
How to Freeze Chicken and Dressing Casserole
Freeze leftover chicken and stuffing casserole in an airtight container or freezer bag.
To freeze uncooked: Wrap tightly in foil, then freeze for up to 3 months. When ready to cook, slowly thaw in the fridge for about 24 hours, then bake as directed. If the dish is still cool when it goes into the oven, you will likely need to increase the total baking time.
Warning: Prebaked casseroles or leftovers that have been refrigerated in a glass baking dish should not go directly into a hot oven because the glass may shatter. When ready to bake, allow the dish to sit on the counter and come to room temperature for at least 30 to 60 minutes.
Favorite Dinner Casserole Recipes
Popular Chicken Dinner Recipes
Check out more of my easy casserole recipes and the best chicken recipes here on CopyKat!
Thanks to Kaye Hanson for sharing this recipe.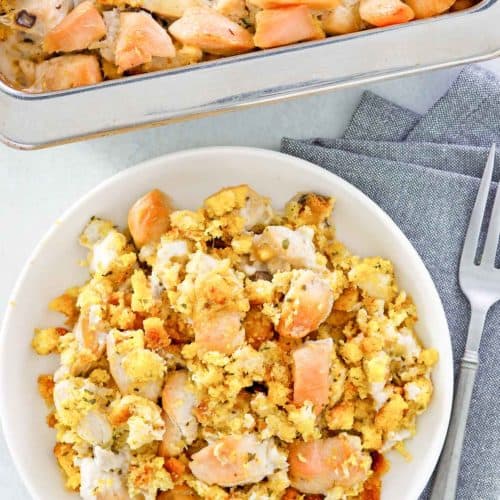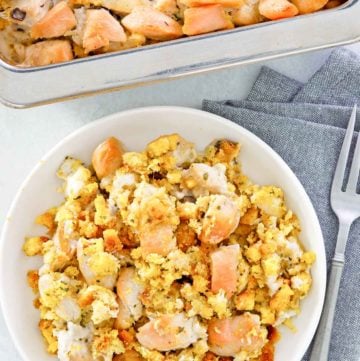 Ingredients
3

pounds

boneless, skinless chicken breasts or thighs

3

cups

water

10.25

ounces

cream of mushroom soup

1/4

cup

melted margarine or butter

8

ounces

cornbread stuffing/dressing mix

salt and pepper

to taste
Instructions
Preheat the oven to 350°F.

Cook the chicken in 3 cups water with salt and pepper.

When the chicken is cooked through, remove it from the broth, let it cool, and cut it into bite-size pieces.

Reserve 1 1/2 cups broth.

Combine the reserved broth with the cream of mushroom soup.

In a medium-size bowl, combine the stuffing mix with the melted margarine.

Cover the bottom of an 8×8-inch casserole dish with half of the stuffing.

Sprinkle half of the chicken evenly on top.

Add the rest of the stuffing over the chicken

Top with the remaining chicken.

Pour the soup mixture over the entire casserole.

Bake for 30 minutes.
Nutrition
Calories:
1035
kcal
|
Carbohydrates:
35
g
|
Protein:
66
g
|
Fat:
64
g
|
Saturated Fat:
22
g
|
Cholesterol:
289
mg
|
Sodium:
5116
mg
|
Potassium:
734
mg
|
Fiber:
0
g
|
Sugar:
0
g
|
Vitamin A:
830
IU
|
Vitamin C:
5.4
mg
|
Calcium:
49
mg
|
Iron:
3.6
mg