Do you love one-pot meals? I have one for you! It's this Instant Pot Italian Sausage Pasta with Marinara Sauce.
This post contains affiliate links. As an Amazon Associate, I earn from qualifying purchases.
Quick and Easy Instant Pot Italian Sausage and Marinara
An electric pressure cooker is a great way to put a hearty meal on the table in no time. Sometimes we are all hard-pressed thanks to work to put together a quick meal.
Your Instant Pot is a great way to speed up dinner. This Instant Pot Italian Sausage and Sauce recipe is a great way to quickly put together a large inexpensive meal on the table quickly. And you may not realize it, but you can cook pasta in an Instant Pot.
Instant Pot Italian Sausage Ingredients
To make this recipe, here's what you need:
Olive oil
Italian sausage links
Pasta sauce
Pasta
Water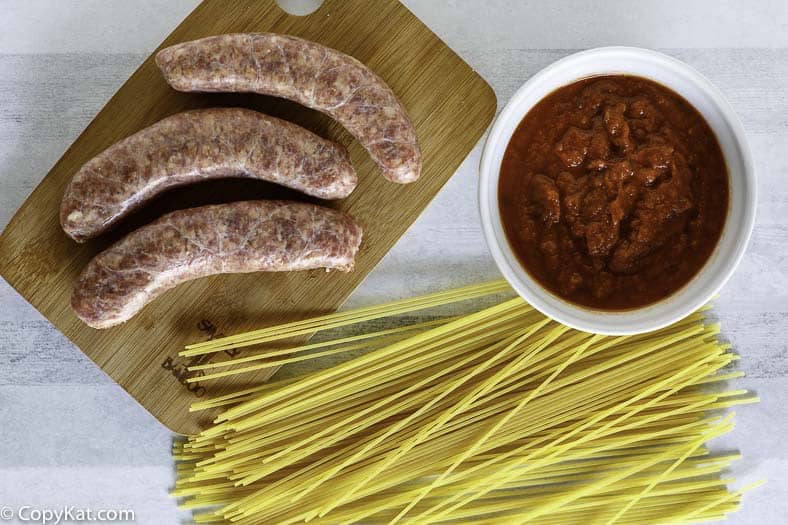 Spaghetti and Sausage Ingredient Notes
This recipe calls for 1 pound of Italian sausage. It is cooked along with the pasta and the sauce so it makes for a great one-pot meal. When Italian sausage cooks in pasta sauce it adds so much flavor.
You can use an inexpensive sauce because the Italian sausage will do the work of flavoring the sauce.
We add water to the sauce so the pasta has enough water to cook properly. I personally like to use Barilla pasta, but I have also used the Fido Vermicelli brand noodles for this recipe as well. I have had great luck with both types of pasta. You may want to experiment with your favorite type of pasta.
Best Pasta Sauce to use for Spaghetti with Italian Sausage
I am not ashamed to use jars of pasta sauce. I think they have their place, here are my favorite choices for jars of pasta sauce.
Rao's – I buy this when it goes on special at Costco, it's a little pricy, but it tastes so good
Barilla Marinara – this has good flavor
Ragu spaghetti sauce – I think this tastes good, and when combined with the juices of the Italian sausage, it very tasty.
How to Make Instant Pot Italian Sausage Pasta
In an Instant Pot, sauté sausage links in olive oil until half-way done. Remove the sausage and slice it into links. Use a paper towel to wipe out excess oil from the Instant Pot.
Place the sausage slices and pasta sauce in the Instant Pot. Rinse the jars of pasta sauce with water and pour the water into the Instant Pot.
Add pasta and cook on manual high for 8 minutes. Perform a quick release.
Serve immediately.
Italian Sausage Instant Pot Pasta Troubleshooting
If when you are performing a quick release on the Instant Pot, and it sprays out a milky liquid, stop the quick release and let the pot reduce pressure naturally.
Make sure you use 2 cups of liquid for every 4 ounces of pasta.
You may want to add oil to decrease foaming.
Quick release carefully if you have any foaming. Stop the quick release, and allow the Instant Pot to come down to pressure normally.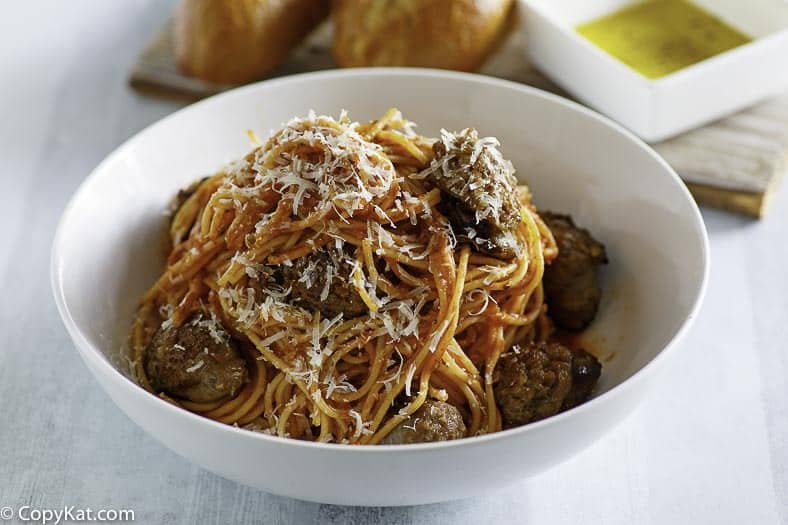 Do you brown the Italian sausage before putting it in the Instant Pot?
You will brown the sausage inside of the Instant Pot, there is no need for any pre-browning!
Does the cook time vary for different shapes of pasta?
You will not need to alter the recipe for other shapes of pasta.
What to Serve with Instant Pot Sausage Pasta
I like to serve this with a green salad, with homemade Italian dressing, I sometimes also add some Parmesan garlic bread with this pasta.
How to Store, Freeze, and Reheat Instant Pot Italian Sauasage Pasta
This is a great recipe to pack in your lunch for when you go to work. It reheats well. The second time though I have been known to sprinkle on some mozzarella cheese.
Store – in your refrigerator in an airtight container for up to 5 days.
Freeze – in an airtight container, it will last for up to 3 months. Thaw completely before reheating.
Reheat – this reheats well in the microwave. You may want to stir in a little extra sauce if you have it on hand the pasta will soak up the sauce when it is stored.
Italian Sausage in Instant Pot FAQ
How Long Does It Take to Cook Raw Italian Sausage?
Getting the timing right for cooking raw Italian can be a little tricky on the stovetop. Luckily, ensuring that Italian sausage in Instant Pot recipes is cooked through is much easier.
To get the best color and the perfect texture for your Italian sausages, it is always a good idea to saute the sausage links before cooking them with the pasta. You can do this right inside the Instant Pot to save any extra cleanup.
Remove the lid and press the SAUTE button. Adjust the temperature to NORMAL and let it warm. Add a little oil and wait until it is shimmering before adding the sausage links. Brown the sausage on all sides for a total of about 6 minutes. The meat is not fully cooked at this point, and that is fine.
Remove the sausages from the Instant Pot and drain the fat. Cut the links into inch slices, return them to the Instant Pot and continue with the recipe. The sausages will finish cooking with the rest of the ingredients for a total cooking time of about 14 minutes.
Can You Overcook Italian Sausage?
Yes, like any other meat, you can overcook sausages. But when cooking in an Instant Pot, overcooking them won't matter as much because the sausage won't dry out.
If you are ever in doubt about the cooking time for Italian sausages, it is always better to err on the side of overcooking rather than undercooking.
Does Italian Sausage Have to Be Fully Cooked?
Unlike hot dogs and smoked sausages, Italian sausages are raw. That means you must cook them completely before eating. But how do you know when you cook them long enough?
The sure-fire method is to use an instant-read thermometer. The internal temperature needs to be at least 160 degrees before removing the sausage from the heat.
If you don't have an instant-read thermometer, try cutting the link open. A cooked sausage has a gray interior, and the meat feels firm.
Do You Cook Italian Sausage with the Casing On?
Most people prefer to cook Italian sausages without removing the casing. This is particularly true if the sausages come in a natural casing. The casing gives the cooked sausage a little snap and helps to keep the juices and flavors inside.
If you don't like the casings and would prefer to remove them, try buying bulk Italian sausage meat. Bulk Italian sausage meat is the same meat inside the casing, but stores sell it by pound like ground beef. Buying sausage this way is usually cheaper than buying it in link form.
Do You Cook Italian Sausage Before Putting It in Sauce?
Yes, you partially cook the sausages and then finish the cooking process with the other ingredients. Cooking the links beforehand ensures that they are safe to eat and gives them a bit of an extra texture that pairs well with the pasta.
Great Instant Pot Recipes
Popular Italian Food
Be sure to check out more of my easy Instant Pot recipes and the best Italian food recipes.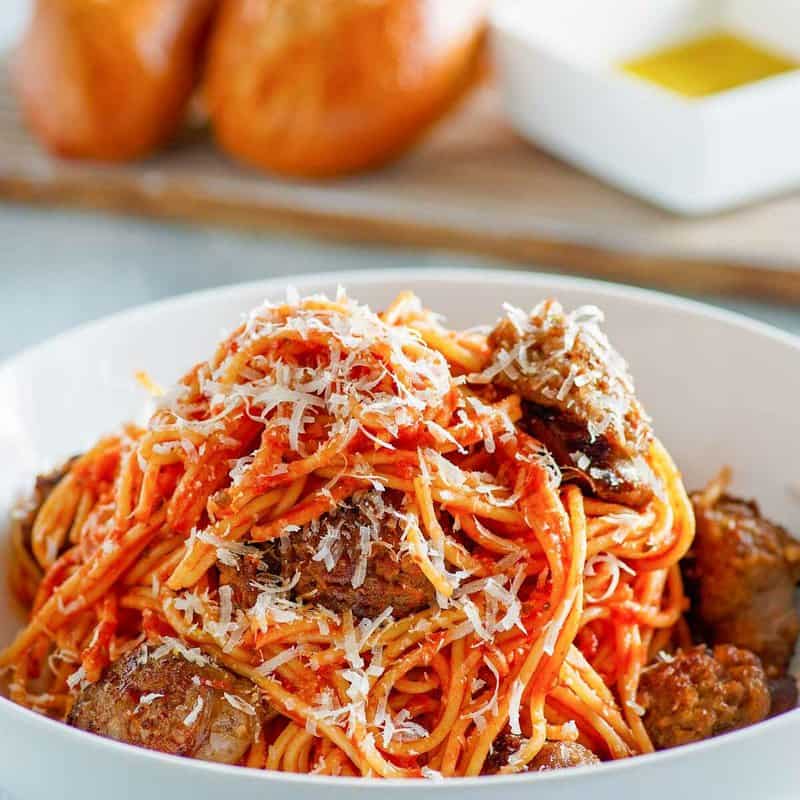 Ingredients
2

tablespoons

olive oil

1

pound

Italian sausage links

48

ounces

pasta sauce

2

cups

water

1

pound

spaghetti pasta
Instructions
Heat your Instant Pot on sauté. When the pot is warmed, add olive oil.

Add the sausage and sauté until it is about 50% done. Remove sausage, slice it into links. Wipe out excess oil from the Instant Pot with a paper towel.

Place the sausage slices in the Instant Pot.

Add pasta sauce. Rinse the jars of pasta sauce with water and pour the water into the Instant Pot.

Break the spaghetti pasta in half and add it to the Instant Pot.

Cook on manual high for 8 minutes. Perform a quick release.

Serve immediately.
Notes
This recipe was written for a 2-quart pressure cooker. If your pressure cooker is larger there are no adjustments needed for this recipe.
Nutrition
Calories:
637
kcal
|
Carbohydrates:
69
g
|
Protein:
23
g
|
Fat:
29
g
|
Saturated Fat:
9
g
|
Cholesterol:
57
mg
|
Sodium:
1749
mg
|
Potassium:
1110
mg
|
Fiber:
5
g
|
Sugar:
11
g
|
Vitamin A:
980
IU
|
Vitamin C:
17.4
mg
|
Calcium:
61
mg
|
Iron:
4.2
mg