Homemade Pesto isn't difficult to make. Pesto is served in many restaurants and is often one of the most popular sauces served in a restaurant. Now, you don't have to buy expensive pesto sauce, you can make pesto at home. It is easy to do, and it tastes so much better than store-bought pesto sauce.
I fell upon this recipe by accident. Many pesto sauces use extra virgin olive oil, but the night I made this dish, I ran out, and I was in a bind with company on the way. So I prepared this pesto with less expensive vegetable oil.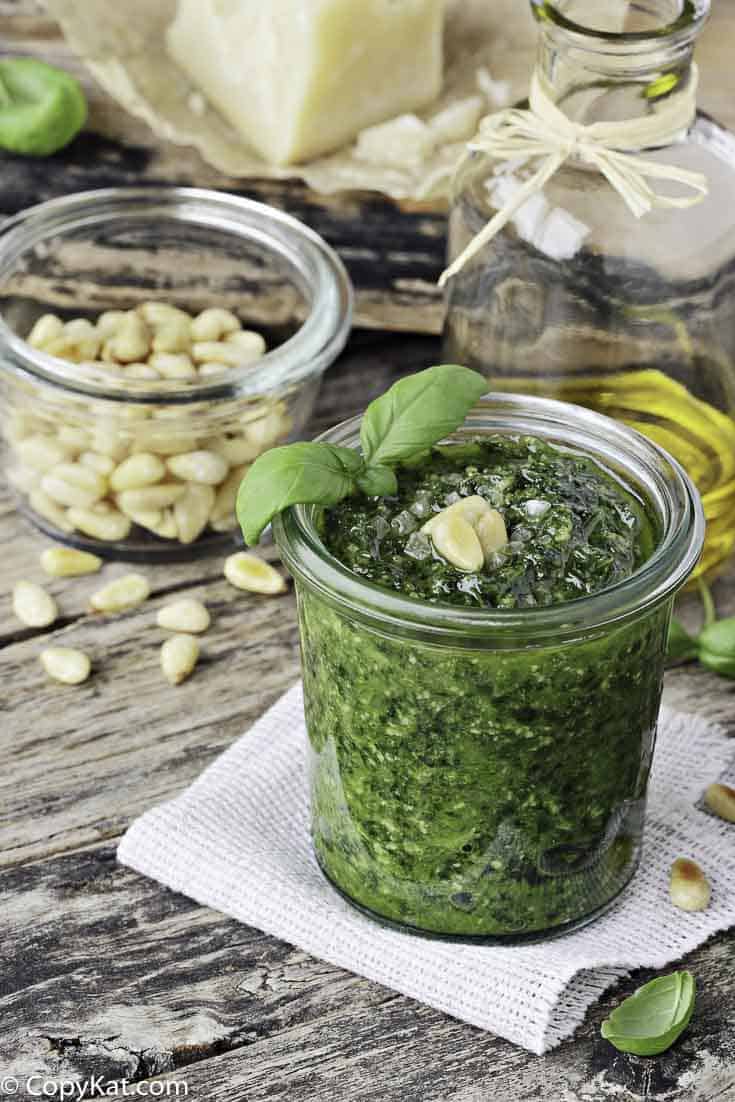 This post contains affiliate links. As an Amazon Associate, I earn from qualifying purchases.
About Basil
Aromatic basil is one of the most ancient and highly-prized herbal plants and is brimming with health-benefiting nutrition. It is so revered by some cultures that it is known as the "holy herb."
Although there are many different subspecies of basil, the most common one used as culinary basil the world over is sweet basil. To read more about this wonderful herb, click here.
Growing Your Own Basil
Most of the time, I have a small container garden of fresh herbs. This year I've been fortunate to have an abundant crop of basil. I found the perfect place in my yard to place my basil containers – not too much sun, but just enough to yield abundant basil.
With so much basil, I have been busy making pesto with fresh leaves and drying the remaining basil for future use. For more complete instructions, learn how to grow basil.
The Delight of Fresh Pesto
You are going to love making fresh pesto, and you can enjoy it all summer long. Pesto is so versatile – you can enjoy it on meat, fish, pasta, as a pizza topping, or even use it as a dip for vegetables.
Pesto Storage Tips
Refrigerate any pesto you do not use immediately. Store it in an air-tight container. Before sealing the container, pour a little extra oil over the top of the pesto so the air will not get to it. Pesto will oxidize and turn brown when exposed to air while being stored.
Many people freeze pesto in ice cube trays and defrost whenever they are ready to use it.
Recipe Variations
You can use other nuts than just pine nuts. Pesto made with pecans is wonderful, so be experimental when making your own homemade pesto recipe.
You can also add other fresh herbs with the basil such as parsley, thyme, and rosemary.
Serving Suggestions
I like to serve my pesto with pasta, chicken, and zoodles. I also will use it as a replacement for butter on bread. Top tomato slices with a dollop of pesto for a healthy appetizer or snack.
Love pesto? here are some more CopyKat recipes for you
Ingredients
1

cup

fresh basil tightly packed

3

teaspoons

garlic

1/2

cup

pine nuts

1/2

cup

grated Parmesan cheese

1/2

cup

vegetable oil

(you can use traditional extra virgin olive oil)

1

teaspoon

kosher salt
Instructions
Wash basil leaves and pat dry. In a food processor with a steel blade add garlic, pine nuts, salt, and pulse several times to chop ingredients into a fine paste, add basil leaves and salt. With the food processor running constantly drizzle in olive oil, and Parmesan cheese, and combine well.
Nutrition
Calories:
407
kcal
|
Carbohydrates:
3
g
|
Protein:
7
g
|
Fat:
42
g
|
Saturated Fat:
25
g
|
Cholesterol:
11
mg
|
Sodium:
773
mg
|
Potassium:
143
mg
|
Fiber:
0
g
|
Sugar:
0
g
|
Vitamin A:
425
IU
|
Vitamin C:
1.8
mg
|
Calcium:
156
mg
|
Iron:
1.2
mg