These goat cheese crostini canapes are perfect for a party, or even a light dinner. Goat cheese is combined with cream cheese and seasonings to make a delicious cheese spread. It's spread on crostini and topped with pesto. These canapes are quick and easy to prepare for your next special occasion.
This post contains affiliate links. As an Amazon Associate, I earn from qualifying purchases.
What is Crostini?
Crostini are small pieces of toast to which you can add a savory topping such as pâté, shrimp, or cheese. In this canape recipe, the topping is goat cheese, seasonings, and pesto.
It's amazing how goat cheese can turn toast into something much more special. Crostini with pesto and goat cheese are quick and easy to prepare for your next special occasion.
Crostini is an Italian plural word that means little crusts in English. One piece of toast is a crostino. Crostini can be traced back to medieval times when peasants ate their meals on slices of bread instead of ceramics.
Why This Is the Goat Cheese Crostini Recipe You Must Try
Pesto crostini with goat cheese is the perfect appetizer recipe if you love to serve up little treats before a dinner when friends or family are coming over. This way, if you are behind with your prep or some of your guests are running late, you can offer them something until everyone is ready to be seated around the dinner table. Your guests can walk around while munching on these small, tasty goodies.
Goat cheese crostini are the perfect make-ahead canapes. You can prepare the cheese spread ahead of time (even a couple of days in advance) and simply make up your crostini by adding the pesto when you are ready to serve. Pesto crostini are the perfect quick and easy appetizer for your next gathering.
Crostini With Pesto and Goat Cheese Ingredients
Here are the simple ingredients you will need for tasty pesto crostini:
Crostini
Goat cheese
Cream cheese
Garlic powder
Black pepper
Pesto
Basil or parsley (optional garnish)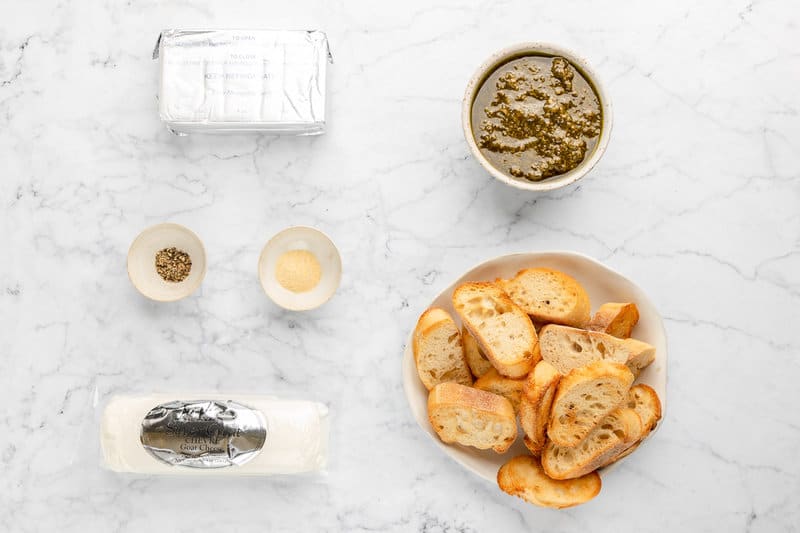 Ingredient Notes
You can buy crostini or easily make homemade crostini. You can make crostini up to 3 days in advance. Store them in a sealed container at room temperature.
Avoid goat cheese crumbles because they have anti-caking agents that won't come together easily to make creamy, spreadable cheese.
Interested in the best wine pairings for goat cheese? Check out this goat cheese wine pairing guide on Wine Folly.
Is Goat Cheese the Same as Feta Cheese?
No, they are different. Traditionally, feta is made from sheep's milk or a mixture of sheep and goat milk. (Note, American feta is often made from cow's milk). Feta is grainier and more crumbly than goat cheese. For this recipe, look for authentic goat cheese (also known as chèvre).
Goat milk contains less lactose than cow's milk and has a slightly different protein structure. This means people with lactose intolerance are often able to digest goat cheese.
How to Make Crostini With Goat Cheese
These goat cheese canapes are really easy to make. Here's what to do:
Place the cheeses and seasonings in a bowl.
Stir to blend the cheeses and the seasonings together.
Allow the flavors to marry for one hour minimum.
Spread the cheese mixture onto each crostino.
Top with pesto.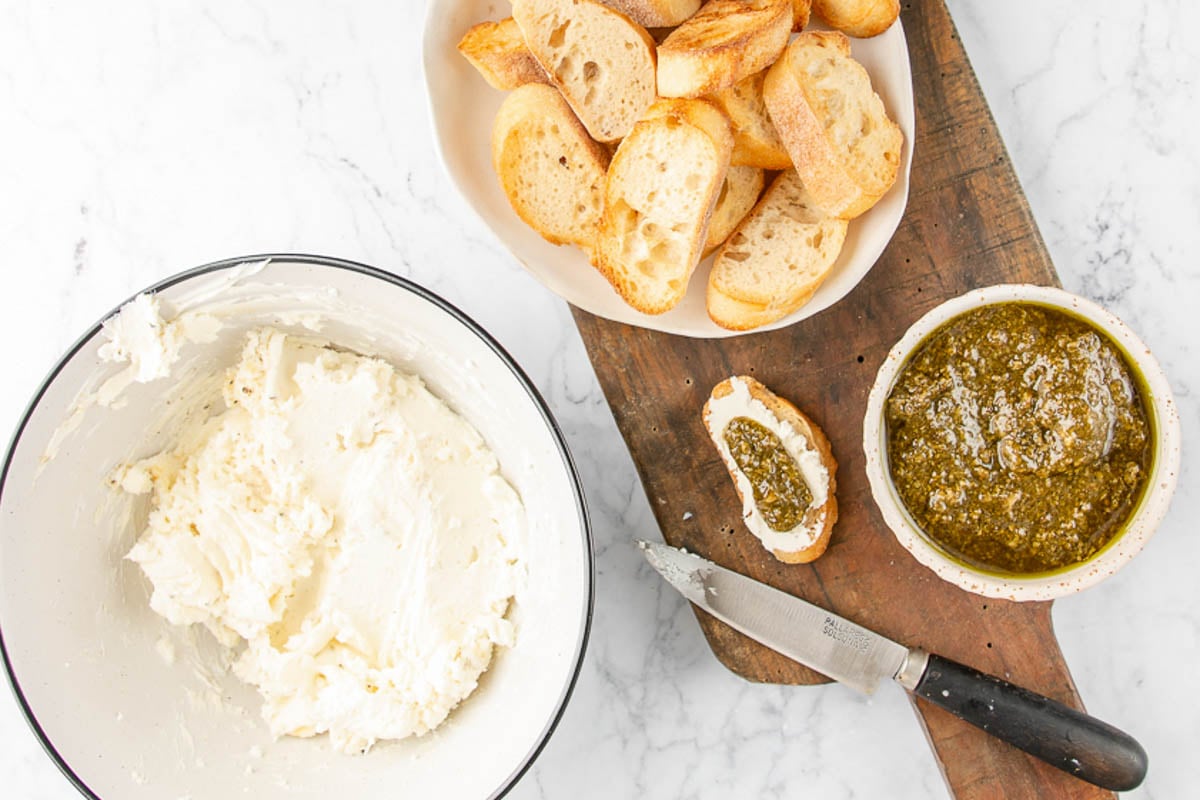 Garnish with a sprinkle of basil or parsley (optional).
Recipe Variations
Crostini are a fabulous party snack because they're so versatile and delicious.
You have lots of options for topping off the goat cheese, including sun-dried tomatoes, spiced nuts, or spicy pickles.
Here are a few more ideas:
Prosciutto goat cheese crostini: Prosciutto is ideal if you want to add some meat.
Tomato goat cheese crostini: Fresh or roasted tomatoes combined with salt, minced garlic, and chopped basil.
Bruschetta goat cheese crostini: Bruschetta is the perfect complement to goat cheese.
Onion goat cheese crostini: Caramelized onions and fresh thyme.
Olive goat cheese crostini: Top with kalamata tapenade.
Asparagus goat cheese crostini: Top with roasted asparagus.
Blackberry goat cheese crostini: Fresh blackberries (or cherries), mint, and balsamic reduction.
Pear goat cheese crostini: Sliced pears, fresh thyme, and balsamic reduction.
Honey goat cheese crostini: Savory, creamy goat cheese combined with the sweetness of honey is truly magical. Add fresh ground black pepper and fresh mint, basil, or thyme! Another option is honey and walnuts.
Fig jam goat cheese crostini: Fig jam is another wonderful topping. Consider adding a curl of caramelized onion.
Marmalade goat cheese crostini: Blood orange marmalade and freshly ground black pepper.
How to Serve Goat Cheese Crostini
Crostini with pesto and goat cheese are an easy finger food idea for a party.
Place your goat cheese crostini on an attractive platter along with other tasty finger food.
Grilled bread, creamy goat cheese with lots of different toppings, and, voila! – your crostini summer party is done!
Favorite Cheesy Appetizer Recipes
Popular Recipes for Game Day
Check out more of my easy appetizer recipes and the best game day food on CopyKat!
Ingredients
8

ounces

goat cheese

softened at room temperature

8

ounces

cream cheese

softened at room temperature

1/2

teaspoon

garlic powder

1/4

teaspoon

fresh cracked black pepper

24

crostini or toasted baguette slices

1/2

cup

pesto

chopped fresh basil or parsley

to garnish (optional)
Instructions
Combine the goat cheese and cream cheese in a small bowl. Add the garlic powder and black pepper. Mix well.

Store the cheese mixture in an airtight container for at least 1 hour before serving to let the flavors marry.

To create the canapé, spread about 1/2 tablespoon of the cheese onto each crostini.

Just before serving, spoon a small amount of pesto on top. Garnish with chopped fresh basil or parsley if desired.
Nutrition
Calories:
125
kcal
|
Carbohydrates:
16
g
|
Protein:
4
g
|
Fat:
5
g
|
Saturated Fat:
2
g
|
Polyunsaturated Fat:
0.5
g
|
Monounsaturated Fat:
1
g
|
Cholesterol:
6
mg
|
Sodium:
270
mg
|
Potassium:
46
mg
|
Fiber:
1
g
|
Sugar:
2
g
|
Vitamin A:
189
IU
|
Vitamin C:
0.001
mg
|
Calcium:
50
mg
|
Iron:
1
mg