Hands down, Culvers Fried Cheese Curds are the best side for a butter hamburger. With this copycat recipe, you can make these famous cheese curds at home.

Culver's is a real-deal family chain of eateries. George Culver is the grandson of a Wisconsin farmer and son of a cheesemaker. In 1961, George and his wife Ruth bought their first restaurant. They had no formal training but George had a natural command of the kitchen and Ruth provided warm and gracious hospitality.
George's son Craig grew up serving guests and learning firsthand about delicious family-style food cooked to order. In 1984, the first Culver's was opened in the family's cherished hometown of Sauk City, Wisconsin. Craig wanted everyone to enjoy his mom's homemade hamburgers and his favorite childhood vacation treat, Fresh Frozen Custard.
Thus was created Culver's signature combination – Culver's ButterBurgers and Fresh Frozen Custard. As of March 2018, there were 655 Culver's across the United States. Talk about a family success story! You can read more about Culver's restaurants here.
Culver's Promise:
"Every Guest Who Chooses Culver's Leaves Happy" — Craig Culver
About Cheese Curds
Cheese curds are young and pure – pieces of baby cheddar that have never been aged or processed in any way. If you live in Wisconsin, you already know about cheese curds. Eaten uncooked or fried, cheese curds are not just another appetizer, they're a unique Wisconsin delicacy.
Outside of Wisconsin, there may be people who've never even heard of eating cheese curds. But once eaten, cheese curds are never forgotten. If you would like to read about the interesting history of cheese curds, click here.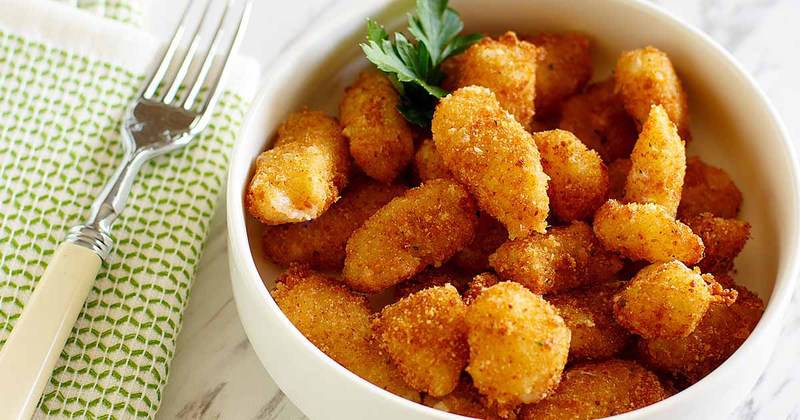 This post contains affiliate links. As an Amazon Associate, I earn from qualifying purchases.
Fried Cheese Curds
Culvers Fried cheese curds is another famous Culver's dish. These golden brown, perfectly deep-fried cheese balls have a warm buttery crunch. They are made with only the freshest, un-aged, yellow and white Wisconsin cheddar cheeses.
If you live near a Culver's, you can head over there and give them a try (click here for a picture). But, you can also make them at home and, if you live in another state, bring a touch of Wisconsin to family dining – it's not very difficult.
Where to Buy Cheese Curds
You probably won't find cheese curds in your local grocery store unless you live in Wisconsin. But these fried cheese curds are so appetizing, you will want to order some cheese curds so you can make this dish. I found three sources of cheese curds that you can order online.
Fried cheese curds are also awesome to make for a party and game day. They are great finger food and will disappear quickly.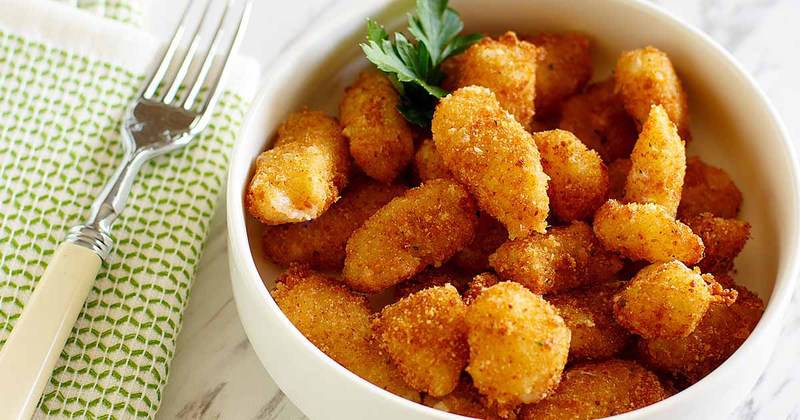 Love cheesy side dishes? Try these recipes
More Party Food and Game Day Recipes
Be sure to check out more of my copycat side dish recipes and the best game day food.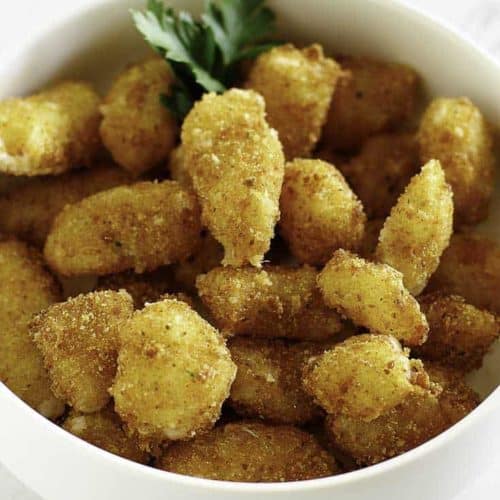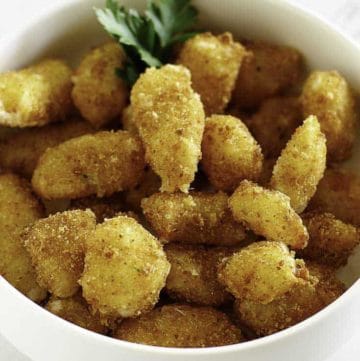 Ingredients
1

cup

all purpose flour

1/4

teaspoon

salt

4

eggs

1

tablespoon

whole milk

2

cups

Italian Style Breadcrumbs

16

ounces

cheese curds

vegetable oil for frying
Instructions
Combine flour and salt in a shallow bowl. Stir to the salt is incorporated evenly. Break eggs into a

second shallow bowl with 1 tablespoon of milk. Beat the eggs. Place breadcrumbs into the third

bowl.

Coat the curds first with flour, then the egg, and finally the bread crumbs. It is very important to coat the cheese curds evenly and thoroughly. Place coated curds on a wire rack resting in a rimmed

baking sheet. Freeze the cheese curds for 30 to 60 minutes.

Set up another wire rack on a baking sheet or line a plate with paper towels. Pour enough oil into a large skillet or a pot to reach about 2 inches of oil. Heat the oil over medium-high heat. Use a thermometer to make sure the temperature is 375 degrees.

Frying a few curds at a time, carefully drop a few in at a time. Do not crowd the skillet. Fry for about 1 minute, turning them once. Cook until they are golden brown. Remove with a slotted spoon. Enjoy immediately.
Nutrition
Calories:
961
kcal
|
Carbohydrates:
63
g
|
Protein:
44
g
|
Fat:
57
g
|
Saturated Fat:
23
g
|
Cholesterol:
285
mg
|
Sodium:
1334
mg
|
Potassium:
199
mg
|
Fiber:
3
g
|
Sugar:
3
g
|
Vitamin A:
240
IU
|
Calcium:
942
mg
|
Iron:
4.8
mg