Soup Kitchen is located in New York City. This came out of a cookbook called New York Cookbook by Molly O'Neal.
Soup Nazi Seafood Bisque
Love seafood soup recipes? Check out these seafood soup recipes
Crab Bisque
Pappadeaux Crawfish Bisque
Maria Cafe Seafood Bisque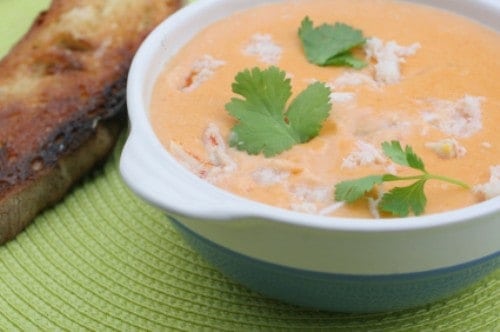 Ingredients
2

cups

dry White Wine

1

bay leaf

1

cup

chopped onion

1

teaspoon

minced garlic

1/2

cup

diced celery

1 1/2

pounds

lobster

12

shrimp

in the shell

24

mussels

well scrubbed

12

sea scallops

4

cups

heavy whipping cream

1

cup

milk

1

teaspoon

dried Thyme

1

tablespoon

minced fresh Parsley

1/4

teaspoon

dried Rosemary

1

cup

fresh Spinach

well rinsed and washed

1/2

cup

grated Carrot

1/2

teaspoon

fresh Lemon Juice
Instructions
Combine white wine, bay leaf, onion, garlic, and celery in a noncreative large stockpot over medium heat. Bring to a boil. Add the lobster; cover the pot, and steak for 10 minutes. Remove the lobster. Add the Shrimp, cover the pot, and steam for 5 minutes. Remove the shrimp with tongs. Add the mussels, cover the pot, and steam until they open, about 5 minutes. Remove the mussels with tongs, extract the meat and discard the shells. Discard any (mussels sic) that do not open. Add 2 cups water to the liquid in the pot, bring to a boil and then add the scallops. Cover the pot and steam for 3 minutes. Remove the scallops with the tongs. Extract the lobster meat, reserving the shells. Peel and devein the shrimp, reserving the shells. Chop the meat into bite-size pieces, cover and set aside. Return the seafood shells to the pot of broth and add 2 cups water. Bring to a boil, then reduce the heat and simmer for 30 minutes. Strain the broth, and return it to the pan. Bring the broth to a simmer over low heat. Add the cream, milk, thyme, parsley, and rosemary and simmer until the mixture thickens slightly, about 5 minutes. Add the lobster, shrimp, mussels, and scallops, and simmer for about 2 minutes. Stir in the spinach, carrots, and simmer for another 2 minutes to just wilt the spinach. Season with salt, pepper, and stir in the lemon juice. Serves 6.
Nutrition
Calories:
556
kcal
|
Carbohydrates:
11
g
|
Protein:
15
g
|
Fat:
46
g
|
Saturated Fat:
28
g
|
Cholesterol:
231
mg
|
Sodium:
404
mg
|
Potassium:
443
mg
|
Fiber:
0
g
|
Sugar:
3
g
|
Vitamin A:
3595
IU
|
Vitamin C:
7.2
mg
|
Calcium:
174
mg
|
Iron:
1.9
mg