Kenny and Ziggy's Egg Salad is a basic and delicious way to prepare eggs. Sometimes going back to basics is the way to go. Just three ingredients make a flavorful snack or sandwich.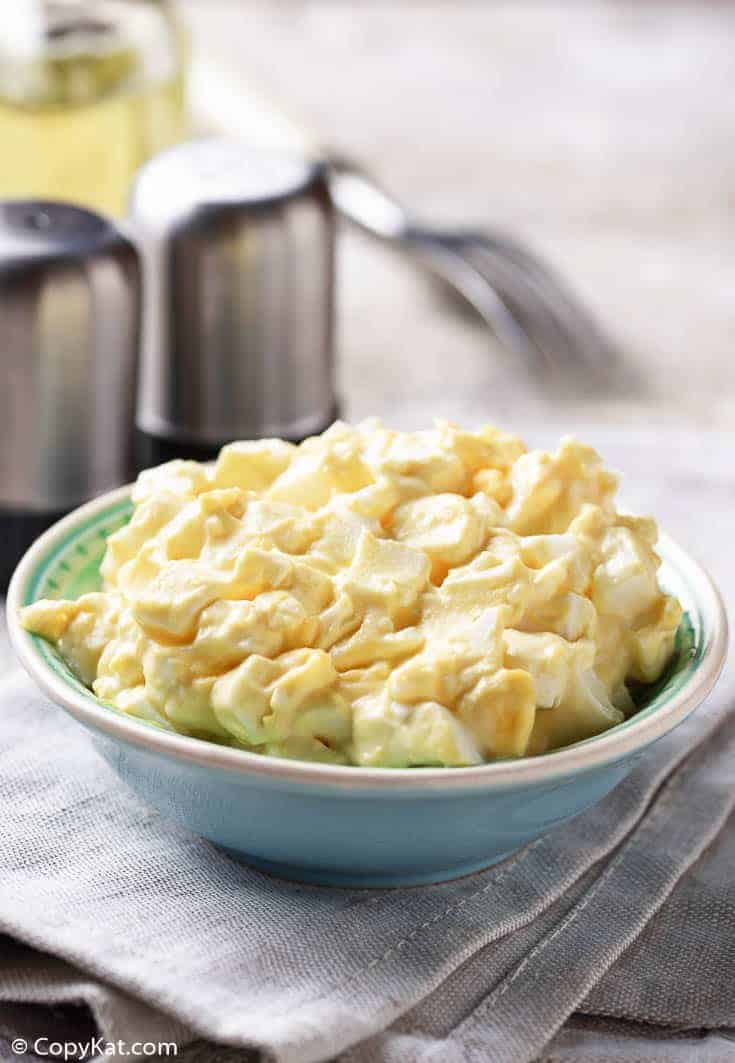 This salad from Kenny and Ziggi's deli is one delicious egg salad. I hate to say how many times I have purchased this egg salad and taken some home. When in a bind for time, I have been known to supplement parties with food that I have purchased in addition to recipes that I make.
What I like about this egg salad is it isn't complicated, it is simply eggs, mayonnaise, and a little bit of black pepper. A lot of egg salad has many different ingredients, and while many other egg salad recipes are very tasty, I really like this simple tasting, classic egg salad.
This is a simple egg salad recipe that you need very few ingredients for. Eggs can be a wonderful way to stretch your food budget as eggs are a fairly inexpensive source of protein. This recipe is my personal version of their egg salad, this is not the actual recipe.
Kenny and Ziggy's egg salad is low carb and keto-friendly. It's a great snack with celery sticks or crackers
Making Kenny and Ziggy's Egg Salad
It doesn't get much easier than this, you may want to start with some eggs you cooked in your InstantPot. I love using my InstantPot to cook eggs, they come out perfectly, and you can cook a dozen in no time at all.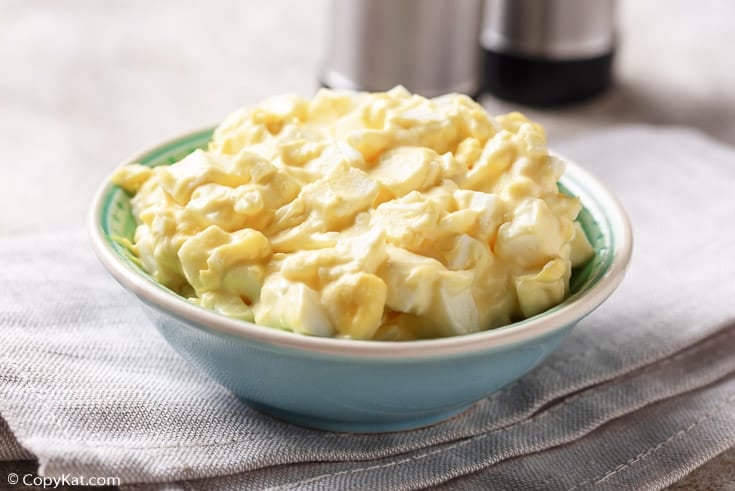 How Long Do Eggs Stay Fresh?
Did you know that eggs that have been kept for a few days peel easier than eggs that you have just bought from the store? According to the American Egg Board (www.AEB.org) here's your answer. Note: this is for raw eggs, and not cooked eggs.
"The oil coating which seals the shell's pores helps to prevent bacteria from entering the egg and reduces moisture loss from the egg. RAW SHELL EGGS REFRIGERATED IN THEIR CARTONS WILL KEEP FOR ABOUT 4 TO 5 WEEKS BEYOND THE PACK DATE WITHOUT SIGNIFICANT QUALITY LOSS. (A pack date is usually a number from 1 to 365 representing the day of the year starting with January 1 as 1 and ending with December 31 as 365.)"
"Properly handled and stored, eggs rarely "spoil". If you keep them long enough, they are more likely to simply dry up! But, don't leave eggs out at room temperature. They'll age more in 1 day at room temperature than they will in 1 week in the refrigerator. Room temperature is also an ideal temperature for bacterial growth."
Helpful ways to peel eggs
How to peel hard boiled eggs without peeling
How to peel hard boiled eggs
How long does egg salad stay fresh
You can make egg salad a day or two before you need to serve it. Egg salad will stay fresh for 3 to 5 days in the refrigerator.
Love eggs? Looking for more great recipes using eggs?
Ingredients
6

large

eggs

1/3

cup

mayonnaise

1/4

teaspoon

black pepper
Instructions
Place eggs into a pot, and cover with water. Bring the eggs to a boil on the stove top, once the water is boiling, place a lid on the pot, and turn off the heat. Allow the eggs to sit for 10 minutes, they will cook themselves with the residual heat in the pot.

Overcooking boiled eggs gives you green eggs and that never looks attractive. After ten minutes, remove the pot from the stove top, and allow the faucet to pour cool water over the eggs. Once the water is no longer hot, add a few ice cubes, and let the eggs cool.

When the eggs have cooled, peel the eggs and then give them a rough chop and place into a bowl. Combine chopped eggs along with the mayonnaise and black pepper. Options: You can add your own variety of extra ingredients, maybe you would like some dill pickle or even some onion to the egg salad for a different flavor. I really enjoy egg salad on toasted sourdough bread.
Nutrition
Calories:
234
kcal
|
Carbohydrates:
0
g
|
Protein:
9
g
|
Fat:
21
g
|
Saturated Fat:
4
g
|
Cholesterol:
286
mg
|
Sodium:
225
mg
|
Potassium:
103
mg
|
Sugar:
0
g
|
Vitamin A:
405
IU
|
Calcium:
42
mg
|
Iron:
1.3
mg