You can make hard boiled eggs in the Instant Pot, or any other pressure cooker. I love eggs made in the Instant Pot, they are cooked perfectly, and quickly.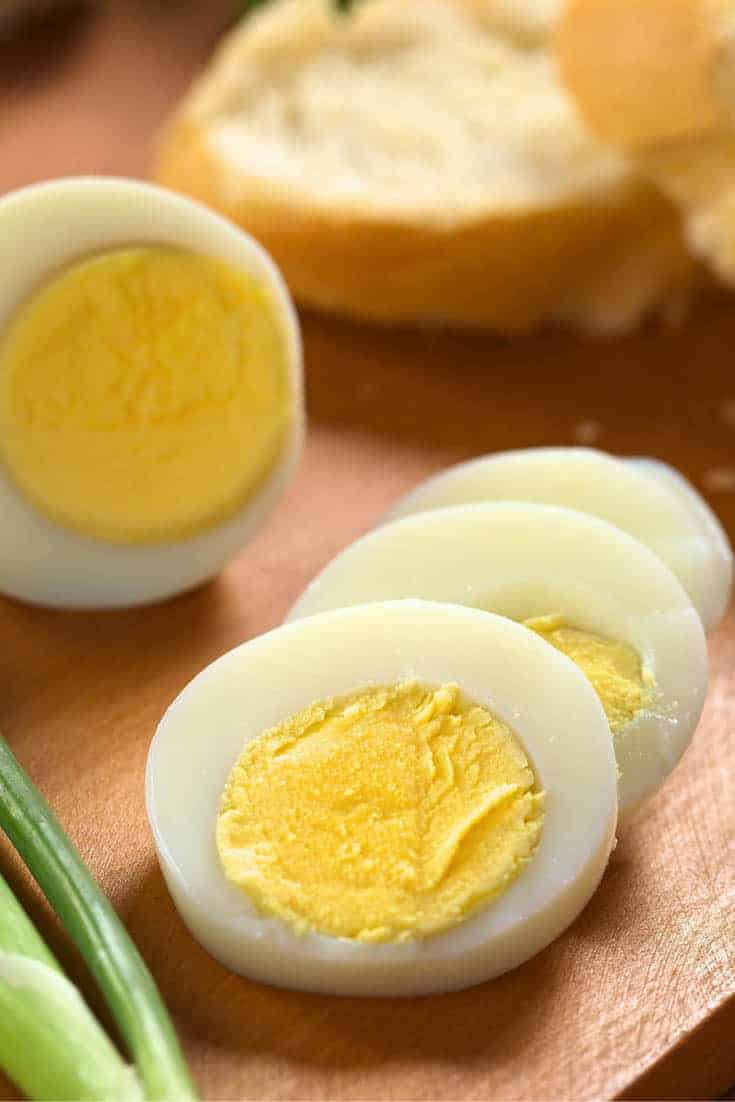 Hard-boiled eggs can be challenging. If you cook them too long, the egg yolks can get a green hue on them. If you don't cook them long enough, you can't use them for recipes. Hard-boiled eggs make a great high protein snack. I also love them in creamed eggs on toast. So you can boil the eggs. You can also cook them in an Instant Pot. The Instant Pot is a particular brand of a pressure cooker.
I love my Instant Pot; you can cook rice, steam, saute, slow cook, make yogurt, and use this as a pressure cooker. This kitchen appliance is one I use every single week. I love it; it has a stainless steel insert so you can always scrub it nice and clean. So if you are wondering if you can make eggs in the Instant Pot, you can.
What I love about preparing hard-cooked eggs this way is that they come out perfectly. If you aren't super attentive, you may have eggs that are overcooked. Let's talk about what you need to do to cook perfect hard boiled eggs in your Instant Pot.
You can cook eggs in the Instant Pot easily. I like to cook mine a dozen at a time. I prefer either eggs from my mother's chickens, or I will buy some organic eggs that I often buy at Costco.
Next goes in 1 cup of water. The eggs steam instead of being fully submerged. I think this gives you an almost fluffy yolk on the inside.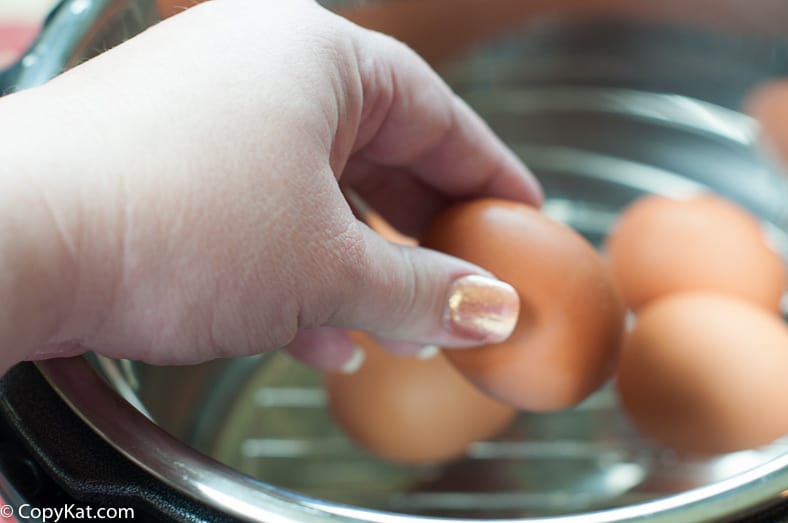 You will need to place the eggs on a wire rack inside of the Instant Pot. I used the one that came with the Instant Pot. If you don't have the one that came with the pot you can use a stainless steel rack as long as it fits inside of the pot.
You will put the lid on. Set the pressure cooker to high, and for 6 minutes of pressure.
What can you make with hard boiled eggs?
Copycat Chicken Salad Chick Egg Salad
Truffle Deviled Eggs
Creamed Eggs On Toast
Frequently asked questions about cooking eggs in an Instant Pot
If I want to cook more eggs do I need to increase the time? – No, the Instant Pot works off of pressure, not strict cooking time. We are concerned about cooking time while the pot is under pressure
I have an 8 quart Instant Pot, do I need to add more water? – Yes, I would increase the water to 1 1/2 cups.
How do I soft boil an egg in the Instant Pot? – If you want a runny yolk set the cooking time to 2 minutes, if you want a yolk that is soft but somewhat firm, set the cooking time to 3 minutes.
Do you want more Instant Pot recipes? Check out some of my other recipes for the Instant Pot.
Instant Pot Stick of Butter Rice
How to make Corned Beef In a Pressure Cooker
Instant Pot Macaroni and Cheese
Instant Pot Beef Stew
Instructions
Place rack inside of an Instant Pot. Place eggs on

wire rack

. Add 1 cup of water. Seal the Instant Pot. Set pressure cooker on high for six minutes. When the cooking time is done, you can release the pot with an instant release. Carefully remove the eggs from the pot, they will be very hot.
Recipe Tips for the Cook
If you are using a larger pressure cooker be sure to add in additional water. Go up to 1 1/2 cups of water.
Make sure to do a quick release, and remove the eggs from the pot, this way they don't accidentally overcook.
Can't get your InstantPot to seal, remove the lid, double check the silicon ring and make sure it is in place. You should reduce the time.
Nutrition
Calories:
62
kcal
|
Carbohydrates:
0
g
|
Protein:
5
g
|
Fat:
4
g
|
Saturated Fat:
1
g
|
Cholesterol:
163
mg
|
Sodium:
63
mg
|
Potassium:
60
mg
|
Sugar:
0
g
|
Vitamin A:
240
IU
|
Calcium:
25
mg
|
Iron:
0.8
mg
This post contains an affiliate link