Instant Pot Corned Beef and cabbage is one of the easiest ways to prepare corned beef brisket with vegetables. You can enjoy a delicious homemade corned beef anytime you have a craving. The brisket will be so tender, you never knew it was possible to make it so tender.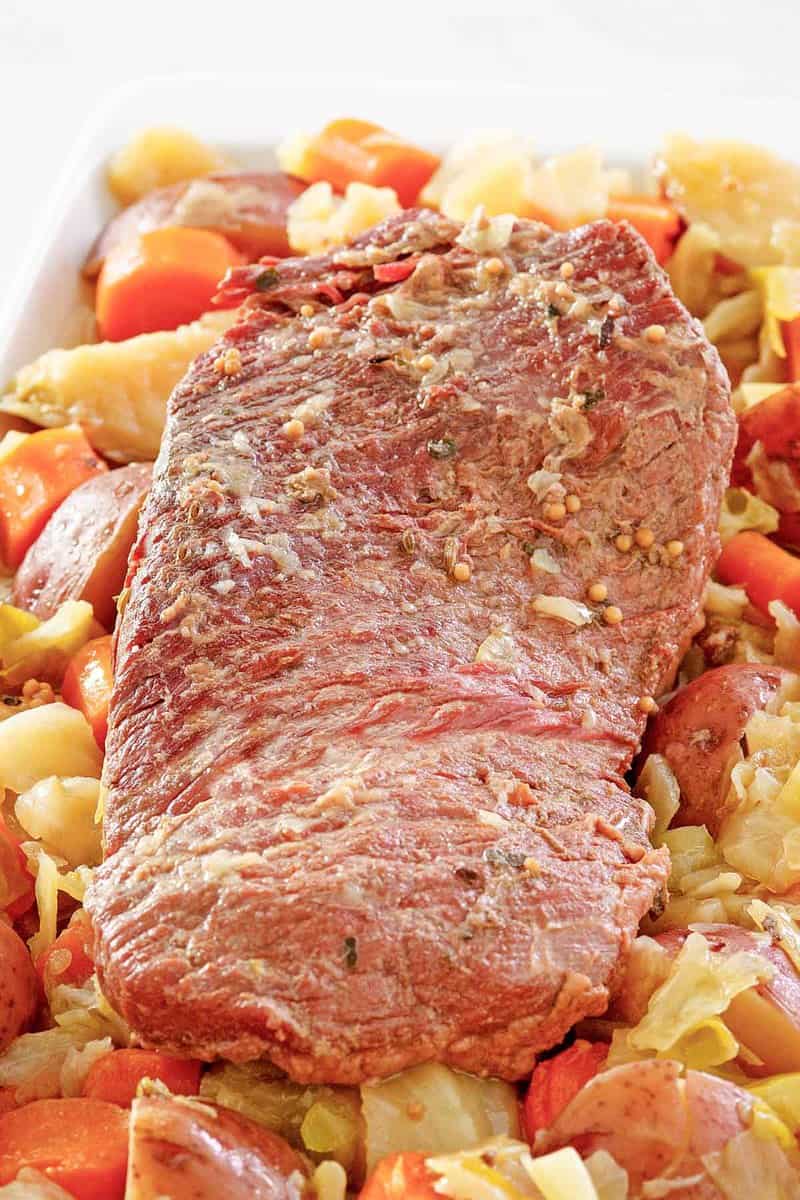 This post contains affiliate links. As an Amazon Associate, I earn from qualifying purchases.
Corned Beef and Cabbage
Sitting down to a dinner of corned beef and cabbage is all about comfort. It may not be fancy, but it sure is a hearty, satisfying and delicious meal. There's just one huge problem when it comes to eating corned beef and cabbage at home: It takes so long to cook!
Making corned beef on the stovetop takes over 3 hours of constant babysitting. Although using a slow-cooker is a more hands-off method, slow-cooking corned beef needs up to ten hours! Who has time for that?
But if you have a pressure cooker, you can make perfectly tender corned beef in about 90 minutes with this quick Instant Pot Corned Beef recipe. Now there is no more excuse to restrict corned beef and cabbage to special occasions!
Every year for St. Patricks Day, I make corned beef. Later this corned beef turns into Olivier salad. There are many ways to prepare corned beef. In fact, there are 13 ways to prepare corned beef.
What is Corned Beef?
Corned beef is a versatile way to prepare beef, and you have probably have eaten it with cabbage, between two slices of rye bread, or even in your breakfast hash, But what do you know about corned beef?
The name "corned beef" has nothing to do with corn, the vegetable, but the meat's preparation process. Corning, or salt curing, was a popular way of preservation before the invention of refrigeration.
Corned beef comes from the brisket, a large, tough cut of meat that requires plenty of cooking before it is tender enough to eat. Typically, supermarkets sell corned beef brisket in two different sections, the pointcut, and the flat cut.
The pointcut has significantly more fat, and therefore it is more tender than the flat cut when cooked and usually more expensive.
Flat cut corned beef is much leaner and more uniform in shape that helps it cook more evenly.
Recipe Ingredients
For the corned beef brisket:
Corned beef keep the package of pickling spices!
Water, beef broth, or flat beer
Cabbage, potatoes, or carrots (optional vegetables)
For the horseradish cream sauce:
Sour cream
Prepared horseradish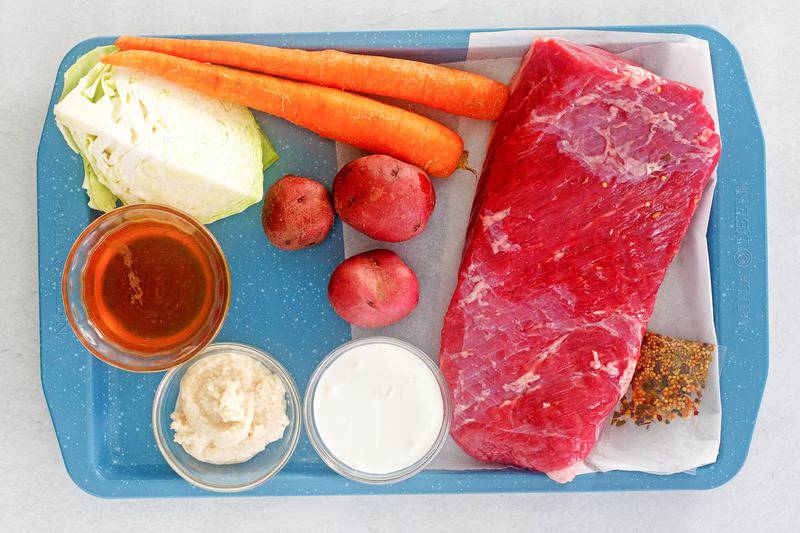 Treat Your Corned Beef Well
Quality corned beef can be a little on the pricey side, especially if you choose the pointcut. You don't want to make a mistake when cooking. While cooking in an Instant Pot helps prevent the main pitfalls like under or overcooking, there are still a few things you need to keep in mind to get the best results.
Always wash your corned beef before using. Since corned beef is essentially pickled, you need to get rid of the extra salt before cooking. Don't worry. Rinsing off the corned beef will not cause any flavor loss or end up waterlogging the meat.
Let the corned beef fully rest before cutting. Give the meat about twenty minutes to cool before slice. Doing this will give the meat time to reabsorb any liquid.
Cut against the meat fibers. Look closely at the meat, and you will see thin lines of muscle running across the surface. Slice the corned beef across these lines to get the most tender meat.
How to Cook Corned Beef in an Instant Pot
Here are the simple recipe steps for cooking corned beef in an Instant Pot:
Place the corned beef in the Instant Pot.
Add seasoning packet and the liquid of your choice.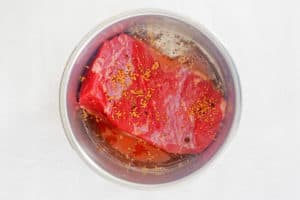 Close the lid and set the Instant Pot to the meat setting for 90 minutes.
Allow the Instant pot to do a natural release unless you will be adding a vegetable. If so, do a quick release.
Add quartered cabbage, quartered potatoes, or carrots.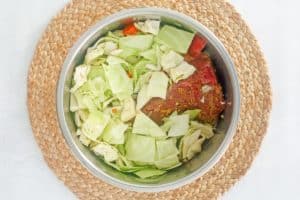 Set the Instant pot for 5 minutes on high pressure. When the 5 minutes are up, do a quick release.
While the corned beef is cooking, mix the sour cream and horseradish together in a small bowl. Cover and refrigerate until serving.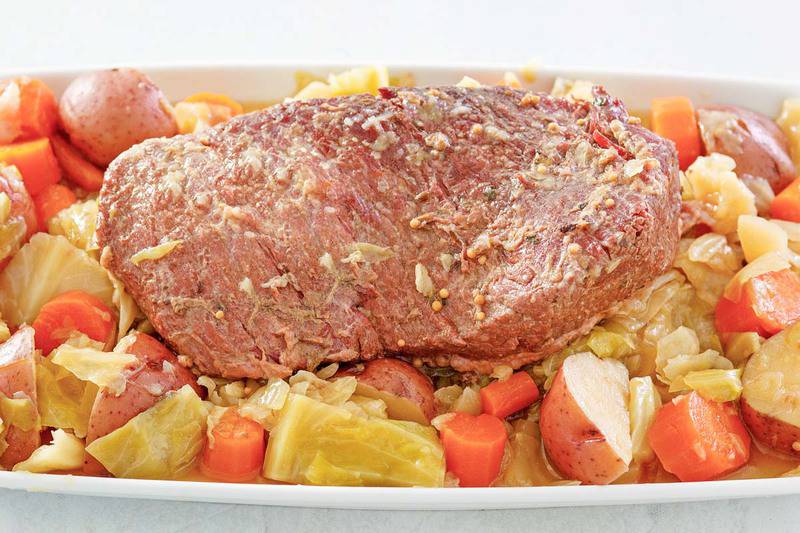 Tips for Making and Serving Instant Pot Corned Beef and Cabbage
You don't have to adjust the time for smaller or larger cuts of corned beef. The Instant Pot takes all the guesswork out of ensuring your corned beef is perfectly cooked.
Potatoes and carrots are a great addition. Carrots add a bit of sweetness to the dish, while potatoes help fill you up without eating a lot of meat. You will need to cook them after you cook the corned beef just another 4 minutes!
English mustard is an excellent alternative to horseradish sauce. Dried English mustard is easy to prepare with just a little cold water and gives you the same nasal clearing benefits as horseradish without all the trouble.
What to Serve with Corned Beef
Here are a few ideas for what you can serve with corned beef brisket:
Horseradish Cream Sauce
Rye Bread, Cheese, Lettuce, Tomato, Mustard, and Cheese for sandwiches.
If you have any leftover corned beef brisket the next day, make a corned beef breakfast sandwich!
If you have not tried an Instant Pot, I highly recommend it. This handy kitchen appliance can saute, steam, make porridge, yogurt, pressure cook, and slow cook.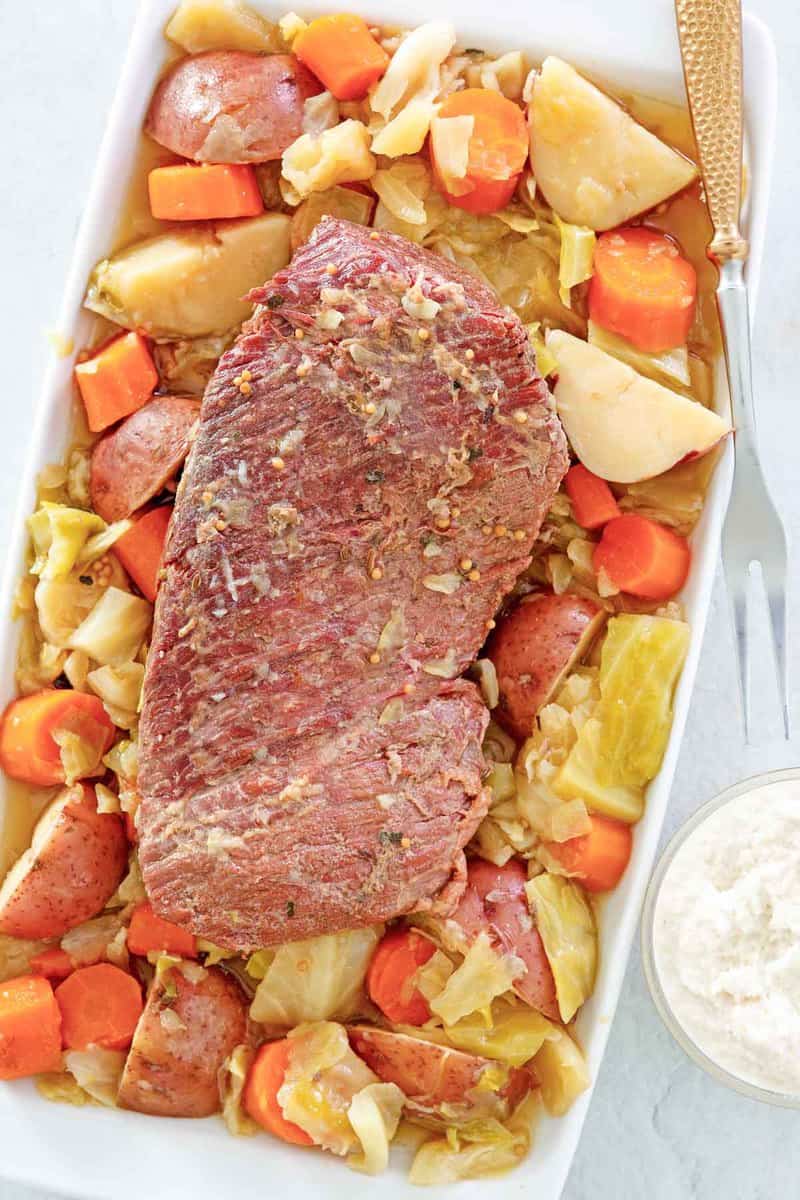 How to store leftover corned beef
Store your corned beef in the refrigerator in an airtight container for up to five days. You can freeze corned beef double wrapped in plastic for up to six months.
How to reheat corned beef
If you have a larger amount of it, I recommend reheating it in a 350-degree oven. Cover the corned beef with foil, and if you have some of the pan juice, be sure to add some of that to the baking dish. Reheat for about 10 to 15 minutes or until warm.
I recommend thawing corned beef completely before reheating. Use the same process as listed above.
Looking for great Instant Pot recipes? Be sure to check these out!
Popular Beef Recipes
And there's more! Take a look at the best Instant Pot recipes and easy beef recipes.
See what we are up to on Facebook!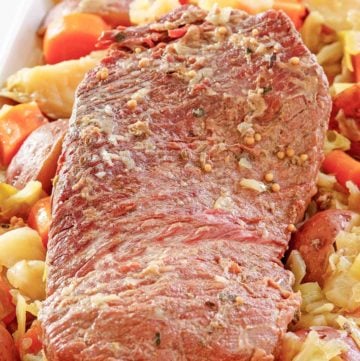 Ingredients
5

pounds

corned beef

1 3/4

cup

water

beef broth, or flat beer
Optional Vegetables
1/2

head

cabbage

cut into large pieces

1

pound

potatoes

quartered

1

pound

carrots

peeled and quartered
Horseradish Cream Sauce
1

cup

sour cream

1

tablespoon

horseradish
Instructions
Place the corned beef into the instant pot.

Add the seasoning packet that came with the beef, as well as the water, beef broth, or flat beer.

Close the lid, and set on the meat setting for 90 minutes.

When the active time has finished, If you intend to add vegetables, do a quick release. If you do not intend to add vegetables, do a natural release.

Add the cabbage, potatoes, and carrots, and set the instant pot for 5 minutes on high pressure.

Perform a quick release when the cooking time is complete.

If desired, make the horseradish cream sauce by combining the sour cream and horseradish.

Serve the corned beef along with the sauce.
Nutrition
Calories:
411
kcal
|
Carbohydrates:
0
g
|
Protein:
28
g
|
Fat:
31
g
|
Saturated Fat:
11
g
|
Cholesterol:
112
mg
|
Sodium:
2322
mg
|
Potassium:
591
mg
|
Fiber:
0
g
|
Sugar:
0
g
|
Vitamin A:
120
IU
|
Vitamin C:
51.5
mg
|
Calcium:
35
mg
|
Iron:
3.2
mg