Olivier Salad is a hearty potato salad with meat, eggs, and peas. It's also known as Russian potato salad. It's great as a side dish or main meal.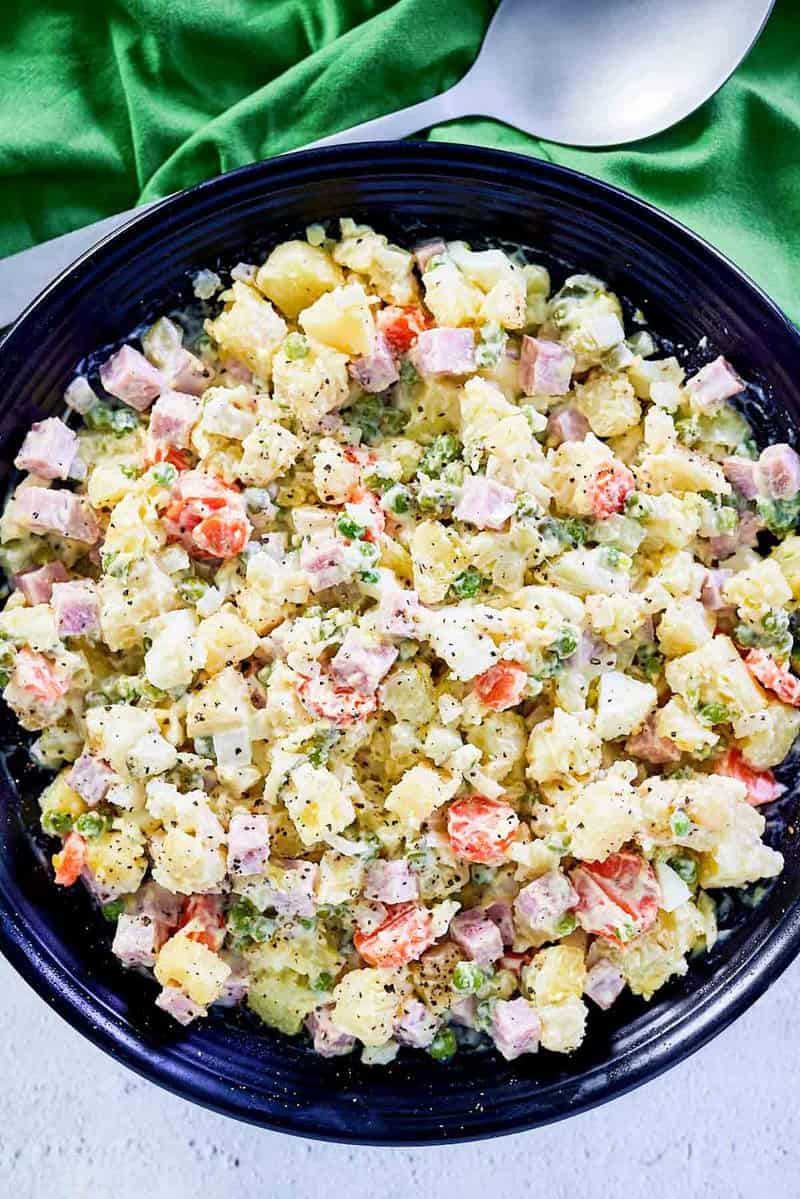 This post contains affiliate links. As an Amazon Associate, I earn from qualifying purchases.
Russian Potato Salad
Olivier salad is also known as salade Russe, or in my house, it is simply Russian potato salad. Many of you may have never heard of this type of potato salad which is a unique take on the potato salad we are all familiar with.
This Olivier salad is full of texture, super creamy, and ridiculously addicting. The recipe includes potatoes, eggs, meat, onions, peas, carrots, mayonnaise, and some sour pickles.
I enjoyed this salad and many Russian-style dinners thanks to my fiancée Michael, who was born in Russia and taught me a lot about Russian food.
What Is Olivier Salad?
Olivier Salad is a tradition in many post-Soviet countries on New Year's Eve, Christmas, Easter, and many other celebrations. Olivier is not like most types of American potato salad. The most significant differences are the inclusion of meat and sour pickles.
Brief History of Salad Olivier
Olivier salad, or salade Russe, wasn't actually created by a Russian but by Chef Lucien Olivier, a Belgian working for a restaurant in Moscow in the 1860s. This salad was so tasty that everyone wanted the recipe, but Olivier wouldn't share it.
The dish was then adapted by Ivan Ivanov, who published the recipe. Over the years, it gained popularity in Russia and throughout the rest of the Soviet Union, Europe, and even other parts of the world.
It's quite amazing how many different cultures have made delicious variations on this style of potato salad!
Why This Is the Recipe You Must Try for Russian Olivier Salad
This Olivier salad recipe doesn't skimp on texture or creaminess. If you are a fan of American potato salad, you'll absolutely love this classic Russian dish. In fact, you may like this salad so much that you may end up using any dinner as an excuse to make it!
This Olivier potato salad recipe is a great way to use up any leftover meat, such as duck, lamb, or chicken.
This is also a perfect recipe to prepare way ahead of time. All you have to do is cook and chop the vegetables and eggs, then place them in the fridge in separate containers until you're ready to make the salad. Mix everything together when you're ready to serve.
Olivier Salad Ingredients
This is not a fancy salad, so you don't need any fancy ingredients, just:
Potatoes
Carrots
White onion
Green sweet peas (frozen peas are great to use)
Eggs
Mayonnaise
Meat or fish
Sour dill pickle
Salt and pepper
Fresh dill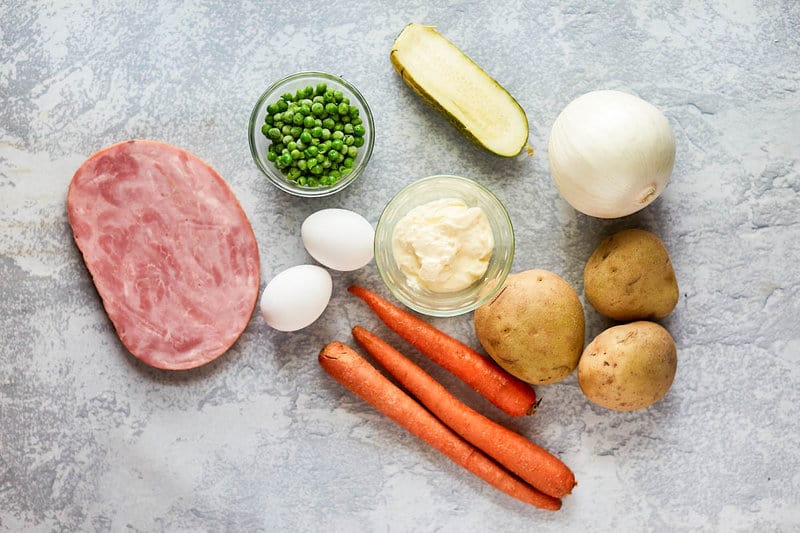 How to Make Russian Olivier Salad
This Olivier salad recipe couldn't be simpler to make. Just follow these steps:
Peel and boil the potatoes in a large pot and add the carrots halfway through the cooking process.
Hard boil the eggs and peel them.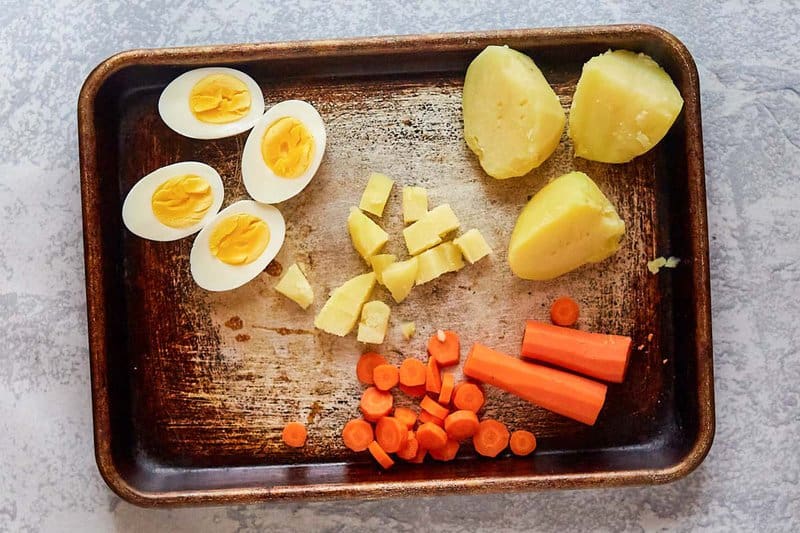 Allow everything to cool.
Use a knife to dice them into bite-sized pieces. Place the dices in a large bowl.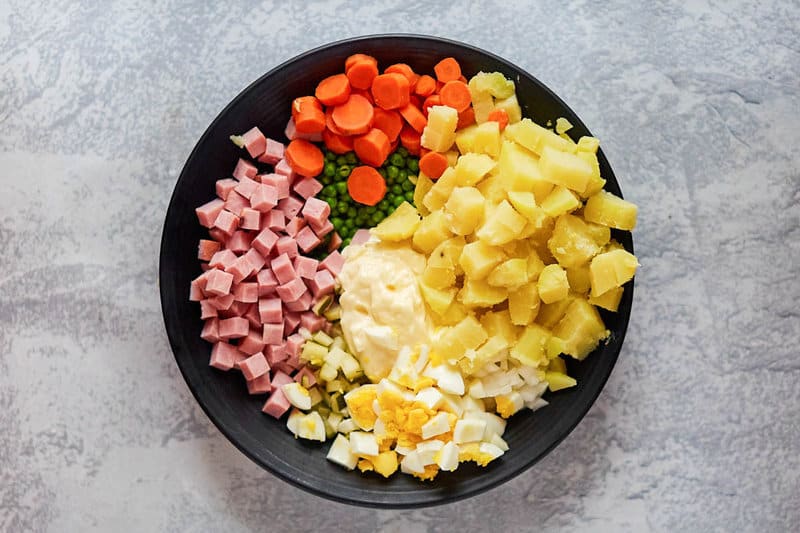 Add the rest of the ingredients and stir until well blended.
Season with salt and pepper.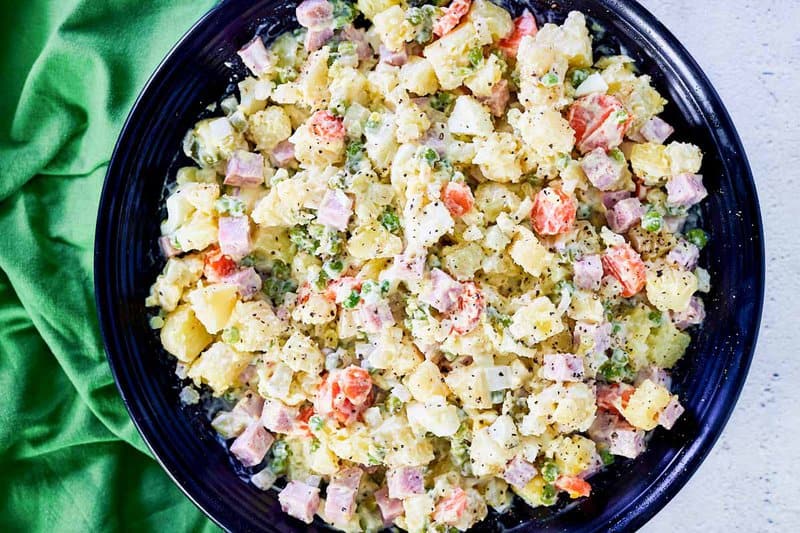 Tips for Making the Best Olivier Potato Salad
Be sure to use sour dill pickles – this Russian salad was not intended for sweet pickles.
Place the pickle cubes in a sieve to drain overnight. Or, if you forget to do this, you can squeeze out the juices using some paper towels. This way, the pickle juices won't add sogginess to the salad or overpower the flavors of the other ingredients.
Use a vegetable slicer or chopper for perfect evenly-sized pieces every time.
This salad tastes better if you make it a few hours before serving or even the evening before.
Canned peas taste mushy, but using frozen or fresh peas takes the salad to a new level. You'll never want to go back to canned peas again.
Make your own homemade mayonnaise for the best fresh flavor.
Recipe Variations
The sour pickles and meat impart the flavor to this traditional Russian potato salad recipe. Keep in mind that during the Soviet era, salads like this were made with whatever was available at the time. This makes this salad Olivier super flexible, and you can easily play around with it and make it your own. Here are some suggested variations:
Use half mayo and half sour cream, and add some cucumber and granny smith chopped apples. Garnish with chopped green onions.
If you are feeding someone with an egg allergy, you can use crème fraiche, sour cream, or Greek yogurt instead of mayonnaise.
If you feel adventurous, other pickled vegetables, such as beet pickles, would go well in this salad.
Try smoked beef sausage and some mild cheddar cheese.
Add a little Dijon mustard to give it another layer of flavor.
Try it Iranian style. Boil a chicken with onion, red paprika powder, garlic powder, black pepper, and salt. Add the shredded chicken meat and some of the chicken juices to the salad with potatoes, green peas, pickled cucumbers, eggs, lemon juice, and mayonnaise. Thanks to reader Pantea who described this.
What to Serve With Russian Potato Salad
This salad is perfect for your holiday celebrations or a family cookout. Here are some serving ideas.
Make it look attractive by placing it on a bed of lettuce leaves on an attractive serving platter.
Serve this as a side dish instead of regular potato salad at your next BBQ. It pairs perfectly with grilled meats.
For an authentic full-blown Slavic feast, serve this Russian potato salad with some shashlik (kabobs), cabbage rolls, piroshki (filled hand pies), and/or a bowl of borscht.
A Russian cookbook may be a great gift for someone who likes cooking.
How to Store Salad Olivier
Don't let the potato salad sit out at room temperature for longer than 2 hours.
This salad will keep well in an airtight container for a couple of days in the refrigerator. If you keep the mayo separate, it will last up to 5 days.
Note that you should not freeze Olivier salad. The mayo and starchy potatoes will not thaw well, and you'll end up with a mushy salad.
Love Potato Salad? Try These Recipes!
Favorite Potato Side Dish Recipes
Check out my easy salad recipes and the best side dish recipes here on CopyKat!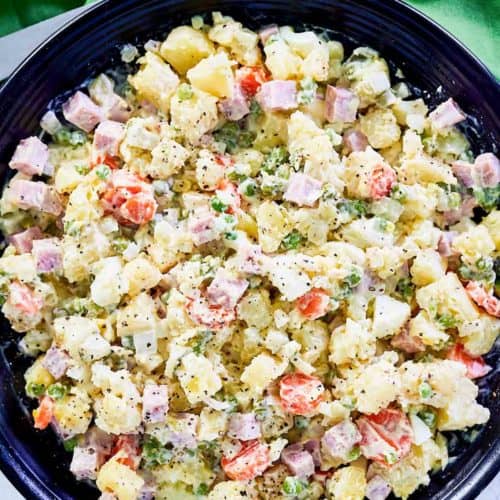 Ingredients
1 1/2

pounds

potatoes

peeled

2

carrots

peeled (optional)

2

eggs

1/2

cup

finely chopped white onion

1/4

cup

chopped sour dill pickles

1

cup

green peas

canned or thawed from frozen

1

cup

diced meat – ham, bologna, chicken, or corned beef

3/4

cup

mayonnaise

salt and pepper

to taste
Instructions
Boil the potatoes until tender. If you would like carrot in your salad, add the carrots halfway through the potato cooking process.

In a separate pot, hard boil the eggs. Drain, rinse with cold water, and peel.

Allow the potatoes, eggs, and carrots to cool. Then chop them into bite-sized pieces and place them in a bowl.

Add the onions, dill pickles, green peas, meat, and mayonnaise.

Stir until combined and season with salt and pepper if desired.
Notes
This is a very flexible recipe and this is how I enjoy it the best. Some people may find this type of potato salad a little bland, here the sour pickles, and the meat really adds the flavor impact. Keep in mind that during the Soviet era, salads like this were made with what was on hand and available. Feeling adventurous, other pickled vegetables would go well in here. Don't forget to garnish with a little dill weed.
Nutrition
Calories:
258
kcal
|
Carbohydrates:
15
g
|
Protein:
9
g
|
Fat:
17
g
|
Saturated Fat:
3
g
|
Cholesterol:
67
mg
|
Sodium:
230
mg
|
Potassium:
544
mg
|
Fiber:
3
g
|
Sugar:
2
g
|
Vitamin A:
2775
IU
|
Vitamin C:
18.8
mg
|
Calcium:
47
mg
|
Iron:
3.3
mg