Hot German potato salad is the potato salad you have always longed for. Potatoes, bacon, onions, and more make a delicious side dish perfect for family dinners, potlucks, and holiday meals.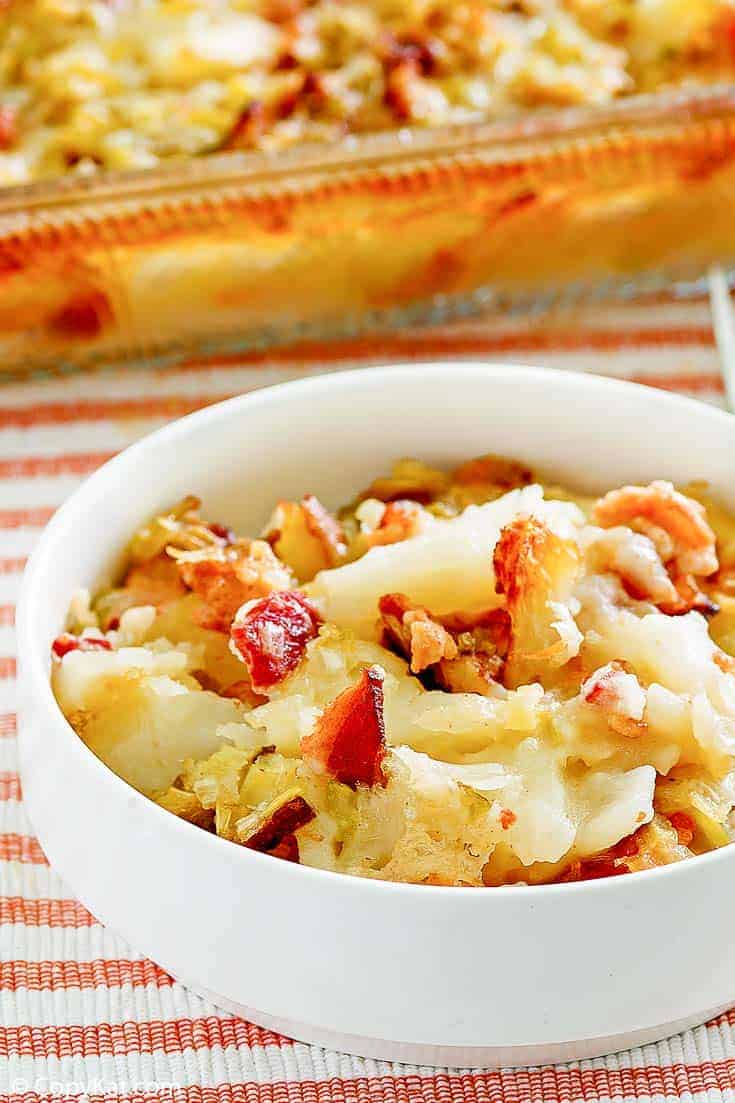 Cold potato salad, that creamy, mayo-based picnic and potluck supper standby, is probably the first thing you imagine when you hear the term 'potato salad,' but there is an alternative, German potato salad, and it's nothing like its American cousin. This recipe for Hot German Potato Salad With Bacon is simple to make and provides a wonderful alternative to your ordinary side dishes. The next to you find yourself in need of a potato dish, why not give this one a try?
What Make German Potato Salad So Different and So Delicious?
The first big difference between German potato salad and the American version is that this recipe replaces the calorie and fat-laden mayonnaise found in ordinary potato salads with a dressing made from vinegar, sugar, water along with a touch of bacon fat. This dressing imparts a sweet and sour taste and rich mouthfeel that combines beautifully with the fluffy and mild potatoes.
But what makes German Potato Salad so versatile, and such a valuable recipe to know is that you can serve it hot, cold, or even room temperature. This gives you the flexibility to pair it with hot dishes or cold ones.
Which Potatoes Make the Best German Potato Salad?
With so few ingredients, each one plays a huge part in the success of the recipe, but none so much as the type of potatoes you choose. Keep your potato salad from becoming too gummy by selecting a waxy potato variety. Waxy potatoes are the best choice due to their low amount of starch, which tends to turn into an unappetizing gloopy paste when boiled.
Traditionally, most home cooks prefer unpeeled red potatoes when they make German potato salad due to their thinner skin and unique flavor profile. Smaller varieties of red potatoes such as Superior, Kennebec, and Atlantic are ideal because they tend to be sweeter than larger types, like Red Bliss. If you don't like, or your local supermarket doesn't carry red potatoes, feel free to use any type of new potatoes, Pee-Wees, or even Fingerlings. Yukon Gold is a decent substitution, but you will want to peel them and get the best result by slightly uncorking them.
Hints For Making, Serving and Storing Hot German Potato Salad with Bacon
Keep your potato salad from getting watery. Prevent your potatoes from releasing excess water into the potato salad by drying them completely and cooling them to room temperature before combining them with other ingredients.
For the best flavor, try serving this recipe, not too hot and not too cold. Although, you can dish up this salad straight from the CrockPot or fridge, enjoying this as a warm German potato salad is the preferred temperature for most people.
Store any leftovers in an airtight container. You can keep your German potato salad in the fridge for up to three days. It is best to serve leftover German potato cold, but you can reheat a single serving in the microwave for around a minute and a half.
Don't miss a single new recipe by following us on Twitter!
Hot German Potato Salad is dairy-free.
Ingredients
Here is what you need to make the potato salad:
Potatoes, cooked and sliced
Bacon
Celery
Onion
Flour
Salt
Sugar
Vinegar
How to Make Hot German Potato Salad
Slice cooked potatoes and place them in a baking dish.
Fry diced bacon and drain fat from skillet.
Sprinkle cooked bacon over potatoes.
Return 4 tablespoons of bacon fat to the skillet and add celery, onions, flour, and salt. Cook gently.
Add sugar, vinegar, and water. Bring to a boil.
Pour sauce over potatoes and bacon.
Bake in the oven at 350 degrees for 30 minutes or put in a crock-pot until well heated.
Serve warm.
Love potatoes? Try these recipes
More Salads with Bacon
Be sure to check out more of my homemade salads and the best side dish recipes.
Recipe courtesy of Agnes Schelluen. Jefferson City, Mo. 1968.
Ingredients
8

cups

sliced potatoes

cooked

1

cup

diced celery

1

cup

diced onion

3

tablespoon

flour

1

tablespoon

salt

2/3

cup

sugar

2/3

cup

vinegar

1 1/2

cup

water

1

cup

diced bacon
Instructions
Fry bacon, and drain fat from skillet. Return 4 tablespoon fat to skillet, and add celery, onions, flour, and salt. Cook gently. Add sugar, vinegar, and water. Bring to a boil. Put bacon on top of potatoes. Pour sauce over potatoes and bacon. Bake in the oven at 350 degrees for 30 minutes or put in a crock-pot until well heated.
Nutrition
Calories:
299
kcal
|
Carbohydrates:
62
g
|
Protein:
8
g
|
Fat:
2
g
|
Saturated Fat:
0
g
|
Cholesterol:
3
mg
|
Sodium:
1240
mg
|
Potassium:
1248
mg
|
Fiber:
7
g
|
Sugar:
23
g
|
Vitamin A:
75
IU
|
Vitamin C:
34.4
mg
|
Calcium:
100
mg
|
Iron:
9.3
mg