The Suddenly Salad bacon ranch pasta salad is a great side dish to bring to a picnic or to serve as a side dish.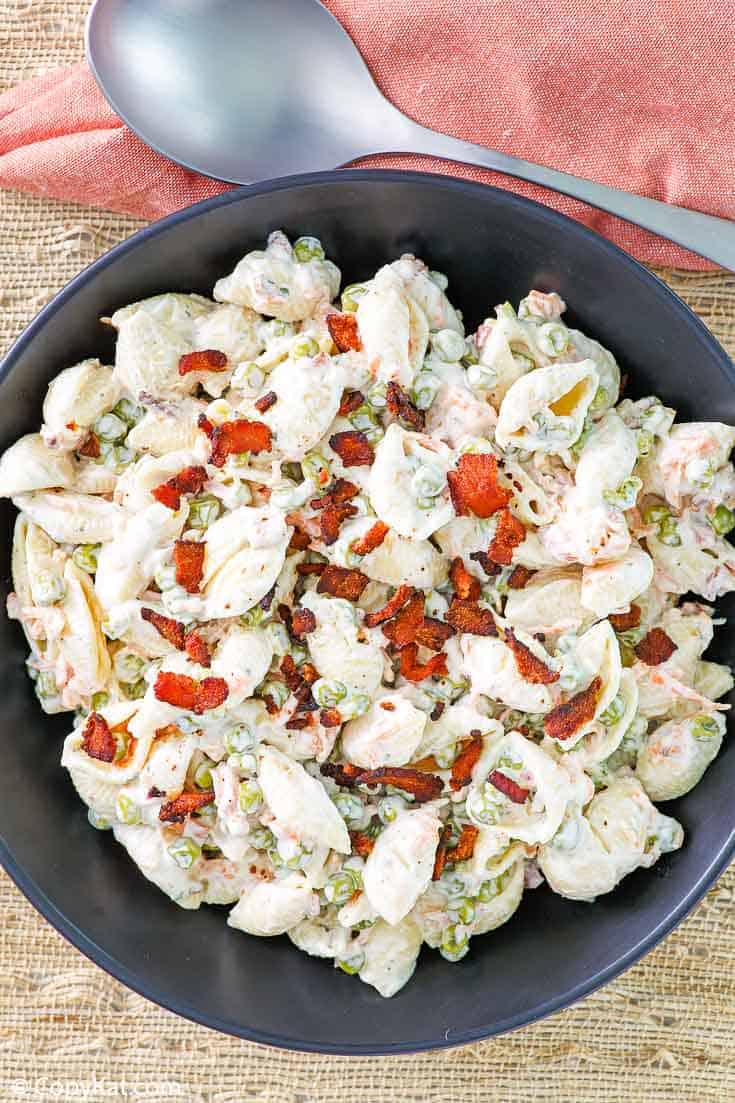 Make Suddenly Salad Ranch & Bacon Salad at Home
If you aren't familiar with the Betty Crocker Suddenly Salad packages, you are missing out on an easy way to make pasta salads. The Suddenly salad pasta salads are easy to fix and tasty. Suddenly Salad boxes come with flavoring packages.
This copycat suddenly salad recipe for Ranch & Bacon comes with a festive mix of vegetable blend and seasoning and imitation bacon bits. However, you can make this pasta salad at home without using the prepackaged mix.
Pasta salads are ideal for picnics or a potluck. I get requests for this pasta salad for every get-together and cookout.
Pasta Salads Aren't Dainty
It might be true that real men don't eat quiche or salads, especially if salads conjure up images of dainty lunches for ladies. However, pasta salads are robust combinations of pasta, vegetables, and often cheese and meat, bound together by a distinctively flavored dressing. Pasta salads are decidedly macho and the men in your life will love them.
Pasta Salad is not Italian
Pasta, of course, is associated with Italy where they take their pasta very seriously. But pasta salad is actually more American than Italian. Italians generally prefer their pasta hot and served as a separate course. Pasta salad is relatively new in the US as far as culinary trends go. It only really became popular starting in the 1980s when there was a mayonnaise-based macaroni salad that could be found in every deli and became tiresome.
DIY Suddenly Salad
You can make this Suddenly Salad Ranch & Bacon Salad in your kitchen. Pasta, mayonnaise and a few extra ingredients create a very flavorful pasta salad. And, the crispy bacon adds a nice flavor. This is a great knock-off recipe – in fact, it's even better than the box!
Ingredients
This is what you need to make the salad:
Pasta
Green Peas
Carrots
Mayonnaise
Hidden Valley Ranch Dressing Mix
Onion Powder
Bacon Bits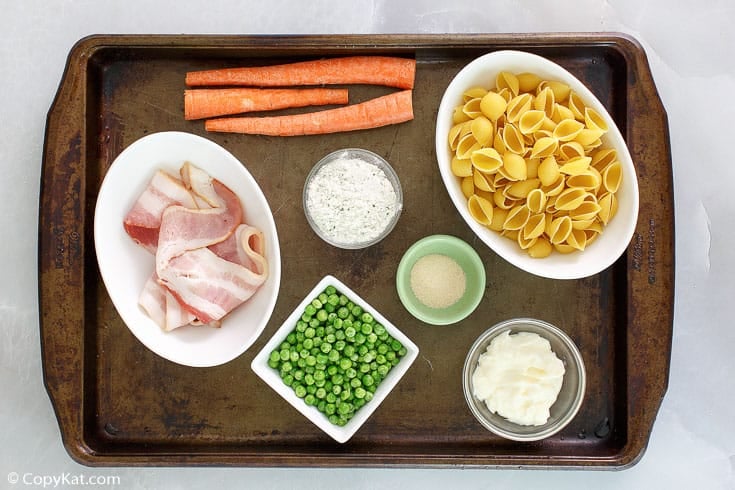 How to Make Bacon Ranch Pasta Salad
Boil pasta and carrot shreds for 10 minutes. Drain and rinse with cold water.
Mix together the peas, ranch dressing mix, bacon bits, onion powder, and mayonnaise.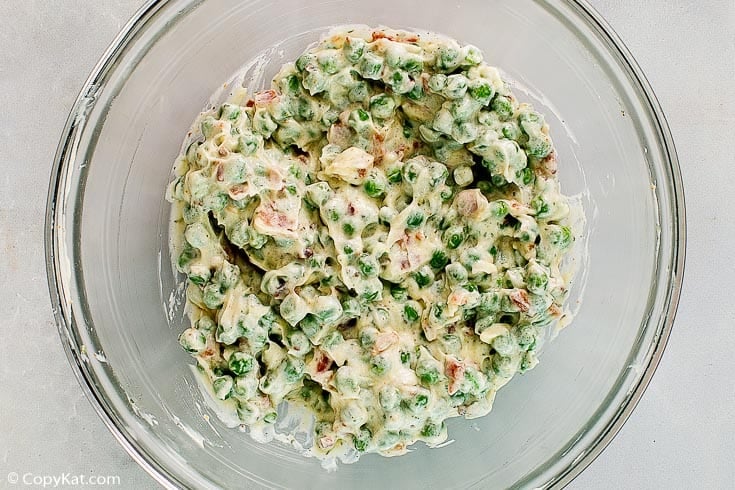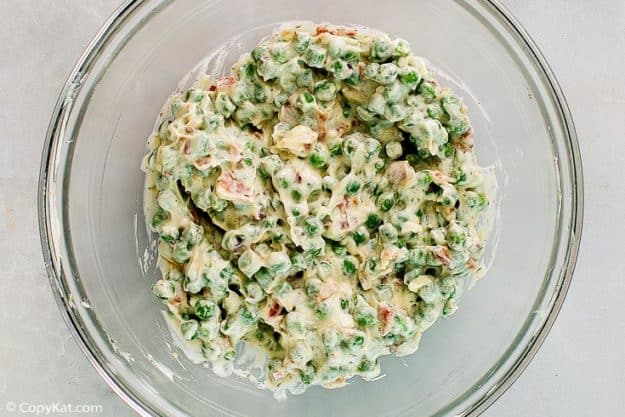 Add the cooked pasta and carrots. Stir to coat the pasta with the mayonnaise mixture.
Refrigerate the pasta salad until serving.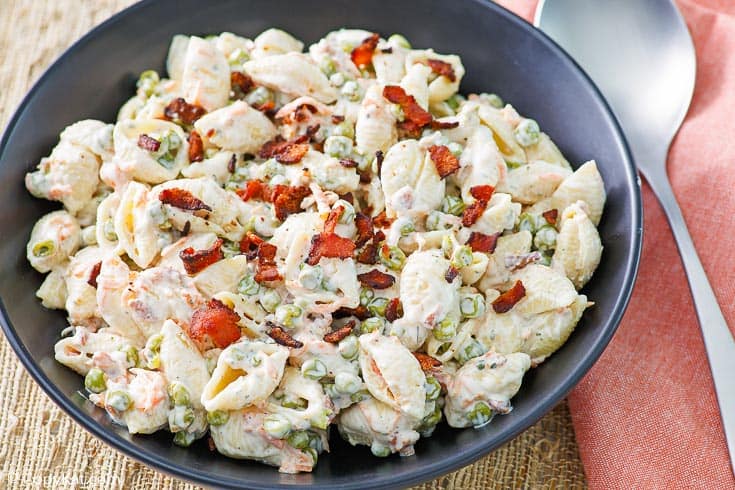 Three Rules for Making a Pasta Salad
Don't overcook the pasta.
Rinse the cooked pasta in cold water. Normally you wouldn't do this with pasta, but it's necessary when preparing a pasta salad to keep the pasta from cooking further. Cool the pasta completely before making the salad.
Choose your brand of pasta carefully. Although pasta is cheap, spend a few extra pennies on a name brand that you trust.
Variations on this Pasta Salad
Thanks to my readers who sent in some good ideas like this one:
If you think that using mayo makes the dish too heavy, swap the mayo out for sour cream and a few splashes of milk. This makes the salad creamier and lighter.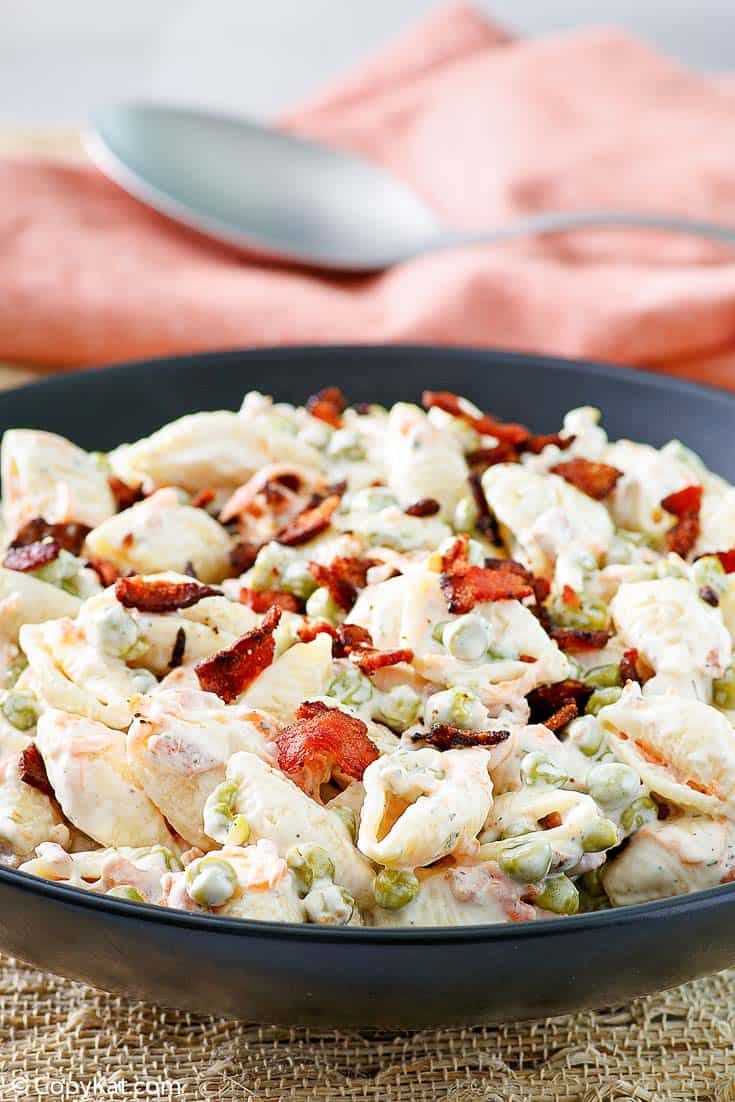 More Pasta Salad Recipes to Try
Recipes For Pasta Lovers
Be sure to check out all the tasty copycat salad and great pasta recipes.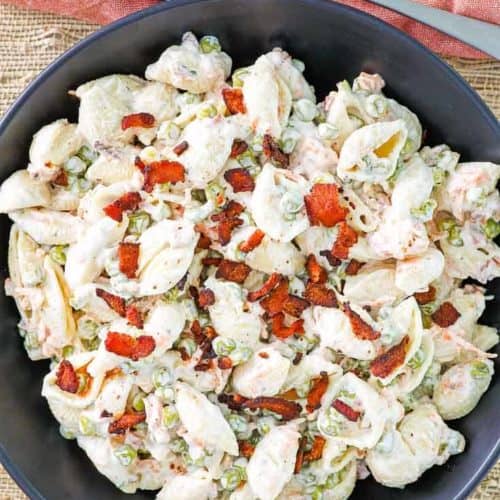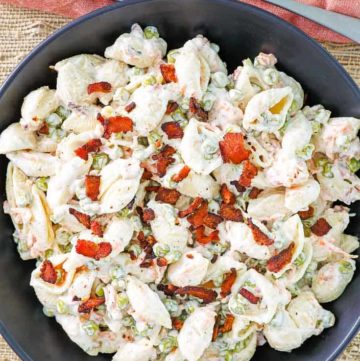 Ingredients
2

cups

dry shell pasta

1/2

cup

shredded carrots

8

ounces

green peas

1

packet

Hidden Valley Ranch ranch dressing mix

2

tablespoons

bacon bits

1/2

teaspoon

onion powder

2/3

cup

mayonnaise
Instructions
Bring water to a rolling boil in a large saucepan. Add pasta and carrot shreds and boil for 10 minutes. Drain using a strainer and rinse the pasta and carrots with cold water. Shake the strainer to remove excess water from the pasta.

In a medium-sized bowl, mix together the peas, the entire packet of ranch dressing mix, bacon bits, onion powder, and mayonnaise.

Add the cooked pasta and carrots. Stir until the pasta is coated with the mayonnaise mixture.

Cover and refrigerate until serving.
Nutrition
Calories:
303
kcal
|
Carbohydrates:
24
g
|
Protein:
5
g
|
Fat:
19
g
|
Saturated Fat:
3
g
|
Cholesterol:
12
mg
|
Sodium:
563
mg
|
Potassium:
182
mg
|
Fiber:
2
g
|
Sugar:
3
g
|
Vitamin A:
2085
IU
|
Vitamin C:
15.8
mg
|
Calcium:
19
mg
|
Iron:
0.9
mg