Are you in the mood for a creamy cold pasta salad with a seafood twist? Look no further than this delicious and easy seafood pasta salad recipe. Made with imitation crab meat and a medley of colorful veggies, this pasta salad is the perfect dish for a weeknight meal. The tangy dressing is made with a blend of sour cream, milk, and ranch dressing, adding a zesty kick to every bite.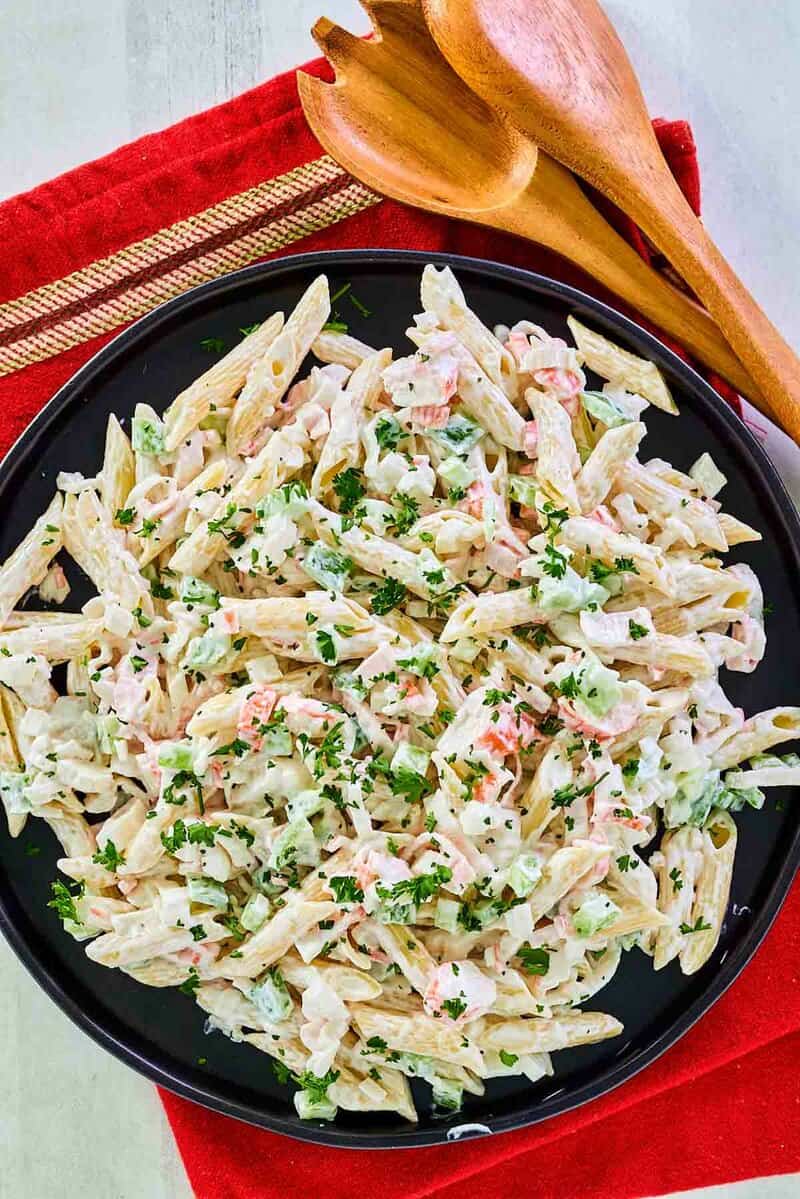 This post contains affiliate links. As an Amazon Associate, I earn from qualifying purchases.
What Makes This Seafood Pasta Salad So Good?
Seafood pasta salads can be iffy. Striking the perfect balance between the sauce, seafood, and pasta isn't always easy. But this seafood salad recipe with pasta gets it right.
The creamy sour cream and ranch sauce is just tart enough to bring out the slight brininess of the imitation crab, and the veggies add a crunch that contrasts beautifully with the perfectly cooked pasta. Make this Seafood Pasta Salad recipe as light lunch or serve it as part of dinner.
Why This Seafood Salad Is Perfect for a Pot Luck Dinner
This is the kind of dish that, when it shows up on the table at a potluck, you'd better take an extra large helping because there isn't going to be any left when you go back for seconds. If you show up with this salad, your friends will be impressed. And there is no reason to tell them how quick, easy, and inexpensive it is to make enough to feed a crowd!
Seafood Pasta Salad Ingredients
For this pasta salad, you'll need:
Penne pasta
Sour cream
Ranch dressing
Whole milk
Imitation crab meat
White onion
Green bell pepper
Celery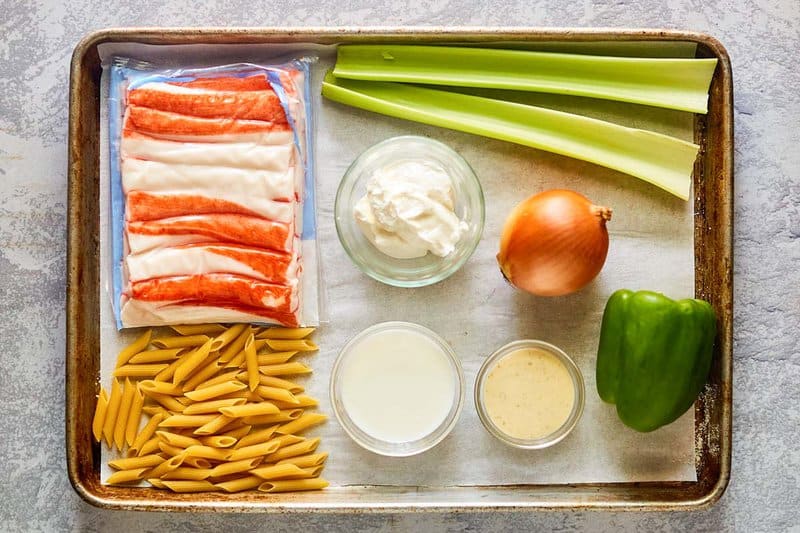 Imitation crabmeat is a common ingredient in Japanese cooking, and you can find it at most Asian grocery stores or online. It's made from fish pureed with other ingredients and then formed to resemble the real thing.
You can use other pasta instead of penne. Macaroni, rotini, or ziti are great choices.
How to Make This Seafood Salad With Pasta
To cook the pasta:
Boil the pasta in heavily salted water according to the package instructions. Don't forget cold temperatures mute flavors. That means you will want more salt than usual.
Cook the pasta for about a minute longer than you would if you were making hot pasta. You are looking for something a little more tender than al dente.
Pour the pasta into a colander and rinse under cold running water to cool immediately.
Toss the pasta in the colander over the sink to remove as much water as possible. Allow the pasta to drain well.
To finish the seafood salad with pasta:
Combine the sour cream, ranch dressing, and milk in a large mixing bowl. Stir well.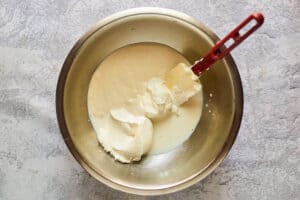 Cover the bowl with plastic wrap and stick it in the fridge for at least two hours to allow the flavors to meld.
Just before you remove the sauce from the fridge, cut the imitation crab meat into bite size pieces. Chop the white onion, green peppers, and 2 stalks celery into small pieces. Combine them with the pasta in a large bowl.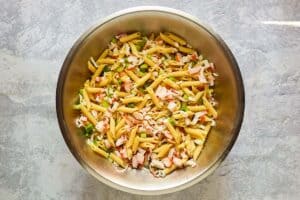 Remove the well-chilled sauce from the refrigerator. Add the rest of the sauce ingredients to the mixing bowl.
Add the sauce to the pasta mixture and stir to combine.
Cover the bowl with plastic wrap and chill it for at least two more hours before serving.
Garnish with paprika or herbs – fresh dill or parsley.
What to Serve With Imitation Crab Pasta Salad
This recipe may be for a Seafood Pasta Salad without mayonnaise, but it is still extremely decadent. Pairing the pasta salad with sides that can cut some of the richness of the sauce work really well. Here are a few suggestions:
Garlic bread brings a lot of crunchy texture to the meal and the strong and intense flavor of garlic.
A Greek or Caesar salad will add more fresh vegetables and help boost the acidity of the seafood pasta salad.
Coleslaw, but not the kind with mayo. The best type of coleslaw to pair with seafood salad contains shredded cabbage and carrots tossed with oil and vinegar!
Recipe Variations
This seafood salad uses imitation crab because it is tasty and easy to work with but feel free to use the real thing. Of course, you can also use other cooked seafood, such as peeled shrimp or even lobster!
How to Store Pasta With Seafood Salad
Put leftovers in an airtight container and keep them in the fridge. Do not freeze.
How Long Will It Last
You should finish any extra seafood salad pasta within two to three days after making it. It is not safe to eat any seafood that has warmed to room temperature.
Favorite Pasta Salads
Popular Side Dish Salads
Check out more of my easy pasta recipes and the best salad recipes on CopyKat!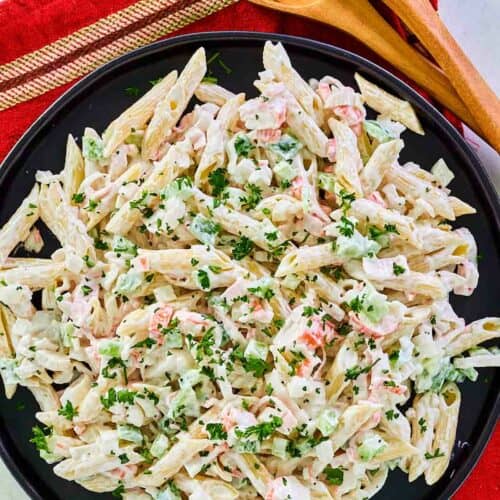 Ingredients
16

ounces

sour cream

16

ounces

ranch dressing

1/4

cup

milk

1/2

cup

chopped onion

1/2

cup

chopped green bell pepper

1/2

cup

chopped celery

1

pound

imitation crab meat

1 1/2

pounds

penne pasta

cooked according to package directions
Instructions
Combine the sour cream, ranch dressing, and milk. Let the mixture sit in the refrigerator for 2 hours.

Combine the onions, peppers, celery, crab meat, and pasta in a large bowl.

Add the prepared dressing and mix well. Chill for at least 2 hours.
Nutrition
Calories:
511
kcal
|
Carbohydrates:
53
g
|
Protein:
10
g
|
Fat:
27
g
|
Saturated Fat:
7
g
|
Cholesterol:
36
mg
|
Sodium:
665
mg
|
Potassium:
241
mg
|
Fiber:
2
g
|
Sugar:
5
g
|
Vitamin A:
300
IU
|
Vitamin C:
7.3
mg
|
Calcium:
74
mg
|
Iron:
1.1
mg