This sour cream beet salad recipe is one of my favorite ways to enjoy fresh beets. You can easily prepare this salad and you may even turn others into fans of beets.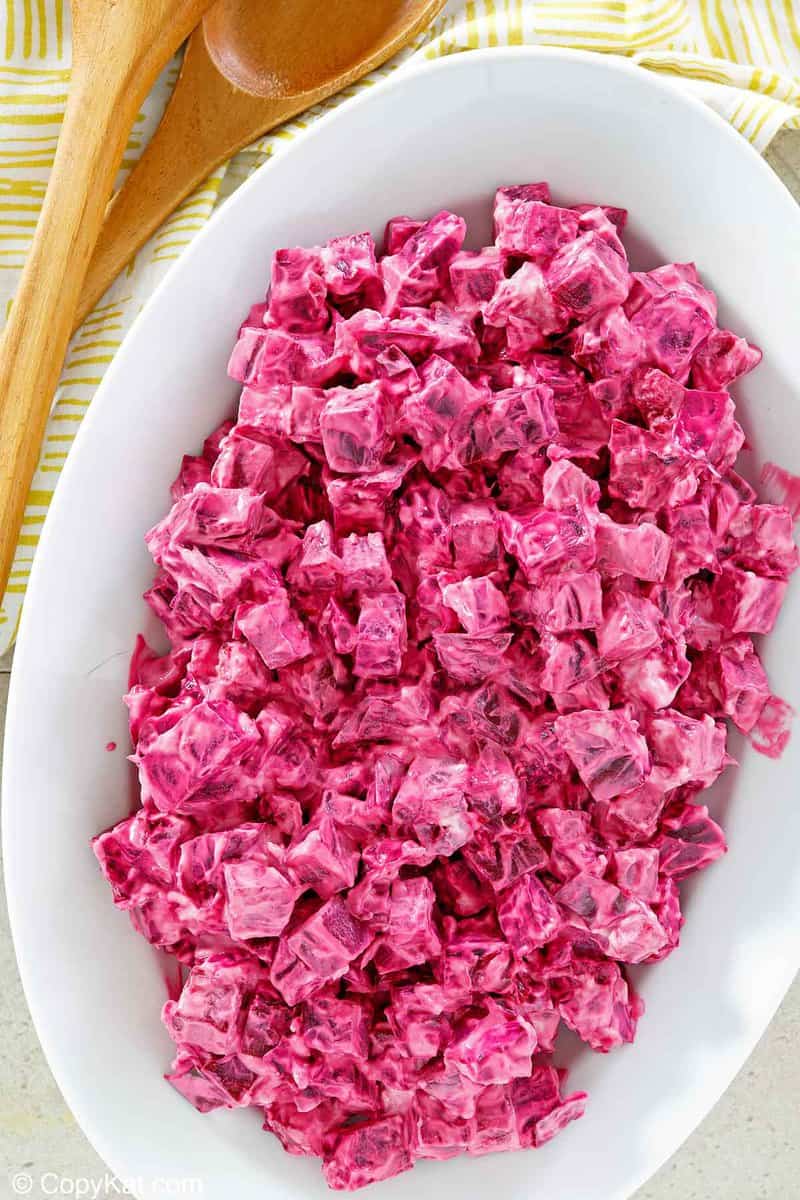 Many home cooks tend to avoid preparing dishes containing beets, but that needs to stop. Besides the pleasing sweet, earthy taste of these hearty root vegetables, beets are pretty darn good for you to boot. With all the benefits of beets, every one of us should find more ways of serving them. This vibrant beet salad recipe intensifies the beets' natural sweetness by roasting them before tempering with acidity from sour cream and onions to balance the flavor. Eaten cold, this is the perfect summer beet salad to introduce your family to this wonderful vegetable.
How to Choose the Best Beets
There are quite a few varieties of beets, and each one has a unique flavor profile. While you can use just about any type of beets in this recipe, there are a few that work particularly well, such as Boldor, Cylindra, Candy Cane, and Golden beets.
Boldor beets have a beautiful pale golden color and a mild taste. They are ideal for roasting since they still retain a fair bit of liquid.
Cylindra beets may look more like fat carrots than beets, but this dark red beet variety is super sweet and has a soft texture. Some stores sell Cylindra beers under the name "Butter Slicer."
Candy Cane beets are stunning when cut open. They have striking stripes similar to the Christmas candy they're named after and have a sweet, mild test. As a bonus, they are less likely to stain your hands or clothes than other types.
Golden beets have a striking bright yellow color and are mild without being overly sweet. They roast beautifully and are widely available.
Try selecting beets that are neither large nor small for their variety and heavy for their size.
How to Cook Better Beets
Start by giving the beets a good scrubbing under running water. Use a clean kitchen towel or a soft bristle vegetable brush if you have one to get rid of any dirt. Trim any remaining stalks from the top and any stringy bits from the bottom.
Toss the beets with a bit of olive oil and wrap in aluminum foil and cook until tender in a preheated 375-degree oven. Begin checking whether the beets are fork-tender after around 45 minutes. Since the cooking time varies based on the type of beets, you will want to wrap each variety in separate aluminum packages.
Once the beets are cooked, allow them to cool slightly before using a clean kitchen towel that you don't mind staining to rub off the beets' skin. Be gentle. Give the beets a quick rinse under cold water to cool completely and wash away any remaining skin residue. Dry the beets well before continuing.
Tips for Making and Storing this Beet Salad Recipe
Keep beets whole until right before serving. Store beats for up to 5 days in a shallow, airtight container.
Fresh beet salad dressing is best. Only make as much dressing you need for one meal at a time, and don't dress the salad until you are ready to serve.
Add crushed walnuts for a little more flavor and texture. Replacing the balsamic vinegar and sugar with one teaspoon of deli mustard and one teaspoon of freshly grated horseradish gives the salad a real kick.
See our newest recipes on Facebook!
Ingredients
Here's a list of what you need:
Beets
Sour cream
White onion
Salt
Sugar
Balsamic vinegar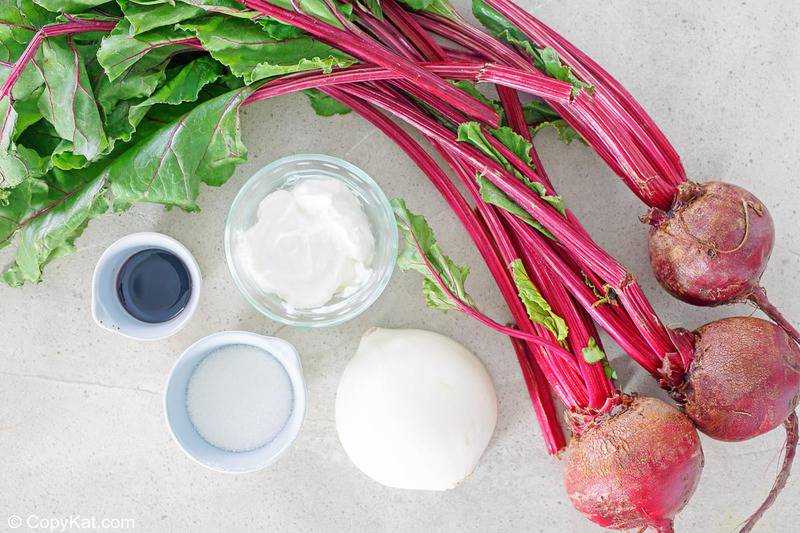 Beet Buying Tips
Fresh beets are best between June and October because that is when they are the freshest. You can purchase beets any time of the year.
Ideally, you should get beets that are medium in size, very small beets are known as baby beets. Larger beets are perfectly ok to use, you may need to cook them longer.
Beets are often a deep red color, but they can come in yellow, and multicolors.
When you select your beets you want ones that are hard, round, and smooth. You don't want any blemishes on the surface.
Beets may come with the greens or without, they are good to use either way. Some people enjoy eating beet greens.
On the bottom of the beet, you will see a root that is known as the "taproot". You can leave this on when you cook them, or you can cut it off before cooking.
Beets are wonderfully sweet, they have the highest sugar content of any vegetable, but they are still low in calories, at just about 35 calories per half-cup.
Beets are rich in vitamins A and C. They also contain folates, calcium, iron, and potassium.
Beets can leave a deep red stain on everything that they touch, so you may want to use a plastic cutting board so it doesn't stain your wooden cutting board.
How to Prepare Beets
Beets must be cooked before they are eaten. These can be boiled, steamed, or roasted. Roasting is extremely easy, and you can do so in the oven.
You may wonder how you will get the skin off the beets. When the beets are cooked the skin simply slips off.
Once you get the beets cooked you can shred, dice, or even slice them. I love to add them to salads.
How to Make Sour Cream Beet Salad
If beets have tops, slice off the tops as closely to the beet as possible. Wash beets thoroughly.
Tightly wrap each beet in foil.
Place foil-wrapped beets on a baking sheet.
Bake at 400 degrees for approximately 50 minutes or until tender.

When beets are cool enough to handle, hold beets with a paper towel and push off the skins.
In a medium-sized bowl, combine sour cream, onion, salt, sugar, and balsamic vinegar.

Dice beets and stir into the sour cream dressing.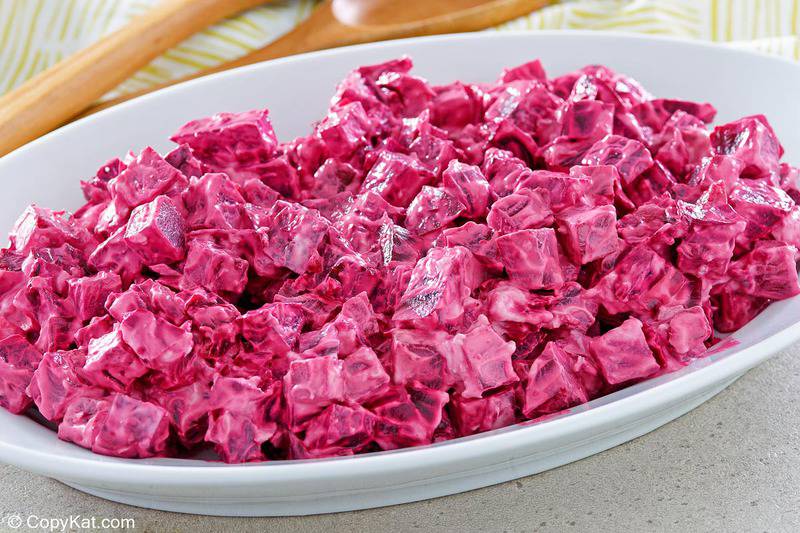 Love Beets? Try these recipes!
Popular Salad Side Dishes
Check out more of my easy salad recipes and the best vegetable side dish recipes here on CopyKat!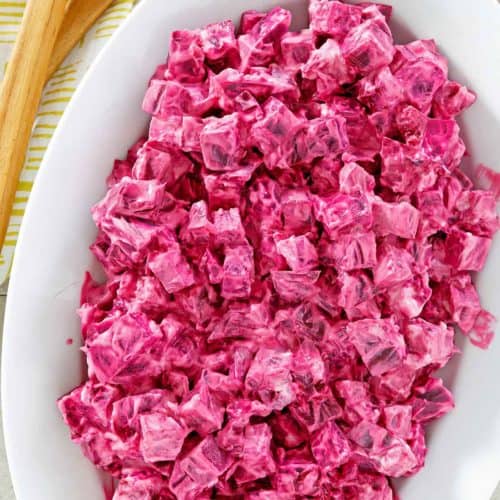 Ingredients
2

pounds

beets

1

cup

sour cream

2

tablespoons

white onion

grated

1

teaspoon

salt

1

teaspoon

sugar

1

tablespoon

balsamic vinegar
Instructions
Preheat oven to 400 degrees.

If beets have tops, slice off the tops as closely to the beet as possible. Wash beets thoroughly. There is no need to dry the beets.

Wrap each beet in foil tightly. Place foil-wrapped beets on a baking sheet. Bake for approximately 50 minutes. Beets should be tender to the touch.

When the beets are cool enough to handle, hold them with a paper towel and push off the skins.

In a medium-sized bowl, combine sour cream, white onion, salt, sugar, and balsamic vinegar.

Dice beets and stir them into the sour cream dressing.

Serve immediately or store in the refrigerator in an air-tight container until serving.
Nutrition
Calories:
145
kcal
|
Carbohydrates:
16
g
|
Protein:
3
g
|
Fat:
7
g
|
Saturated Fat:
4
g
|
Cholesterol:
19
mg
|
Sodium:
536
mg
|
Potassium:
545
mg
|
Fiber:
4
g
|
Sugar:
12
g
|
Vitamin A:
290
IU
|
Vitamin C:
8
mg
|
Calcium:
66
mg
|
Iron:
1.3
mg