Baked Scallops with Ritz crackers are simply incredible! Buttermilk and thyme give scallops a special flavor. Buttery cracker topping gives a nice crunch to the tender scallops. It takes only a few minutes to prep and then bake in the oven until the scallops are perfectly cooked. It's a must-try seafood dish!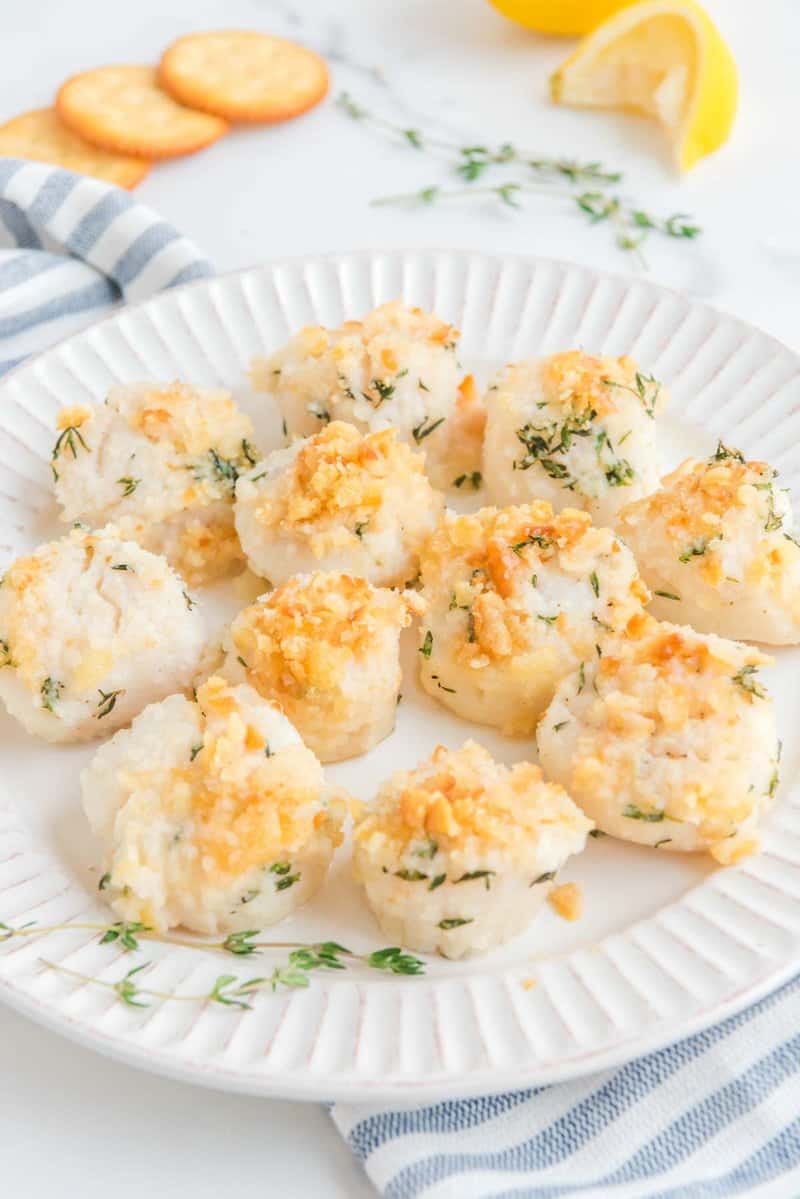 This post contains affiliate links. As an Amazon Associate, I earn from qualifying purchases.
Baked Scallops are One of the Easiest Ways to Prepare Scallops
If you want some incredible baked scallops at home, you are going to love this simple recipe for the scallops baked with a buttery cracker topping.
Turns out, making scallops in the oven is an easy way to prepare sea scallops. It's so easy you'll want to put this on your regular rotation and serve it up quite a few more times!
Baked Scallop Recipe
My recipe makes 8 servings, so it's perfect for a family dinner. It has a delightful crunchy topping and the scallops always turn out the perfect texture.
Ingredients
You might already have most of these ingredients at home. Here's what I used in my baked scallops:
Sea Scallops
Fresh thyme leaves
Buttermilk
Ritz crackers
Butter
Lemon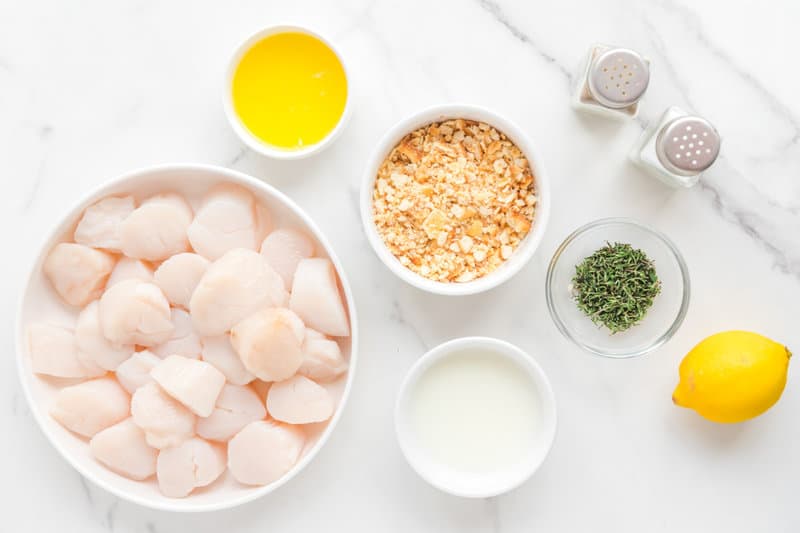 How to Make a Buttermilk Substitute
If you don't have buttermilk at home or forgot to pick some up from the store, you can use this easy hack and make some right at home.
Just add a spoonful of white vinegar or lemon juice to the same amount of milk. Stir it and let it sit for about 5 to 10 minutes. You'll notice it will start to change its texture a bit. Give it one last stir then add it to the recipe.
How to Bake Scallops
In a bowl, season the scallops with salt and pepper.
Add thyme and buttermilk and toss to coat the scallops.
Place scallops evenly in a 9- by 13-inch baking dish and top with Ritz cracker crumbs.
Drizzle melted butter on top.
Bake at 400°F for 20 minutes.
Squeeze a bit of lemon juice over the scallops and serve immediately.
Here are the step-by-step photos: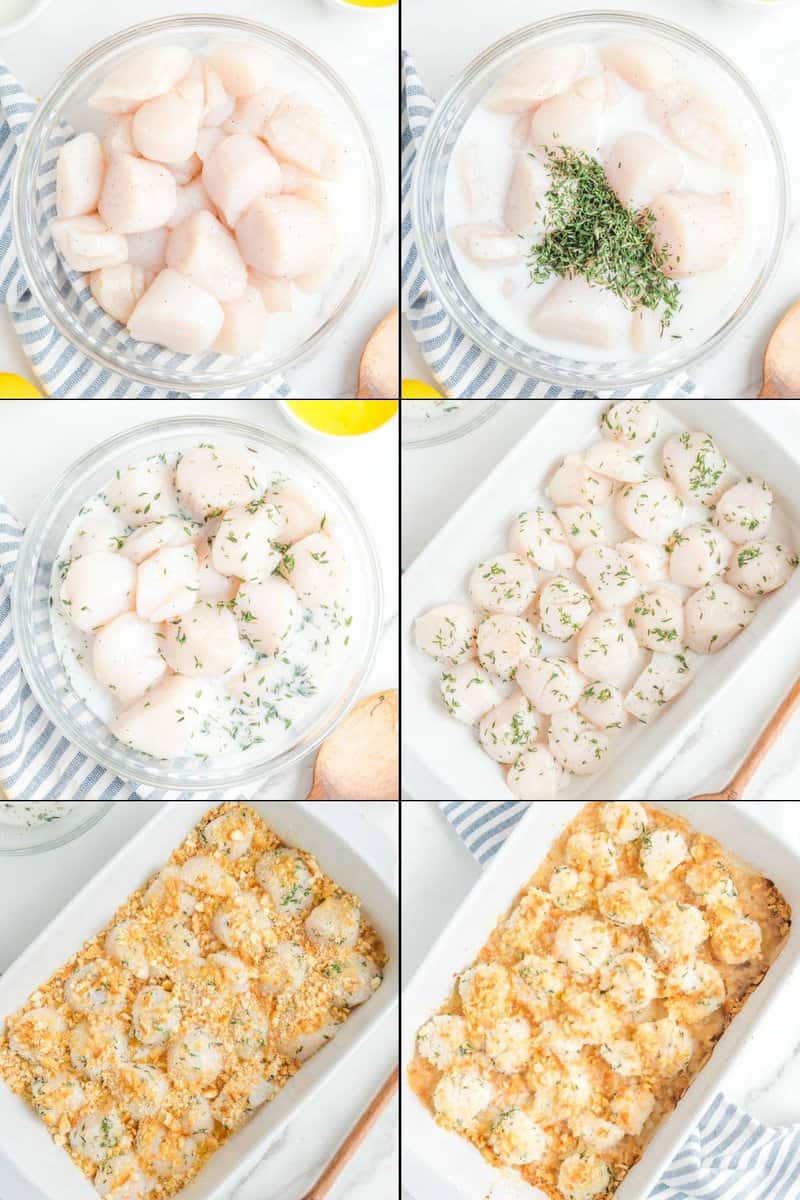 What do you eat scallops with?
I love making my baked scallops with other seafood-type side dishes. To me, seafood is such a light dish that I prefer to eat lighter sides with it too.
You can eat scallops with steakhouse yeast rolls and some buttery mashed potatoes. Or serve it with some buttered rice and steamed broccoli.
How to Store Baked scallops
Unfortunately, with the crunchy cracker topping, the leftovers don't last very long in the refrigerator. The scallops themselves will last about 4 days in the fridge if you store them correctly. But the cracker topping will become a bit soggy.
But if you take the topping off, store the scallops in an airtight container with a lid. They will stay fresh in the refrigerator for about 4 days.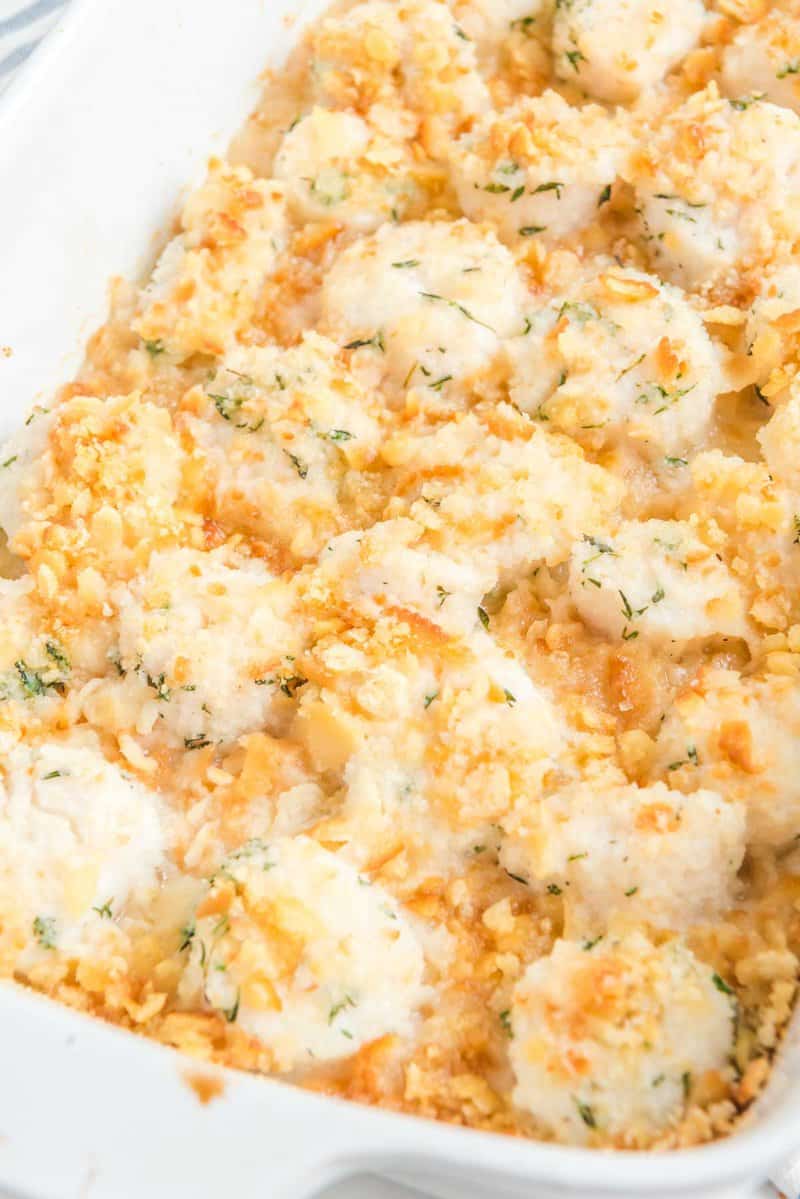 What is the best way to reheat baked scallops
To reheat baked scallops without compromising their texture and flavor, follow these steps:
Preheat your oven: Set the oven to 325°F (163°C) and allow it to preheat for a few minutes. Using a lower temperature will help to prevent overcooking the scallops, which can make them rubbery.
Prep the dish: Place the baked scallops in an oven-safe dish, preferably in a single layer. If the scallops were initially cooked with a sauce or butter, spoon a bit of it over the scallops before reheating to help retain moisture.
Cover with foil: Cover the dish with aluminum foil to ensure even heating and prevent the scallops from drying out.
Reheat: Place the covered dish in the oven and reheat the scallops for 10 to 15 minutes or until warm. The internal temperature should reach 145°F (63°C) to ensure they are safe to eat. Be cautious not to overcook them, resulting in a tough and chewy texture.
Serve: Remove the dish from the oven, carefully remove the foil, and serve the scallops immediately. Enjoy your delicious and perfectly reheated baked scallops!
Note: Reheating scallops in a microwave is not recommended, as it can lead to uneven heating and a rubbery texture. The oven method described above is the best way to reheat baked scallops while maintaining quality.
Love seafood? Try these recipes!
Popular Seafood Appetizer Recipes
Be sure to check out more of my easy copycat seafood recipes and the best appetizer recipes for any fun occasion.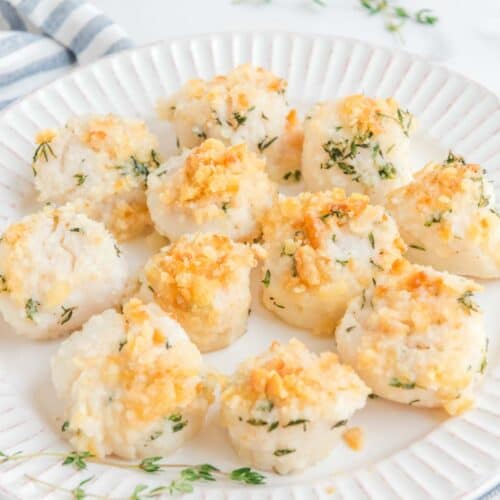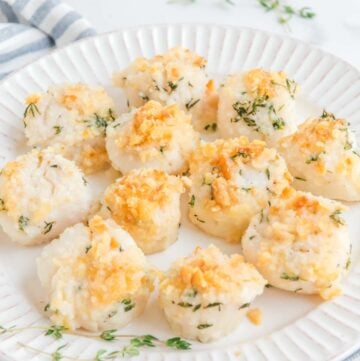 Ingredients
2

pounds

sea scallops

salt and pepper

to taste

1

tablespoon

fresh thyme leaves

minced

1/2

cup

buttermilk

20

Ritz Crackers

hand crushed

1/4

cup

butter

melted

juice of 1 lemon
Instructions
Preheat the oven to 400°F.

In a bowl, season the scallops with salt and pepper. Add the thyme and buttermilk and toss to coat.

Place the scallops in an oven-proof casserole dish and cover with the hand-crushed Ritz Crackers.

Top with the melted butter and bake for 20 minutes.

Squeeze lemon juice over the scallops and serve immediately.
Nutrition
Calories:
179
kcal
|
Carbohydrates:
10
g
|
Protein:
14
g
|
Fat:
8
g
|
Saturated Fat:
4
g
|
Cholesterol:
44
mg
|
Sodium:
577
mg
|
Potassium:
280
mg
|
Fiber:
0
g
|
Sugar:
1
g
|
Vitamin A:
215
IU
|
Vitamin C:
7.2
mg
|
Calcium:
41
mg
|
Iron:
0.8
mg