Olive Garden San Remo Seafood Dip is a popular appetizer that the Olive Garden has served. Marina sauce, shrimp, crab, and cream cheese make this dip extra special.

Do you love a delicious seafood dip? You have never had a delicious breadstick dipped into seafood and marinara sauce until you have had the Olive Garden San Remo dip. This dip combines the elements of Italian food. A creamy sauce, seafood, marinara sauce, and fresh-made breadsticks.
While the San Remo dip is no longer on the menu at the Olive Garden, it is still just as delicious as it always was. If you are a fan of seafood, you are going to want to try this recipe.
This dip is made with canned shrimp and canned crab meat. If you like, you could use fresh shrimp and crab. It's the perfect dip to make ahead, and reheat for a party!
San Remo dip is really a combination of a creamy cheesy dip with marinara sauce. You will make a creamy white sauce from cream cheese, juices from the crab meat and shrimp. After this creamy sauce is done, it will get combined with marinara sauce.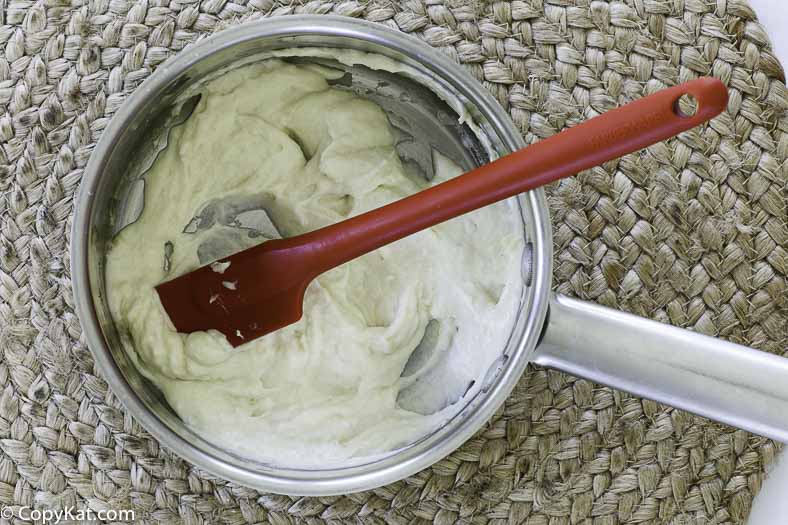 When the two sauces are combined together, they are baked in the oven. Then serve this incredible baked dip with homemade breadsticks.
Serve San Remo dip with sliced vegetables, low carb crackers, or keto breadsticks for a low carb and keto-friendly appetizer.
Heck, you could pour this sauce over some pasta and enjoy it for dinner.
This is the perfect appetizer to serve. Don't miss out on this easy to make seafood dip.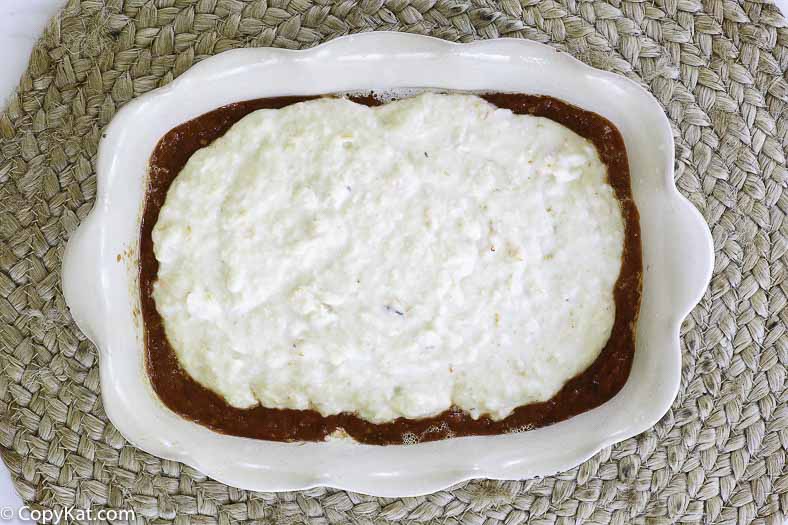 Let me know how much you enjoyed the Olive Garden San Remo dip. I have served it for game night and even wine night.
Seriously, this is a great dip that everyone loves. I personally love this dip with a glass of Chardonnay because it pairs perfectly with this tasty seafood dip!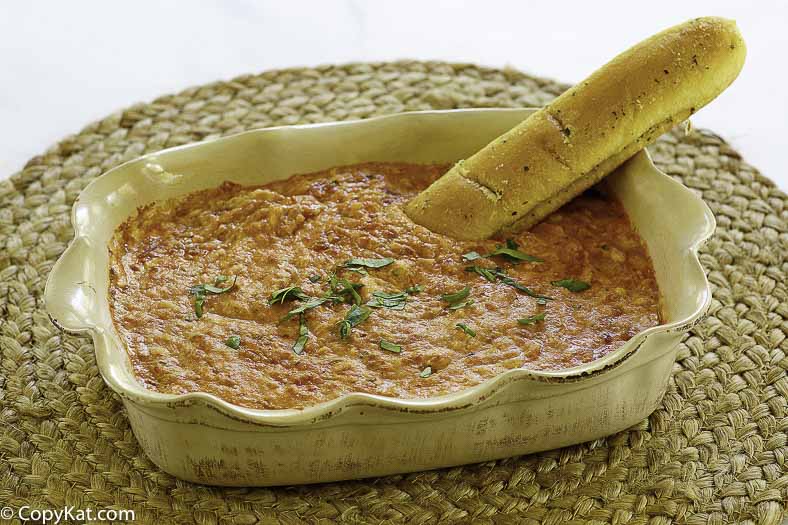 Love the Olive Garden? Try these recipes
Ingredients
6

ounces

can tiny shrimp (drain and reserve liquid)

6

ounces

can crab meat (drain and reserve liquid)

2

ounces

cream cheese, room temperature and cubed

2

tablespoons

olive oil

2

tablespoons

flour

1/4

teaspoon

salt

1/8

teaspoon

crushed garlic

1

teaspoon

prepared horseradish

1/3

cup

grated asiago cheese

2

tablespoons

grated parmesan cheese

1/2-3/4

cup

half and half

5

1/2

cups prepared Barilla marinara sauce, drained to remove excess liquid

1/4

cup

fresh Parmesan cheese, finely shredded, for topping
Instructions
In a 2-quart saucepan on medium-low, heat olive oil and blend in flour. Add to flour the liquids that were reserve from the shrimp and crab; stir well. To this sauce, add cubed cream cheese, salt, crushed garlic, and horseradish; stir until smooth.

Add asiago and Parmesan cheeses and stir until smooth. When the cheese has melted and sauce is smooth, add shrimp and crab; blend well. Simmer until heated through. Finally, add half and half a little at a time until the seafood sauce starts to simmer and begins to resemble warm pudding. Let sauce simmer for 12-15 minutes.

Stir sauce so it does not scorch on bottom. Spray a shallow 9-inch baking dish with nonstick spray. Add drained marinara sauce and carefully spoon seafood sauce on top. Sprinkle with freshly shredded Parmesan cheese and place in a preheated oven at 325 degrees, for 10-15 minutes, until heated through. Dip should not brown on top.
Nutrition
Calories:
155
kcal
|
Carbohydrates:
2
g
|
Protein:
12
g
|
Fat:
10
g
|
Saturated Fat:
4
g
|
Cholesterol:
81
mg
|
Sodium:
583
mg
|
Potassium:
89
mg
|
Fiber:
0
g
|
Sugar:
0
g
|
Vitamin A:
215
IU
|
Vitamin C:
2.6
mg
|
Calcium:
164
mg
|
Iron:
0.8
mg