It can be hard to come up with new meals for during the week. Work can run late, and how many evenings do you get the chance to make a simply delicious meal and enjoy it? I have a solution for you: baked salmon, This salmon recipe has four simple ingredients, and it will make you a hero for dinner.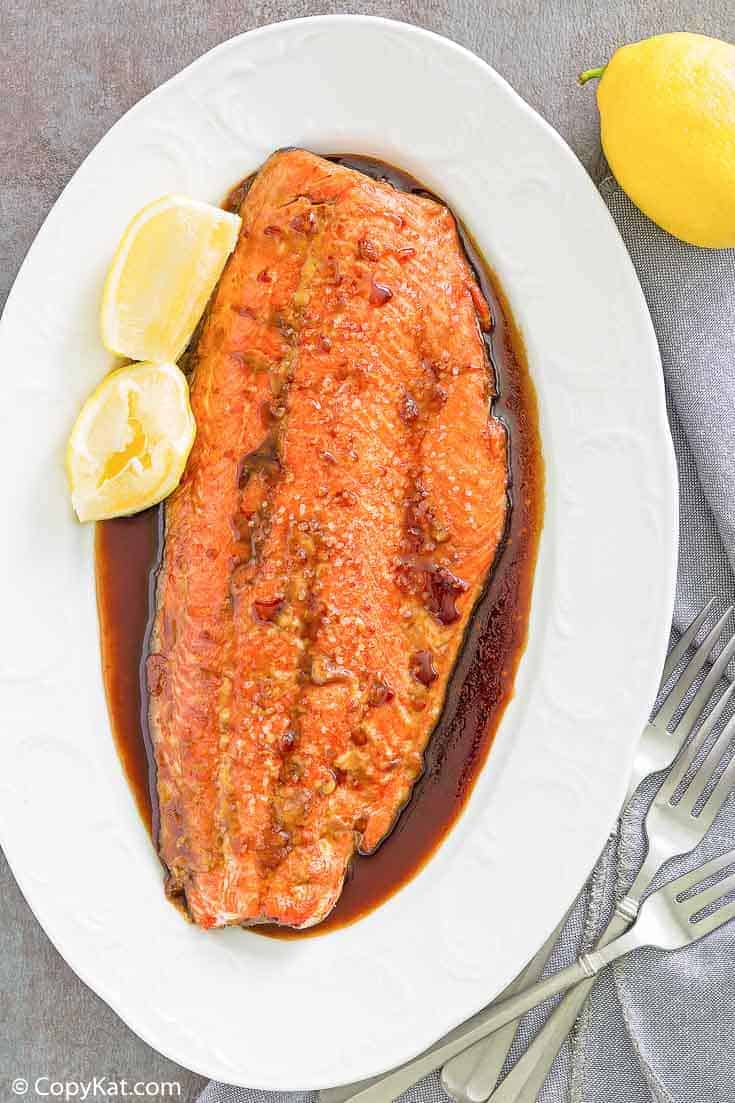 Oven Baked Salmon
It can be hard to come up with new meals during the week. Work can run late, meaning that you don't get many evenings when you can make a simply delicious meal and enjoy it.
I have a solution for you: baked salmon. I love a dinner like this. I can pop it in the oven and get a few more things done while it's cooking. This way, the food and I are ready to sit down and enjoy our time spent together.
I don't know why I didn't post this easy baked salmon recipe sooner. It is one of my go-to recipes for salmon that I have made for over ten years.
This salmon recipe will make you a hero for dinner – it's so simple and so tasty.
Recipe Ingredients
It has a fish fillet and three simple ingredients that you probably already have on hand in your pantry. Here's the list:
Salmon
Brown sugar
Soy sauce
Olive oil
If you want to get fancy, you can add a little lemon juice and some fleur de sel.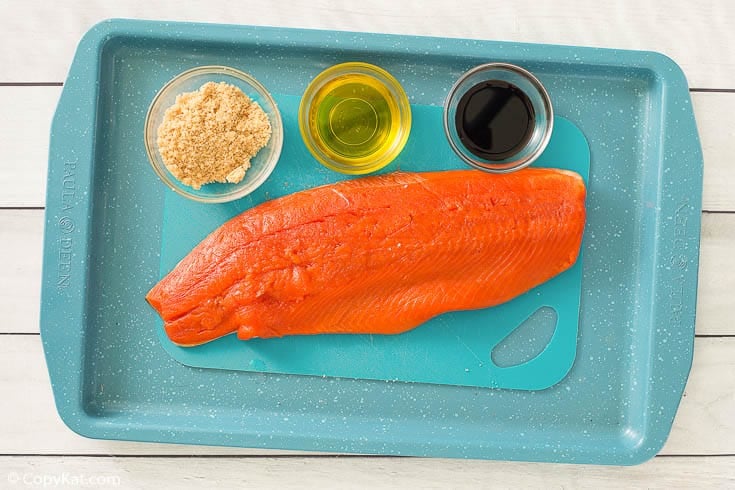 Costco Salmon is Perfect for this Recipe
I love to shop at Costco. This is a great baked salmon recipe for Costco salmon because they sell frozen salmon in individual packages, which are perfect for dinner.
I do buy fresh salmon at the store too, but I love having a few tasty meals handy in the freezer. If I am using the frozen fish from Costco, I will take the pieces out of the freezer and put them in the refrigerator when I leave for work in the morning. This way, they will be defrosted and ready to be cooked when I get home.
How to Cook Baked Salmon
I am almost ashamed to tell you how to make this baked salmon dish. It's so easy!
You simply mix up equal parts of soy sauce, brown sugar, and olive oil and pour this over the salmon.
Then you bake the salmon for about 15 minutes or so depending upon the size of your fish.
That's all there is to it.
What to Serve with Baked Salmon
Here are some great side dishes to serve along with salmon:
Cooking during the week doesn't have to be boring. You don't have to cook only chicken because there are other tasty alternatives. I hope you enjoy one of my favorite baked salmon recipes.
How to Make Perfect Baked Salmon Every Time
Allow your salmon to warm up to room temperature. Take it out of your refrigerator and let it rest on your kitchen counter for 15-30 minutes. This will help promote even cooking.
Don't rinse your salmon – water can break down the flesh. Instead, gently pat the salmon all over with a paper towel.
Leave the skin on and bake the salmon with the skin side down. The skin will help protect the salmon from the heat of the pan and prevent it from drying out while cooking. When you take the salmon out of the pan, the skin will come off easily if you slide a spatula between the skin and the fillet.
Bake salmon at 350°F. The internal temperature of the salmon should reach 140°F. This translates to about 4-6 minutes for every 1/2-inch of thickness. If you don't use a thermometer, you can test for doneness by inserting a knife or fork into a thick part of the salmon and twisting it a bit; the fish should be opaque (i.e., not transparent) and flake easily.
Don't overcook your salmon. Ideally, remove the salmon from the oven before it's "done" as it will continue cooking while it rests.
Love Salmon? Try these recipes!
Best Fish Recipes
Be sure to check out more of my easy seafood recipes along with quick and easy meals.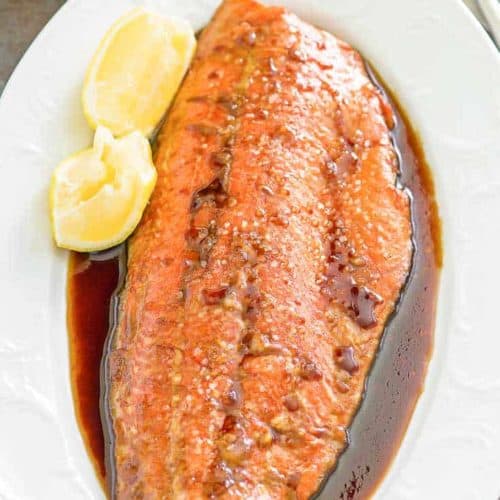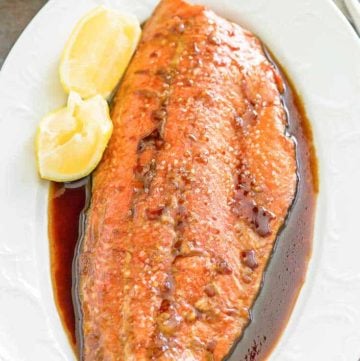 Ingredients
12

ounces

salmon

1/2

cup

brown sugar

1/2

cup

soy sauce

1/2

cup

olive oil
Instructions
Preheat oven to 350°F.

Place salmon skin side down in a baking dish.

In a small bowl combine brown sugar, soy sauce, and olive oil. Whisk marinade together until the sugar dissolves. Pour over salmon.

Bake for about 15 to 20 minutes or until fish easily flakes when a fork is pressed into the flesh.

If desired, serve with some fleur de sel and some lemon wedges.
Nutrition
Calories:
481
kcal
|
Carbohydrates:
28
g
|
Protein:
19
g
|
Fat:
32
g
|
Saturated Fat:
4
g
|
Cholesterol:
46
mg
|
Sodium:
1665
mg
|
Potassium:
514
mg
|
Fiber:
0
g
|
Sugar:
27
g
|
Vitamin A:
35
IU
|
Calcium:
39
mg
|
Iron:
1.7
mg