Salmon patties are a refreshing change of pace to the normal burger for dinner. They are extremely tasty and full of flavor.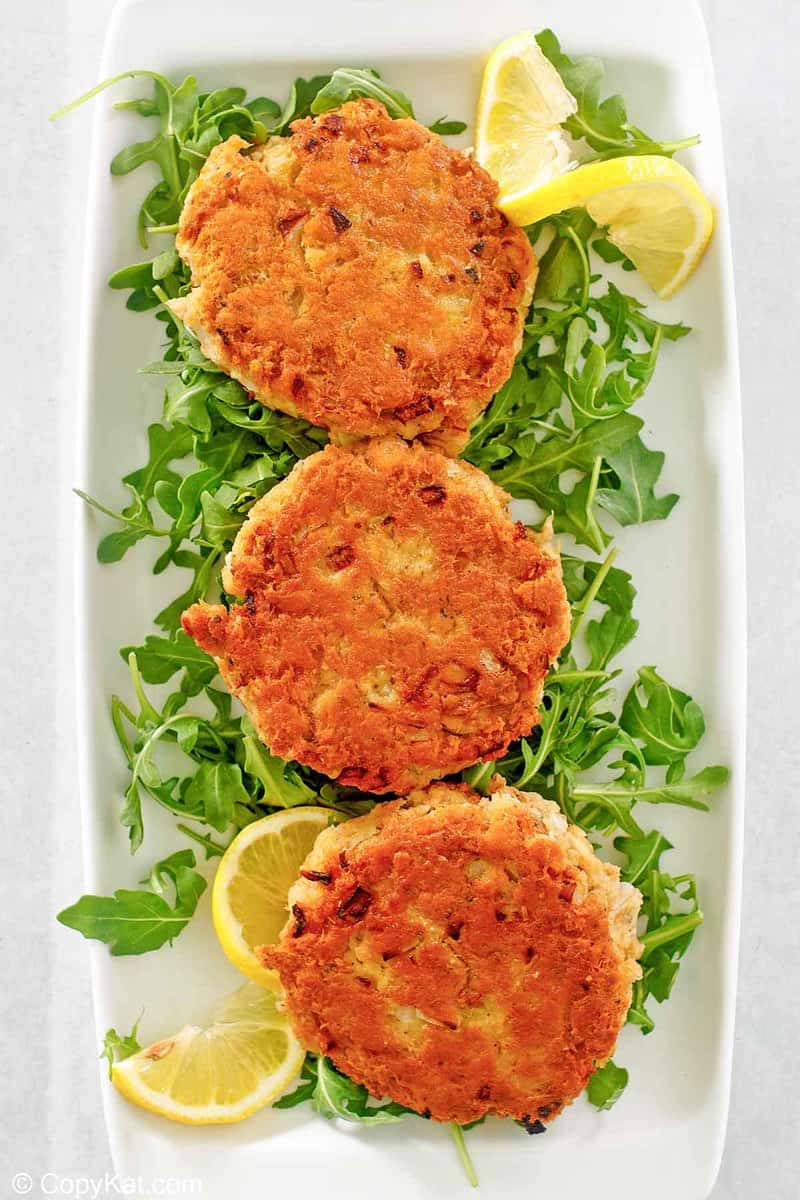 How to Store Salmon Patties to Preserve its Juiciness?
The best way to store your salmon patties would be in an airtight glass container if they have already been cooked. Then place them in your fridge to be eaten within 2-3 days for best reheating results.
If you have yet to cook the salmon cakes, you will want to wrap each patty individually with plastic wrap and then store them in an airtight container in the fridge. This will prevent them from drying out while you are waiting to cook them.
You can also store this recipe for salmon patties in the freezer. This time again you would want to wrap each patty individually and then store them in an airtight container so they will not get freezer burn.
Best Practices for Reheat this Salmon Patties Recipe
To reheat this amazing salmon patties recipe, there are a few ways you can do it. Take a look below to try one way, or try them all!
In the Oven
You can use the oven. For this you will want to preheat your oven to 375 degrees and bake the patties for 15-20 minutes, making sure to flip the patties half of the way through. This will allow each side to crisp up a little bit more.
On the Stovetop
You can fry them again on the stovetop in a skillet with some more of the Crisco and heat the pattie for 7-10 minutes or until it is heated all the way through, making sure to flip it again half the way through cooking. Reheating time will depend on the thickness of the patties.
In the Air Fryer
For a third and newer option, you can also use an air fryer. For how to make salmon patty in the air fryer you will want to place the frozen salmon patty on the bottom of the air fryer basket after it has been sprayed with nonstick spray. Then put the basket in the air fryer, and turn it on for 12-14 minutes at 400 degrees.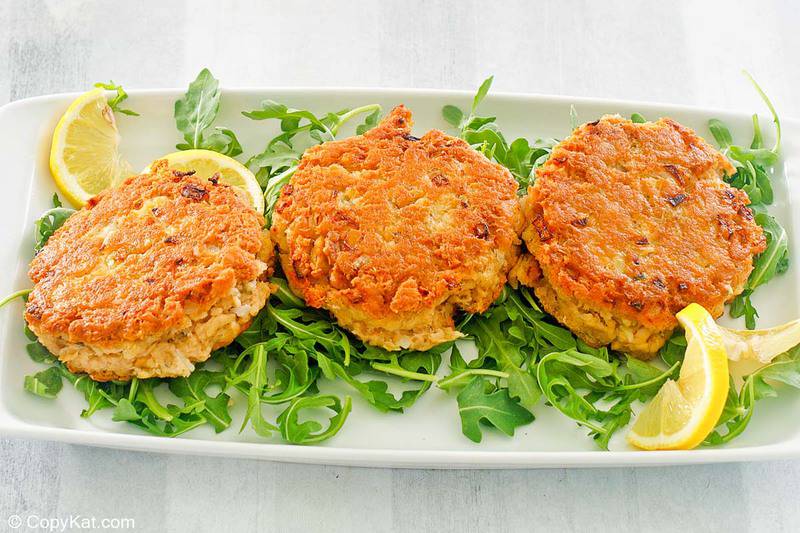 Salmon Patty Side Dishes
With Salmon Patties being the main dish you need a great side dish to complement it. You will want something that is light and fresh or a nice roasted vegetable side.
Here are a few suggestions on what to serve with Salmon Patties:
Cucumber salad
Sweet potato fries
Wedge salad with ranch dressing
Lemon and dill orzo salad
Broccoli salad with mixed fresh fruit
Roasted carrots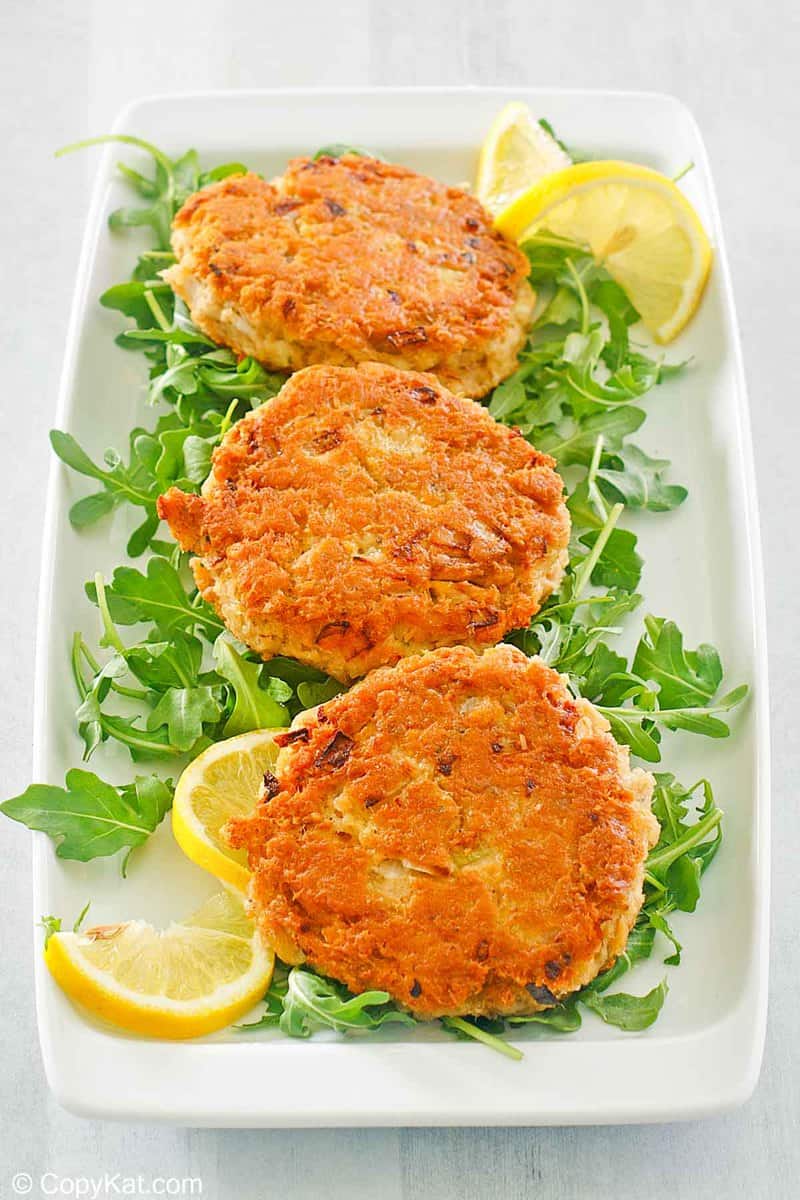 Salmon Patties Recipe Ingredients
Here's a list of what you need:
Canned pink salmon
Egg
Onion
All-purpose Flour
Baking powder
Crisco vegetable shortening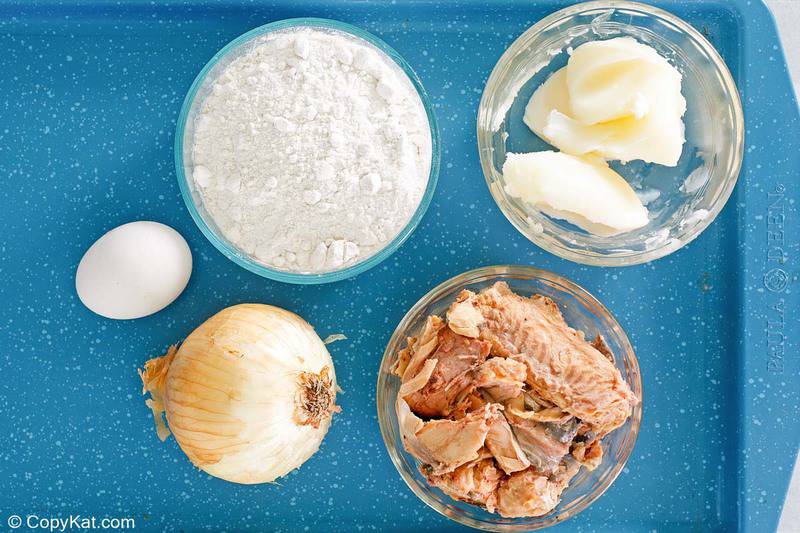 What Kind of Salmon to Use for Salmon Patties
For this salmon patties recipe, you will be using canned salmon to make the patties. The most important thing to know is to NOT get the canned salmon with skin.
If you happened to choose the canned salmon with skin, while you might be getting a slightly higher omega-3 consumption, you will not get the consistency you will need to make the perfect salmon patty.
Making sure to have boneless and skinless canned salmon will allow your patties to form properly and hold together tight.
Also, if you have the choice between either salmon in oil or water, choosing the salmon in water will cut down on the added unsaturated fats that you are consuming. For that reason, I normally will choose salmon canned in water or oil. However, they won't make too much of a difference in the cooking process.
How to Make Salmon Patties
Drain salmon and reserve 2 tablespoons of the juice.
In a mixing bowl, combine salmon, egg, and onion.

Stir in flour.
Add baking powder to the salmon juice.

Stir it into the salmon mixture.
Form into patties and fry in shortening until golden brown.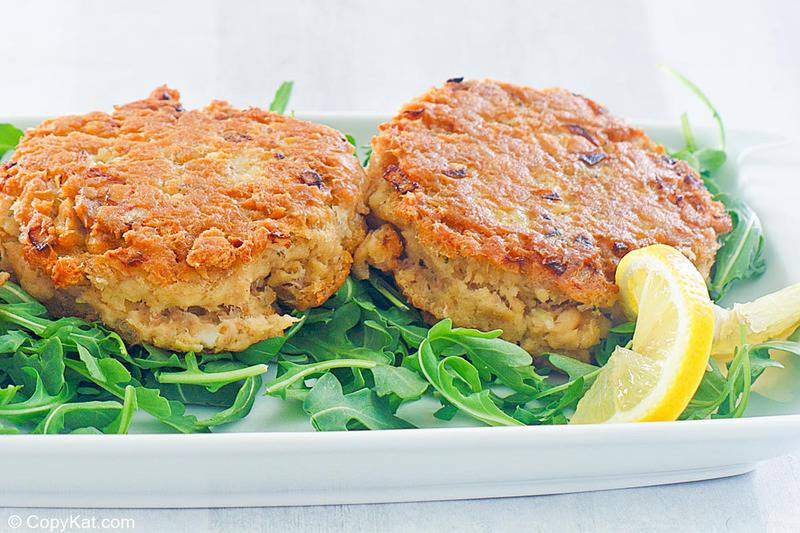 Love Salmon? Try these recipes!
Favorite Seafood Recipes
Check out more of my easy seafood recipes and family favorite recipes here on CopyKat!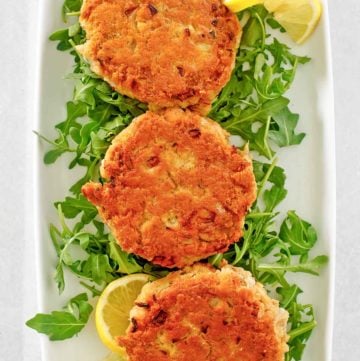 Ingredients
14.75

ounces

canned pink salmon

1

egg

½

cup

onion

minced

½

cup

all-purpose flour

1½

teaspoons

baking powder

4

tablespoons

Crisco vegetable shortening

or vegetable oil
Instructions
Drain salmon, set aside 2 tablespoons of the juice.

In a mixing bowl, mix together the salmon, egg, and onion until sticky.

Add flour and stir it into the mixture.

Add baking powder to the salmon juice and stir until smooth.

Add juice mixture to the salmon and stir to combine.

Form the mixture into patties.

Fry in shortening until golden brown.
Notes
Salmon patties are a nice change for dinner.  These reheat well and make for great sandwiches.  The recipe comes from Sue A. Mertens Minick from Hazelwood, MO. She actually found this site on the internet! And yes, she is family 🙂
Nutrition
Calories:
339
kcal
|
Carbohydrates:
15
g
|
Protein:
27
g
|
Fat:
19
g
|
Saturated Fat:
5
g
|
Trans Fat:
2
g
|
Cholesterol:
128
mg
|
Sodium:
417
mg
|
Potassium:
561
mg
|
Fiber:
1
g
|
Sugar:
1
g
|
Vitamin A:
128
IU
|
Vitamin C:
1
mg
|
Calcium:
374
mg
|
Iron:
2
mg