This is a rich chocolate pudding cake my grandmother makes. You can eat this while it is still warm or serve it with a little whipped cream.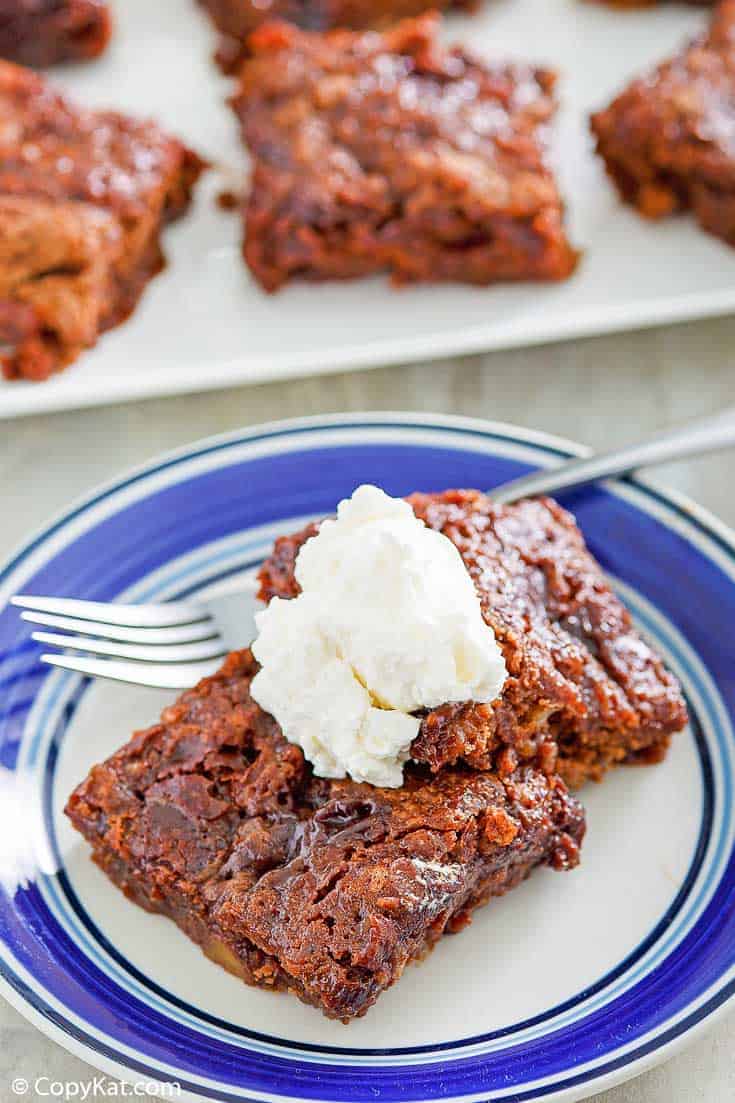 A delicious chocolate dessert is magical, making everything just a bit better. You can look forward to many happy days ahead with this Chocolate Pudding Cake recipe. It is a wonderful dessert to have up your sleeve if you ever find yourself in a pinch and need to make something praise-worthy in a hurry. It takes almost zero prep time and only 45 minutes in the over to bake a scrupulously gooey quick chocolate dessert your family and guest won't stop talking about.
Making Homemade Whipped Cream
This Chocolate Pudding Cake is lovely on its own, but it's even better with a dollop of homemade whipped cream. Sure, you can use store-bought whipped topping if you want to, but nothing compares with the flavor and texture of freshly whipped cream.
Luckily, making whipped cream is a snap at home, especially if you have an electric mixer. Feel free to use a standard whisk, but be prepared for quite a workout!
The secret to great whipped cream is using ice-cold equipment and fresh heavy cream. Around an hour before you plan to make the whipped cream, place your mixing bowl, and whisk into the freezer. Once both are cold, pour one cup from an unopened container of heavy cream into the bowl. Add two tablespoons of sugar and whisk until soft peaks form. You can tell when you reach the soft peak stage by turning your whisk upside down if the whipped cream forms little mounds that gently falls to the side.
It will take around 2 -3 minutes using a stand mixer on the medium-low, setting, and perhaps two to three times longer if you are using a hand whisk. Avoid overwhipping the cream, or it can become gritty.
If you want, you can try experimenting by adding different flavors to your finished whipped cream. Here are fives classic varieties that work well with this Chocolate Pudding Cake recipe:
Vanilla. Half of a teaspoon of pure vanilla extract lifts the flavor of the whipped cream.
Coffee. One teaspoon of instant coffee or espresso powder is perfect for coffee lovers.
Peppermint. Two or three drops of peppermint flavoring give the whipped cream a festive flavor.
Peanut Butter. Two tablespoons of smooth peanut butter add a whole new dimension to the dessert.
Chocolate. Two tablespoons of cocoa mix produce a perfect whipped cream for chocoholic.
Remember, fresh whipped cream is the tastiest, so never make more than your need.
Tips For Preparing and Serving This Chocolate Pudding Cake Recipe
Make sure to rest for about 5 minutes the cake after it comes out of the oven. It is best to enjoy this treat while it is still warm and fully set before serving as hard as it might be. You may even want to chill the cake before eating.
Use a spoon to serve. Trying to slice this cake with a knife is going to be a little messy. Your best serving option is using a large spoon and place the cake in a shallow bowl.
Try adding your favorite ice cream. Make this dessert extra special with a scoop or two of your favorite ice cream. Try turning this quick chocolate dessert into a sundae complete with whipped cream and a cherry!
Store any uneaten cake in the refrigerator. Let the cake cool down to room temperature before wrapping it tightly in plastic wrap and putting it in the fridge. Try to finish the cake in four or five days.
Never miss another one of our recipes by following us on Instagram!
You really don't need to buy the stuff in the box when you can make this delicious chocolate pudding cake.
Chocolate pudding cake ingredients
Here's what you need to make pudding cake:
All-purpose flour
Baking powder
Sugar
Cocoa
Salt
Vanilla
Milk
Nuts
Shortening
Brown sugar
Water
Heavy cream (optional for serving)
How to Make Gooey Chocolate Pudding Cake
Mix together flour, sugar, baking powder, cocoa, and salt.
Stir in milk, vanilla, melted shortening, and nuts.
Pour into a greased 8-inch square baking pan.
Mix together brown sugar and cocoa. Sprinkle over batter.
Pour hot water over batter.
Bake at 350 degrees for 35 minutes.
Slice and serve warm or at room temperature.
Or you can serve with a dollop of whipped heavy cream.
Favorite Chocolate Recipes
Brownie Dessert Recipes
Be sure to check out more of my family recipes and easy cakes for dessert.
Source: Virginia McDowell. Jefferson City, Mo. 1963.
Ingredients
1

cup

sifted all-purpose flour

2

teaspoon

baking powder

3/4

cup

sugar

2

tablespoon

cocoa for batter

1/2

teaspoon

salt

1

teaspoon

vanilla

1/2

cup

milk

1/2

cup

chopped nuts

2

tablespoon

melted shortening

2

tablespoon

cocoa for topping

3/4

cup

packed brown sugar

1

cup

water

1/2

cup

whipped heavy cream
Instructions
Sift flour, sugar, baking powder, cocoa, and salt together. Stir in milk, vanilla, shortening and nuts. Pour into greased 8x8x2" pan. Mix brown sugar and 2 tablespoons cocoa. Sprinkle over batter, and then pour hot water over all. Bake in 350 degrees oven for 35 minutes. Serve warm with whipped cream.
Nutrition
Calories:
352
kcal
|
Carbohydrates:
55
g
|
Protein:
4
g
|
Fat:
14
g
|
Saturated Fat:
5
g
|
Cholesterol:
21
mg
|
Sodium:
167
mg
|
Potassium:
246
mg
|
Fiber:
1
g
|
Sugar:
39
g
|
Vitamin A:
245
IU
|
Calcium:
100
mg
|
Iron:
1.5
mg