Have you ever wondered how to make Alfredo Sauce? Guess what? This pasta sauce is super easy to make!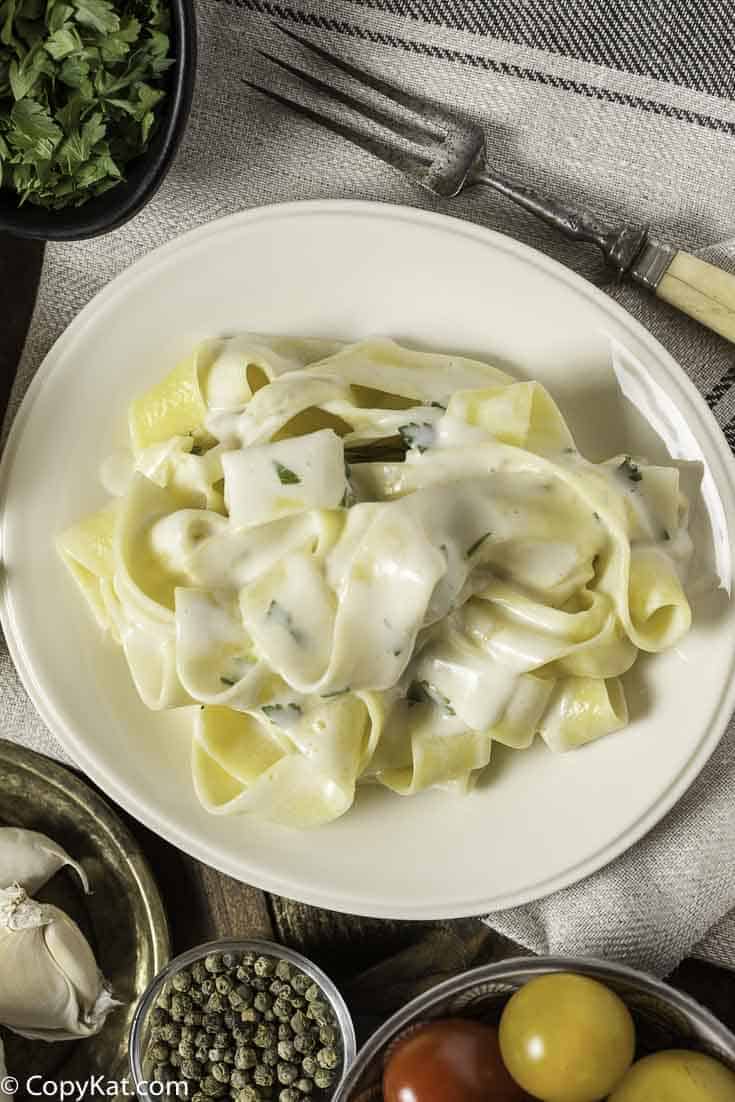 Did you know it's really easy to make Alfredo sauce? In the time that it takes you to cook the pasta you can make an amazing Alfredo sauce. Don't buy the sauce from the jar, you can make Alfredo sauce that tastes just like it came out of a restaurant at home.
You can learn how to make this creamy cheese sayce for a very tasty plate of pasta at home. The key is good-quality ingredients. You really only need three ingredients to make Alfredo Sauce, you need heavy cream also known as whipping cream, butter (don't use anything but butter), and Parmesan cheese. With the Parmesan cheese, a block that you grate is better than anything that comes pre-shredded.
Pasta sauce that is easy to make
I often get asked about how to make certain types of food, or what recipes are really easy. Here is one that I always pass out to people. It is simple to make Alfredo Sauce, and it turns out very well no matter if you are a highly experienced cook or if you are just a beginner. If you are in a jam in and need dinner in a hurry you can make this sauce more quickly than you can cook the pasta. Alfredo sauce is a great way to use leftovers. If you have some cooked chicken you could add it to this recipe.
Ingredients to make Alfredo Sauce
Do use good-quality butter and cream. I have found that buying them relatively close to when you make the dish is a good idea. Sometimes butter and cream can pick up flavors from your fridge. When it comes to the Parmesan cheese, be sure to use a good-quality brand. Do not use the type of cheese that comes in a can. Please, use some fresh Parmesan cheese. You will be rewarded with a flavorful sauce if you do.
Do you love recipes a creamy cheese sauce? Try some of these pasta recipes.
Pasta House Co. Fettuccine Alfredo
Original Sicilian Pasta Co. Shrimp Alfredo Red Lobster Crab Alfredo
Olive Garden Alfredo Sauce
Alfredo Lasanga
Ingredients
1

pound

dried pasta

3/4

pound

butter

1 1/2

cups

heavy cream

2

cups

grated Parmesan cheese

salt and white pepper
Instructions
Prepare the pasta according to the package directions. While the pasta is cooking, melt the butter into the heavy cream in a medium saucepan. Stir in 1 cup of the Parmesan and cook over low to medium heat until the cheese melts. When the pasta is done, drain it and pour into a bowl.

Add the cheese sauce. Combine the sauce and pasta. If you like, you can season it with some salt and white pepper. Sprinkle with the remaining Parmesan cheese when serving. Mixing the sauce with the pasta is an Italian way to serve up this particular dish. It coats the pasta well, and gives you a delicious bit of sauce in every bite. You do not need to rinse your pasta. Following these directions you can make delicious Alfredo sauce at home.
Nutrition
Calories:
1553
kcal
|
Carbohydrates:
89
g
|
Protein:
36
g
|
Fat:
118
g
|
Saturated Fat:
73
g
|
Cholesterol:
349
mg
|
Sodium:
1412
mg
|
Potassium:
402
mg
|
Fiber:
3
g
|
Sugar:
3
g
|
Vitamin A:
3870
IU
|
Vitamin C:
0.6
mg
|
Calcium:
657
mg
|
Iron:
1.9
mg