McDonald's Breakfast Burrito used to be a heavy-duty burrito that would fill you up until lunch. You can recreate this classic McDonalds Sausage Breakfast Burrito at home.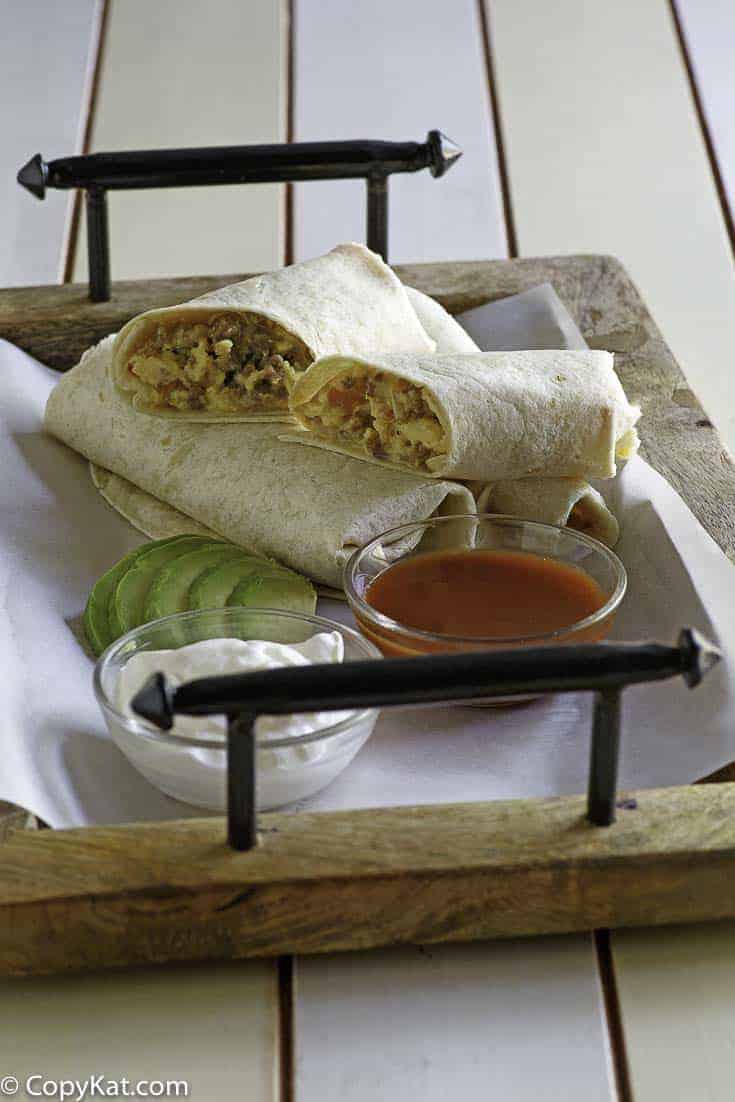 McDonald's regularly changes its menu, things come and go all of the time. Sometimes recipes get changed. This is an example of their old breakfast burrito, it was heartier, and would definitely keep you full until lunchtime.
Why make a homemade McDonald's breakfast Burrito instead of getting takeout?
Sure, you can go to the drive-through any time, and grab a breakfast burrito, there are many advantages of making a homemade breakfast burrito.
You can customize the burrito, want more cheese, no problem? Want extra sausage, no problem.
You can make several ahead of time. Waiting in line takes up a lot of time, you can make a week's worth of this sausage burrito, and you can simply reheat them when you want to have breakfast.
McDonald's sausage burrito is delicious, but it tastes even better when you make them fresh at home.
It costs a lot less to make food from scratch at home! You can spend about 70% less when you cook food at home.
It saves time!
McDonald's Breakfast Burrito Ingredients
Mild pork sausage
Diced yellow onion
Chopped vine-ripe tomatoes
Green chilies
6 inch round flour tortillas
Eggs
American cheese – this cheese melts perfectly for this recipe, I recommend going to the deli counter and getting the better quality American cheese there
Salsa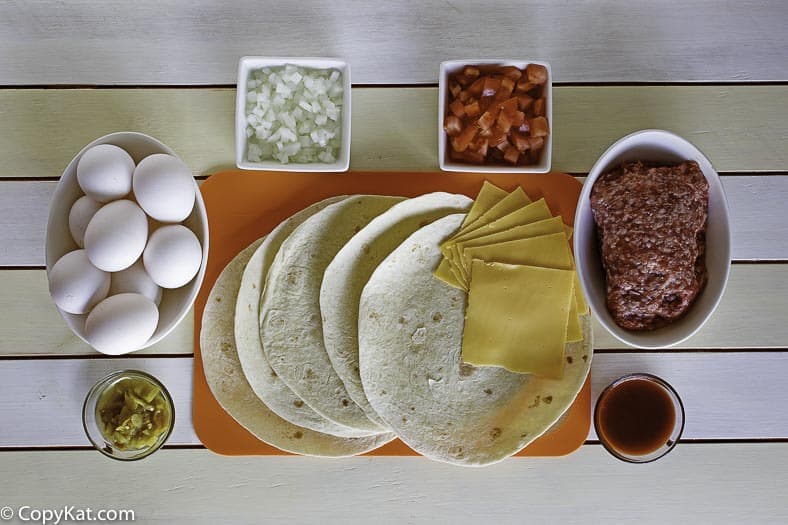 Other filling variations for this breakfast burrito recipe.
You could modify this recipe in several different ways, here are a few of my top suggestions.
Swap the sausage for chorizo
Swap the American cheese for Pepper Jack cheese
Add slices of avocado in the burrito
Swap the sausage for bacon
If you want it extra spicy, sautee some chopped jalpenos and add those to your burrito
If you have some left over refried beans spread out a tablespoon of warm refried beans over the tortilla before you add the sausage and egg mixture.
How to Make a Breakfast Burrito
Crumble pork sausage and fry over medium heat in a large skillet. Make sure you continue to crumble the sausage so you end up with tiny bits of sausage.
Drain sausage, then add chopped onion, green chilies, and chopped tomatoes. Cook long enough on medium heat so they vegeables heat through.
Crack the eggs into a medium-sized bowl and whisk together. Then pour over the sausage mixture, and reduce the temperature to medium-low.
Stir the eggs occasionally until they have cooked through.
Heat the tortillas in the microwave or on in a skillet until they are warm.
Assemble the burritos by placing two tablespoons of the sausage and egg mixture onto 1 tortilla, tear each slice of American cheese into two even portions, then place the cheese on top of the sausage mixture, and roll the tortilla.
Can you make McDonald's Breakfast burrito's ahead of time?
Yes, you can. You can make a week's worth, and it takes about 90 seconds to reheat them in the microwave. You could also freeze your own McDonald's burritos and microwave them when you are ready to enjoy breakfast.
Can I freeze McDonald's burritos ahead of time?
Yes, you can. Simply make up the breakfast burritos, allow them to cool close to room temperature, and wrap them with plastic wrap. You can then place your wrapped burritos in a large zip-top bag and freeze them for up to 3 months.
How long does a breakfast burrito keep in the freezer?
For optimal flavor, breakfast burritos last for about 3 months in the freezer.
How long can I store a sausage burrito in the fridge?
They will last for 3 to 4 days if stored wrapped tight in plastic, or if stored in an air-tight container.
What's the best way to reheat a breakfast burrito?
If they are refrigerated – it takes about 60 to 90 seconds on high in the mircrowave.
If they are frozen it takes about 90 seconds to 2 minutes on high in the microwave.
Could you eat a cold breakfast burrito?
Sure, you could. It wouldn't taste as good, but it is possible. The sausage would be solid, and the cheese would also be hard. It's really best to warm up burritos before consuming them.
I hope you give this classic recipe a try soon! You can make these burritos ahead of time, and enjoy them throughout the week!
Favorite McDonald's Copycat Recipes
Easy Breakfast Recipes
Be sure to check out more of my copycat McDonald's recipes and the best breakfast recipes.
Ingredients
1

pound

pork sausage

mild

1/2

cup

yellow onion

diced

1/4

cup

fresh tomatoes

diced

1

tablespoon

green chilies (diced those in a can)

10

–

tortillas

6 inch torillas

9

eggs

6

ounces

American cheese

12 slices

1/2

cup

salsa
Instructions
Crumble and fry pork sausage, stir and separate meat so it will fry in small little pieces. Remove from heat drain excess grease.

Place drained sausage in frying pan add onion, green chilies, and tomatoes, heat on medium temperature just until sausage and vegetables are heated through, stir frequently.

Measure 2 cups of eggs and beat. Add the eggs to the pan with the sausage mixture. When cooked remove from heat.
To assemble
Place two tablespoons of the sausage and egg mixture onto 1 tortilla, tear each slice of American cheese into two even portions, then place the cheese on top of the sausage mixture, and roll the tortilla.

If you make these all ahead of time, you can wrap in plastic to store them in the refrigerator or freezer, and then heat them up in the microwave for a moment or two. 

Serve with your favorite taco or Picante sauce. You will find these are milder and really great for breakfast. I also like to serve sour cream and avocado with mine.
Nutrition
Calories:
269
kcal
|
Carbohydrates:
3
g
|
Protein:
15
g
|
Fat:
21
g
|
Saturated Fat:
8
g
|
Cholesterol:
196
mg
|
Sodium:
740
mg
|
Potassium:
255
mg
|
Fiber:
0
g
|
Sugar:
1
g
|
Vitamin A:
485
IU
|
Vitamin C:
1.9
mg
|
Calcium:
213
mg
|
Iron:
1.5
mg