These homemade crispy mojo potatoes are some of the best fried potatoes you will ever have. They are perfectly crunchy and seasoned.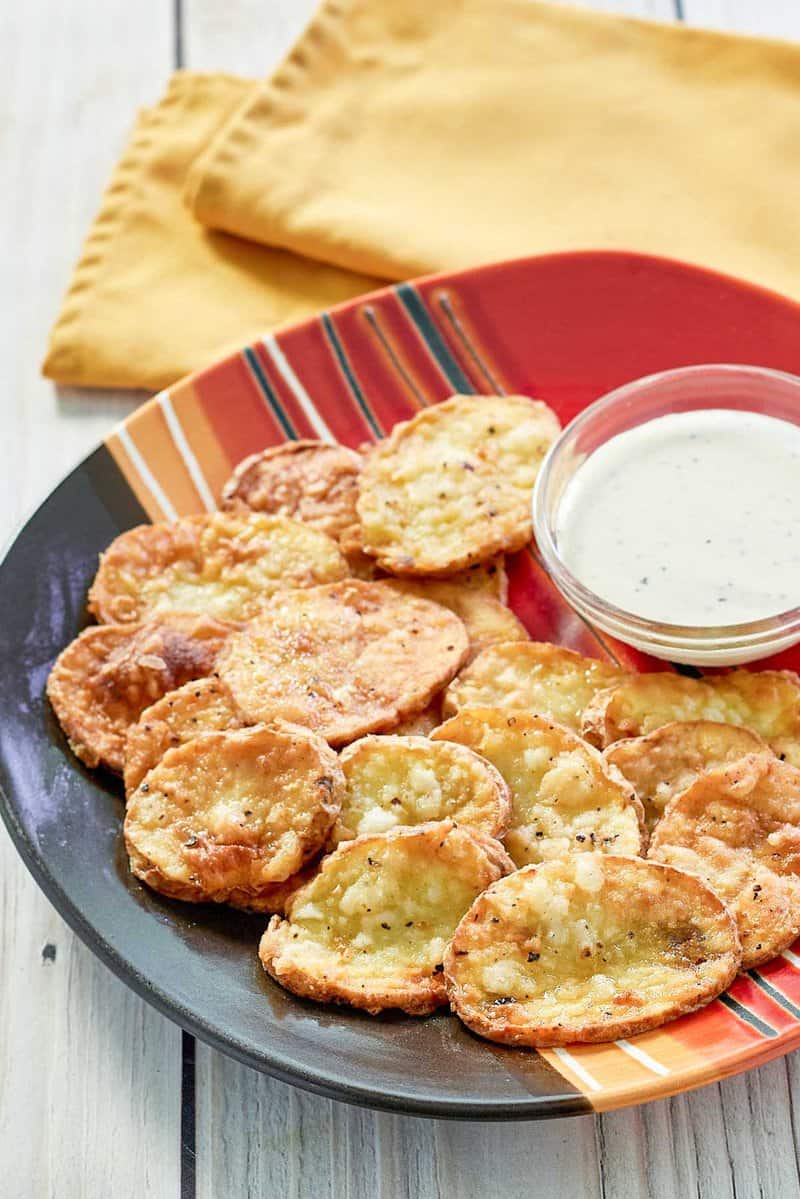 This post contains affiliate links. As an Amazon Associate, I earn from qualifying purchases.
What are Mojos?
Mojos are a potato appetizer made popular by Shakey's Pizza restaurant. They are essentially thick unpeeled potato slices that are battered and fried.
Mojo potatoes are crispy on the outside and tender on the inside. These are so easy to prepare, and you can whip up a batch of these for your game day or these can be served as a side dish. They are so much better than potato chips!
Since most of us can't get to the restaurant, you can make these tasty batter fried potatoes at home.
What's the difference between Mojo potatoes and JoJo Potatoes?
The real difference between these two well-loved potatoes is how the potato is cut. Both are prepared in the same basic way. The potatoes are cut, battered, and then deep-fried.
Mojo potatoes were popularized by Shakey's Pizza. They basically thick sliced potatoes that are cut like scalloped potatoes. These crispy fried potatoes are battered and then fried to where the outsides are nice and crispy.
JoJo potatoes are potatoes that are quartered and sometimes cut into eights depending upon how big the potatoes are. In the South, you will often find these sold in places where you can purchase fried chicken.
What Makes Mojo Potatoes So Good?
Honestly, anything with potatoes is always a hit for me. They are so good and have the perfect crunch when you bite into them. They are perfect for dipping in your favorite sauce.
Why You Need to Try this Recipe Mojo Potatoes Recipe
This is the best copycat recipe for the mojo potatoes served at Shakey's restaurants. Even if you haven't had the pleasure of trying Shakey's mojo potatoes, you can now with this delicious recipe.
Homemade mojo potatoes are a wonderful appetizer or snack to enjoy for game night or movie night.
Ingredients You Need for Mojos
This is a simple but tasty homemade fried potato recipe, which also means you won't need too many ingredients to make this amazing appetizer. Here's a quick list:
Potatoes
All-purpose flour
Garlic salt
Celery salt
Salt
Egg
Vegetable oil for frying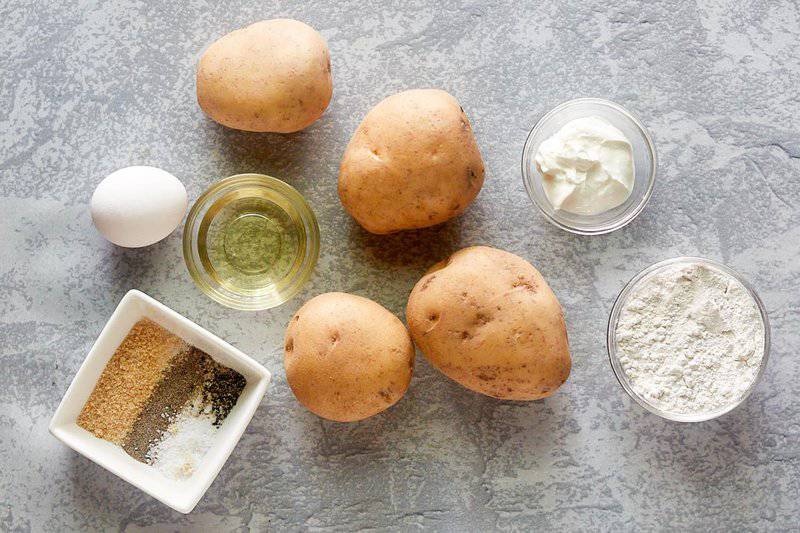 Ingredient Substitutions
You don't need to follow my exact recipe for seasoning the potatoes. You may want to simply season with salt and pepper, but you could try barbecue seasoning, steak seasoning, or even Cajun spice mix. Or you could add in garlic powder, paprika, thyme, or cayenne pepper, or other spices.
The possibilities are many and you may have a spice blend in your pantry that would be great for these mojos. Give it a try and see how you like your special seasoned potatoes.
What type of potatoes should you use for Mojos?
I find russet potatoes work very well. They are starchy and they hold the batter well. When cooked the inside almost becomes fluffy. Yukon Gold potatoes also work well for this recipe.
I do not recommend using red potatoes because they are a little too waxy to come out well.
How To Make Mojo Potatoes
Preheat the oil to 375°F in a deep pan.
In a shallow dish, combine the flour, garlic salt, celery salt, and salt to create a seasoned flour.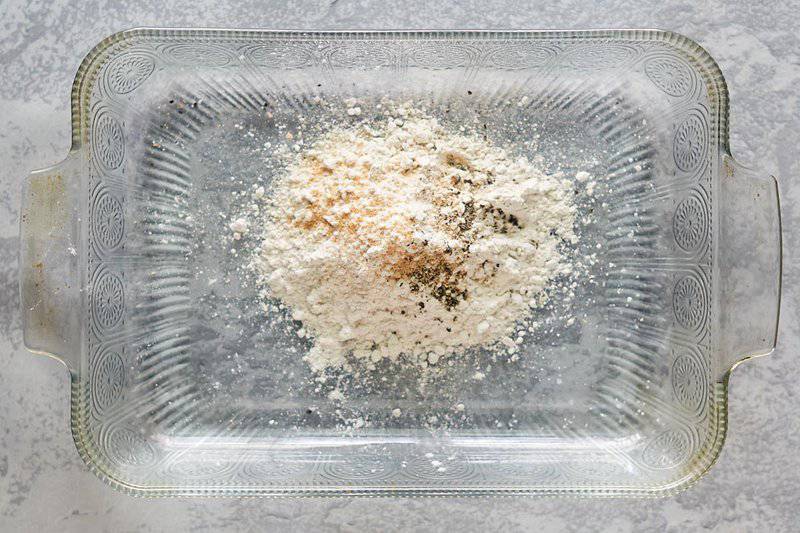 Cut the unpeeled potatoes into ½-inch thick rounds. Thinner slices are okay, but will not be like the original Mojos.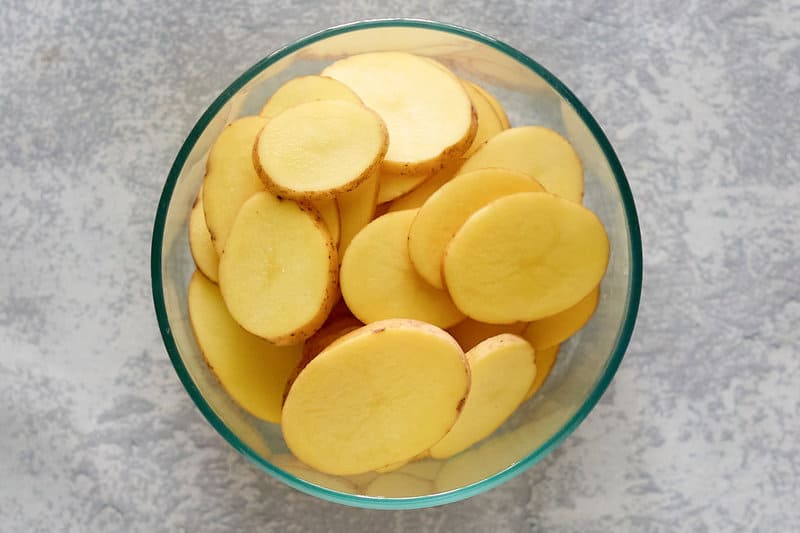 Dip the potato slices into the beaten egg mixture and then carefully toss the potato slice in the seasoned flour mixture, being sure to coat both sides.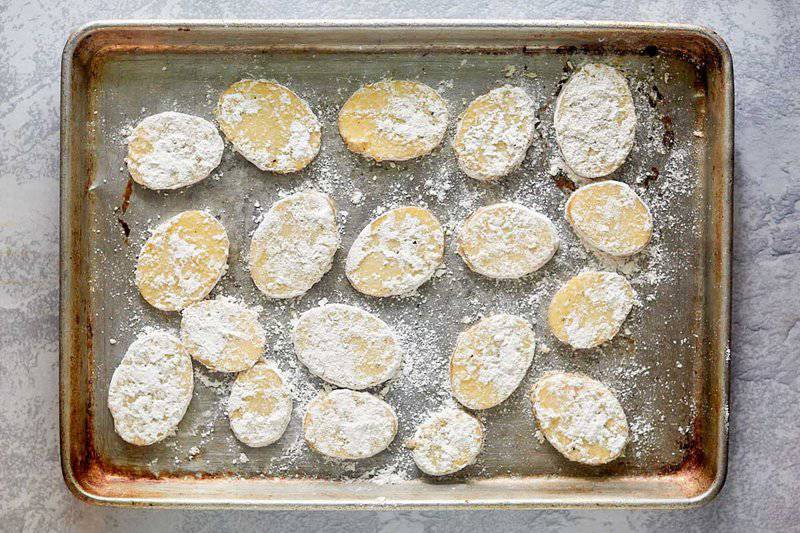 Once the oil is hot enough, deep fry the breaded potatoes until golden brown. This should take about 5 to 7 minutes.
Drain the fried mojos on a wire rack over a rimmed baking sheet. This will keep them crispier than draining on paper towels.
Serve with a small bowl of your favorite dressing, dipping sauce, sour cream or ketchup. Enjoy!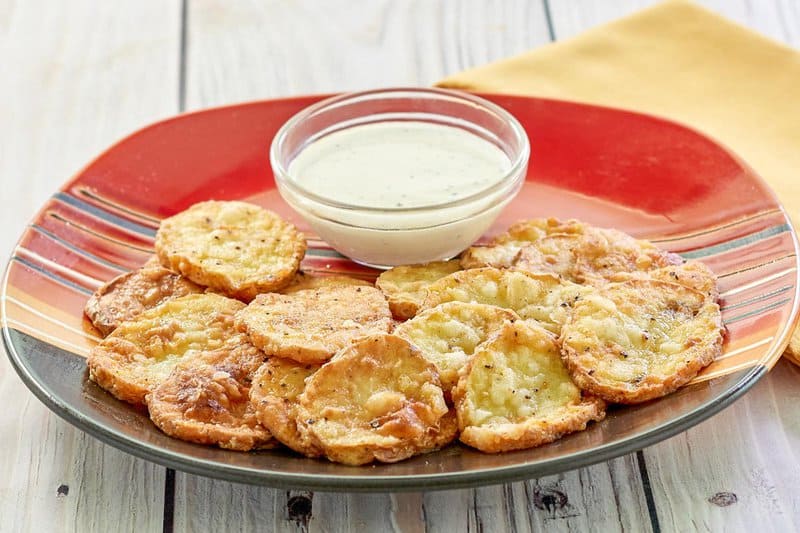 Recipe Tips
Do not let your grease get too hot, the potatoes will burn.
Be sure to shake off excess flour from the battered potatoes.
Cook the potatoes right away. If you do not, the potatoes may brown and look unappealing.
How to Serve Mojo Potatoes
These deep-fried potatoes are best served with sauce for dipping! Here are some great ones to try:
How to Store Leftover Mojo Potatoes
If you have leftover mojo potatoes, store them in an airtight container in the fridge for 2 to 3 days or in the freezer for up to 2 months.
How to Reheat Mojo Potatoes
The best way to reheat the mojo potatoes is in the air fryer! It will keep them crispy while heating them up. Just pop them in at 350°F for 5 to 7 minutes and you are good to go!
You can also reheat them in the oven at 350°F for 5 to10 minutes or until they are heated through.
If they are frozen, thaw them in the refrigerator overnight before reheating them.
I hope you give these Mojo potatoes a try soon!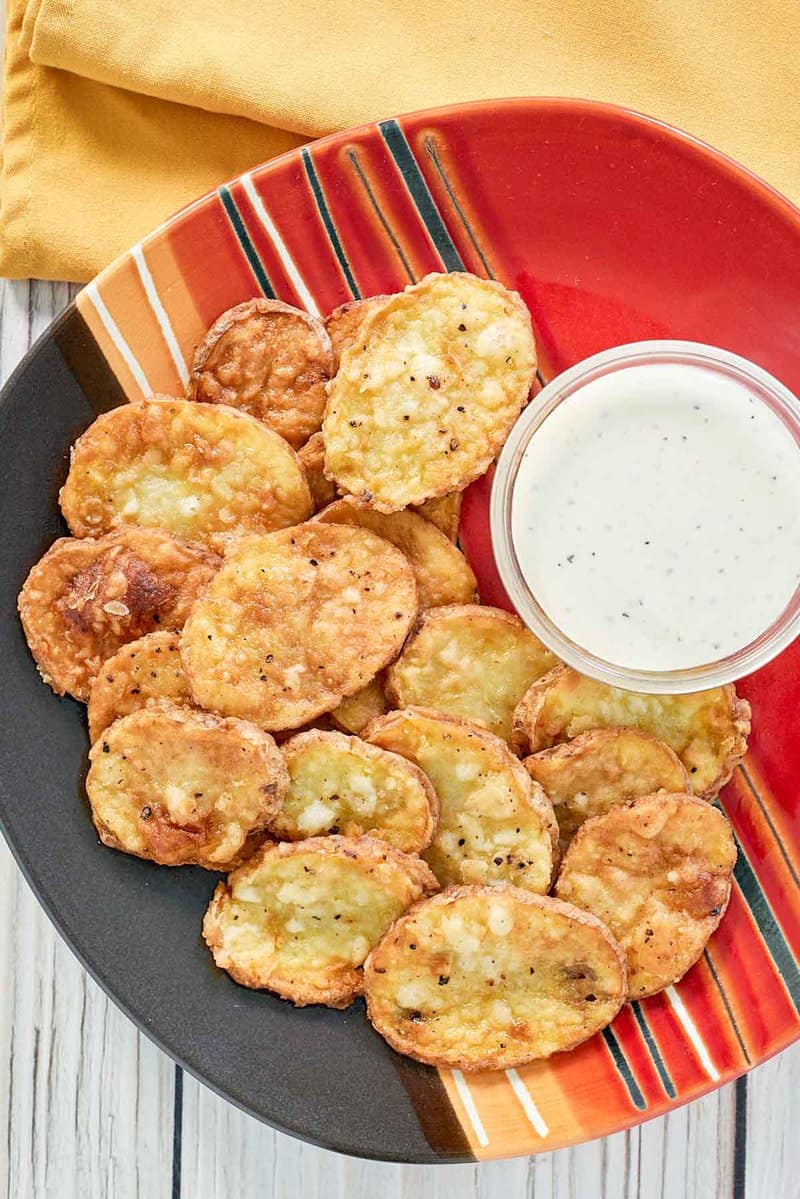 Frequently Asked Questions about Mojo Potatoes
Which potatoes are the best for frying?
Potatoes that are higher in starch are excellent for frying. To make mojos I recommend using Russet potatoes and Yukon Gold potatoes. I do not recommend waxy potatoes like red potatoes.
Are Shakey's Mojo Potatoes vegan?
When made at the restaurant, Shakey's uses an eggless batter, but they add cheese to the potatoes which makes the potatoes vegetarian.
Should you soak potato slices before frying?
When you soak potatoes in water, it removes some of the excess starch. This will keep your potatoes from browning too much. Removing the excess starch will also make your potatoes more crispy. While it isn't necessary to soak potatoes before frying, you can do it if you desire.
How do you fry potatoes without getting soggy?
There are a couple of things you can do to keep potatoes from getting soggy. Do not overcrowd the pan, it will reduce the temperature of the potatoes, and they will steam rather than fry. Also make sure your heat is hot enough that potatoes cook and sizzle rather than steam.
Love potatoes? Try these great potato recipes
More Delicious Fried Vegetables
Check out more of my recipes for appetizers and the best restaurant sides.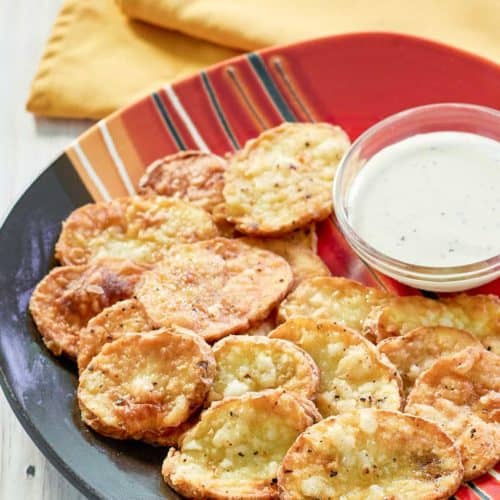 Ingredients
vegetable oil for frying

1/2

cup

all-purpose flour

1/4

teaspoon

salt

3/4

teaspoon

pepper

1

teaspoon

garlic salt

1/4

teaspoon

celery salt

4

potatoes

unpeeled but scrubbed

1

egg

beaten

ranch dressing, dipping sauce, or sour cream
Instructions
Preheat the oil to 375°F in a deep fryer or large pot.

Mix the flour, salt, pepper, garlic salt, and celery salt in a shallow dish.

Cut the potatoes into 1/4-inch slices.

Dip the potato slices into the beaten egg and then into the flour mixture.

Deep fry the breaded potatoes in the hot oil until golden brown, about 5 to 7 minutes.

Serve with dressing, dipping sauce, or sour cream.
Notes
Do not let your grease get too hot or the potatoes will burn.
Shake off excess flour from the potatoes because too much flour may make the potatoes burn.
Cook the potatoes right away. If you do not, the potato slices may brown and look unappealing.
Nutrition
Calories:
181
kcal
|
Carbohydrates:
38
g
|
Protein:
7
g
|
Fat:
0
g
|
Saturated Fat:
0
g
|
Cholesterol:
0
mg
|
Sodium:
894
mg
|
Potassium:
896
mg
|
Fiber:
5
g
|
Sugar:
0
g
|
Vitamin C:
24.3
mg
|
Calcium:
64
mg
|
Iron:
7.6
mg