Awaken your taste buds with homemade Coffee Rub! This unique blend of ground coffee, spices, and brown sugar imparts an earthy, robust flavor that's irresistible. It's perfect for enhancing steak, beef, ribs, and brisket, adding depth and richness to your grilling endeavors. Ideal for BBQs, everyday dinners, or when you want a special touch to your dish. Experience how it takes your meat from ordinary to extraordinary!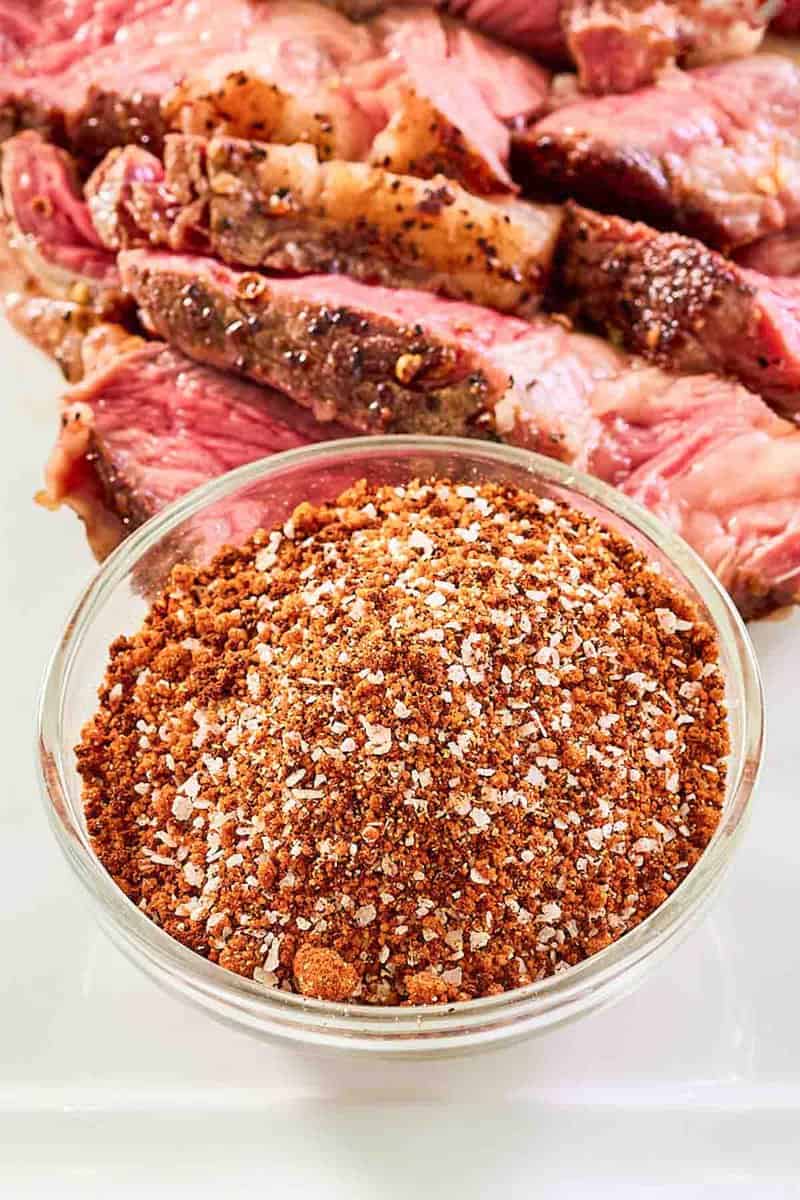 This post contains affiliate links. As an Amazon Associate, I earn from qualifying purchases.
What Makes This Coffee Rub the Perfect Addition to Your Signature BBQ Rubs?
Is your stand-by rub for BBQ getting a little stale? Then now is a great time to try something new. With its perfect balance of sweet smokey heat elevated by a touch of bitterness from the finely ground dark roasted coffee grounds, Coffee BBQ Rub is an excellent change of pace from the usual.
Whether you are new to barbecuing or have been smoking meat for decades, you will want to add this savory Coffee Rub steak seasoning to your culinary bag of tricks.
Why You Should Try This Coffee Rub Recipe
There are quite a few beef rubs out there that use coffee as an ingredient. But this one is the one that was made famous by Tim Byres, the chef/owner of Smoke and Chicken Scratch, two of the best smoked meat restaurants in the BBQ capital of the world, Texas!
It's just about as authentic as it gets, but the dry rub is still easy to make. With just a little sprinkle or two, you can transform even the most uninspiring cut of beef into something exceptional. Is it magic? Nope. It is just a great recipe that you and your family will love.
Coffee Rub Steak Seasoning Ingredients
To make this coffee rub for beef, you'll need:
Dark brown sugar
Kosher salt
Dark roast coffee ground fine
Chili powder
Smoked paprika
Granulated sugar
Granulated garlic
Ground cumin
Cayenne pepper
French or espresso-style roast coffee beans ground to the finest size are ideal for this recipe. If you don't have a coffee grinder or your local market does not grind to order, use pre-ground Turkish-style coffee. Do not use instant coffee granules.
If you cannot find granulated garlic, you can substitute it with garlic powder.
How to Make Coffee Rub Seasoning
To prepare the rub:
Combine all the ingredients in a bone-dry small bowl.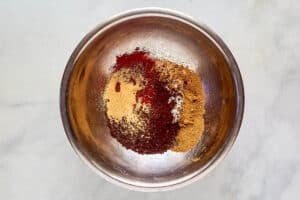 Whisk well until evenly blended.
Any moisture in the bowl, on the whisk, or even in the air can cause clumps to form. Use your fingers to break apart clumps, then whisk to combine.
You can adjust the spiciness by adding more or less cayenne pepper.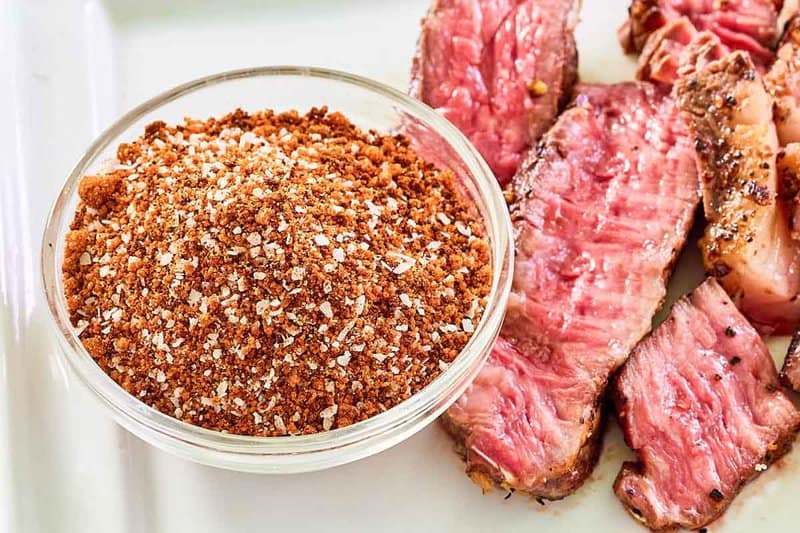 Different Ways to Use Coffee Rub
Whether you need a tri tip coffee rub or you're preparing coffee rub brisket, this recipe will work for you. It's the perfect seasoning for coffee-rubbed steak, especially ribeye steak and New York strip steak. It is also suitable for making coffee rub chicken, turkey, and pork. But what if you are not in the mood for meat? You can still use this coffee rub seasoning in your kitchen:
Grilled vegetables. Coat veggies like portobello mushroom caps, sliced eggplant, pressed tofu, and zucchini in olive oil. Dust the veggies lightly with the rub and then grill over medium heat.
Roasted nuts. Preheat the oven to 300 degrees. Melt a little butter and add the rub. Toss well spread on a baking tray to roast for 10 to 15. Shake the tray every few minutes to prevent burning.
Corn on the cob. Boil or grill corn on the cob. Roll the cooked corn in melted butter and sprinkle Coffee Rub on all sides.
How to Store Coffee Rub
Keep any leftover coffee BBQ rub in an airtight container in a cool, dark place. Opaque glass or non-porous plastic containers with tight-fitting lids work well. Plastic bags aren't a good option since they don't keep out the light, air, and moisture well. Use the smallest container that will fit all the rub to minimize oxidation.
How Long Does It Last
As long as you keep the Coffee Rub seasoning correctly, it should last for several months or more, depending on the freshness of your ingredients. But just because the rub is safe to eat doesn't mean it will be as flavorful as the day you made it. Always try to use the rub as soon as possible after mixing it for the best taste.
More DIY Seasonings and Mixes
Favorite Beef Recipes
Check out more of my easy DIY recipes and the best beef recipes here on CopyKat!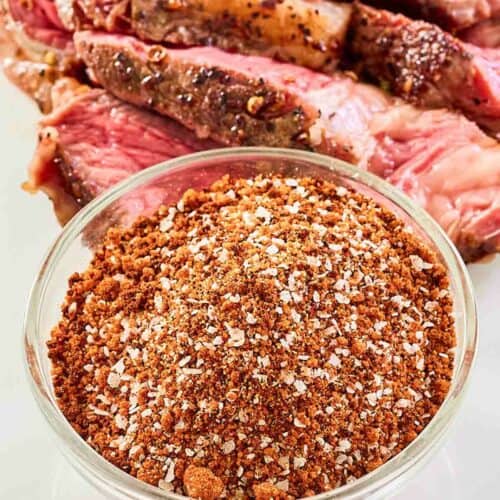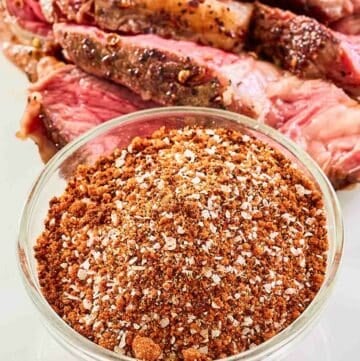 Ingredients
2/3

cup

dark brown sugar

1/2

cup

kosher salt

1/3

cup

finely ground dark roast coffee

1/3

cup

chili powder

1/3

cup

smoked paprika

3

tablespoons

granulated sugar

2

tablespoons

granulated garlic

1

tablespoon

ground cumin

1

teaspoon

cayenne pepper
Instructions
Whisk all the ingredients together in a medium bowl. Use your hands to break up any remaining clumps.

Store the rub in an airtight container and use 2 tablespoons of rub per 1 pound of meat.
Notes
This recipe yields 2 1/2 cups of rub.
Nutrition
Serving:
2
tablespoons
|
Calories:
55
kcal
|
Carbohydrates:
13
g
|
Protein:
1
g
|
Fat:
1
g
|
Saturated Fat:
0.1
g
|
Polyunsaturated Fat:
0.5
g
|
Monounsaturated Fat:
0.2
g
|
Sodium:
2898
mg
|
Potassium:
145
mg
|
Fiber:
2
g
|
Sugar:
9
g
|
Vitamin A:
2101
IU
|
Vitamin C:
0.2
mg
|
Calcium:
29
mg
|
Iron:
1
mg