Experience the smooth and creamy delight of homemade hummus with Greek yogurt! This rich and flavorful dip pairs the earthy taste of chickpeas with the tangy freshness of yogurt, resulting in a spread that's perfect for pita bread, chips, and veggies. It's packed with protein and a healthy, satisfying snack. Enjoy the velvety texture and zesty flavors that will make your taste buds dance.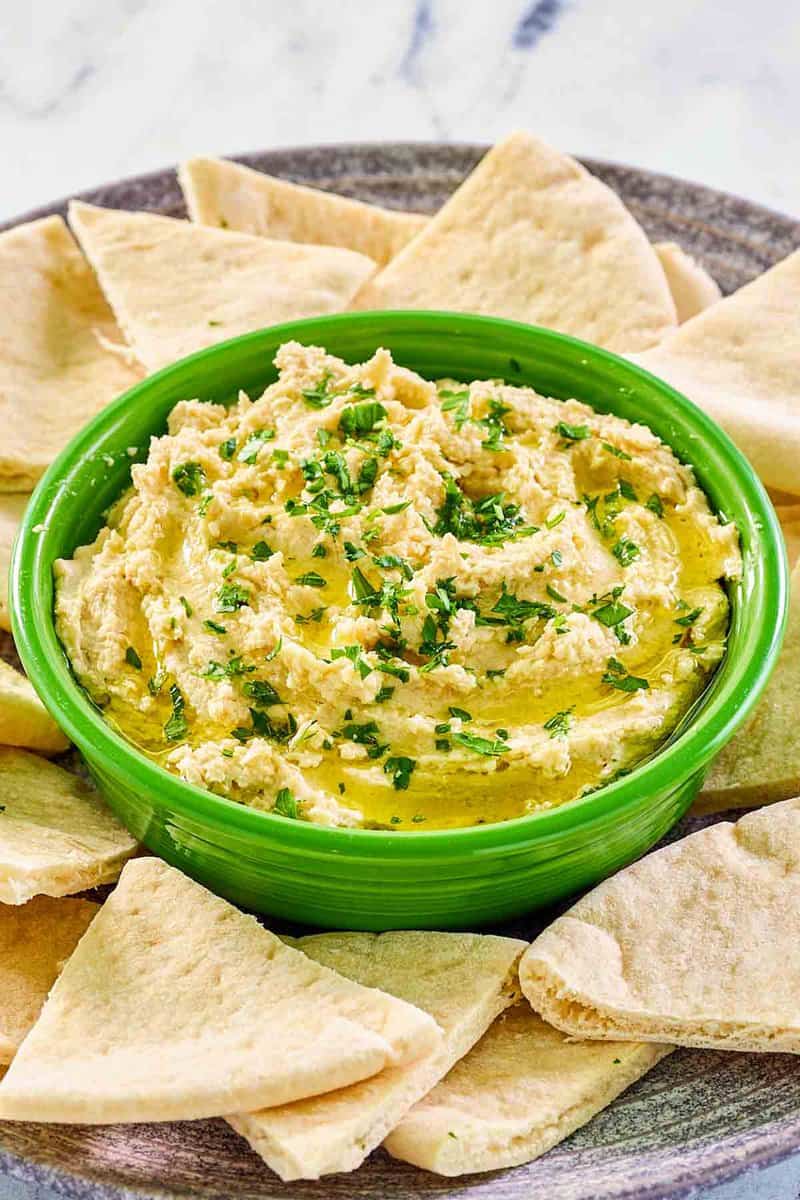 This post contains affiliate links. As an Amazon Associate, I earn from qualifying purchases.
Greek Yogurt Hummus
Hummus is a very versatile dip that can be eaten with crackers or bread, used as a sandwich spread, and as a tasty dip for veggies. Now you can make hummus at home for much less than it costs in the store.
This creamy hummus recipe is so good because it is made extra creamy by adding some Greek yogurt for just the right amount of tanginess. You can make this creamy hummus recipe quickly and easily.
Why You Should Try This Greek Yogurt Hummus Recipe
Hummus is super easy to make at home. All you need is a food processor or blender to save a ton of money over buying it in the store. This best creamy hummus recipe is also ideal for sneaking in some veggies for your kids to eat (see variations below).
Speaking of kids, it's a good idea to keep some creamy hummus in your refrigerator for a quick healthy snack when they are hungry.
Hummus Recipe With Yogurt – Ingredients You Will Need
This is what you will need to make Greek yogurt hummus:
Chickpeas
Greek yogurt
Tahini
Lemon juice
Salt
Olive oil
Pita bread or chips
Optional Garnishes
Chopped herbs
Paprika
Whole chickpeas
Olives
Toasted pine nuts
What Are Chickpeas?
The name chickpea is derived from the Latin word cicer, which refers to a particular plant family of legumes. Chickpeas are beans (garbanzo beans) and have high nutritional value. India is the primary producer of chickpeas, but they are also grown in more than 50 countries.
What Is Tahini?
Tahini is made with ground sesame seeds and oil. This sesame seed paste gives a smooth texture and a signature nutty taste to the chickpea mash. Although you don't need much for most recipes, tahini has a long shelf life when stored in the refrigerator.
How to Make This Best Creamy Hummus Recipe
Follow this easy hummus recipe with yogurt and make a batch today. Here are the simple steps:
Drain the chickpea liquid.
Place the chickpeas, yogurt, tahini, lemon juice, and salt in a food processor or blender.
Pulse until the hummus is smooth and creamy.
Transfer to a serving bowl and garnish with a drizzle of olive oil and your choice of other garnishes.
Tip: If needed, add a little water or more Greek yogurt to get the consistency you like.
Recipe Variations
This Greek yogurt hummus recipe is very flexible. Here are some ideas to vary the recipe:
Roasted garlic hummus – Add one or two cloves of roasted garlic. See how to roast garlic cloves below.
Sun-dried tomato hummus – Add ¼ cup of chopped sun-dried tomatoes.
Artichoke or spinach hummus – add some artichoke hearts or fresh spinach (or a combination of the two) to the processor, along with the other ingredients.
Beet hummus – Puree roasted or boiled beets, add them to the prepared hummus and blend until smooth.
Carrot hummus –Roast and puree some carrots, add to the prepared hummus, and blend until the mixture is smooth.
Avocado hummus – Add a ripe avocado.
Red pepper hummus – Add some roasted red peppers.
Cauliflower hummus – Roast 2 cups of cauliflower florets on a baking tray. Puree, then add to the prepared hummus.
Curried hummus – for a unique flavor, add a teaspoon or so of curry powder along with a little cumin and turmeric.
Za'atar hummus – Top with a drizzle of olive oil and a sprinkling of za'atar, a Middle Eastern spice blend that's aromatic and flavorful.
Once you've mastered making hummus, it's easy to substitute the garbanzos with other beans such as white beans or fava beans.
How to Roast Garlic Cloves
Roasting garlic mellows the flavor, sweetens it, and gives it a nutty flavor.
Peel some garlic cloves and place them in a baking pan.
Drizzle sufficient olive oil on top so you get a thin layer in the bottom of the pan.
Sprinkle over a little salt and roast the garlic at 350°F until soft and golden.
Allow them to cool, cut the skin slightly and squeeze out the garlic. puree.
Add the roasted garlic to the hummus along with the roasting oil.
Roasted Garlic Storage: Place it in a freezer-safe bag and freeze for up to 3 months. Add your roasted garlic to dips, soup, and stews for a kick of flavor.
What to Serve With Creamy Hummus
This dip is delicious with all kinds of veggies (carrots, celery, cucumbers, bell peppers) and bread – pita bread, pita chips, breadsticks, and more.
Chickpeas are full of protein, so serve with something simple like a cucumber onion salad and warm pita bread.
Hummus is the perfect accompaniment to many Middle Eastern dishes such as kebabs and falafel.
Try hummus with a boiled egg for breakfast.
You can also use this creamy hummus as a spread and add it to your favorite wraps and sandwiches.
How to Store Homemade Hummus
Hummus will keep in an airtight container in the refrigerator for up to 4 days. It tends to get thicker over time, so when ready to use, allow it to come to room temperature and give it a good stir to loosen it up. If necessary, add a tablespoon or two of warm water.
Hummus is not suitable for freezing because it will ruin the consistency.
Frequently Asked Questions
Why is my hummus grainy?
Some canned chickpeas tend to be al dente, leading to a very grainy hummus because of the skins. Because it would be tedious to peel the chickpeas, you can get around this by passing them through a fine mesh strainer.
Is homemade hummus healthy?
Yes, homemade hummus is considered a healthy food option. Chickpeas are an excellent source of plant-based protein and fiber, while tahini provides healthy fats and essential minerals. Additionally, it's free from artificial preservatives and additives, unlike many store-bought alternatives.
Can I make a vegan version of hummus with yogurt?
Absolutely! For a vegan version, you can replace Greek yogurt with a non-dairy yogurt alternative. Ensure that the non-dairy yogurt has a thick consistency to maintain the creamy texture of the hummus.
Favorite Dip Recipes
Popular Snack Recipes
Check out more of my easy dip recipes and the best snack recipes on CopyKat!
Ingredients
1

15-ounce can

chickpeas

drained

1/2

cup

yogurt

1

tablespoon

tahini

2

teaspoons

lemon juice

1/2

teaspoon

salt

olive oil

to garnish

pita bread cut into triangles or pita chips

to serve
Optional Garnishes
chopped herbs

paprika

chickpeas
Instructions
Combine the chickpeas, yogurt, tahini, lemon juice, and salt in a food processor and pulse until the hummus has a smooth, creamy texture.

Transfer the hummus to a serving dish and garnish with a drizzle of olive oil, as well as some chopped green herbs, sprinkled paprika, or a few chickpeas, if desired.

Serve with pita bread cut into triangles or pita chips.
Nutrition
Calories:
215
kcal
|
Carbohydrates:
31
g
|
Protein:
11
g
|
Fat:
5
g
|
Saturated Fat:
1
g
|
Cholesterol:
3
mg
|
Sodium:
313
mg
|
Potassium:
374
mg
|
Fiber:
8
g
|
Sugar:
6
g
|
Vitamin A:
60
IU
|
Vitamin C:
2.3
mg
|
Calcium:
94
mg
|
Iron:
3.2
mg