So the last few times I have been to the cheese counter at my local Kroger store, they have had this fabulous Jarlsberg Dip there. I have purchased it several times. Then I started to think, I am the CopyKat lady, why am I not recreating this recipe for CopyKat?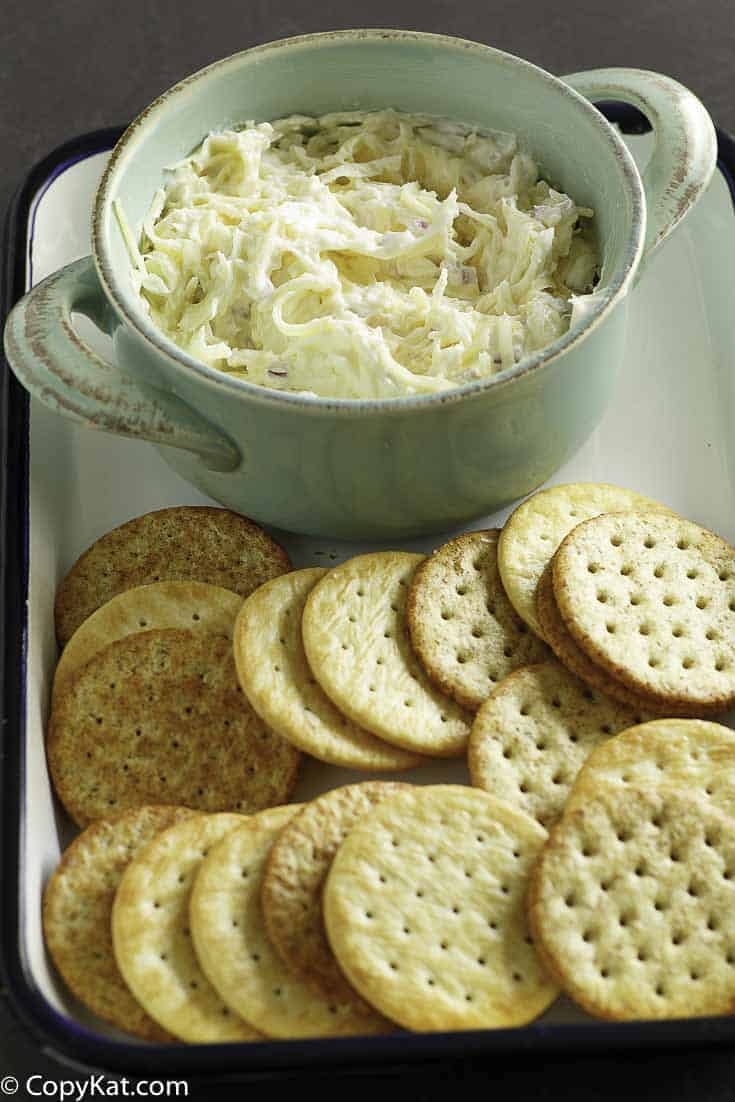 This Cheese Dip is Wonderful
So, here is my copycat Kroger Jarlsberg Cheese Dip recipe. This is a delicious dip that goes perfectly on crackers. I have served this a few times, and it has gotten rave reviews.
Jarlsberg cheese is a Norwegian cheese that is wonderfully rich and tasty. It's related to Emmentaler and other types of Swiss cheese. In fact, you can choose to use Swiss cheese for this dip instead of Jarlsberg.
Whichever cheese you opt for, this dip adds some sophistication to a gathering. This recipe is also one of my favorite types because you can make it ahead of time and enjoy it later.
The Holey Cheese
Jarlsberg is Norway's third-largest export. Leading chefs value it for its distinctive sweet and nutty taste – not to mention its distinctive holes. It's an ideal cheese for cheese boards and tastes good in salads and various hot dishes.
Jarlsberg was developed in 1956 in Jarlsberg County by successfully combining old cheese-making traditions with modern technologies.
Jarlsberg Cheese Has a Nutty Taste
Peel back the wax rind on a piece of Jarlsberg, and you discover a semi-firm buttery yellow interior that has a delightfully mild, nutty flavor. A nutty Jarlsberg and a smooth Merlot are a wonderful pairing.
Ingredients
Here's what you need:
Jarlsberg or Swiss cheese, freshly grated
Mayonnaise
Red onion, finely chopped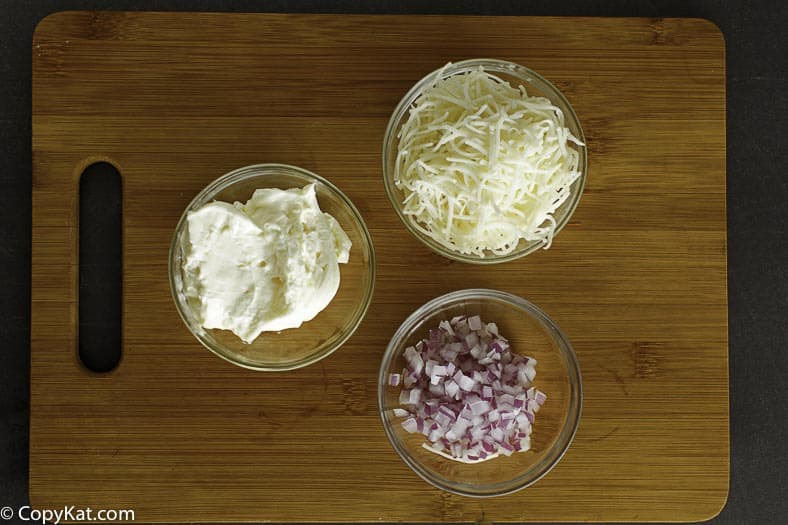 How to Make Jarlsberg Cheese Dip
Thoroughly combine all ingredients in a bowl.
Store in a covered container for at least 2 hours for flavors to mingle
Variations of this cheese spread
Thanks for the many ideas submitted by various readers. Here are a few:
Add a tad of horseradish.
Add some jalapenos.
Use dip on baguette slices to make toasted cheese. Top with bacon bits (optional).
Use on baked potatoes.
You can also make Kroger's Smoked Cheese Dip!
Easy Make-Ahead Cheese Dip
I love cheese dips and spreads and like to keep some on hand in case unexpected company drops or even if I want a light lunch or dinner. This cheese spread is perfect for this, and better yet, you don't have to worry about having a lot of preservatives in the dip.
If you are a beginner cook, this would be an easy and quick dish for you to prepare. Now you can make Jarlsberg Dip at home just like they do at Kroger's.
Serve Jarlsberg cheese dip with vegetables for a low-carb and keto-friendly appetizer or snack.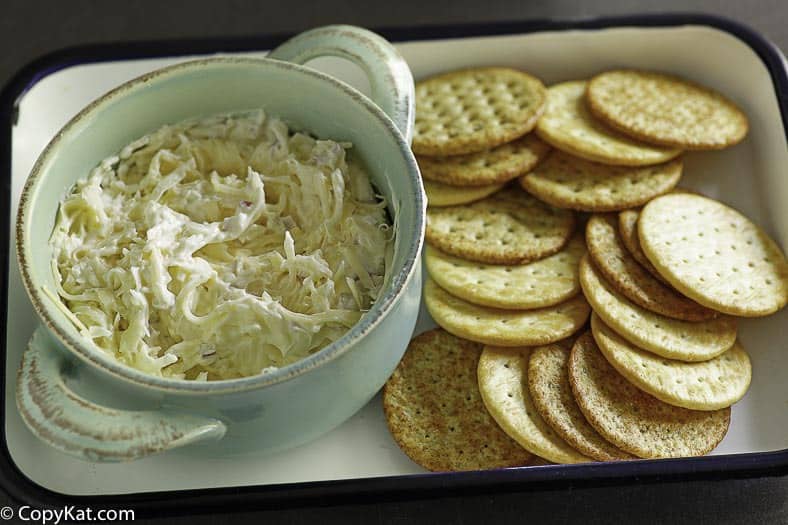 Popular Dip Recipes
Cheesy Appetizer Recipes
Be sure to check out more of my copycat dip recipes and the best appetizer recipes for entertaining.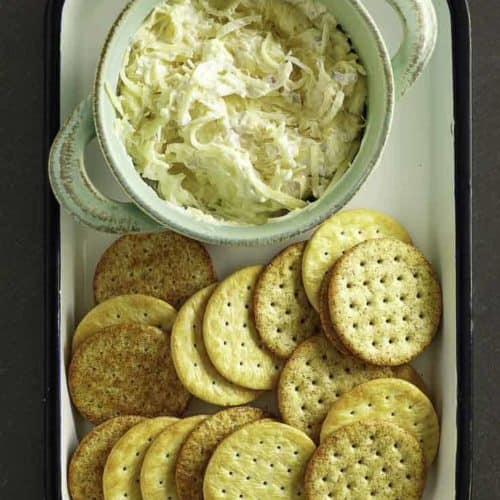 Ingredients
4

ounces

freshly grated Jarlsberg or Swiss cheese

2

tablespoons

real mayonnaise

1

tablespoon

finely chopped red onion
Instructions
In a medium sized bowl combine all ingredients and mix well. Store in a covered container for at least 2 hours for flavors to mingle. Serve with crackers. Will stay fresh in the refrigerator for about a week.
Video
Notes
Do not freeze this cheese dip. It will separate after you freeze it. 
Nutrition
Calories:
149
kcal
|
Carbohydrates:
0
g
|
Protein:
7
g
|
Fat:
13
g
|
Saturated Fat:
5
g
|
Cholesterol:
23
mg
|
Sodium:
226
mg
|
Sugar:
0
g
|
Vitamin A:
200
IU
|
Calcium:
202
mg