You may have heard about overnight oats before, but have you given this breakfast craze a try? Overnight oatmeal is the perfect instant breakfast that takes no time to prepare. It's so easy to make healthy overnight oats with milk. These plain overnight oats are a blank canvas for add-ins and toppings such as fruit, nuts, seeds, honey, or spices.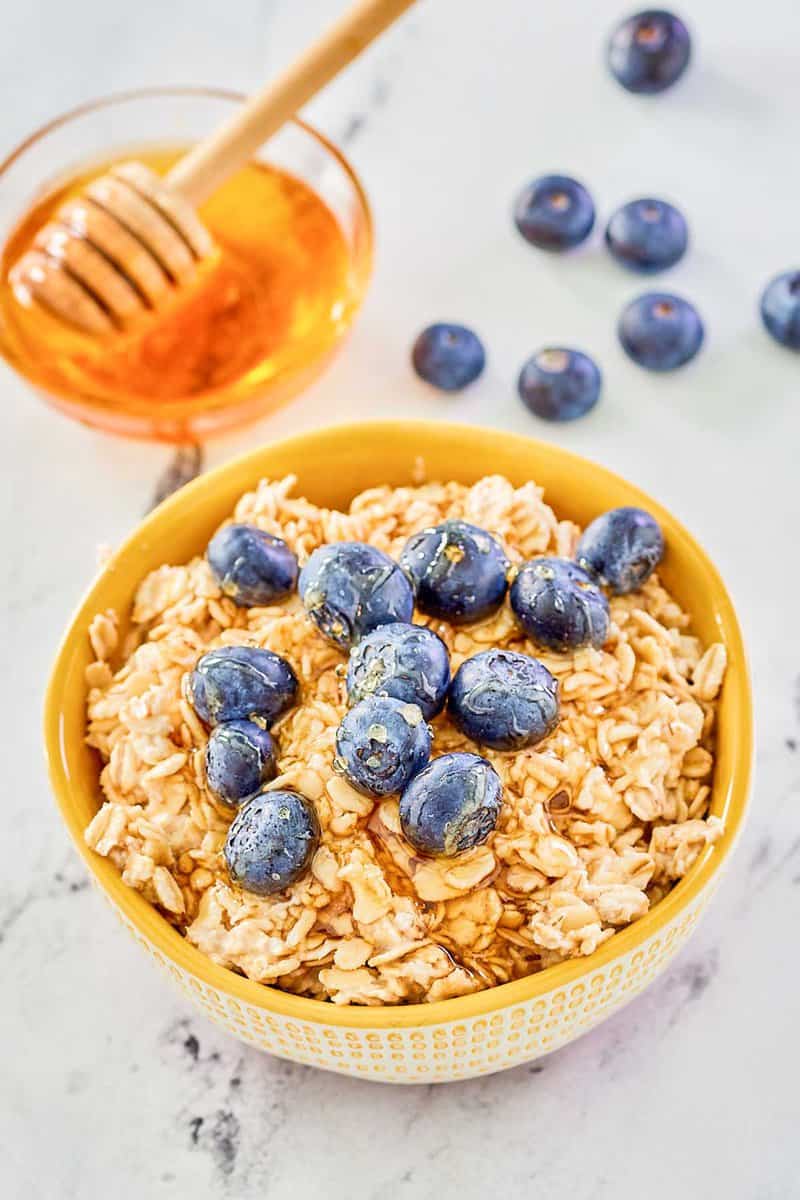 This post contains affiliate links. As an Amazon Associate, I earn from qualifying purchases.
What are Overnight Oats?
I know you are curious. In essence, overnight oats are your choice of oatmeal soaked in your favorite type of milk, (and it doesn't have to be dairy milk, you can use almond milk, or other milk if you desire).
It may be sweetened with honey, or maple syrup, and fun toppings can be added such as nuts, fresh fruit, or even ground cinnamon. It takes just moments to prepare, and you have breakfast in the time it takes to grab a spoon.
Best of all there is no cooking required to make or eat overnight oatmeal!
Are overnight oats healthy?
One of the worst-kept secrets is how healthy oatmeal is for you. Here are a few of the benefits of overnight oats!
Oats are high in fiber – a half-cup serving packs in 4 grams of fiber. Four grams of fiber is 14% of your daily requirement.
Oatmeal is good for your health – the beta-glucan in oatmeal has been shown to reduce cholesterol levels by 5 to 10 percent according to a story in the Journal of Nutrition and Metabolism.
Overnight Oats contain biotin – Your hair and nails need biotin. Biotin helps the skin fight chronic skin diseases and is healthy for the brain.
Simple Overnight Oats – Recipe Ingredients
Here's what you need to make plain overnight oats and a couple of toppings:
Oats
Milk – you can use a plant-based milk like Almond milk if you like
Toppings – I used blueberries and honey.
Let's take a deeper look into each one of the ingredients:
The Oats
Different oats perform slightly differently. The preferred type of oatmeal is the old-fashioned kind. To make overnight oats, you can use instant oatmeal, rolled oats, or even steel-cut oats. The textures will vary.
Instant Oats – these are naturally thin, and these work well if you have never tried making oatmeal this way. The thin flakes absorb the liquid and these tend to be softer than rolled oats.
Old Fashioned Rolled Oats – these are perfect for your overnight breakfast, they do absorb the milk but tend to be denser and have a nice texture when you dig into your oatmeal.
Steel-cut oats – Since steel-cut oats are as close as you can get to nature, they aren't rolled and processed like other oatmeal. It takes the liquid longer to penetrate the oatmeal, so you will want to soak this type of oatmeal for longer. Make sure you let these soak for at least 10 hours before enjoying them. They will be super crunchy on day one, but they can be enjoyed for several days after making them.
Read more about different types of oats.
The Liquid
You can use a variety of milk for this recipe, you can use dairy milk, such as whole, skim, 2%, or fat-free. You could also use non-dairy milk such as almond, cashew, or coconut. You may want to stick with unsweetened so you can control the amount of sweetener.
The Ratio
I like to use half oatmeal and half milk. You can experiment to find out what you will like the best.
The Mix-Ins
Just like your favorite ice cream, you can add whatever you like. Here are some suggestions: Frozen fruit, fresh fruit such as bananas, blueberries, or strawberries work well. You can use a mix in any nut butter. Have some Chia seeds? you can add those too.
You may want to add spices such as cinnamon, nutmeg, cocoa powder, or even matcha. My suggestion would be to pick out add-ins that are already completely hydrated.
You can also add sweeteners, I like to add some fresh local honey, but you can add stevia, sugar, or another one of your favorite sweeteners.
How to Make Basic Overnight Oats
Making overnight oats is a very simple process.
Combine the oats and milk in a container.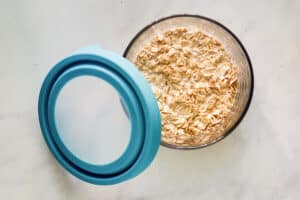 Cover the container with a lid or plastic wrap.
Refrigerate it overnight.
Enjoy it plain or with toppings.
Best Containers for Overnight Oats
I like to use half-pint Mason jars. You can use those, they are washable, they come with lids, and you can reuse them over and over again. Don't have a handy Mason jar? You can use a bowl, a coffee cup, your favorite Tupperware container, or your favorite plastic container. Just cover the top when placing your oatmeal in the fridge overnight to do its magic.
Oatmeal isn't just for breakfast this would make a great post-workout treat or a great snack.
Love Oats? Try These Recipes!
Favorite Breakfast Recipes
Check out more of my easy breakfast recipes and the best budget-friendly recipes on CopyKat!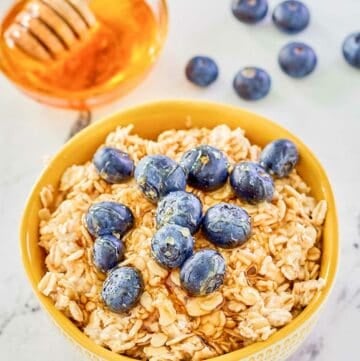 Overnight Oats
Learn how to make overnight oats with milk in a jar with this easy recipe. Get the right ratio for the best results. Find out which milk and add-ins you can use for a healthy breakfast.
Print
Pin
Rate
Add to Collection
Go to Collections
Ingredients
1/2

cup

old-fashioned oatmeal

1/2

cup

whole milk

1

tablespoon

honey

2

tablespoons

blueberries

1 – 2

teaspoons

chia seeds

optional
Instructions
Place oatmeal and milk into a small container and refrigerate it overnight.

In the morning, drizzle with honey, blueberries, and chia seeds.
Notes
Favorite Mixins for your Overnight Oats: 
Chia seeds, flax seeds, hemp seeds 
Protein powder 
Peanut butter powder
Ground cinnamon 
Nuts: almonds, walnuts, or even pecans 
Fresh fruit: blueberries, blackberries, strawberries, or whatever is in season
Something sweet – honey, maple syrup, or even a sprinkle of brown sugar
Nutrition
Calories:
248
kcal
|
Carbohydrates:
43
g
|
Protein:
7
g
|
Fat:
6
g
|
Saturated Fat:
2
g
|
Cholesterol:
12
mg
|
Sodium:
58
mg
|
Potassium:
373
mg
|
Fiber:
3
g
|
Sugar:
27
g
|
Vitamin A:
200
IU
|
Vitamin C:
50
mg
|
Calcium:
162
mg
|
Iron:
1.4
mg