McDonald's Fruit and Maple Oatmeal is delicious and healthy. This creamy oatmeal with maple syrup topped with apples, cranberries, and raisins is a great way to start the day. You can make it at home with this easy copycat recipe.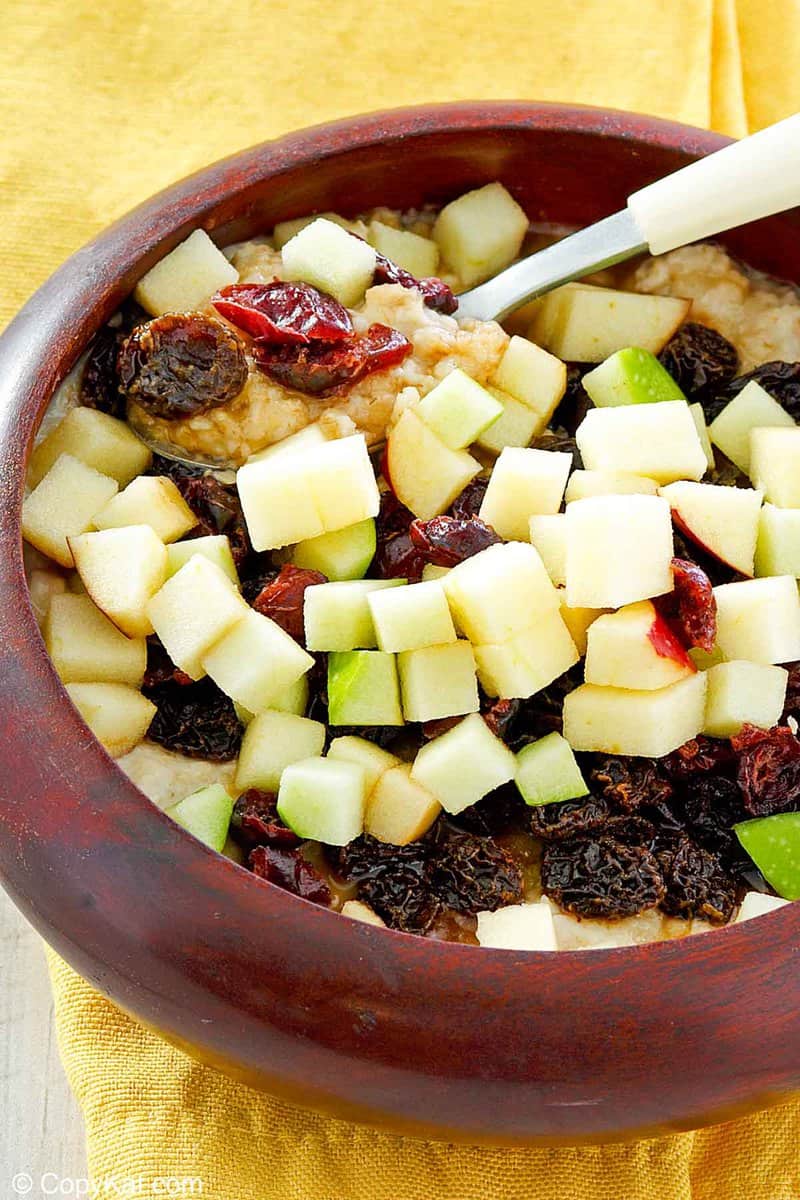 Delicious Oatmeal for Breakfast
Oatmeal is sadly underappreciated in the US. Unfortunately, that's because most of us grew up eating packets of powdery instant oatmeal.
And if you think that overly sweet gruel with the consistency of paste is the real stuff, well, you are sorely mistaken. Real oatmeal is marvelous, and believe it or not, the Fruit & Maple Oatmeal McDonalds serves is particularly good.
Don't make the mistake of jumping down to read the ingredient list and then deciding to skip this recipe because there are just too many different types of fruits. If you don't have all of them on hand, you can still make this oatmeal recipe using the ones you do have.
The oatmeal will taste amazing, guaranteed.
So, whether you have a bowl of oatmeal every morning or swore as a kid you would never again touch the stuff, you will definitely want to cast off your doubts and try this recipe.
McDonald's Fruit and Maple Oatmeal Ingredients
Here's a list of what you need:
Quick cook oatmeal
Salt
Water
Half and half
Maple syrup
Brown sugar
Raisins
White (golden) raisins
Craisins
Red delicious apple
Granny smith apple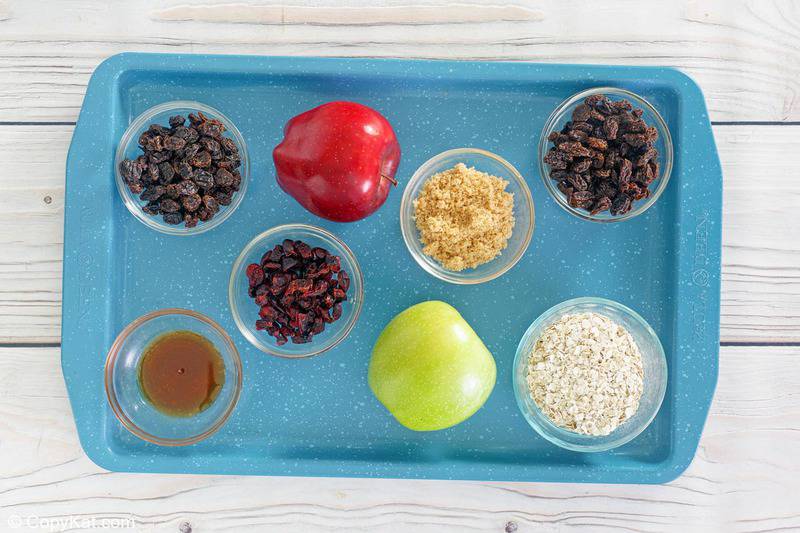 Don't Be Afraid of Using Other Types of Oatmeal
This version of McDonalds oatmeal calls for using quick-cooking rolled oats and will make a delicious bowl of oatmeal in less time than it takes for you to get through the drive-in.
However, there are other options that may take a little longer to cook but offer a new world of flavors and textures that is worth exploring.
The three basic types of oatmeal are: rolled or flake oats, pinhead or steel-cut oats, and ground oats.
Rolled Oats
This is the most popular type of oatmeal in the United States. Manufacturers steam and roll the oat groat flat to give rolled oats its moderately smooth consistency.
Quick-cooking oats are steamed for longer and rolled thinner for shorter cooking times. Instant oats are rolled even thinner for even fasting cooking.
Pinhead or Steel-cut Oats
This type of oatmeal is popular in Ireland, and many companies label this style of oatmeal as Irish Oatmeal, no matter they come from.
Pinhead oats are cut using a steel blade, hence the alternative name. Whatever you call them, this type of oatmeal is slightly chewy even when fully cooked and has a more pronounced flavor than rolled oats.
Ground Oats
For hundreds of years, Scots have been making their version of oatmeal by grinding oat groats between rough grindstones, giving them a characteristically smooth texture.
This type of oatmeal cooks up almost fluffy without the chew of pinhead oatmeal.
Read more about the different oatmeal types and how to cook them.
How to Make McDonald's Fruit and Maple Oatmeal
Place oatmeal in a microwave-safe bowl. Add hot water, salt, and half and half.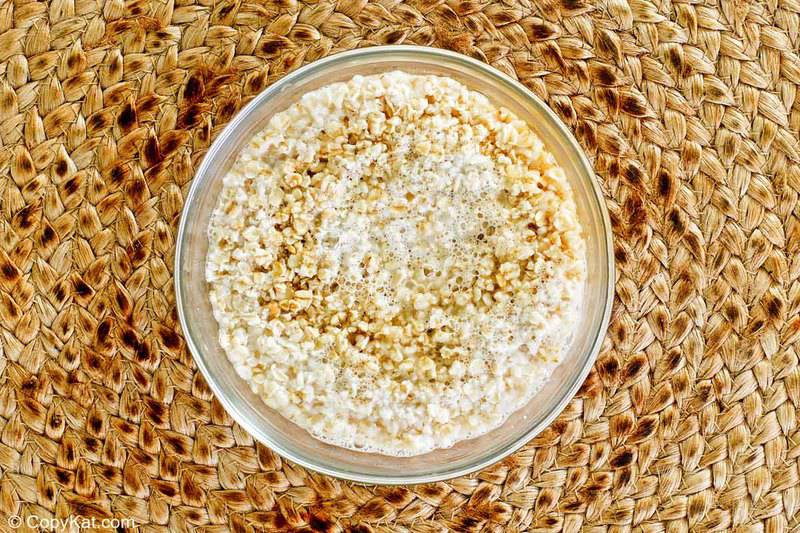 Microwave for about 1 minute. Stir well.
Add maple syrup and stir it in the oatmeal.
Sprinkle brown sugar, raisins, white raisins, craisins, and chopped apples on top.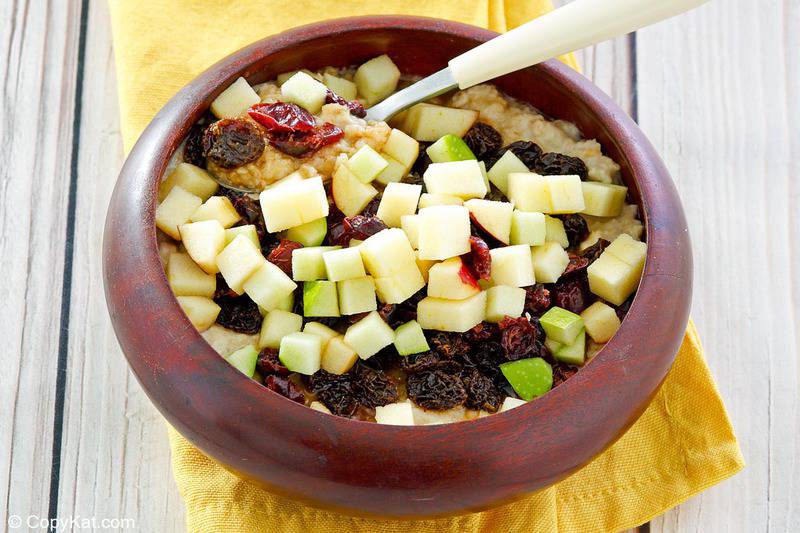 Tips for Making and Storing Fruit & Maple Oatmeal from McDonalds
Don't use cheap pancake syrup instead of good-quality maple syrup. Pancake syrup is mostly corn syrup, artificial flavors, and food coloring. Sometimes spending more on a higher quality ingredient is essential for a recipe to taste great. This is one of those times.
Make McDonalds oatmeal vegan friendly. Oatmeal is an excellent meal for folks that don't want to eat meat. The recipe is already vegetarian-friendly, but you can try switching out the half and half for oat milk to make it vegan-approved.
Store cooked oatmeal without fruit in an airtight container for up to five days in the fridge. If you decide to use a type of oatmeal that takes a bit longer to prepare, you can make a big batch Sunday night and reheat it for quick breakfasts throughout the week. Just stir in a tablespoon of milk, cover, and heat in the microwave until hot, about two minutes.
Check out our other oatmeal recipes on YouTube.
Frequently asked questions
Is McDonald's Oatmeal vegan?
No, McDonald's Oatmeal contains cream. McDonald's oatmeal is vegetarian.
Love McDonald's? Try these copycat recipes!
Popular Breakfast Recipes
Check out more of my easy breakfast recipes and the best McDonald's recipes here on CopyKat!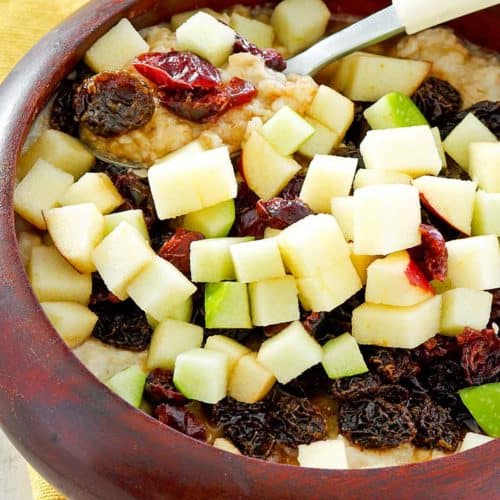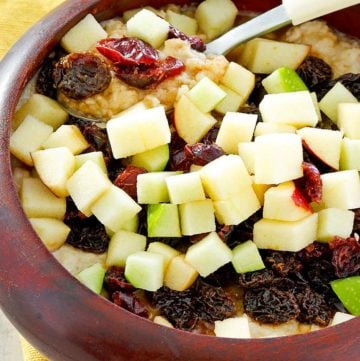 Ingredients
1/2

cup

quick-cooking oatmeal

1

cup

hot water

1/4

teaspoon

salt

2

tablespoons

half and half

1

teaspoon

maple syrup

2

tablespoons

brown sugar

1

teaspoon

raisins

1

teaspoon

white raisins

1/2

teaspoon

Craisins

1

tablespoon

chopped red delicious apple

1

tablespoon

chopped granny smith apple
Instructions
Place the oatmeal in a microwave-safe bowl.

Add the hot water, salt, and half and half, and microwave for about 1 minute. Stir well.

Stir the maple syrup into the oatmeal.

Sprinkle the brown sugar, raisins, white raisins, Craisins, and chopped apples on top.
Nutrition
Calories:
348
kcal
|
Carbohydrates:
70
g
|
Protein:
8
g
|
Fat:
6
g
|
Saturated Fat:
3
g
|
Polyunsaturated Fat:
1
g
|
Monounsaturated Fat:
2
g
|
Cholesterol:
11
mg
|
Sodium:
617
mg
|
Potassium:
337
mg
|
Fiber:
5
g
|
Sugar:
36
g
|
Vitamin A:
122
IU
|
Vitamin C:
2
mg
|
Calcium:
93
mg
|
Iron:
2
mg