McDonald's Quarter Pounder is an iconic burger loved by many. You can make this tasty hamburger at home with this easy copycat recipe.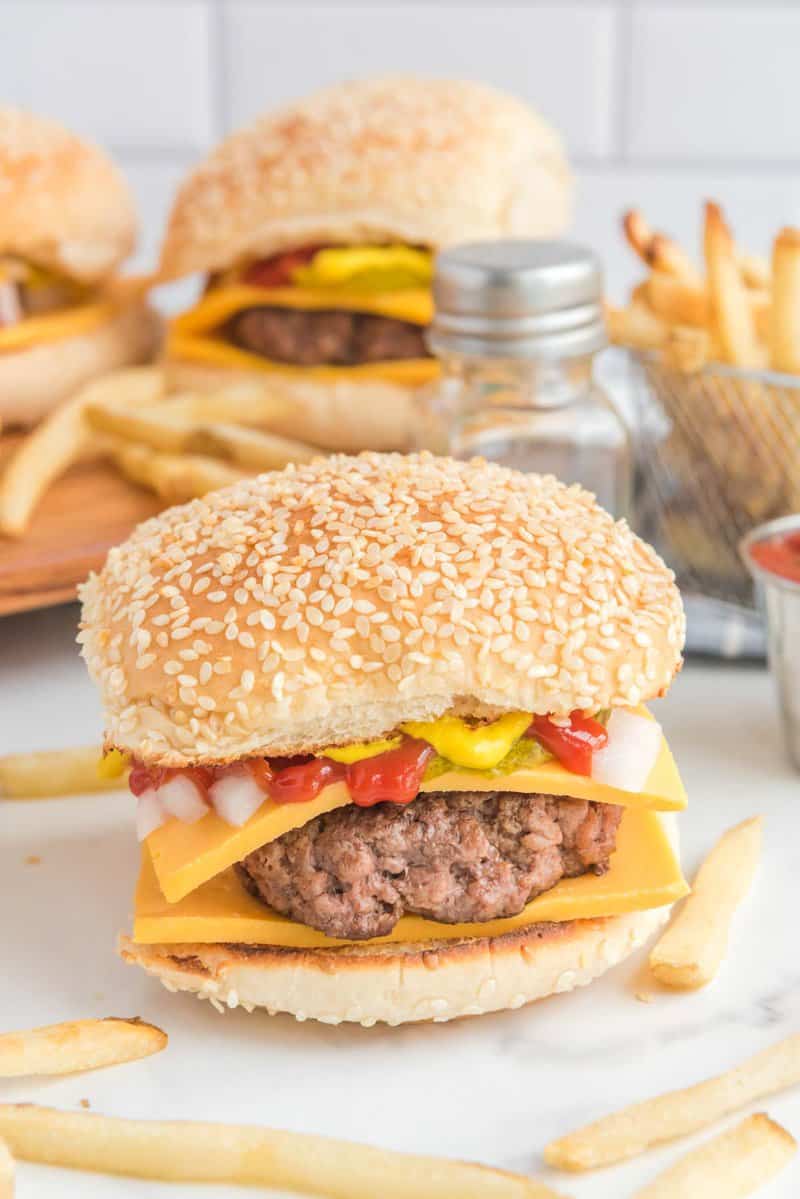 This post contains affiliate links. As an Amazon Associate, I earn from qualifying purchases.
Homemade Quarter Pounder
The Big Mac may get all the glory, but McDonald's Quarter Pounder is a better burger in many ways. With a far superior beef to bun ratio and limited toppings, you can really taste the meat.
But you don't have to hit up a drive-in the next time you get a burger craving. Try this McDonald's Quarter Pounder recipe, or if you are a cheese-lover, make it a McDonald's Quarter Pounder with cheese!
So, How Do You Really Order a McDonald's Quarter Pounder With Cheese in France?
Back in the mid-1990s, this question puzzled theater-goers. Was Samuel L. Jackson's character Julian in Pulp Fiction right? Do the French really call McDonald's Quarter Pounder with cheese, Royale with cheese?
Well, it turns out that Julian got it mostly correct. The French call it Royal Cheese. So, the next time you are in Paris and craving a cheeseburger, you won't embarrass yourself when ordering.
Recipe Ingredients
Here's a list of what you need to make McDonald's Quarter Pounder with cheese:
Sliced white onions
Ground beef chuck
Sesame seed hamburger buns
Salt
American cheese slices
Dill pickle slices
Tomato ketchup
Mustard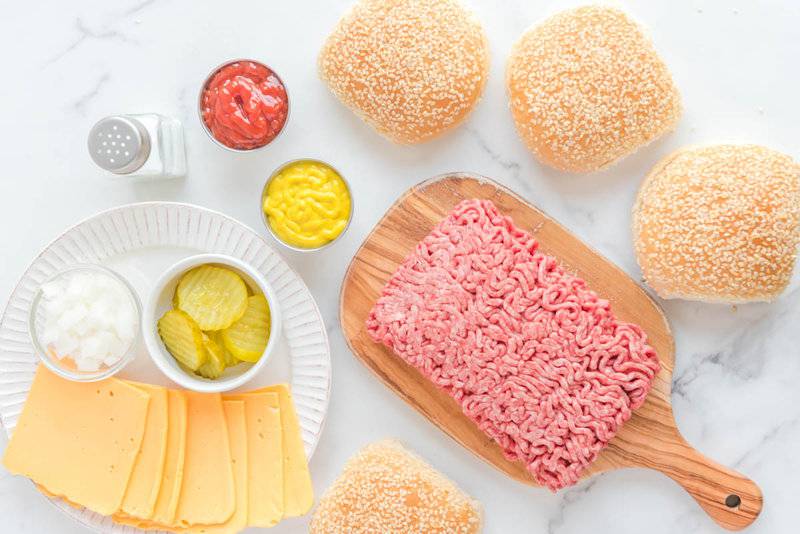 Ingredient Notes
Let's Talk Beef
McDonald's says their restaurants use a mix of chuck, round, and sirloin for the beef patty, but your best bet for this recipe is sticking to ground chuck with about 20 percent fat.
The higher fat content lets you cook the patties fully without drying them out. But, all that juiciness comes with a caveat; there's going to be a good amount of shrinkage. To compensate, start with patties that are a third of a pound, so you wind up with a fully cooked quarter pounder.
Resist the urge to season the ground beef before making the patties. Instead, do it the McDonald's way by sprinkling salt on the patties once they are cooking. Seasoning like this prevents the salt from drawing out the moisture from the meat and delivers the same amount of flavor using significantly less salt.
Getting the Toppings Right
Some burgers play second-fiddle to the toppings, and then some let the beef do all the talking. With only onions, ketchup, and mustard, this hamburger definitely falls into the second group.
One thing that separates McDonald's hamburgers from others is that they use rehydrated dried minced onions. It's best not to try to "upgrade" by using fresh onions since you'll be losing their unique flavor profile. Put aside your doubts and take the extra step of rehydrating the onions. You won't be disappointed.
McDonald's used to serve Heinz ketchup, but back in 2013, they changed things up and started using their own ketchup labeled "Fancy Ketchup." No matter. Any regular ketchup works in this recipe.
When it comes to mustard, go with the standard yellow American mustard. Even if you are not a massive fan of mustards, try some in this recipe. The vinegary taste helps to balance the saltiness of the beef and isn't overpowering at all.
Cheese fans will love the American cheese that is on this burger. You can make a better McDonald burger when you use a good quality American cheese.
How to Make McDonald's Quarter Pounder
If using dried (dehydrated) onions, rehydrate them with warm water for 15 minutes then drain off the excess water.
Toast the buns in a cast iron or stainless steel skillet over medium heat for about a minute or until browned.
Form the beef into 4 equal balls and place each ball between waxed paper or plastic wrap and gently press the meat into discs.
Cook the patties in the skillet for 3 to 4 minutes on each side.
Season the patties with salt before and after you flip them over in the skillet.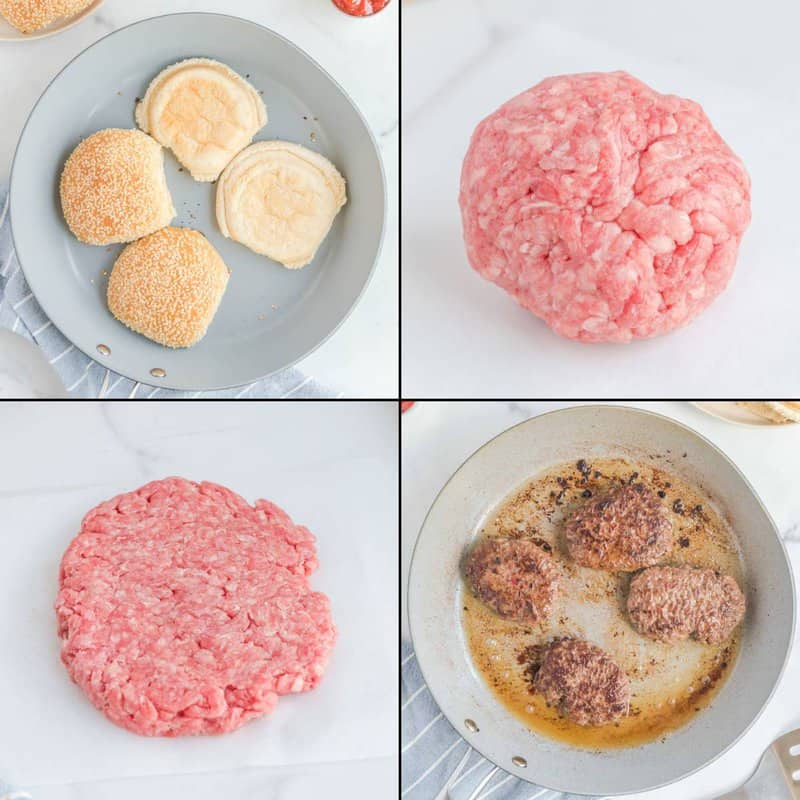 Place a bottom bun on a plate.
Place a slice of cheese on the bun, then a burger patty, and then another cheese slice.
Top with pickles, onions, ketchup, and mustard.
Cover the burger with the top bun.
Repeat building the burgers with the remaining ingredients.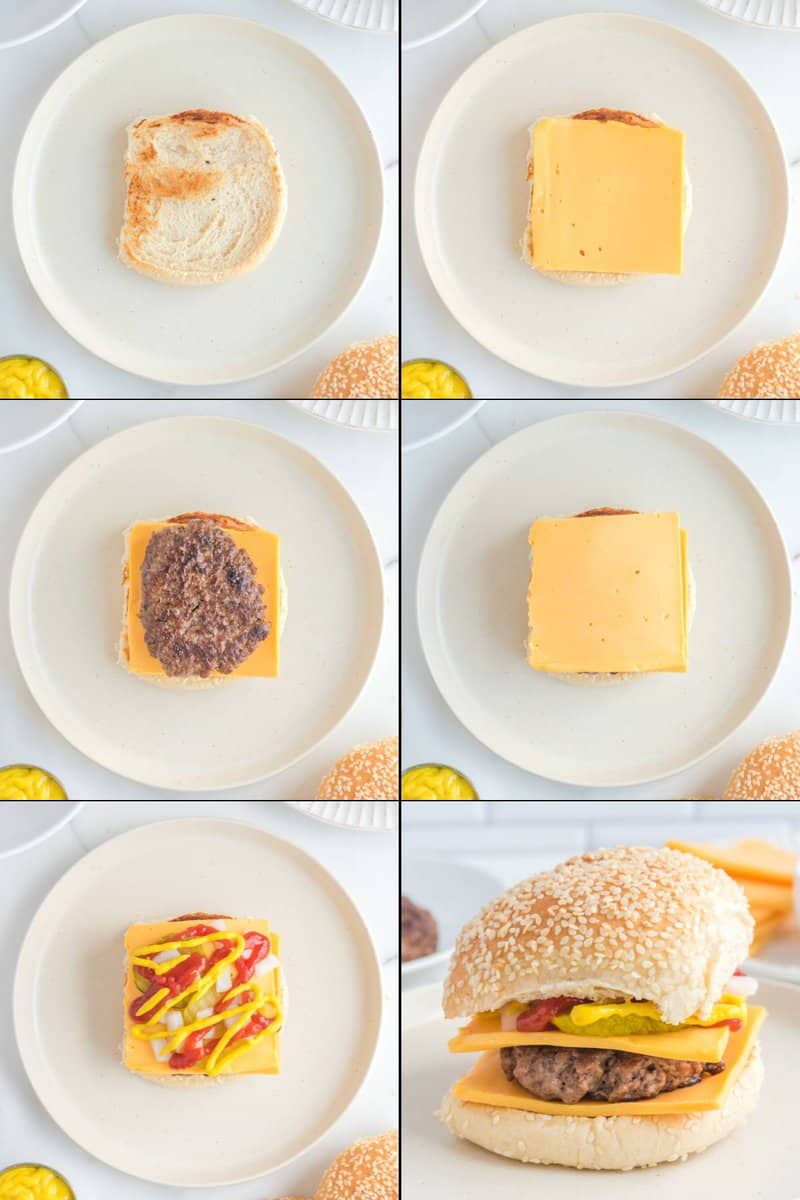 Tips For Making a McDonald's Quarter Pounder
Cook the burgers on the right surface. A heavy cast-iron skillet or griddle is ideal since they hold a constant temperature. But any flat cooking surface will work. Just let it come up to temperature before cooking.
Don't forget to toast those buns. For an extra crispy bun, spread a thin, even layer of mayonnaise and place cut-side down in a pan.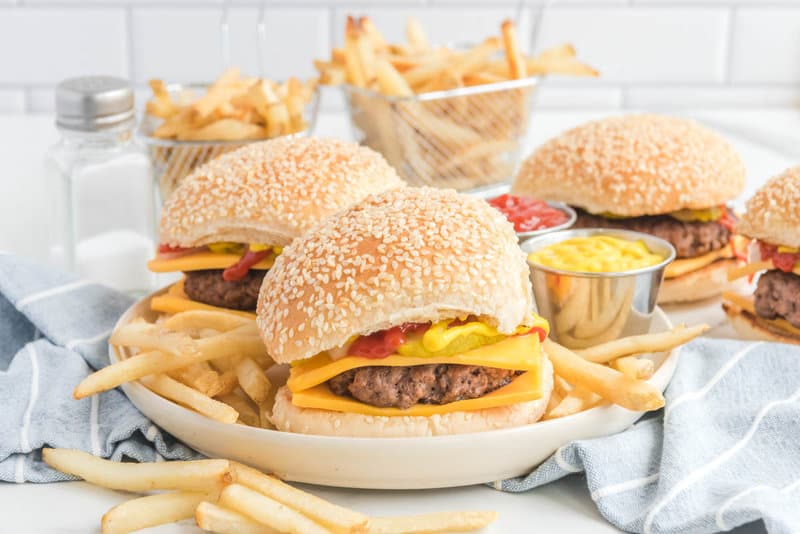 Do you want a low carb version?
You can swap out the buns with large leaves of lettuce. Changing out the lettuce leaves is a significant change in reducing the net carbs.
Check out our other McDonald's-inspired recipes on YouTube!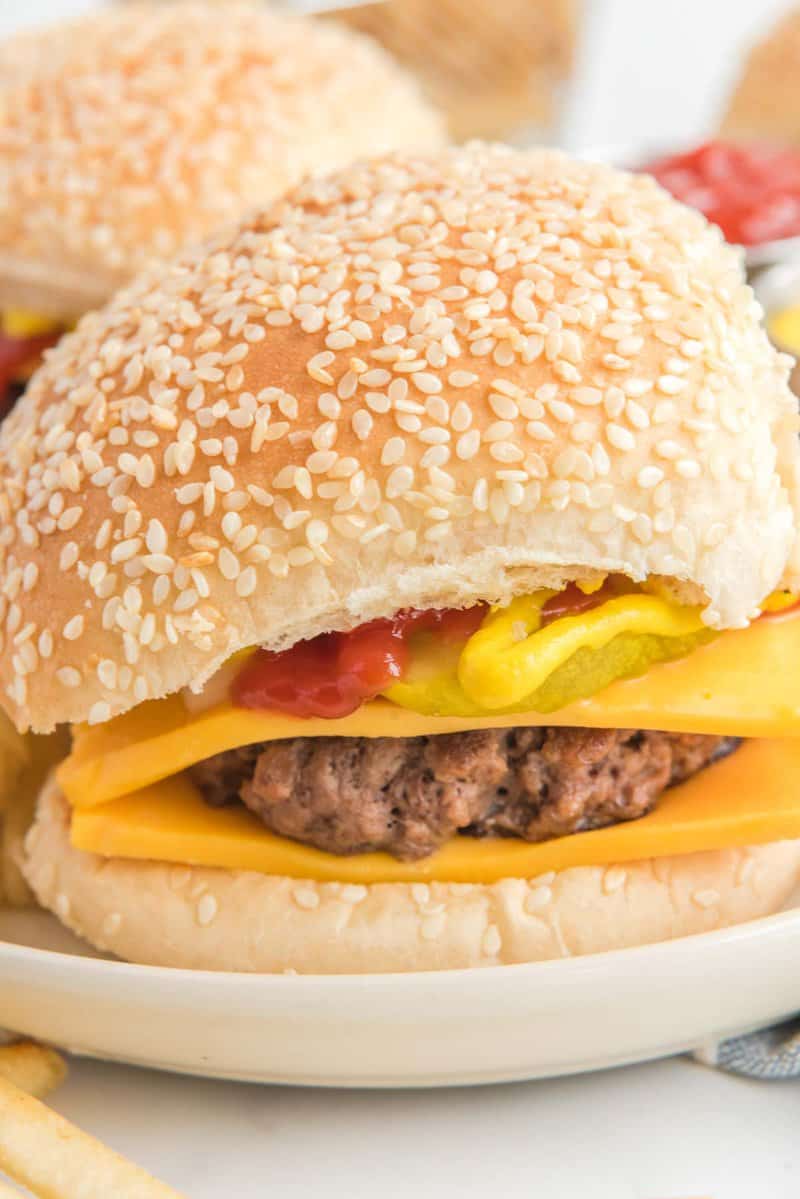 Love McDonald's? Try these copycat recipes!
Popular Burger Recipes
Check out more of my homemade burger recipes and the best McDonalds recipes here on CopyKat!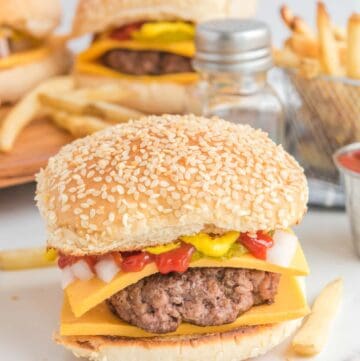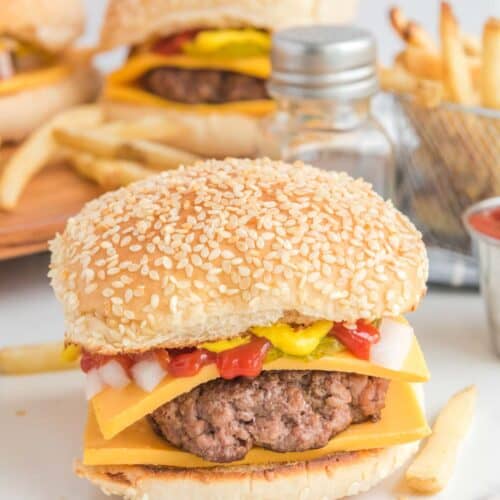 Ingredients
1

tablespoon

sliced white onions

4

sesame seed hamburger buns

1 1/3

pounds

ground beef chuck

this allows for some shrinkage

1/2

teaspoon

salt

8

slices

American cheese

8

dill pickle slices

1 1/3

tablespoons

mustard

3 1/3 to 4

tablespoons

ketchup
Instructions
Toast the buns in a cast-iron or stainless-steel skillet over medium heat for about 1 minute, or until they brown. Set aside.

Form the ground beef into 4 equal balls. Place each ball of meat between two sheets of waxed paper or plastic wrap and gently press the meat into disc shapes. Do not press too hard, as the patties may fall apart.

In the same skillet you used to toast the buns, cook the patties for 3 to 4 minutes on each side. Season each side with salt while cooking.

Place the bottom buns on a plate. To each bun add: a slice of American cheese, 1 burger patty, another slice of American cheese, 2 pickle slices, several sliced white onions, 1 teaspoon of mustard, and 2 to 3 teaspoons of ketchup. Cover the burger with the top bun.
Nutrition
Calories:
675
kcal
|
Carbohydrates:
26
g
|
Protein:
38
g
|
Fat:
45
g
|
Saturated Fat:
20
g
|
Polyunsaturated Fat:
2
g
|
Monounsaturated Fat:
17
g
|
Trans Fat:
2
g
|
Cholesterol:
149
mg
|
Sodium:
1540
mg
|
Potassium:
580
mg
|
Fiber:
1
g
|
Sugar:
6
g
|
Vitamin A:
464
IU
|
Vitamin C:
2
mg
|
Calcium:
552
mg
|
Iron:
5
mg