Donut Muffins are a tasty breakfast treat or snack. These are delicious and sweet cinnamon muffins that taste like donuts.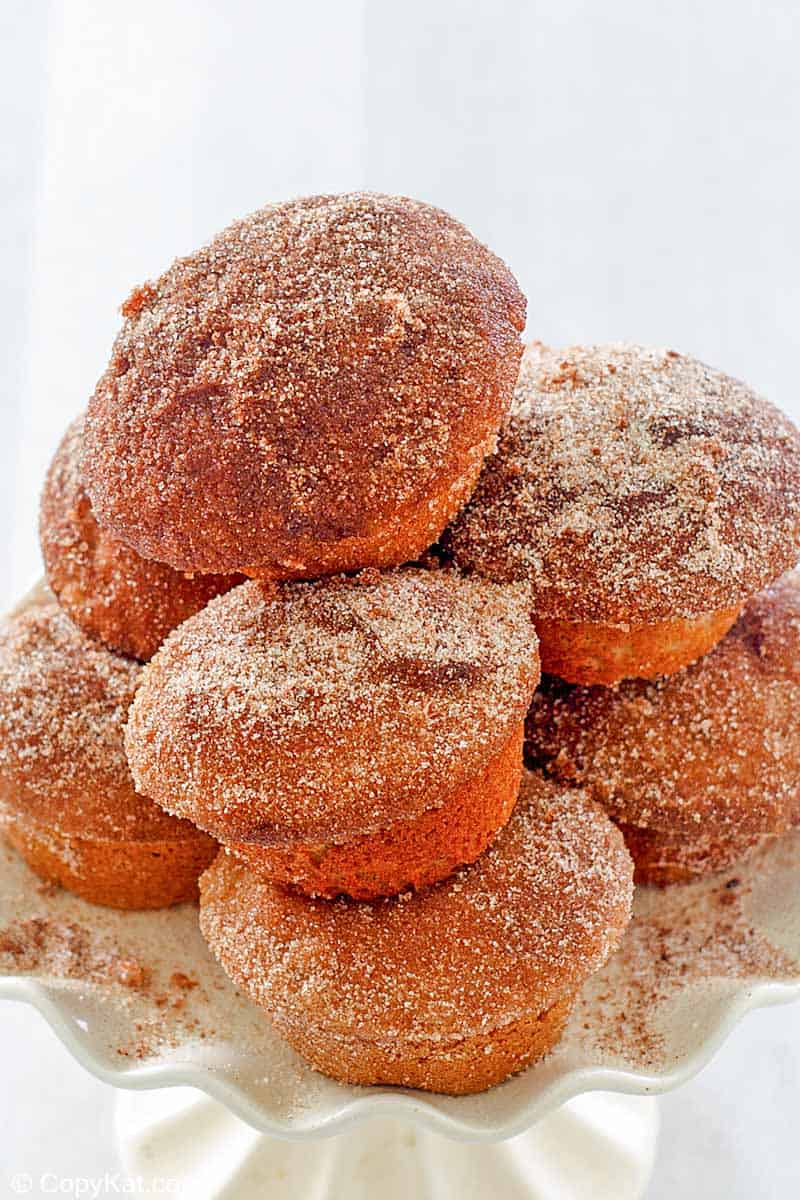 Muffins That Taste Like Donuts
Cinnamon sugar donut muffins are a sweet way to start the day. And so much easier than making donuts.
Who needs donuts? Well, sometimes, we all do! But that doesn't mean you have to take a trip to the local donut shop or even feel guilty of "overindulging" when you know how to make donut muffins. These delectable muffins deliver the same amazing taste as cinnamon sugar donuts at a fraction of the calories and fat and make the perfect breakfast or snack. Bake a batch of these cinnamon sugar donut muffins whenever you get that donut craving!
Cake VS Yeast Donuts
You can divide the world of donuts into two separate categories: cake donuts and yeast donuts.
These types of donuts are distinctly different in taste, appearance and especially important for anyone who tries making them, recipes. While yeast donuts get their rise from yeast, cake donuts depend on baking powder to keep them from going flat. The use of different leavening agents means that yeast donuts are considerably lighter and less sweet than cake donuts and get most of their flavor from glazes, fillings, and toppings. An excellent example of a yeast donut is Krispy Kremes. On the other hand, cake donuts are denser, sweeter, and come in just about an endless amount of flavors from chocolate to pumpkin spice that makes them perfect for dipping.
This donut muffin recipe makes muffins that resemble cake and not yeast donuts.
Making Magnificent Muffins
If you are already an expert muffin baker, then these old fashioned donut muffins should be a breeze to throw together. But, if you are new to the muffin-making game, here are a few tips to help your first few batches turn out better.
Awful things happen when you over-mix muffin batter, but equally bad things occur if you don't mix it enough. So, what is a newbie baker to do? Start by sifting the dry ingredients together in one bowl while whisking the wet ingredients together in another. Then add the dry ingredients into the bowl with the wet ones and give no more than ten stirs with a wooden spoon. It is okay if the batter is not entirely lump-free, but there shouldn't be any dry ingredients floating on the top or on the sides.
For even more delicate muffins, consider swapping out the all-purpose flour in the recipe for cake flour. Cake flour is more refined than all-purpose flour and contains less protein. These differences will help your muffins turn out even lighter and fluffier.
If you don't mind fiddling with the oven a bit, you can try preheating it to 400 degrees and reduce the baking temperature to 350 when you put in the muffins. Not only will this ensure your oven won't drop below the 350-degree baking temperature when you open the oven door, but it will provide a higher temperature for a few minutes and help produce more rise from the baking powder.
Tips for Storing and Reheating Cinnamon Sugar Donut Muffins
Store on the countertop for up to four days. Line an airtight container with a paper towel. Place cool muffins on top and cover with another paper. Some people find that adding a cracker helps keep the muffins dry. Cover with a tight-fitting lid.
Freeze for up to two months. Wrap each of the muffins separately in plastic wrap before putting them in the freezer. To reheat, let the muffins thaw at room temperature, wrap lightly in tin foil, and then pop them in a 350-degree oven for ten minutes.
Visit us on Facebook to see what we are up to these days.
Donut Muffins Recipe Ingredients
Here's a list of what you need:
All-purpose flour
Baking powder
Salt
Ground nutmeg
Ground cinnamon
Egg
Vegetable oil
Sugar
Milk
Butter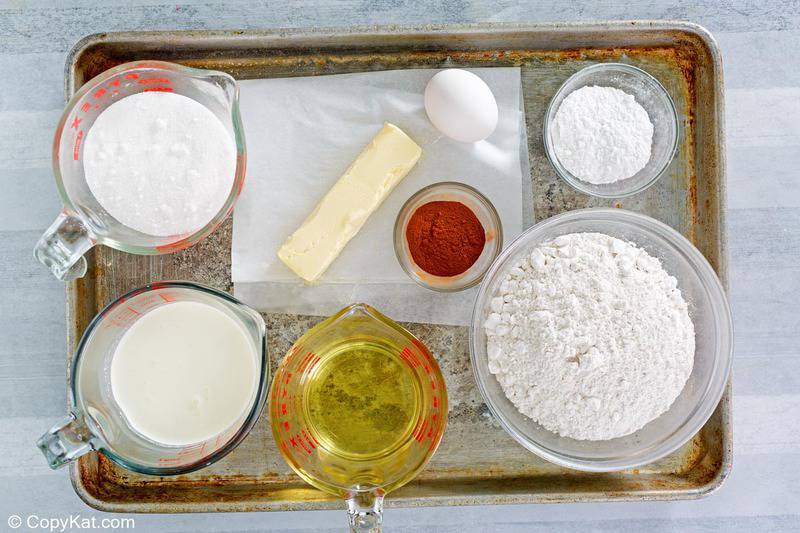 How to Make Donut Muffins
In a large bowl, combine flour, baking powder, salt, nutmeg, and cinnamon.

In another bowl, combine egg, oil, sugar, and milk.

Add wet ingredient mixture to the dry ingredient mixture and stir until just combined.
Fill muffin cups 2/3 full and bake at 350 degrees for 20 to 25 minutes.
Melt butter and set aside.
Combine sugar and cinnamon in a bowl and set aside.

While muffins are still hot, dip them into melted butter and then in the cinnamon-sugar mixture.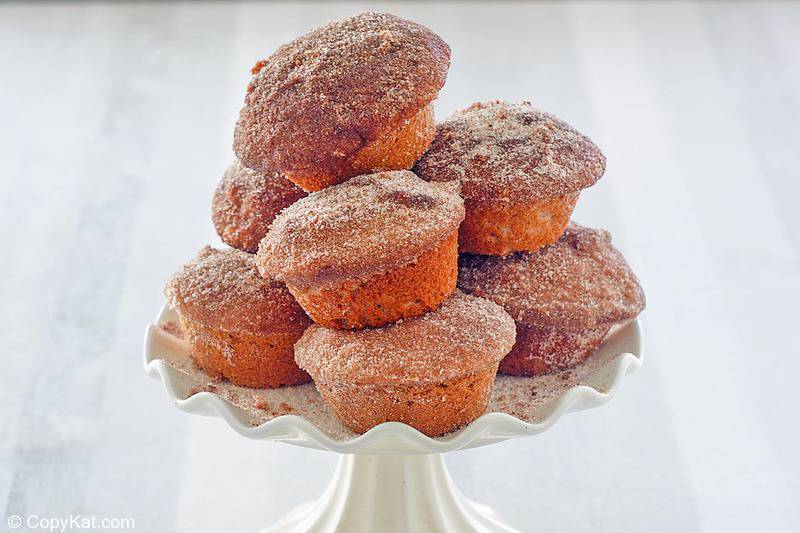 Love muffins, donuts, and breakfast bread? Try these recipes!
Popular Breakfast Recipes
Check out more of my easy bread recipes and the best breakfast recipes here on CopyKat!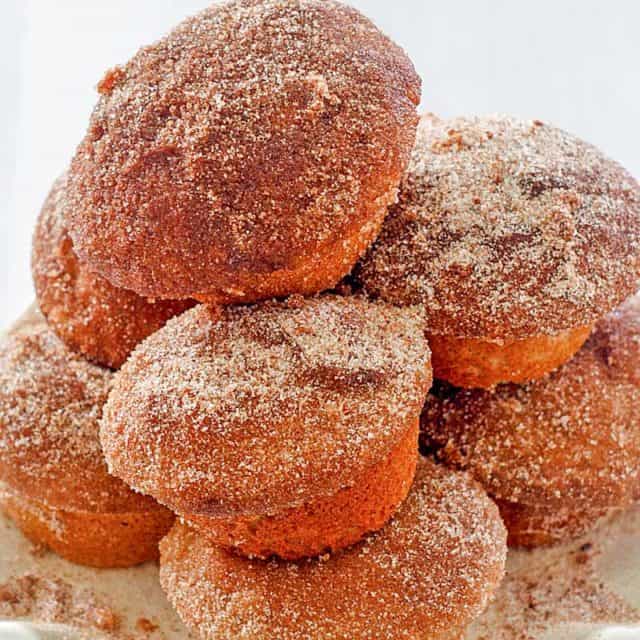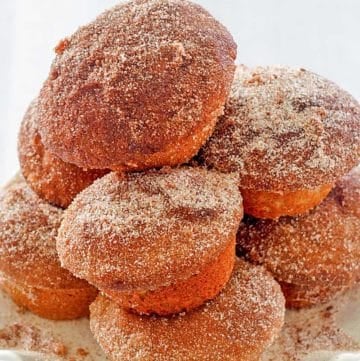 Ingredients
Donut Muffins
1⅔

cup

all-purpose flour

1½

teaspoon

baking powder

½

teaspoon

salt

½

teaspoon

ground nutmeg

¼

teaspoon

ground cinnamon

1

egg

⅓

cup

vegetable oil

¾

cup

sugar

¾

cup

milk
Donut Muffin Topping
½

cup

butter

¾

cup

sugar

1

teaspoon

ground cinnamon
Instructions
Donut Muffins
Preheat oven to 350 degrees.

In a large bowl, combine the flour, baking powder, salt, cinnamon, and nutmeg. Whisk or stir until well blended.

In another bowl combine egg, oil, sugar, and milk. Whisk or stir until well blended.

Add the wet ingredients to the dry ingredients, and stir only to combine (do not over mix!).

Fill muffin cups ⅔ full and bake at 350 degrees for 20 to 25 minutes.
Donut Muffin Topping
While the muffins are baking, melt ½ cup butter and set aside.

Combine ¾ cup sugar and 1 teaspoon cinnamon in another bowl and set aside.

Take muffins out of the oven and remove them from the pan.

While the muffins are still hot, dip them in melted butter and then in the cinnamon-sugar mixture.
Nutrition
Calories:
147
kcal
|
Carbohydrates:
19
g
|
Protein:
1
g
|
Fat:
7
g
|
Saturated Fat:
5
g
|
Cholesterol:
17
mg
|
Sodium:
88
mg
|
Potassium:
47
mg
|
Fiber:
0
g
|
Sugar:
12
g
|
Vitamin A:
140
IU
|
Calcium:
24
mg
|
Iron:
0.5
mg