Old Fashioned Coffee Cake topped with brown sugar and cinnamon is a wonderful treat to enjoy for breakfast or dessert.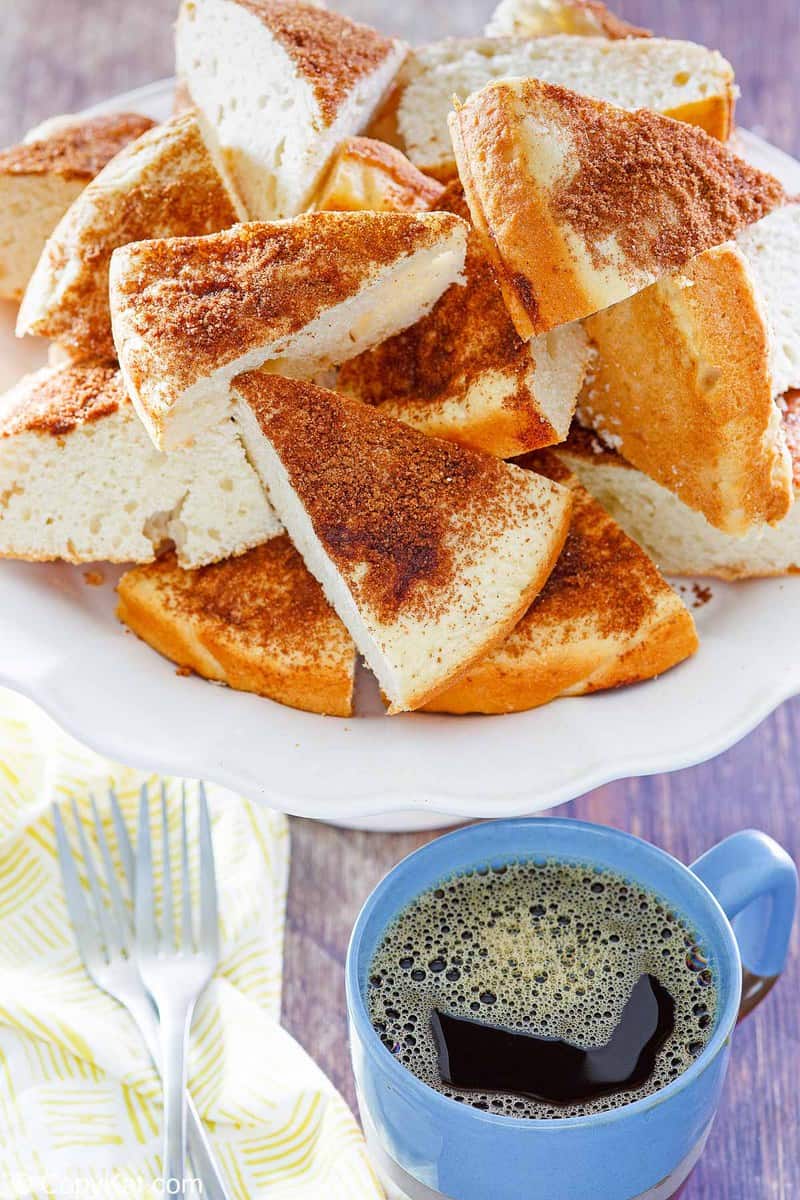 An old fashioned cinnamon coffee cake makes a wonderfully simple and satisfying dessert or snack. This Easy Coffee Cake recipe is light, with just a touch of sweetness that pairs well with coffee, tea, or milk. Once you try this homemade coffee cake, you won't ever want to buy another one from a store again.
Baking with Yeast
Many home cooks find recipes containing yeast intimidating. But there is no reason to be apprehensive when it comes to baking with yeast. Once you learn how to use and store yeast correctly, a whole new world of delicious breads and cakes opens up.
When using yeast in a recipe:
Choose the right yeast. There are various yeasts available, but for this Easy Coffee Cake recipe, make sure the yeast you use says "dry active yeast" on its packaging.
Use fresh yeast. Yeast is a living thing, and it doesn't last forever. If you can't remember the packet of yeast in the back of your cabinet, it is worth buy new yeast.
Proof the yeast. Allowing active dry yeast to soak in warm water is called proofing, or blooming. It is a critical step, not only because it hydrates the yeast but also because it lets you see if it's still good. If you don't notice small, tight bubbles, like those of beer, forming on the water's surface, the yeast is dead. If you purchase instant yeast, you may omit the proofing step.
Store properly. Keep unopened yeast in a cool, dark cupboard. Pour opened yeast into an airtight jar, and put it in the fridge or freezer.
Other Cake Toppings You May Want to Use
Are you looking for something a bit more interesting than a dusting of cinnamon and sugar to use as a topping for this homemade coffee cake? Try one of these:
Streusel Topping
Streusel is easy to make and perfect for the top of a coffee cake. Combine half a cup each of brown, white sugar, and flour in a mixing bowl. Stir in a pinch of salt and a teaspoon of a favorite spice such as ginger or cinnamon. Use a pastry blender or the back of a fork to mash the dry ingredients together with a quarter cup of cold butter until you make something that resembles coarse cornmeal. Spread the streusel topping on the cake.
Basic Powdered Sugar Glaze
This recipe makes a versatile glaze that is easy to change to suit your taste. The base recipe is two cups of powdered sugar, two tablespoons of softened butter, a teaspoon of vanilla extract, and enough milk to reach a syrup consistency. Other variations including:
A coffee glaze. Use cold coffee instead of milk to thin out the mixture.
A chocolate glaze. Melt two ounces of unsweetened chocolate and combining with the sugar mixture before adding milk.
A lemon glaze. Stir two tablespoons of lemon juice into the sugar mixture before adding milk.
Tips for Store and Reheating the Homemade Coffee Cake
Freeze for up to 2 months. Wrap the cake tightly with aluminum foil.
The cake is easy to reheat. Allow the still-wrapped coffee cake to thaw thoroughly. Once the cake is at room temperature, pop it in a 300-degree oven until warm.
Check out our latest recipes on Facebook.
Ingredients
Here's a list of what you need:
Yeast
Sugar
Water
Milk
Shortening
Salt
Egg
All-purpose flour
Butter
Brown sugar
Cinnamon
How to Make Old Fashioned Coffee Cake
Mix together yeast, one teaspoon sugar, and warm water. Set aside for a few minutes to allow the yeast to bloom.
Add shortening to milk and let sit until lukewarm.
Add to yeast mixture, stirring well.
Add sugar, salt, and egg. Stir well.
Beat in enough flour to make a soft dough.
Let set covered to rise.
Beat down and divide into three greased cake pans.

Cover and let rise until the dough has doubled in size.
Top with melted butter, brown sugar, and cinnamon.

Bake at 350 degrees for 30 minutes.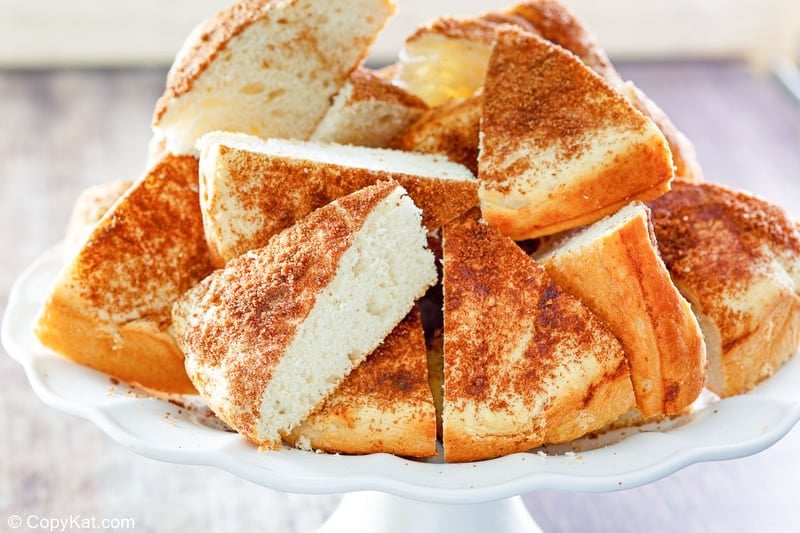 Love coffee cake? Try these recipes!
Popular Cake Recipes
Check out more of my easy cake recipes and family favorite recipes here on CopyKat!
This recipe is from my grandmother, Ethel Eynard. Jefferson City, MO. 1965.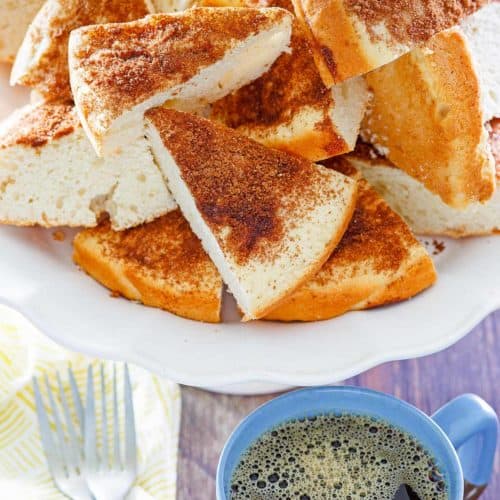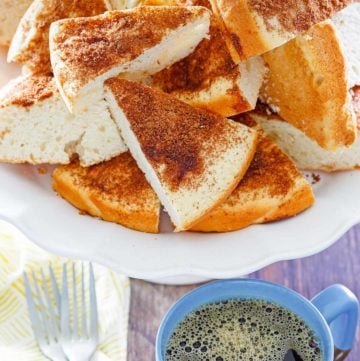 Ingredients
1

package

yeast

2

teaspoons

sugar

1

cup

warm water

1

cup

milk

6

tablespoons

shortening

1/2

cup

sugar

2

teaspoons

salt

1

beaten

egg

5

cups

all-purpose flour
Coffee Cake Topping
6

ounces

melted butter

1

cup

brown sugar

1/4

cup

cinnamon
Instructions
Mix together yeast, one teaspoon sugar, and warm water, set aside for a few minutes. If you using instant yeast, there is no need to proof the yeast.

Heat milk in a pot over medium heat until it scalds (small bubbles begin to form, but stop before milk boils.)

Pour milk into a medium sized bowl. Add shortening to milk. Let set until lukewarm.

Add to yeast mixture, stirring well. Add the sugar, salt, and egg. Stir well.

Beat in five cups of flour or enough to make a soft dough. Let set covered until raised. The dough should double in size, (1 hour.)

Beat down and pour into three greased 9 inch round cake pans. .

Cover and let rise (1 hour.)

Top with melted butter, sprinkle with brown sugar and cinnamon. Bake 30 minutes at 350 degrees.
Nutrition
Calories:
239
kcal
|
Carbohydrates:
36
g
|
Protein:
3
g
|
Fat:
10
g
|
Saturated Fat:
5
g
|
Trans Fat:
1
g
|
Cholesterol:
16
mg
|
Sodium:
253
mg
|
Potassium:
69
mg
|
Fiber:
2
g
|
Sugar:
14
g
|
Vitamin A:
201
IU
|
Vitamin C:
1
mg
|
Calcium:
50
mg
|
Iron:
1
mg