If you are looking for an amazing apple coffee cake, this is the one! You can make this cake and feel like you got it straight from a bakery.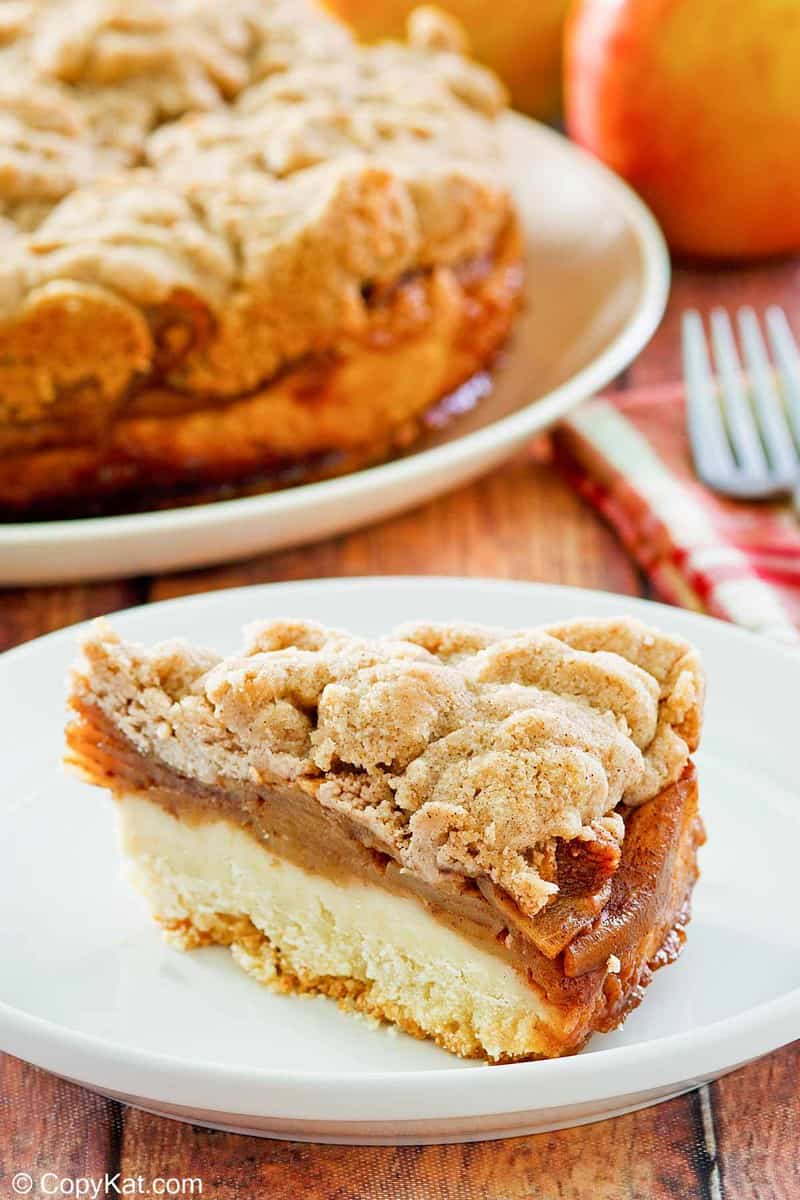 What makes this apple crumb cake so good?
Are you looking for the perfect easy coffee cake recipe? Can I just say this breakfast delight has three different layers?
The bottom layer is like a buttery soft shortbread. The apples have just the right amount of sweetness and cinnamon.
This all is topped off with a buttery crumb topping you are going to love. One bite and you are going to want to make the recipe again and again.
Between the delicious butter, cinnamon, and freshly sliced apple flavors, you cannot go wrong with this apple streusel coffee cake. It has that wonderful cinnamon crumble topping that gives the cinnamon apple crumb cake a wonderful crunch.
Apple Cinnamon Coffee Cake Ingredients
Don't shy away from this recipe because it has a few ingredients. You will not regret making this apple coffee cake, especially when you are dipping it in some freshly brewed coffee.
Here's a handy list of ingredients you need for apple coffee cake:
Egg yolk
All-purpose flour
Sugar
Baking powder
Butter
Milk
Apples
Cinnamon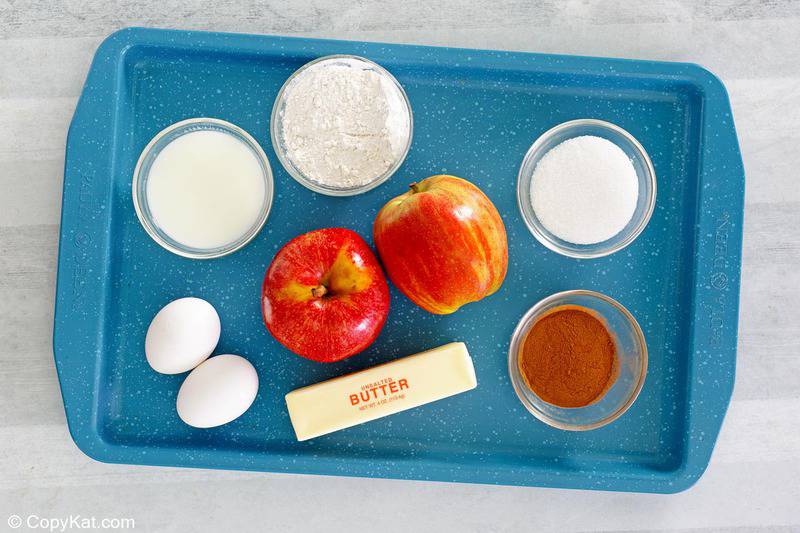 Substitutions to Fit Your Diet
If you want to make this gluten-free, you can substitute the flour for King Arthurs's Gluten-free Measure for Measure flour or almond flour instead of all-purpose flour.
You can use almond milk instead of dairy milk.
Which apple is best for baking?
It is well known that Granny Smith apples are great for baking. There are a few reasons for this:
Granny Smith apples are a little tart, so they balance out the sweetness from the rest of the desert.
They are crisper than other apples, so when they are baking they do not break down and become mushy. Rather, they keep their shape and soften nicely.
You can also use your favorite apple that has that crisper texture to make sure that you get a tasty apple coffee cake.
More About Baking Apples
Did you know that some apples are made for baking, and others are best for snacking on? Baking apples tend to hold up better to heat, and the flavors become richer in the cooking process. Here are five apples you should be reaching for when you want to bake with apples.
Jonagold – bake up wonderfully sweet, tend to be available in the fall.
Honeycrisp – these apples bake up firm, making them perfect for apple dumplings
Braeburn – known for baking up juicy, not mushy.
Winesap – intense, rich, and flavorful.
Pink Lady – the perfect combination of a crisp, sweet, and tart apple.
Do you need to reach out for one of these apples to make this amazing coffee cake? No, but you will be rewarded if you do!
Do you need to peel the apples?
It depends on the recipe. Some call for keeping the skin on and others require peeling.
This coffee cake recipe works best if the apples have been peeled. However, you can keep the peel on if you like that type of texture for your dessert.
How to Make Coffee Cake with Apples
In a medium-size bowl, mix together the egg yolk, sugar, and soft butter.
Then, add the flour, baking powder, and milk and continue stirring until it is all combined.
Spread the cake batter on the bottom of a greased 9-inch springform pan (or 8×8-inch square pan), making sure it is spread out evenly.
Place the pan in the oven and bake at 350°F for 10 minutes. Then remove the pan from the oven. After the cake has cooled, sprinkle it with powdered sugar.
To make the apple filling, mix together the apples, sugar, and cinnamon. Then, spread this mixture evenly over the cooled cake.
Lastly, mix the soft butter, flour, sugar, and cinnamon together in a small bowl until they are well combined—but don't overwork it.
Spread the crumble topping over the apples, place the pan in the oven, and bake for about 1 hour.
Place the pan in the oven and bake at 350 degrees for about 1 hour.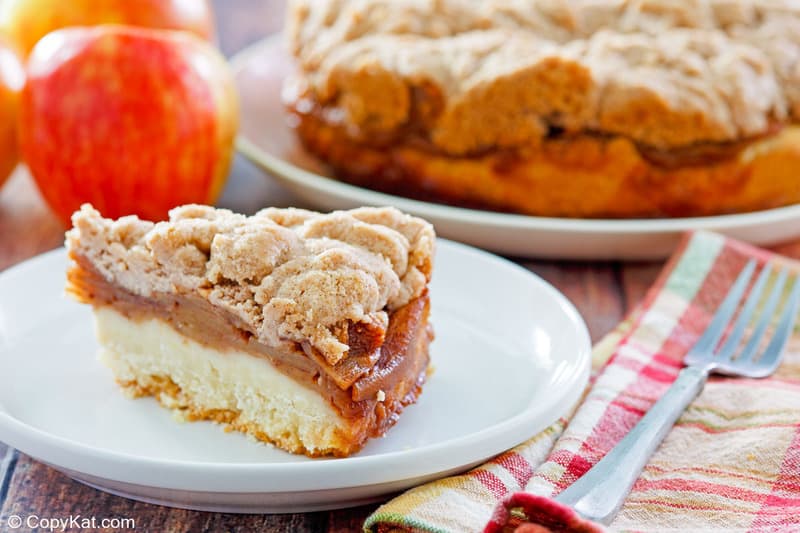 How to Store and Reheat Apple Streusel Coffee Cake
You can store this cake at room temperature. Just make sure to cover it with plastic wrap or aluminum foil. It is best served at room temperature, or even heated up a bit.
Does Apple Crumb Cake need to be refrigerated?
No, this cake does not need to be refrigerated. It doesn't have a high dairy content, so it doesn't require the fridge.
Can You Freeze Apple Coffee Cake?
This apple cake can be frozen for up to 3 months.
For easy serving, you can cut it up and freeze each piece individually.
When you want some coffee cake, pull a piece out of the freezer and let it thaw on the counter. Or, you can wrap the whole cake in plastic wrap and foil and freeze.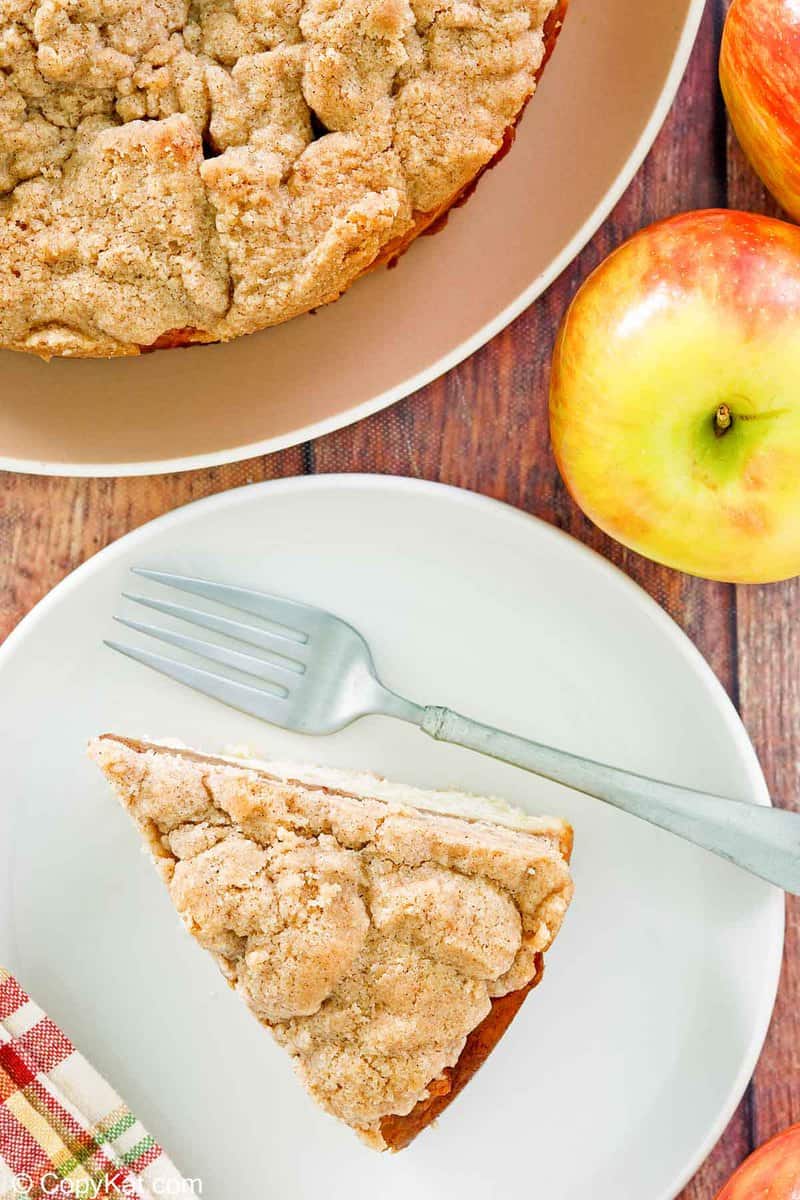 Love coffee cakes? Try these great homemade coffee cake recipes!
Favorite Apple Recipes
Check out more of my easy cake recipes and the best fall recipes here on CopyKat!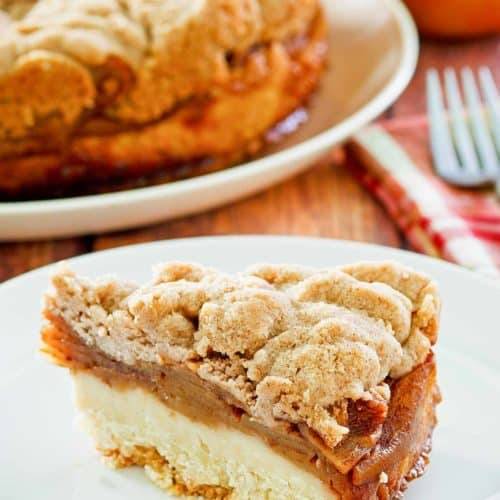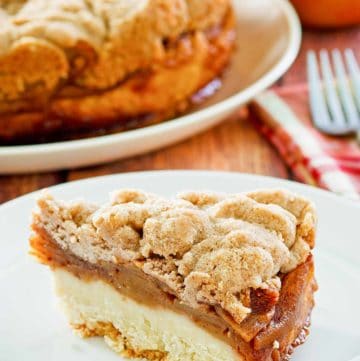 Ingredients
Cake Ingredients
1/4

pound

butter, softened

1/2

cup

sugar

1

egg yolk

2

cups

all-purpose flour

1/2

teaspoon

baking powder

5

tablespoons

milk

grease for the pan

(shortening or butter)
Apple Filing
8

apples, peeled and sliced into 1/4-inch slices

3/4

cups

sugar

1

teaspoon

cinnamon
Crumb Topping
1/4

pound

butter, softened

1

cup

all-purpose flour

1/4

cup

sugar

2

teaspoons

cinnamon

1/4

cup

powdered sugar for garnish
Instructions
Preheat the oven to 350°F. Grease a 9-inch springform pan or an 8×8-inch square baking pan.
Cake Base
In a bowl, cream together the butter, sugar, and egg yolk.

Add the flour, baking powder, and milk, and mix well.

Spread the dough to cover the bottom of the pan.

Bake for 10 minutes. Remove the cake from the oven and let it cool in the pan, but keep the oven at 350°F.

Once the cake has cooled, sprinkle with confectioner's sugar.
Apple Filling
Mix all the apple filling ingredients together in a bowl.

Spread this mixture over the cooled cake in the pan.
Butter Crumb Topping
Mix all the butter crumb topping ingredients together in a bowl.

Spread the topping over the apple filling in the pan.

Bake for about 1 hour. To test for doneness, insert a toothpick and if it comes out clean it is done, if the toothpick comes out with batter on it, place back into the heated oven and cook for an additional 5 minutes before testing again.
Nutrition
Calories:
314
kcal
|
Carbohydrates:
49
g
|
Protein:
3
g
|
Fat:
12
g
|
Saturated Fat:
7
g
|
Cholesterol:
43
mg
|
Sodium:
105
mg
|
Potassium:
141
mg
|
Fiber:
3
g
|
Sugar:
28
g
|
Vitamin A:
425
IU
|
Vitamin C:
4.2
mg
|
Calcium:
28
mg
|
Iron:
1.2
mg
Thanks to Karen Ann for sharing this cake recipe.