Cajun Cafe Bourbon Chicken emulates the bourbon chicken that appears frequently in shopping malls. It is a wonderfully easy-to-make-chicken dish. Best of all you can make Cajun Cafe Bourbon Chicken with chicken breasts, thighs, or legs.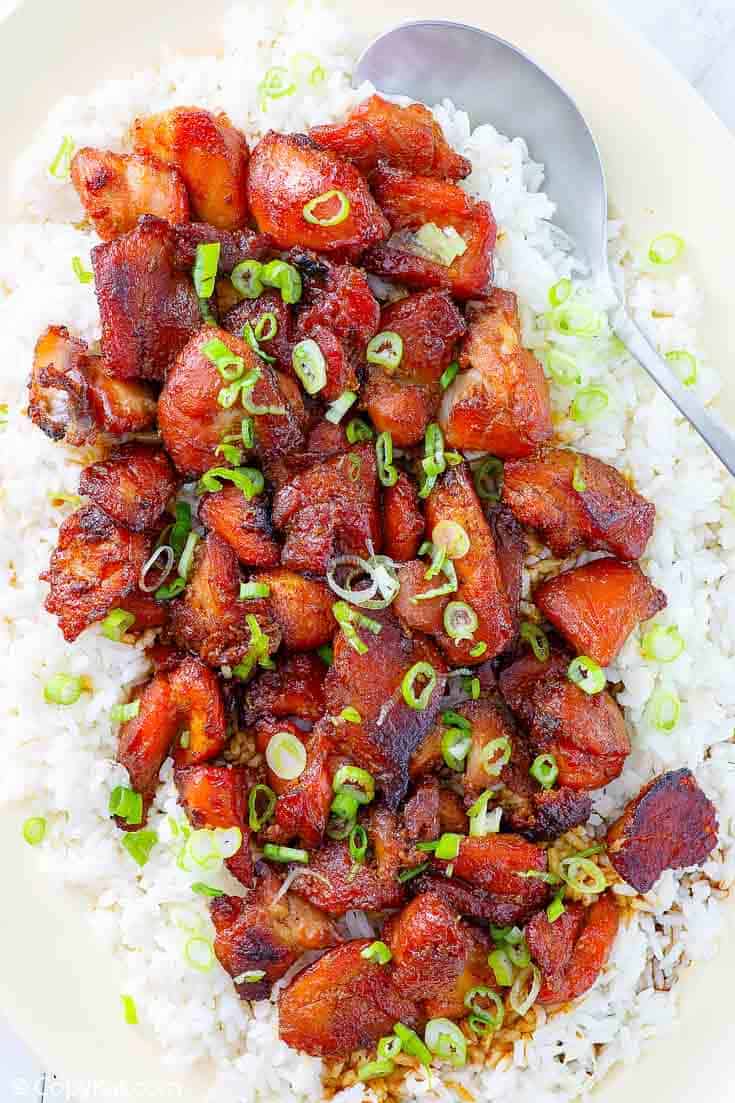 Cajun Cafe Bourbon Chicken
Does your mall have a cajun cafe? Or maybe you've passed another Asian food-court restaurant that makes bourbon chicken. One taste and you know you want more. Well, now you can make this scrumptious dish right at home.
My Favorite mall chicken recipe
I love making takeout recipes at home. I'm like a sleuth, comparing them and trying to make sure they are as close as possible. So when I ate at Cajun Cafe, I knew I had to figure out how to make their bourbon chicken. It seemed simple enough. And I'm happy to say that it really is pretty easy!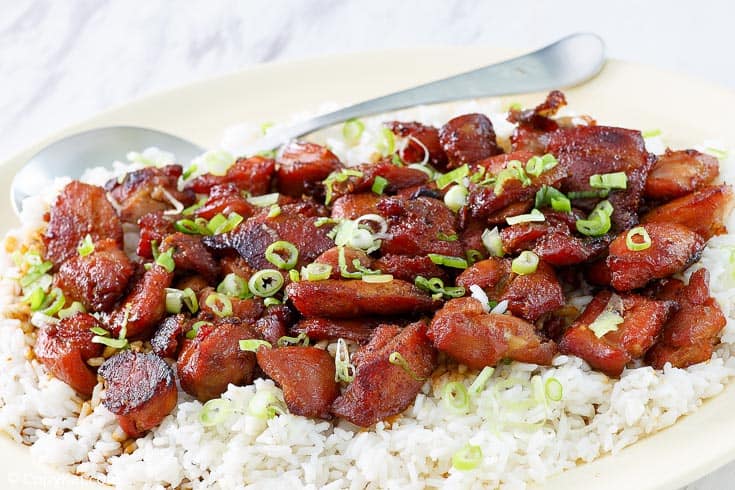 Popular Chinese recipes
Cajun Cafe is one of my favorite Chinese restaurants. Here are some more Chinese recipes I've perfected that you should try!
How to Make Cajun cafe chicken
There are two basic steps to this recipe – the marinade and the baking. That's it. Marinate the chicken for at least a few hours in the bourbon sauce. Then, bake it.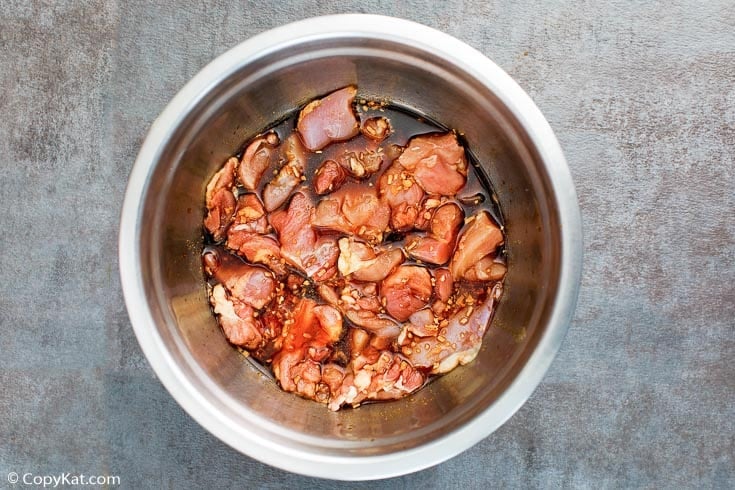 What is the bourbon sauce made of?
Our bourbon sauce is salty and sweet. It's made of a combination of these ingredients.
Soy Sauce
Brown Sugar
Garlic Powder
Powdered Ginger
Minced Onion
Bourbon Whiskey
White Wine
We only used a few tablespoons of white wine, so if you don't have any you can skip it. But I think it adds just the right amount of sweetness to the bourbon.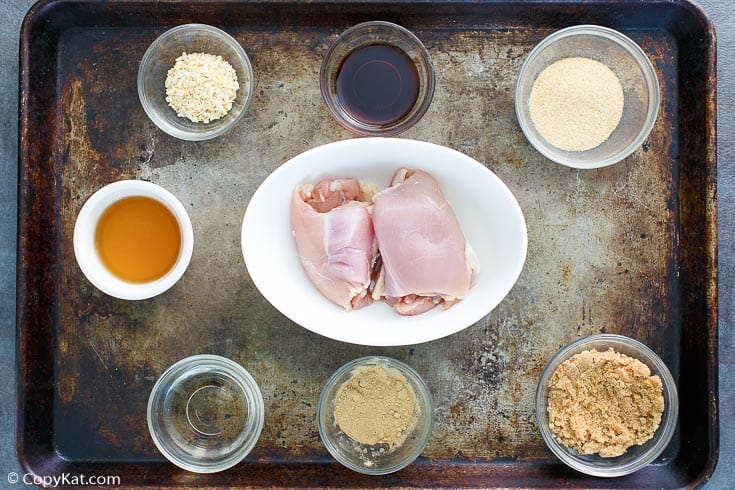 Can you use whiskey instead of bourbon?
For this recipe, I used Jim Beam bourbon. It's so smooth and cooks the best with my chicken. If you have ever wondered what the difference is between whiskey and bourbon, Jim Beam wrote a thorough guide.
In fact, bourbon is a type of whiskey. Just like there are types of chocolate (dark chocolate, milk chocolate) there are types of whiskey, and bourbon whiskey is one of those.
These are the different types of whiskey, and you can use any of them in this recipe.
Irish whiskey
Rye Whiskey
Bourbon Whiskey
Scotch Whiskey
Chicken breast or thighs – which is best?
Honestly, either one works just as well as the other one. When you are chopping up the chicken, remove any fatty or tendon pieces. Those are difficult to chew. Otherwise, boneless chicken thighs work just as well as chicken breasts in this recipe.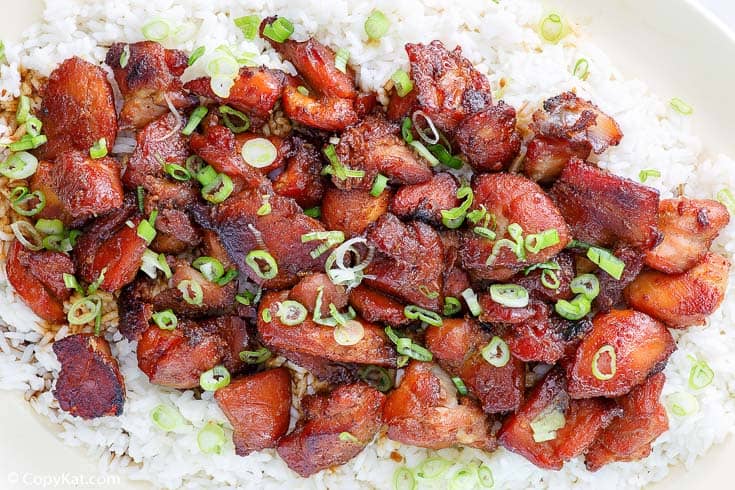 Can you make it in the slow cooker?
I made my bourbon chicken in the oven. But you can just as easily make this in the slow cooker too. If you are going to make it a slow cooker, you can skip the marinating step.
Just pour the diced chicken and the bourbon sauce into the slow cooker. Cook on low for 6-8 hours or high for 4-6 hours.
Be careful not to overcook the chicken or it will just fall apart (unless you like it like that).
Can you use another type of meat?
Yes, this sauce tastes just as amazing on any type of meat. Try one of these ideas too.
Pork chops – chop up the pork chops and marinate them in the sauce just like you did for the chicken.
Pork Loin – marinate the pork loin and either bake it or cook it in the slow cooker. Then you can either shred it or slice it and serve it over rice.
Steak – Chop up sirloin steak into bite-sized pieces and marinate them and bake them, just like the chicken.
Vegetarian – You can press tofu and soak the tofu in the sauce. Then fry them in it.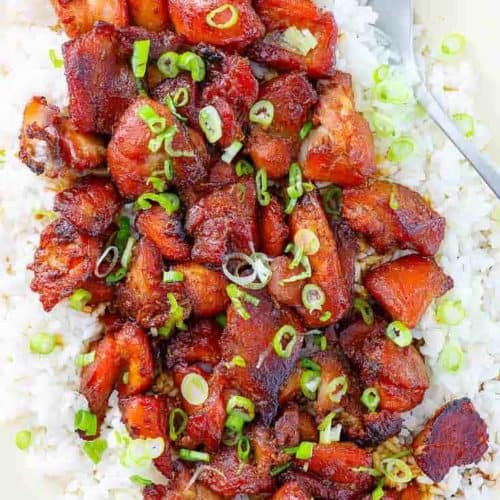 Ingredients
1

pound

Chicken leg or thigh meat

Cut in bite size chunks

4

ounces

Soy sauce

1/2

cup

Brown sugar

1/2

teaspoon

Garlic powder

1

teaspoon

Powdered ginger

2

tablespoons

Dried minced onion

1/2

cup

Jim Beam Bourbon Whiskey

2

tablespoons

White wine

2

tablespoons

water

1 1/2

teaspoons

corn starch
Instructions
Mix all the marinade ingredients and pour over chicken pieces in a bowl.

Cover and refrigerate (stirring often) for several hours (best overnight).

Bake chicken at 350 for one hour in a single layer, basting every 10 minutes.

Remove chicken. Scrape pan juices with all the brown bits into a frying pan.

Heat, and add 2 tablespoons white wine.

Make a corn starch slurry by combining the mixing the water and corn starch together. Mix this well. Pour the corn starch slurry into the skillet with the pan juices. Stir until the sauce thickens.

Stir and add chicken. Cook for 1 minute and serve.
Recipe Tips for the Cook
You can use chicken breasts instead of thighs or leg meat.
Nutrition
Calories:
454
kcal
|
Carbohydrates:
30
g
|
Protein:
21
g
|
Fat:
18
g
|
Saturated Fat:
5
g
|
Cholesterol:
111
mg
|
Sodium:
1679
mg
|
Potassium:
329
mg
|
Fiber:
0
g
|
Sugar:
27
g
|
Vitamin A:
90
IU
|
Vitamin C:
0.3
mg
|
Calcium:
38
mg
|
Iron:
1.7
mg