Saltgrass Steakhouse Shiner Bock Beer Bread is served warm, with soft butter. Recreate this steakhouse beer bread at home, it's so easy!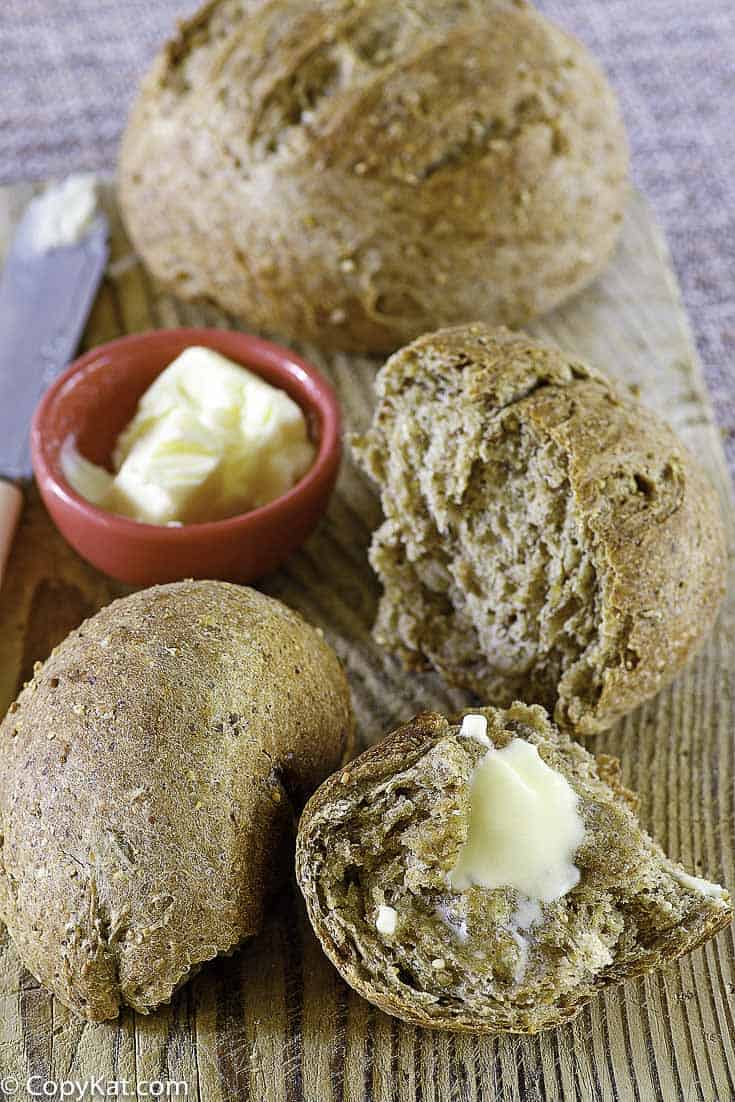 Salt Grass Steakhouse Shiner Bock Beer Bread
What could be better than a warm, freshly baked slice of bread smothered in butter? A warm, freshly baked slice of bread made with beer! Saltgrass Bread is hearty with just a touch of sweetness and is the perfect accompaniment to any meal. Even if you are not someone who typically makes bread at home, give this one a shot. There is no need to feel intimidated. It is an easy beer bread recipe with yeast that is sure to become a family favorite!
About Shiner Bock Beer
Shiner beer is 100 percent Texan but draws on the rich traditions of centuries of beer making in Europe. For over one hundred years, long before the craft beer movement, this small brewery in Shiner, Texas, has been producing excellent brews. Shiner Bock is one of the brewery's best with its dark, amber color and smoothness, lacking much of the bitterness usually associated with other bocks. It is the perfect beer to enjoy any time, and its unique flavor adds a lot of complexity to this Saltgrass bread recipe that is impossible to duplicate. 
Saltgrass Steakhouse – the restaurant
In a state where grilling up the perfect steak borders on obsession, Saltgrass Steakhouse truly stands out. Customers may flood in for the multiple award-winning beef; yet, more than a few diners find themselves dreaming about the restaurant's Shiner Bock Beer Bread. The next time you are near a Saltgrass Steakhouse, remember to stop in for a great meal, but until then, whip up a loaf or two of their famous beer bread.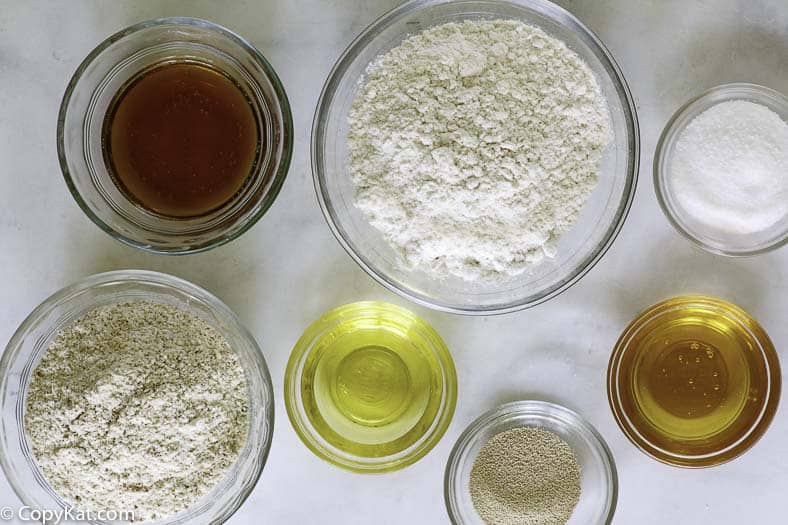 Ingredients you need to make the bread:
Shiner Bock Beer
Whole wheat flour
All-purpose flour
Yeast
Water
Honey
Oil
Salt
Tips on Making Saltgrass Steakhouse Shiner Bock Beer Bread
Working with yeast. Lots of cooks store yeast in the fridge or freezer to prolong its freshness. If you use this trick, make sure to let the yeast come to room temperature before using it in the recipe. For the best results, try to use a thermometer to gauge the water temperature. You are looking for somewhere around 110 degrees. For those who don't have a thermometer handy, the water should be warm to the touch but not too hot. 
Working with flour. New bakers can easily add too much flour to combat the stickiness of the dough. You should expect some dough to stick to your hands at first. After a good 10 to 15 minutes of kneading, the bread dough should become smooth and less sticky. If the dough is exceeding wet, you can add flour a half a tablespoon at a time. 
Don't overwork the dough.  Kneading too much can lead to off-tasting bread. Once the bread dough doesn't stick to your hands and feels a bit spongy, stop. 
Try more great homemade bread recipes
After you try this easy beer bread recipe with yeast, you probably will want to explore other bread recipes. Check out these site favorites:
Love homemade bread? Try these recipes:
We know you love our recipes. Stay up-to-date on all of our latest ones by following us on Instagram or by checking out our Facebook page.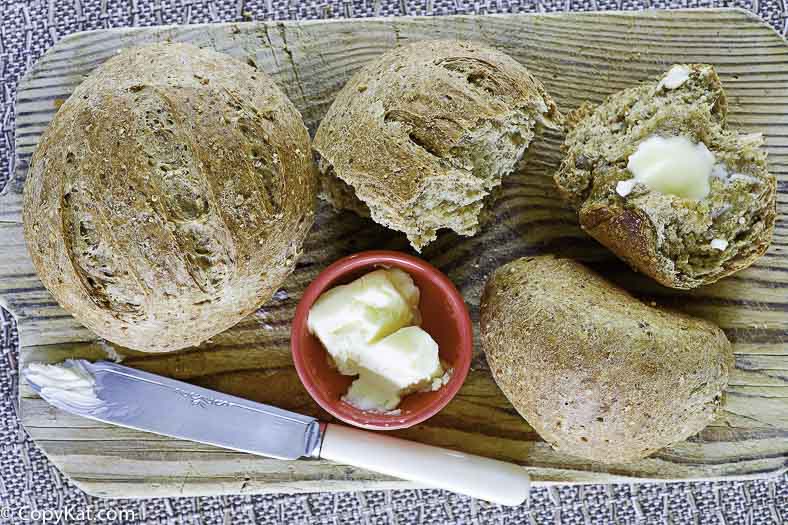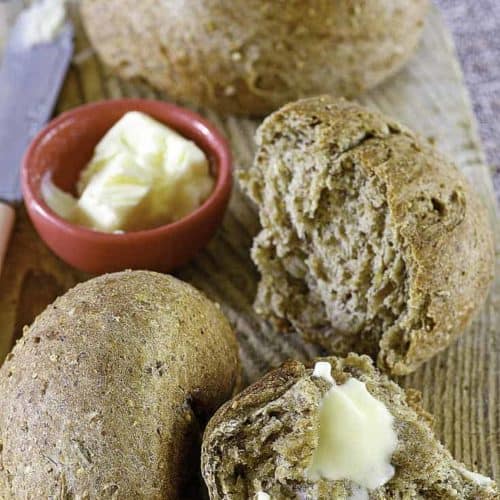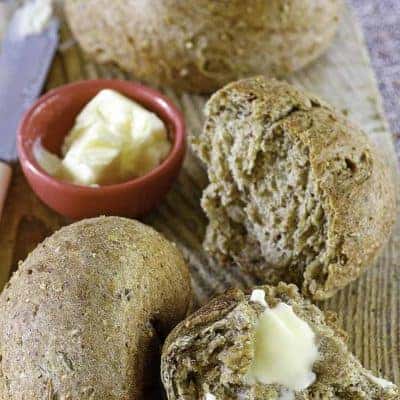 Ingredients
1 1/2

cup

Shiner Bock Beer

flat

2 1/2

cups

whole wheat flour

1 1/2

cup

all purpose flour

2

teaspoons

dry active yeast

1/4

cup

warm water

1/2

teaspoon

salt

1/4

cup

honey

1/4

cup

vegetable oil
Instructions
Dissolve in a large mixing bowl yeast with warm water, add honey and stir. Mix in wheat flour, salt, and all-purpose flour in a bowl. Stir in oil and slowly add flat beer. Mix all the ingredients together.

Place dough on a floured service and kneed for at least 10 - 15 minutes. The dough may need a little more flour added to it if while kneading its sticking to your hands.

The finished dough will feel smooth and spongy and will not stick to your hands. Place dough in a lightly oiled bowl and cover with plastic until it doubles in size. Do not place dough in a draft or an overheated area. The dough should be let to rise at room temperature. When the dough has doubled, punch in the middle and let rest for 5 minutes. 

Divide into four equal parts and shape into round loaves. Place loaves on a lightly oiled cookie sheet. Score twice on top of each loaf with a knife two inches apart and about 2 1/2 inches long. Cover loosely with plastic wrap until the loaves have doubled in size. Place in a preheated oven at 350 degrees for about 30 minutes.

Nutrition
Calories:
266
kcal
|
Carbohydrates:
45
g
|
Protein:
7
g
|
Fat:
6
g
|
Saturated Fat:
4
g
|
Cholesterol:
0
mg
|
Sodium:
120
mg
|
Potassium:
165
mg
|
Fiber:
4
g
|
Sugar:
7
g
|
Calcium:
14
mg
|
Iron:
2
mg