Saltgrass Steakhouse Roasted Garlic Mashed Potatoes can be made easily at home. These buttery, homestyle mashed potatoes are great with steak.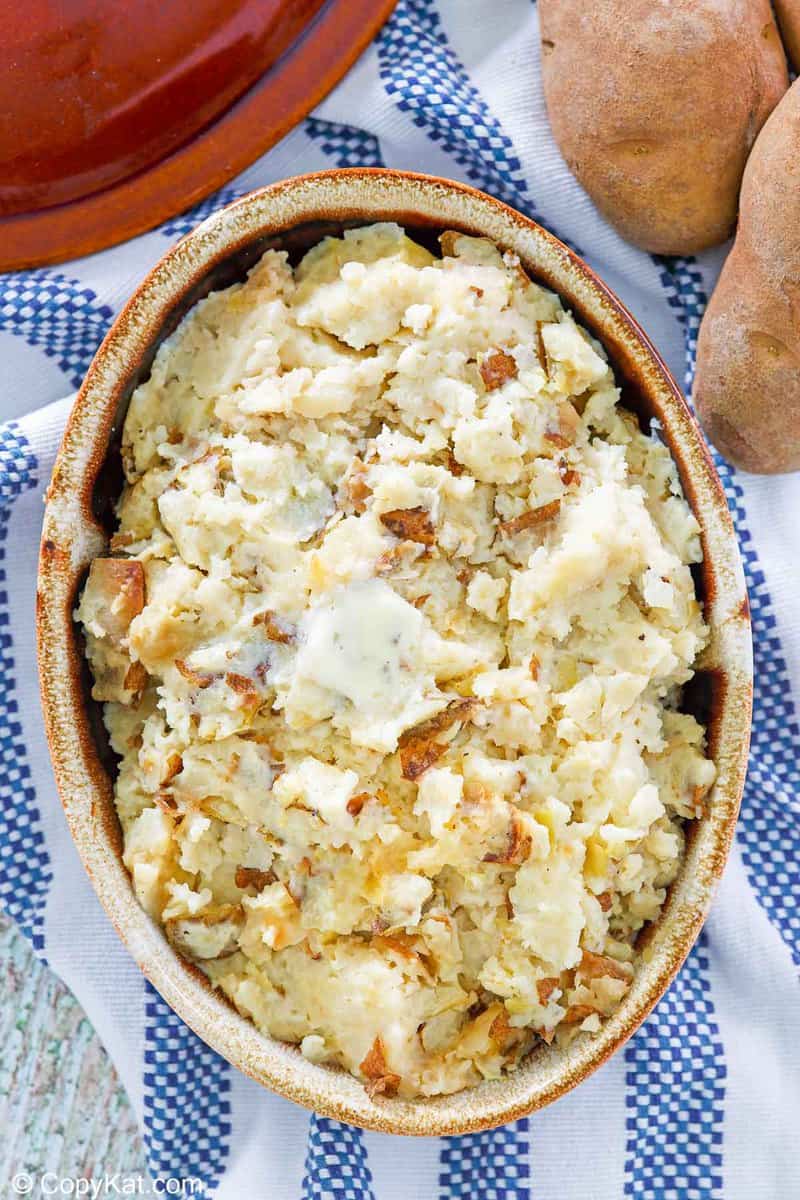 This post contains affiliate links. As an Amazon Associate, I earn from qualifying purchases.
Saltgrass Steak House isn't fancy, but it is legendary. One might say the same thing about these roasted garlic mashed potatoes. Although the recipe is straightforward and devoid of any unnecessary frills, the results are darn delicious. Whether you pair these steak house garlic mashed potatoes with a T-bone or a slice of turkey, they are bound to be a favorite in your home.
Prepping the Potatoes
Toss out that box of dried potato flakes. To do this recipe proud, you have to start with the perfect whole potatoes. In this case, the perfect potatoes mean Russets, sometimes sold as Idaho potatoes. Russets have the right amount of starch and extra dry flesh that gives them the ideal mashed potato consistency. If your local store is out of Russets, Yukon Golds make a good substitute.
Here is the odd thing about this recipe, instead of boiling or steaming the potatoes before mashing, you bake them. This step gives the steakhouse garlic mashed potatoes a deep, rich potato-forward taste that other preparation methods can't match. Give the potatoes a good scrub and remove any eyes or bad bits before massaging the potatoes with butter and popping them into a preheated 375-degree oven for about 75 minutes.
Get the Garlic Going
While the potatoes are cooking, it's time to turn your attention to roasting the garlic. Start with a medium or large bulb of garlic and use a serrated knife to cut off the top, the side that comes to a point. You don't want to cut off too much or too little, just deep enough to expose nip off the very end of the cloves. Sprinkle with olive oil and wrap tightly in aluminum foil. Put them in the oven alongside the potatoes for 45 minutes.
Carefully remove them from the oven and let them sit on your counter wrapped. When the garlic packet is cool enough to handle, unwrap it and gently squeeze each clove out into a large mixing bowl.
Bringing It All Together
Once the potatoes come out of the oven, let them cool slightly before giving them a rough chop, skin and all. Put the chopped potatoes in the bowl with the roasted garlic. Add the butter, milk, and seasonings. Use a handheld mixer on a lower setting to fully incorporate all the ingredients. Avoid overwhipping, or you will turn your creamy garlic mashed potatoes into wallpaper paste. Remember, this recipe is not supposed to be silky smooth. If you don't have a handheld mixer, try using a potato masher or the back of a serving fork.
Tips for Making and Storing Roasted Garlic Mashed Potatoes
Too much garlic, no problem. It is hard to overdo it with roasted garlic, but if you find you have, adding some caramelized onions not only balances the bite of garlic but goes amazingly well with mashed potatoes.
You can store leftover mashed potatoes in the fridge. Just keep them in an airtight container and use them up within 48 hours. If you need to keep them for up to a month, toss the potatoes in a freezer bag and put them into a deep freeze for up to a month. Reheat in the microwave or on the stovetop once thawed.
We make food look good! Check out our Instagram from other recipes!
Ingredients
Here's a list of what you need:
Russet potatoes
Butter
Milk
Salt
Freshly ground black pepper
Garlic Bulb (whole head of garlic)
Olive oil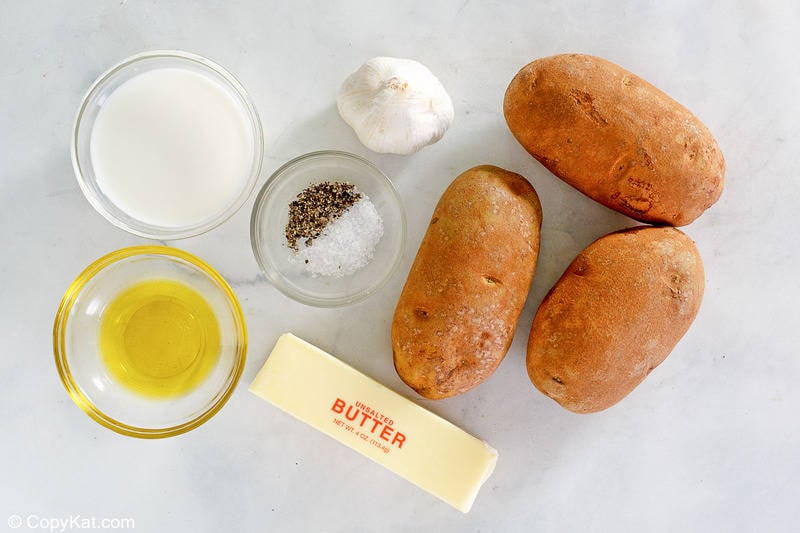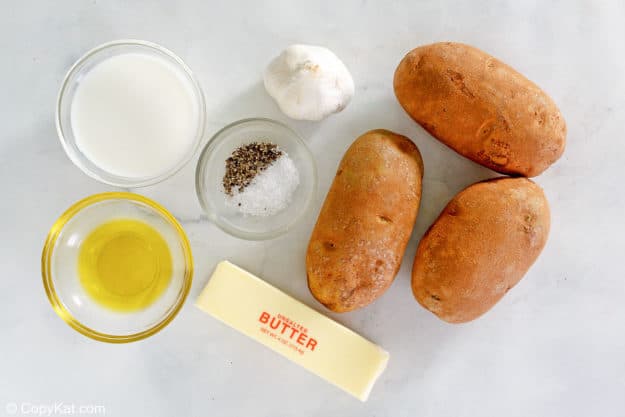 How to Make Roasted Garlic Mashed Potatoes
Wash potatoes then rub potatoes with softened butter.
Place potatoes in a 375 degrees oven and bake for 1 hour or until potatoes are soft when checked with a fork.
Cut off the top of the garlic bulb.
Spoon the olive oil on top of garlic and wrap it in foil.
Place garlic in the oven with the potatoes and bake for ½ to ¾ hours, until soft and golden in color.

Allow garlic to cool slightly then squeeze the soft garlic from the bulb.
When potatoes are done, chop them slightly and place them in a large mixing bowl.
Add salt, butter, pepper, roasted garlic, and milk.

Beat with an electric mixer until combined and fluffy.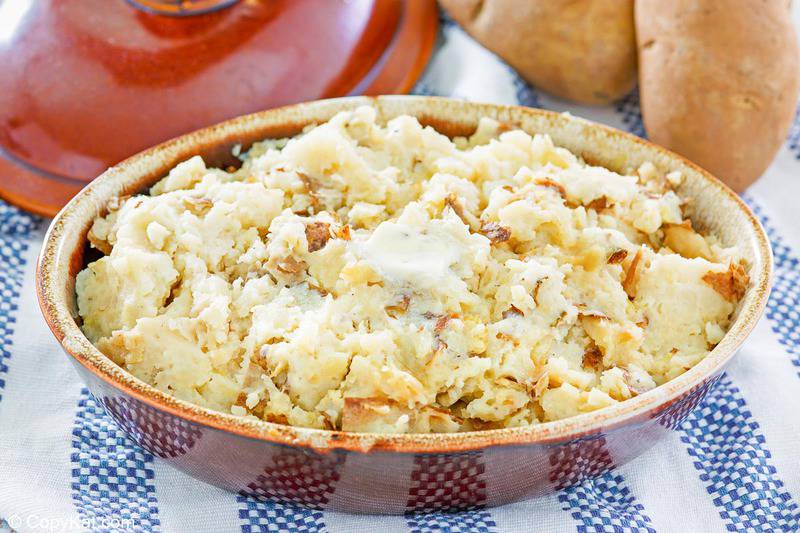 Love potatoes? Try these recipes!
Favorite Steakhouse Recipes
Check out more of my potato side dish recipes and the best copycat recipes for casual dining restaurants here on CopyKat!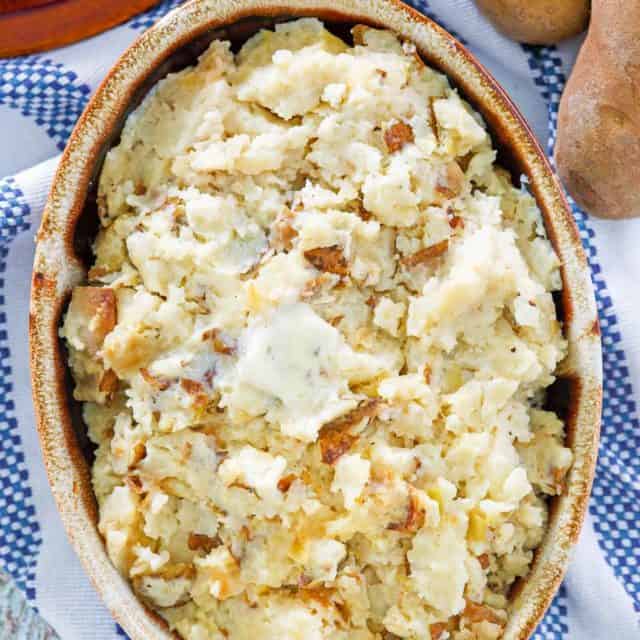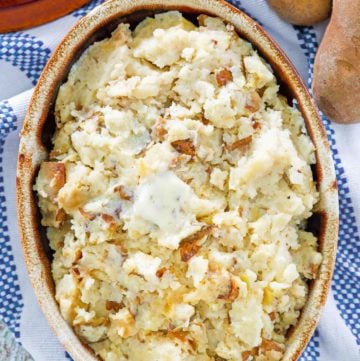 Ingredients
2½

pounds

Russet potatoes

5

tablespoons

butter

divided

1

head of garlic

1½

teaspoon

olive oil

½

cup

milk

½

teaspoon

salt

½

teaspoon

fresh ground black pepper
Instructions
Preheat oven to 375 degrees.

Wash potatoes and rub potatoes with 2 tablespoons softened butter

Bake potatoes until the potatoes are soft when checked with a fork. The potatoes should take about 1 to 1¼ hours.

Cut off the top of the head of garlic so you can see garlic cloves without any peelings covering them. Spoon olive oil on top of garlic and wrap it in foil.

Place the wrapped garlic head in the oven while baking the potatoes. Garlic will take about ½ to ¾ hours. The garlic should be soft and golden in color when finished baking.

When garlic is removed from the oven, cool it slightly then squeeze soft garlic from the head.

Measure 1½ teaspoon of roasted garlic for the mashed potatoes. Depending on the size of the cloves it should take about 4 to 5 cloves. More garlic may be added if desired. 

When potatoes are done, chop them slightly and place them in a large mixing bowl.

Add 3 tablespoons butter, salt, pepper, 1½ teaspoons roasted garlic, and ½ cup milk.

Beat with an electric mixer until fluffy. There will be little chunks of potatoes that will not be completely mashed. The small lumps and peeling will give these potatoes a hearty flavor.

If the mashed potatoes seem dry, add a little more milk.
Nutrition
Calories:
392
kcal
|
Carbohydrates:
55
g
|
Protein:
7
g
|
Fat:
16
g
|
Saturated Fat:
9
g
|
Cholesterol:
40
mg
|
Sodium:
444
mg
|
Potassium:
1250
mg
|
Fiber:
3
g
|
Sugar:
3
g
|
Vitamin A:
485
IU
|
Vitamin C:
18.3
mg
|
Calcium:
87
mg
|
Iron:
2.6
mg