Homemade Italian Dressing can be made easily in your own kitchen. One thing is for certain once you start making your own homemade Italian Dressing you won't be purchasing salad dressings anymore.
Simple Italian Salad Dressing Recipe
This is your basic recipe for Italian dressing. You may want to experiment with using different flavored nut oils, and different types of vinegar when you make this homemade Italian Dressing. The possibilities really are endless.
While you can buy Italian dressing in any supermarket, none will taste as delicious as this simple vinaigrette. Freshly made dressing turns even the simplest salad of mixed greens into a spectacular starter. Try making this recipe, and you will agree that the few minutes it takes to bring together is more than worth it.
Vinaigrette Making Basics
Oil and vinegar don't get along, and it takes a lot of energy to combine them. The traditional way of making a vinaigrette is with a whisk, but it is easier to put all the ingredients in a jar with a cover and give it a good shake. If you are okay with smooth vinaigrette, an even easier way is to use a blender.
Ingredients
Here's a list of what you need:
Vegetable oil
Cider vinegar
Sugar
Salt
Dried oregano
Crushed red pepper flakes
Minced garlic
How to Make Homemade Italian Dressing
Place all ingredients in a bowl.
Whisk to combine ingredients.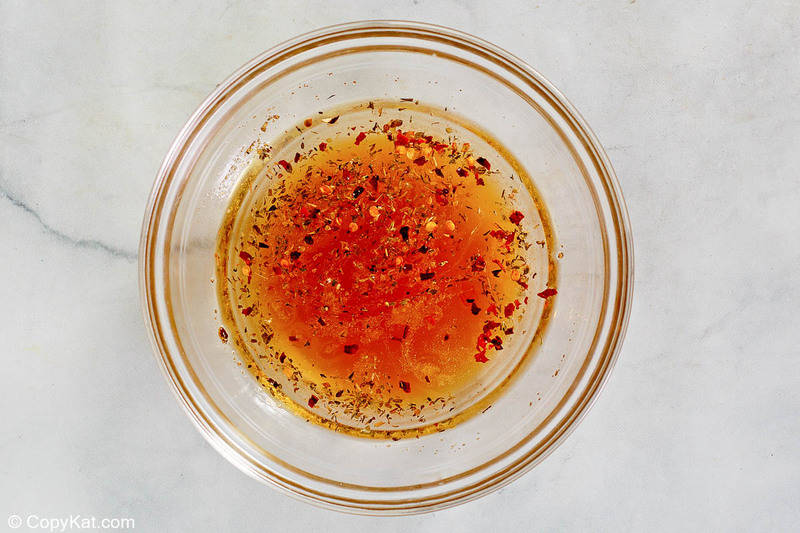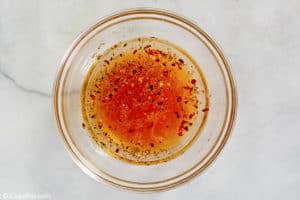 Pour the dressing into an airtight bottle or jar.
Refrigerate the dressing for several hours.
Shake well before serving.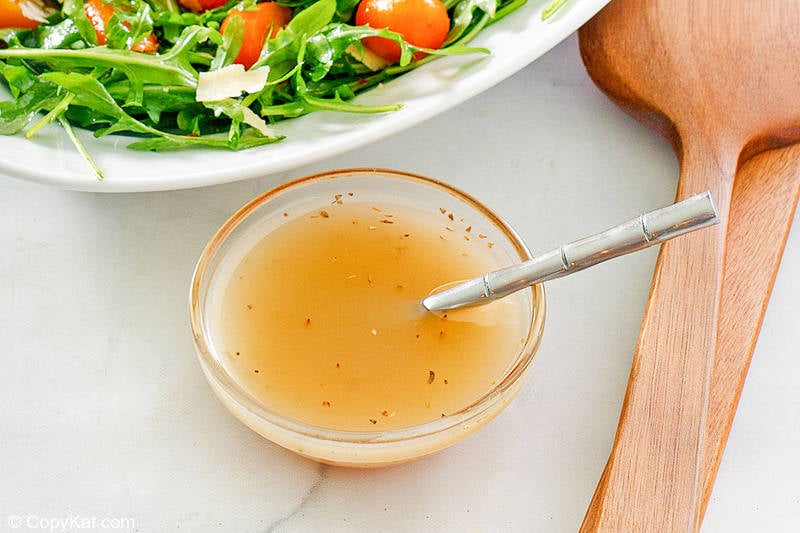 Variations of Homemade Italian Salad Dressing
After mastering this Italian vinaigrette recipe's basics, there are almost endless ways you can customize it to your liking. The easiest way to start experimenting is to switch up the type of vinegar and oil you use in the recipe.
When it comes to your choice of vinegar, the most popular options are apple cider, balsamic, and red wine vinegar. You will probably want to stay away from harsh white and distilled vinegar. Better choices include:
Apple cider vinegar is called for in this recipe, and it's a good choice if you want a middle-of-the-road Italian vinaigrette that will appeal to the most people. It is also well-known for its multiple health benefits.
Red wine vinegar is popular, widely available, and inexpensive. As a by-product of making wine, red wine vinegar has multiple varieties, but they have lots of tang to them. If you love a sour taste, you may want to use red wine vinegar.
Balsamic vinegar is the king of vinegar. It has a thick consistency, reduced tang, and pronounced sweetness. Quality balsamic vinegar is expensive, but using it in a simple vinaigrette is worth it if you like the taste.
You have a lot of flexibility with the oil you choose for this recipe. The biggest decision you will need to make is whether you want to use the oil as a flavoring component or not.
The oil that is labeled vegetable oil in the supermarket may contain any variety of oils. It is very versatile because you can use it for cooking and in dressing. Vegetable oil is almost tasteless and lets the other ingredients of the vinaigrette take center stage.
Other light, neutral oils include canola oil, grapeseed oil, and sunflower oil, are good choices if you want the oil to stay in the background.
On the other side of the spectrum, if you want your oil to play a large part in the flavoring of your dressing, go for extra virgin olive oil (EVOO). If using all EVOO is too heavy, but you still want the taste, use half EVOO and half of another neutral oil.
Tips for Making and Storing the Best Homemade Italian Dressing
Fresh is best. Chop the fresh garlic and oregano if you can. Oil goes off quicker than you think and will ruin the flavor of your dressing.
Use as a marinade for beef. This homemade Italian salad dressing works as an excellent quick marinade for skirt or hangar steak.
Store in a jar in the fridge for up to 5 days. Give the jar a good shake before using the dressing.
Check out our other salad dressing on YouTube!
Love homemade salad dressing? Try these recipes!
Favorite Salad Recipes
Check out my homemade salad dressing recipes and lots of easy salad recipes here on CopyKat!
Ingredients
1

cup

vegetable oil

½

cup

cider vinegar

1

tablespoon

sugar

1

teaspoon

salt

½

teaspoon

oregano

¼

teaspoon

crushed red pepper flakes

½

teaspoon

minced garlic
Instructions
Place all ingredients in a bowl.

Whisk to combine all ingredients together well.

Pour dressing into an airtight bottle or jar.

Refrigerate several hours before serving.

Shake well before serving.
Nutrition
Calories:
33
kcal
|
Carbohydrates:
1
g
|
Protein:
0
g
|
Fat:
2
g
|
Saturated Fat:
2
g
|
Cholesterol:
0
mg
|
Sodium:
291
mg
|
Potassium:
10
mg
|
Fiber:
0
g
|
Sugar:
1
g
|
Vitamin C:
0.2
mg
|
Calcium:
2
mg
|
Iron:
0.1
mg