Wedge Salad is an elegant salad often served in fancy steakhouses. It's a thick slice of iceberg lettuce deliciously topped with bacon, tomatoes, and blue cheese dressing. It's a classic you can make and enjoy any day of the week with this easy recipe.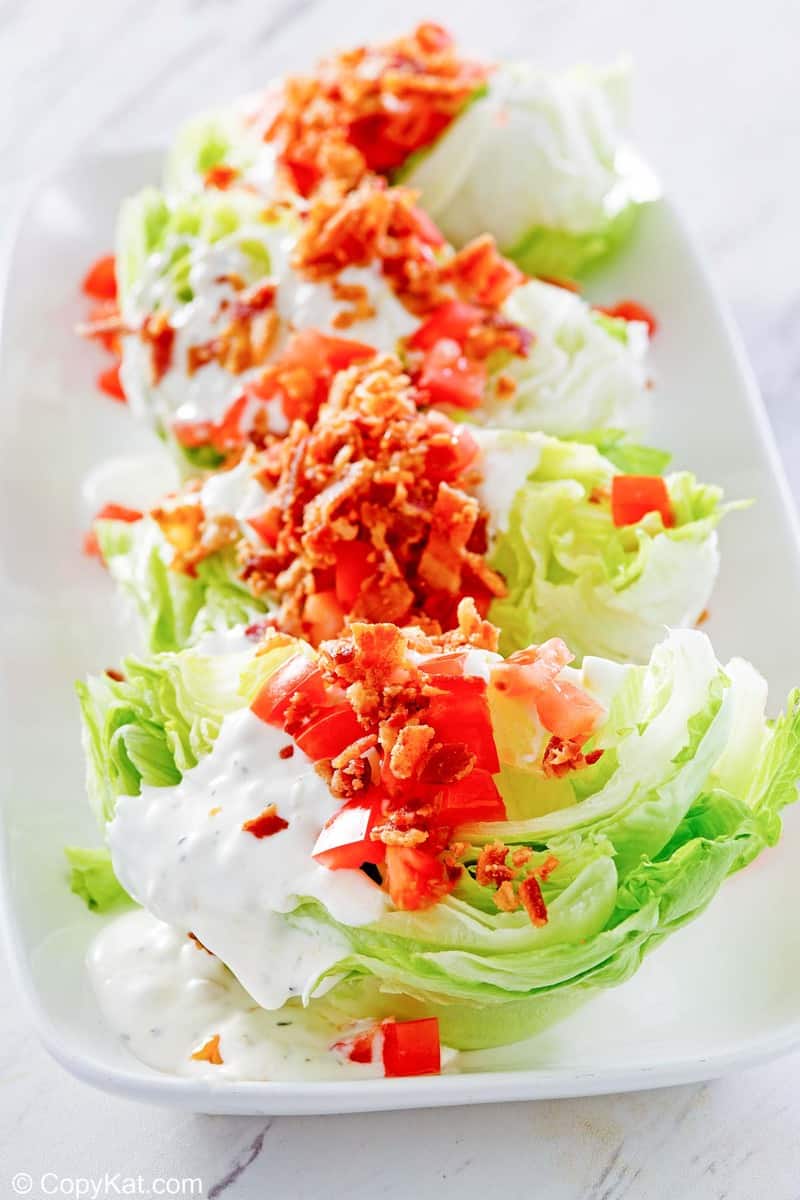 This post contains affiliate links. As an Amazon Associate, I earn from qualifying purchases.
What is a Wedge Salad?
A classic wedge salad is a simple salad with a crisp and refreshing iceberg lettuce base. It consists of an iceberg lettuce wedge topped with a creamy blue cheese dressing, crumbled bacon, diced tomato, and a variety of toppings.
It's perfect as a side salad for many meals or even as a lunch with a piece of crusty bread. The wedge salad gained popularity when steakhouses began serving it – Outback, anyone?
Why This Wedge Salad Recipe is so Good
This blue cheese wedge salad looks extra fancy when you have guests, but you can put it together really quickly.
For this salad recipe, you will need iceberg lettuce which most grocery stores carry. You don't have to go hunting around for exotic fancy types of lettuce that are hard to find.
This is the perfect salad for impressing guests with little effort. And, you don't have to let on that this fancy salad with its beautiful presentation is so easy to make. Let everyone think you're a salad genius!
Wedge Salad Ingredients
One more thing to love about wedge salads – they're foolproof. That's right, you just cut your lettuce into wedges, add delicious toppings and your favorite blue cheese dressing, and you're ready to go.
If you are into keto, the basic ingredients will give you a keto wedge salad. Here's what you will need:
Iceberg lettuce
Blue cheese or ranch dressing
Bacon
Fresh tomatoes
Optional toppings, e.g., chopped red onions or shallots, fresh herbs, toasted croutons.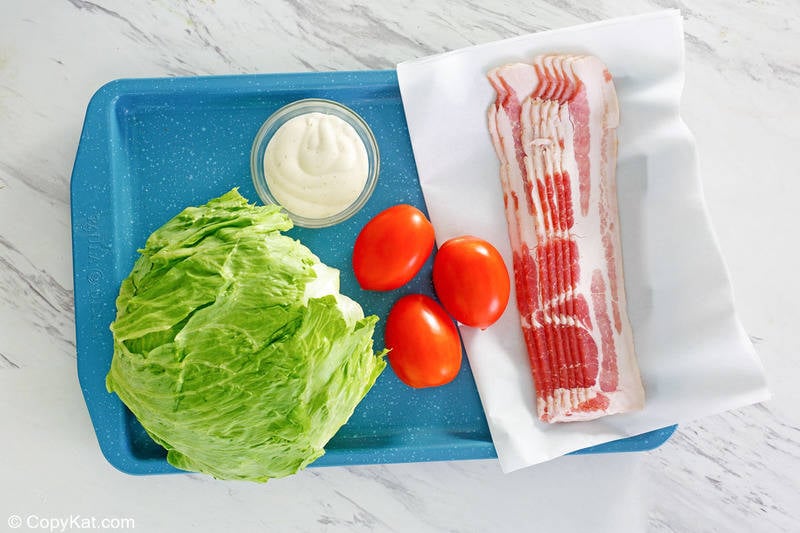 How to Make a Wedge Salad
Cook bacon until crisp (see how to bake bacon for an easy no-mess method). Crumble the cooked bacon.
Cut the lettuce into wedges according to the instructions below.
Drizzle salad dressing over each wedge.
Scatter bacon crumbles and chopped tomatoes on top.
Finish with your choice of toppings.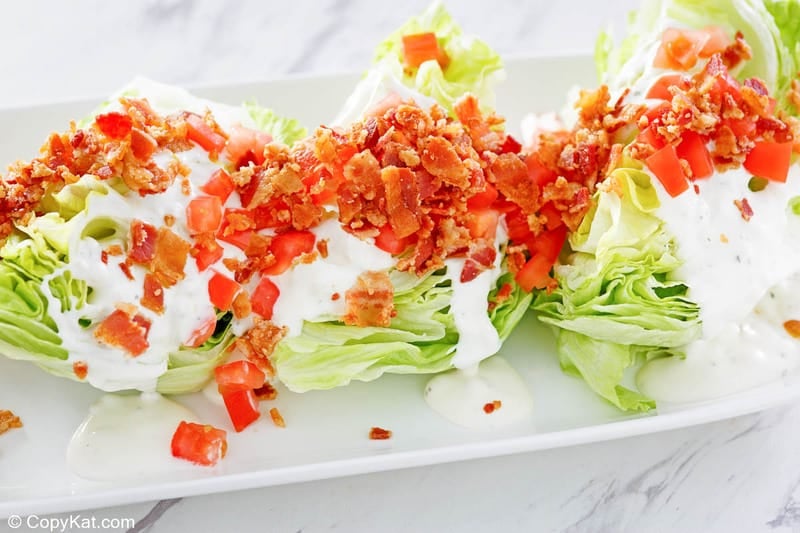 How to Clean Lettuce
Before cutting your lettuce, remove the small hard bit of stem and run water through that end of the lettuce. Turn it right side up and allow it to drain. Do this in plenty of time before making the salad, so your lettuce isn't wet.
How to Cut Lettuce for a Wedge Salad
Begin with a full head of iceberg lettuce.
Remove the outer leaves, especially if they are somewhat thin, slightly wilted, or excessively dirty.
Cut the head of lettuce in half.
Cut each half in half again (or thirds depending on how big the head of lettuce is) to create wedges.
You can serve each person a larger piece or a smaller piece, so adjust according to the number of folks you are going to serve.
Cut just before you are going to use your lettuce and make only as much salad as you need. This will prevent the lettuce from browning.
Variations on This Wedge Salad Recipe
This blue cheese wedge salad is very flexible, but it's advisable not to swap out the iceberg lettuce for some other variety. The iceberg's shape is what gives this classic wedge its name.
That being said, the possibilities for variations are endless.
Vary the Dressing: The dressing for this iceberg wedge salad is blue cheese, but you can also serve it with ranch. Another creamy dressing that works well is Buttermilk Garlic.
Give a Taste of Balsamic: Another good idea is to drizzle a balsamic reduction (glaze) lightly over this salad for some nice flavor (see how to make below).
Add Different Vegetables: artichoke hearts, avocados, celery, cucumbers, fried onions, olives, roasted red peppers, cucumber, and bean sprouts.
Add Some Protein: Turn your wedge salad into a main course with the addition of grilled chicken, smoked steak, or baked salmon. Or dice up some hard-boiled eggs.
Add Some Crunch: Give a little crunch to your salad with toasted nuts or seeds such as pine nuts, sesame seeds, pumpkin seeds, or almond slivers.
Add Some Herbs: Fresh herbs (e.g., basil) makes this wedge salad extra special.
CopyKat Tip: Dice wedge salad toppings small. This helps to ensure that they'll attach to the side of the lettuce instead of falling off.
Optional Balsamic Glaze Topping
You can top this wedge salad with a drizzle of balsamic glaze for a special flavor. Here's how to make it:
Balsamic Glaze Ingredients
2 cups balsamic vinegar
6 tablespoons brown sugar (or honey or maple syrup)
How to Make Balsamic Glaze
Over medium-high heat, combine both ingredients and bring to a boil.
Reduce heat and simmer for 10 to 15 minutes, stirring occasionally, until thick enough to coat the back of a spoon. The liquid will have evaporated leaving just over 1/2 cup of thick concentrated vinegar.
Allow the glaze to cool completely before use.
Refrigerate balsamic glaze in an airtight container for up to 4 weeks.
What to Serve With Wedge Salad
An iceberg wedge salad goes perfectly with a meaty main dish! It's definitely a steakhouse recipe, so serving it with steak or roast beef and a baked potato is an obvious choice. Here are some more ideas:
Popular Salad Recipes
Love salads? Salads are fresh and inviting and can be great side dishes or light main meals. Here are some tried and true favorite salads to try next time you need one.
Check out more of my delicious salad recipes and the best quick and easy recipes here on CopyKat!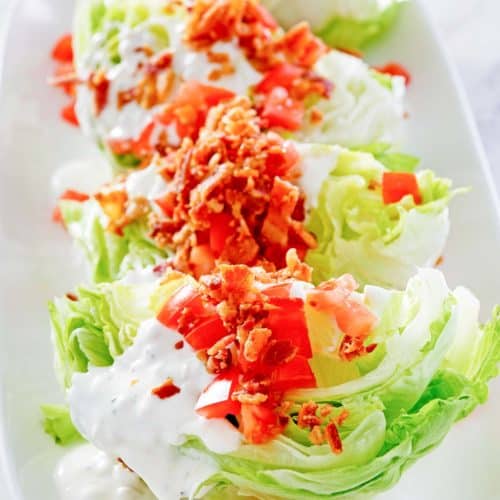 Ingredients
1

head

iceberg lettuce

4

tablespoons

blue cheese salad dressing (or ranch)

8

teaspoons

chopped, crisp-cooked bacon

8

tablespoons

fresh chopped tomatoes
Optional Toppings
chopped red onions

chopped shallots

fresh herbs

croutons
Instructions
Remove the core of the lettuce, and cut the lettuce into 4 or 8 large slices.

Drizzle 1 or 2 tablespoons of salad dressing over each wedge.

Add chopped crispy bacon and tomatoes.

If desired, you can add chopped red onions or shallots, fresh herbs, or even croutons.
Notes
Wedge Salad Variations:
Sprinkle blue cheese crumbles on top
Add toasted croutons
Add toasted nuts such as pine nuts, or almond slivers if you want to enjoy a little crunch to your salad.
Add fresh herbs to make it extra special.
Drizzle a balsamic reduction lightly over this salad for some nice flavor.
Add chopped red onions or chopped shallots.
Nutrition
Calories:
137
kcal
|
Carbohydrates:
6
g
|
Protein:
2
g
|
Fat:
11
g
|
Saturated Fat:
2
g
|
Cholesterol:
11
mg
|
Sodium:
244
mg
|
Potassium:
288
mg
|
Fiber:
2
g
|
Sugar:
3
g
|
Vitamin A:
925
IU
|
Vitamin C:
8.3
mg
|
Calcium:
32
mg
|
Iron:
0.7
mg