Air Fryer Pumpkin Seeds are a healthy and delicious snack. These perfectly seasoned and roasted pumpkin seeds are irresistible!
This post contains affiliate links. As an Amazon Associate, I earn from qualifying purchases.
Roasted Pumpkin Seeds are a Tasty Snack
Pumpkin is an awesome fruit (yes, pumpkin is a fruit!) with which you can make a variety of sweet and savory recipes. It's also amazing that you can use pretty much every part of a pumpkin, including the seeds. Pumpkin seeds can make a deliciously crunchy and healthy snack.
Air Fried Pumpkin Seeds
Of course, there comes a time in October when we may have more pumpkin seeds than we know what to do with. If you're carving pumpkins getting ready for the big spooky day, don't discard those seeds!
It's easy to transform them from the somewhat slimy goop you've removed from a pumpkin into a tasty, crispy snack. And, if you have an air fryer, things are a whole lot easier! Roasted pumpkin seeds is one of my favorite air fryer recipes.
CopyKat Tip: To get a full cup of seeds for roasting, go for a large pumpkin. The kind you would buy for Halloween pumpkin carving. Also, bigger pumpkins usually have larger seeds.
This easy recipe for air fryer roasted pumpkin seeds is so good because you make it from scratch, and it tastes so much better than store-bought.
Make this nutritious snack in your air fryer and enjoy them anytime!
Benefits of Pumpkin Seeds
Pumpkin seeds (pepitas in Spanish) are full of nutrients that help improve heart health and aid in digestion. They are rich in antioxidants and high in magnesium and zinc. You can enjoy this crunchy snack without any guilt.
How to Clean Pumpkin Seeds
Separating the seeds from a pumpkin and cleaning them is somewhat tedious, but the end result will be well worth it. Here's how to do it:
While carving the pumpkin, remove all the seeds. Separate the pulp from the seeds as much as possible.
Place the seeds in a colander and rinse them well under running water to remove any remaining pieces of pulp.
Boil the seeds for 10 minutes in salted water. This will help remove the pulp and clean the seeds thoroughly. It will also help season the seeds on the inside.
Lay the cleaned seeds out on a paper towel or clean kitchen towel to dry for 2 hours. Press gently to remove any excess water.
If you have the patience, you can remove the outer white shells if you want, or you can roast the seeds with their shells on.
Note: If you don't want to bother with carving pumpkins, you can purchase raw unsalted pumpkin seeds.
Recipe Ingredients
This air fryer roasted pumpkin seeds recipe is easy to make. For this recipe, you will need:
Fresh pumpkin seeds
Butter
Seasoned salt or salt and pepper
That's it – just three simple ingredients.
Other Flavor Options
Crunchy roasted air fryer pumpkin seeds are delicious when generously seasoned with just salt and pepper. However, roasted pumpkin seeds can be seasoned in a variety of ways. Here are a few ideas:
Trader Joe's or Tajin Chili Lime Seasoning.
Add a sprinkle of smoked paprika, cayenne pepper, or garlic powder.
Ground chipotle, salt, and a dash of cayenne.
Substitute other fats or oils for the butter in this roasted pumpkin seeds recipe such as ghee, bacon fat, olive oil, avocado oil.
Use a flavored olive oil. There are many varieties including lemon, orange, herb, garlic, fig, and berry.
How to Roast Pumpkin Seeds in an Air Fryer
Here are the recipe steps:
In a colander, wash the pumpkin seeds to remove the pulp and fibers. Let them air dry for a couple of hours then gently pat them with a paper towel to remove excess moisture.
Melt butter in a small bowl in the microwave.
Add seasoned salt to melted butter and stir well.
Pour the seasoned butter onto the pumpkin seeds and stir well, making sure they are well coated.
Spread the seeds out in a single layer in your air fryer basket or tray lined with a sheet of parchment paper.
Air fry at 350 degrees for 10 to 15 minutes, shaking the basket halfway through for even roasting.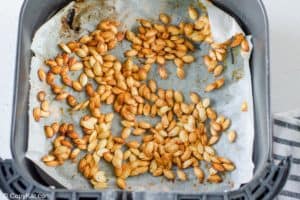 4 Tips for Flawless Air Fryer Pumpkin Seeds
Roast them with their shells intact. There's no need to put time and effort into removing the shells.
Before you get started on roasting pumpkin seeds in air fryer, make sure the pumpkin seeds are completely dry. Let them air dry for about 2 hours.
After your seeds are done, take one out and check whether the crispness is to your liking. If not, air fry for an additional 3-5 minutes.
If you are making a larger quantity, air fry your seeds in batches. Make sure your seeds are in just one layer and not overlapping much.
How to Use Roasted Pumpkin Seeds
Air fryer roasted pumpkin seeds make the perfect snack, but they can also be used in the following ways:
Add to salads for more crunch.
Stir some freshly roasted pumpkin seeds into guacamole or hummus. They add a rich flavor and a surprisingly toothy texture.
Upgrade your breakfast regimen and make roasted pumpkin seeds a regular ingredient in your favorite granola mix.
Add them to roasted squash.
Sprinkle some on your favorite pizza.
Garnish your favorite fall soup with spiced pumpkin seeds for extra deliciousness.
Can You Eat Roasted Pumpkin Seed Shells?
Yes, you can eat them roasted without removing the shells – it's simply too much effort to take out the insides! Moreover, eating them with the shells on is the best way! Most of the seasonings are on the outside. Plus, the outsides are a great source of fiber.
How to Store Air Fryer Roasted Pumpkin Seeds
Let your air fryer pumpkin seeds cool completely then store them in an airtight container at room temperature. They will be good for several days.
You can keep them in the fridge where they'll last for 1 to 2 months, that is if they don't get eaten first!
Love all things pumpkin? Try these recipes!
Popular Air Fryer Recipes
Check out more of my easy snack recipes and the best air fryer recipes here on CopyKat!
Ingredients
1

cup

fresh pumpkin seeds

2

tablespoons

butter

1

teaspoon

Lawry's Seasoned Salt

or 1 teaspoon salt + 1/4 teaspoon ground black pepper
Instructions
Wash the pumpkin seeds in a colander to remove the pulp and fibers. Thoroughly dry the seeds with a paper towel.

Line your air fryer basket or tray with a sheet of parchment paper and preheat to 350°F.

Melt the butter in a small bowl in the microwave.

Add the seasoned salt to the butter and stir well.

Add pumpkin seeds, and stir to coat the seeds with the seasoned butter.

Spread the seeds out in a single layer on the lined air fryer basket or tray, and cook for 10 to 15 minutes. The pumpkin seeds are fully roasted when they are light brown and crispy.

Remove the seeds from the air fryer, and spread them out on parchment paper to cool to room temperature. Store in an airtight container.
Notes
You can substitute the seasoned salt with 1 teaspoon salt and ¼ teaspoon ground black pepper.
Nutrition
Calories:
140
kcal
|
Carbohydrates:
2
g
|
Protein:
5
g
|
Fat:
14
g
|
Saturated Fat:
5
g
|
Polyunsaturated Fat:
4
g
|
Monounsaturated Fat:
4
g
|
Trans Fat:
1
g
|
Cholesterol:
15
mg
|
Sodium:
632
mg
|
Potassium:
131
mg
|
Fiber:
1
g
|
Sugar:
1
g
|
Vitamin A:
177
IU
|
Vitamin C:
1
mg
|
Calcium:
9
mg
|
Iron:
1
mg