El Fenix Guacamole is made fresh every day in the restaurant. El Fenix was one of the original Tex Mex restaurants, you can still find many locations around. Best of all you can make their guacamole at home!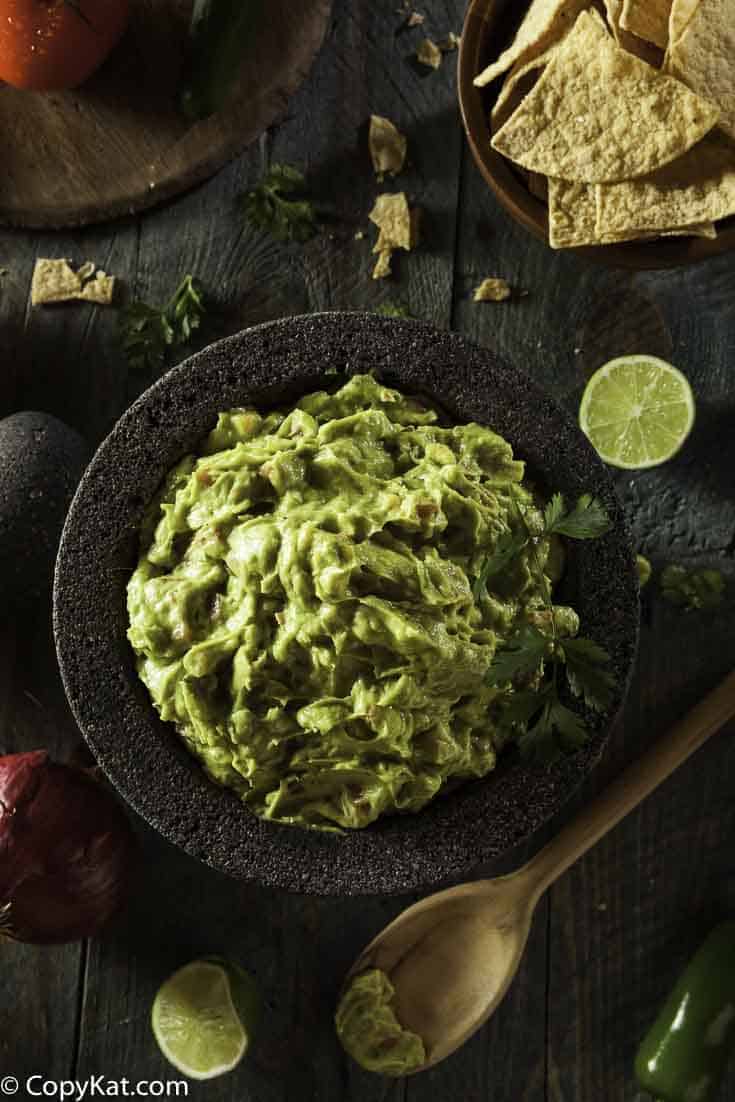 What makes this El Fenix guacamole so good?
Super easy to make this recipe combines fresh avocadoes, canned tomatoes, hot sauce, vegetable oil, chopped onion, lemon juice, and garlic. By using canned tomatoes you can get great flavor, and always have a very dependable result, without any waste.
Make guacamole in minutes
This recipe can be prepared in no time at all. A couple of quick chops and you can put together this recipe in no time at all.
When selecting avocados be sure to select avocados that give slightly when you squeeze them, this way you will know they are good and ripe, and ready to be used. If you purchase avocados and they are hard, put them in a paper bag for a day or so to help ripen them more quickly. There really is no need to purchase premade guacamole when you can make your own El Fenix Guacamole at home.
Why is there oil in this recipe
It may seem a bit unusual to put a bit of oil in guacamole? It is a traditional way to prepare guacamole. If you have never tried this before you will find the result will be a silky smooth result that you are going to love!
Recipe adapted from the Food Network's El Fenix Guacamole recipe

Ingredients
6

cups

avocadoes

1

cup

canned tomatoes, drained and coarsely chopped, about 6 ounces

2

tablespoons

bottled hot sauce like Pace Picante

2

tablespoons

vegetable oil

1

tablespoon

finely chopped onion

1

teaspoon

salt

1

teasapoon

fresh lemon juice

1/2

teaspoon

minced garlic
Instructions
Remove avocados from peels and dice into large 1/2 inch chunks, and place avocado pieces into a medium-sized bowl. Add tomatoes, hot sauce, lemon juice, salt, onion, and minced garlic, and stir well.

Gently mash the guacamole until about half of the avocado pieces are smooth, and the other half are still chunky. Stir mixture together well, so that all of the ingredients are incorporated into the guacamole. Serve immediately.
Nutrition
Calories:
172
kcal
|
Carbohydrates:
8
g
|
Protein:
2
g
|
Fat:
16
g
|
Saturated Fat:
4
g
|
Cholesterol:
0
mg
|
Sodium:
262
mg
|
Potassium:
480
mg
|
Fiber:
6
g
|
Sugar:
1
g
|
Vitamin A:
270
IU
|
Vitamin C:
11.1
mg
|
Calcium:
12
mg
|
Iron:
0.5
mg
Love fresh avocadoes Try these avocado recipes.
When Did Sriracha Guacamole Become the Best? Find Out.
Copycat Chipotle Guacamole
Saltgrass Steakhouse Boiled Shrimp and Avocado Salsa