Chipotle Mexican Grill Guacamole is one of the best guacamoles around. There is generally one major problem with guacamole, and that is simply, it is served in smaller portions than we would like.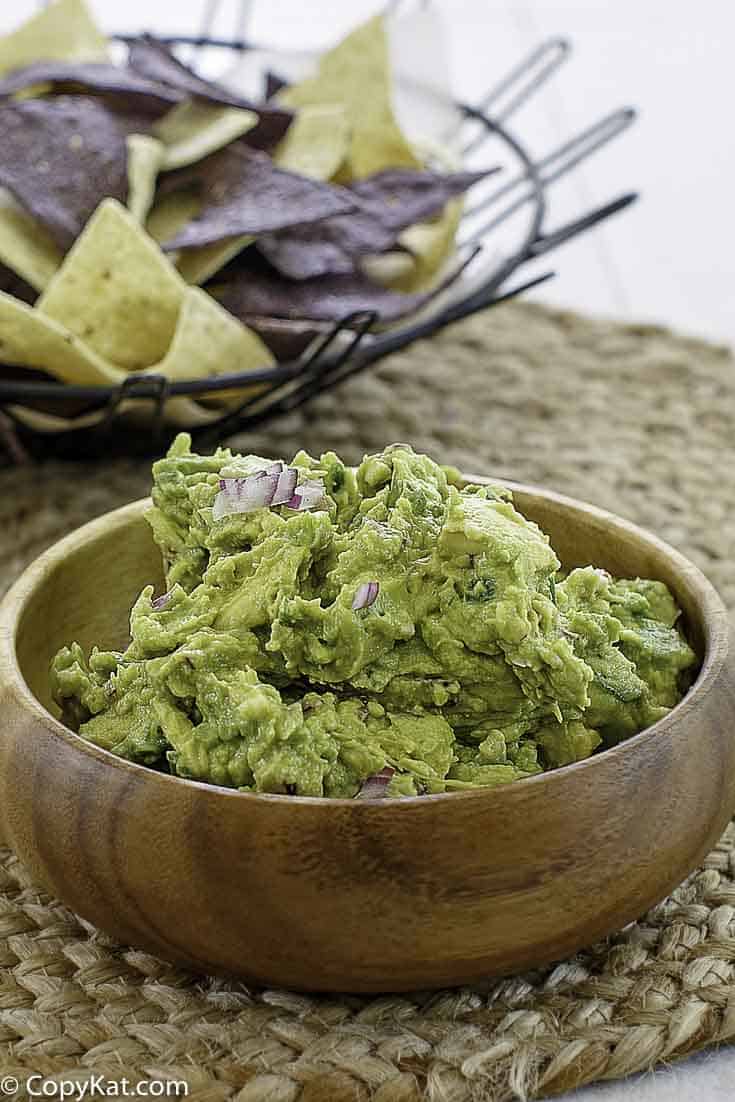 Chipotle Mexican Grill is known for making everything fresh, and their guacamole is one of my favorite guacamoles. My one major complaint about guacamole is that it is generally served in smaller portions than I would like.
However, last year to celebrate National Guacamole Day, Chipotle introduced an 8-oz. large guacamole that might actually be enough to get you through your whole pile of tortilla chips.
Chipotle's perfectly seasoned guacamole is made from scratch all day long. It's full of chunky pieces of avocado and other fresh ingredients. Now you can enjoy this much-loved guacamole at home with this easy copykat guacamole recipe.
Everyone knows the saying: Imitation is the sincerest form of flattery. In my case, however, imitation is the sincerest form of having access to this delicious guacamole 24/7.
The ingredients in this copycat guacamole recipe are simple and easily identifiable: ripe avocados, fresh garlic, red onion, lemon juice, and a vibrant splash of lime. And, jalapenos add just the right hint of spicy heat. This guacamole is very easy to make and requires no cooking!
How to Tell if Your Avocado is Ripe
Many people tend to stress over knowing when an avocado is ripe, so here are some tips.
When pressed lightly with your thumb, a ripe avocado should yield to the pressure just slightly. If it feels hard and rigid, it isn't ready; if it feels very soft, your avocado is too far gone.
The skin of a ripe Hass avocado (the most common kind) should be colored a deep purple to almost black.
On the narrower end of an avocado is a small nubby stem. Remove that woody stub and check the color underneath. If it's a creamy yellow color, your avocado is ripe. If it's brown, your avocado is on the old side and will have brown spots on the inside flesh.
Try Making Chipotle Mexican Grill Guacamole today!
If you love the guacamole from Chipotle, then this recipe is perfect for you. For the best chip-and-dip experience, serve your guacamole with tortilla chips tossed with lime juice and sprinkled with salt, just like the ones at Chipotle. Guacamole is at its best when it's prepared fresh.
Love Chipotle? Try these other copycat Chipotle recipes.
Copycat Chipotle Pork Carnitas
Chipotle Mexican Grill's Spicy Corn Salsa
Chipotle Mexican Grill Barbacoa
Ingredients
6

small

ripe avocado

s (if you are using the large ones 3 will do)

1/2

cup

minced red onion

1

minced jalapeno pepper

1

chopped garlic clove

1

tablespoon

lemon juice

1

tablespoon

lime juice

1/2

teaspoon

kosher salt
Instructions
Cut the avocados in half, scoop out the "meat" into a large bowl, and gently break them into smaller pieces, but leave them very chunky.  Add the red onion, jalapeno, garlic, and lime juice.  Mix the ingredients together and salt to your desired taste.
Nutrition
Calories:
246
kcal
|
Carbohydrates:
14
g
|
Protein:
3
g
|
Fat:
22
g
|
Saturated Fat:
3
g
|
Cholesterol:
0
mg
|
Sodium:
156
mg
|
Potassium:
745
mg
|
Fiber:
10
g
|
Sugar:
1
g
|
Vitamin A:
220
IU
|
Vitamin C:
17.2
mg
|
Calcium:
20
mg
|
Iron:
0.8
mg