Taco Bell Nacho Fries are deliciously seasoned with Mexican spices and served with creamy cheese sauce. So if you love the crispy texture of the fries, bold seasoning, and warm nacho cheese sauce, you must make this copycat recipe.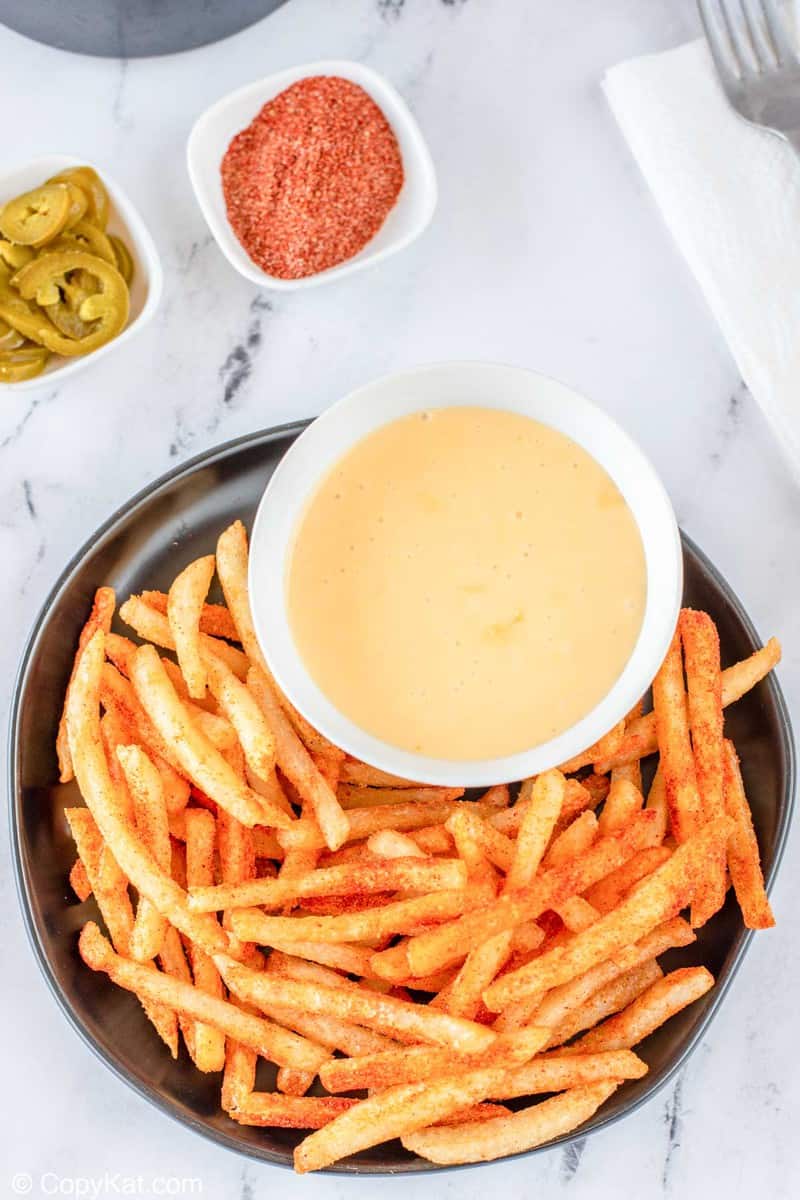 This post contains affiliate links. As an Amazon Associate, I earn from qualifying purchases.
Best Fusion of Fries and Nachos
Were you ever forced to choose between ordering french fries or nachos? No one should have to make such a heart-wrenching decision. But don't worry. Taco Bell has your back with their one-of-a-kind Nacho Fries.
If you are a Taco Bell fan, you know how the Taco Bell menu has many items that are shared only for a limited time. Warmed with this copycat recipe, you can make your own beloved nacho fries box anytime!
Get the Right Fries and the Rest Will Follow
Sorry. This is one recipe where your gourmet, hand-cut, homemade fries won't work. So save them for another time and get a big bag of Ore-Ida Extra Crispy FAST FOOD FRIES®. If you can't find them in your local supermarket, look for another brand of "extra crispy" frozen fries. Whatever you do, don't settle for regular frozen fries. They won't have the crunchy exterior needed to stand up to the cheesy sauce.
Once you get the french fries home, use it if you are lucky enough to have a deep fryer. Really. It is so worth any extra fat and calories. However, if you don't have a deep fryer, then sure, you can use the oven, but know you'll lose a lot of the texture that makes the recipe unique.
As a lower-fat alternative to deep-frying, you can use an air fryer if you have one. You can even try "double frying" the french fries. First, cook the frozen french fries in a preheated air fryer for 10 minutes at 360 degrees. Let the fries cool for at least 30 minutes, then cook them in a preheated air fryer at 400 degrees for 6 minutes.
The Secret Taco Bell Cheese Sauce
This spicy nacho sauce beats any cheese sauce in a can. Don't try to save a few minutes by using ready-made nacho sauce when making it fresh is simple and much better!
While the recipe calls for using slices of American cheese, buying a block of processed mild-tasting cheese costs less and works just as well if you cut it into small pieces before melting. Whether you choose the original Taco Bell nacho cheese sauce route and use orange cheese is up to you.
Taco Bell Nacho Fries Recipe Ingredients
Here's a list of what you need:
Frozen Ore-Ida Extra Crispy Fast Food Fries
Salted butter
Salt
Whole milk
Deli American cheese or Kraft American Cheese Deluxe slices
Tabasco Jalapeno Green Sauce or liquid from jarred pickled jalapeno slices
Paprika
Chili powder
Garlic powder
Onion powder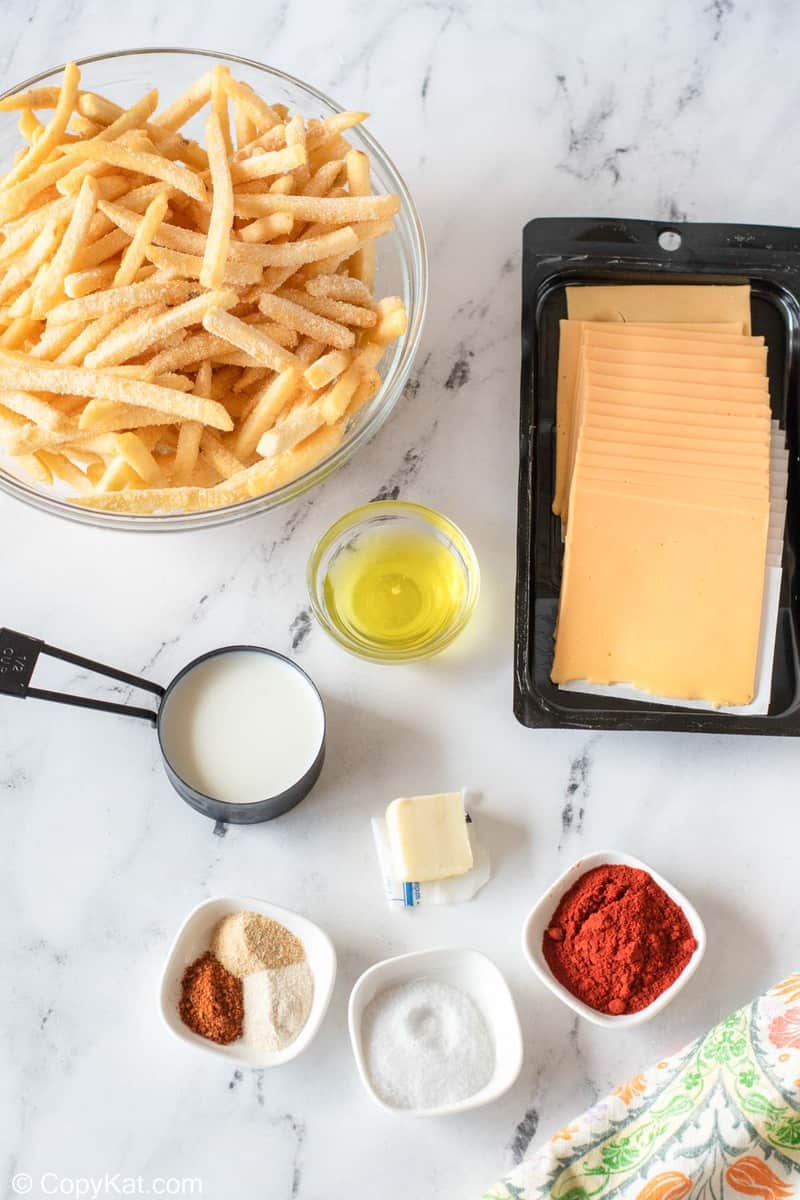 How to Make Taco Bell Nacho Fries
If you have a spice grinder or a mini food processor, process salt, paprika, chili powder, garlic powder, and onion powder to finely grind them.
If not, combine the seasonings in a bowl.
Place butter, salt, milk, American cheese, and jalapeno sauce in a saucepan.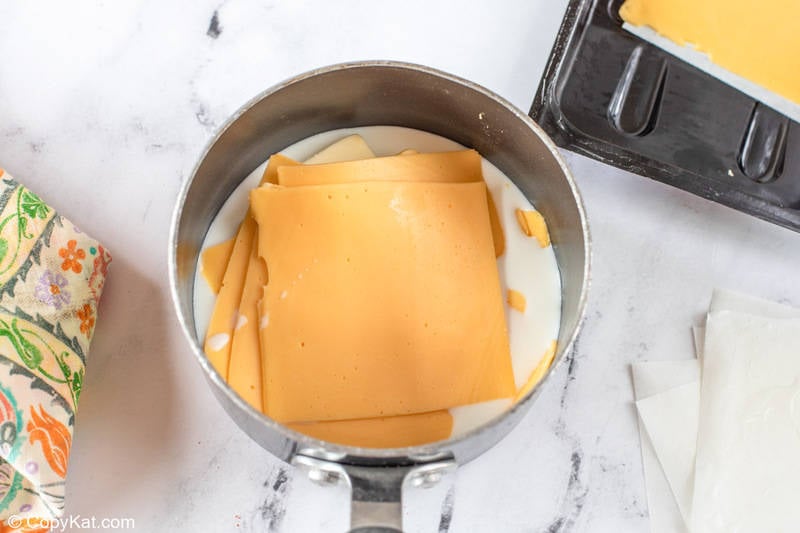 Heat on low, occasionally stirring, until the cheese melts.
Deep fry the fries according to the package instructions.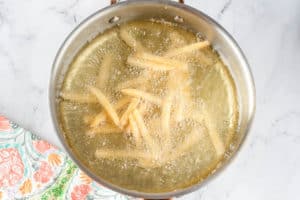 Liberally season the fries with the spice blend as soon as you remove them from the oil.
Serve nacho fries with cheese sauce.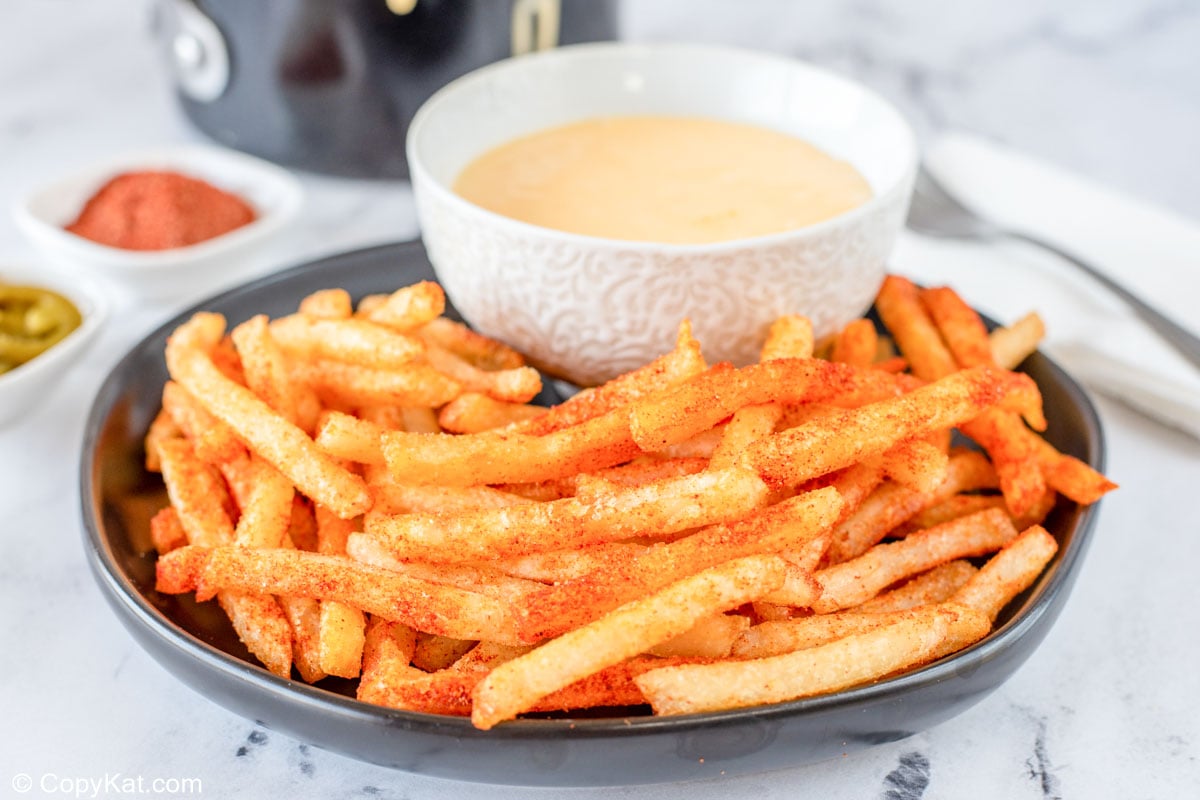 Tips for Making and Serving Taco Bell Nacho Fries
Add a few toppings. Plain nachos are good, but loaded nachos are great. Dress those fries with sliced jalapenos, diced onions, a dollop of sour cream, and guacamole.
Toast those spices. Heat a dry skillet over medium-high heat. Pour in the spice mixture and stir slowly with a wooden spatula until you can smell them. Put the spices directly into a spice grinder and grind them into the consistency of talcum powder.
They were tossing hot fries with the fry seasoning. Toss one portion of hot fries in a large metal bowl with a tablespoon of the fry seasoning mixture. Grab the fries and shake them over the bowl to remove excess seasoning before serving.
Take this recipe to the next level by turning this into a 7-Layer nacho fries by adding extra toppings like hot sauce, black beans, low-fat sour cream, cheddar cheese, seasoned ground beef, and other toppings.
Check out our other french fry recipes on YouTube!
Frequently asked questions
Are nacho fries vegan?
No, they are not vegan; they are vegetarian. You can use vegan queso and make them at home.
Did Taco Bell discontinue nacho fries?
Taco Bell has not discontinued its famous nacho fries, but they do appear for limited limes only. So be patient; just the McRib will make a return appearance.
Are nacho fries made from potatoes?
Yes, nacho fries are made from potatoes. They are made from French fried potatoes.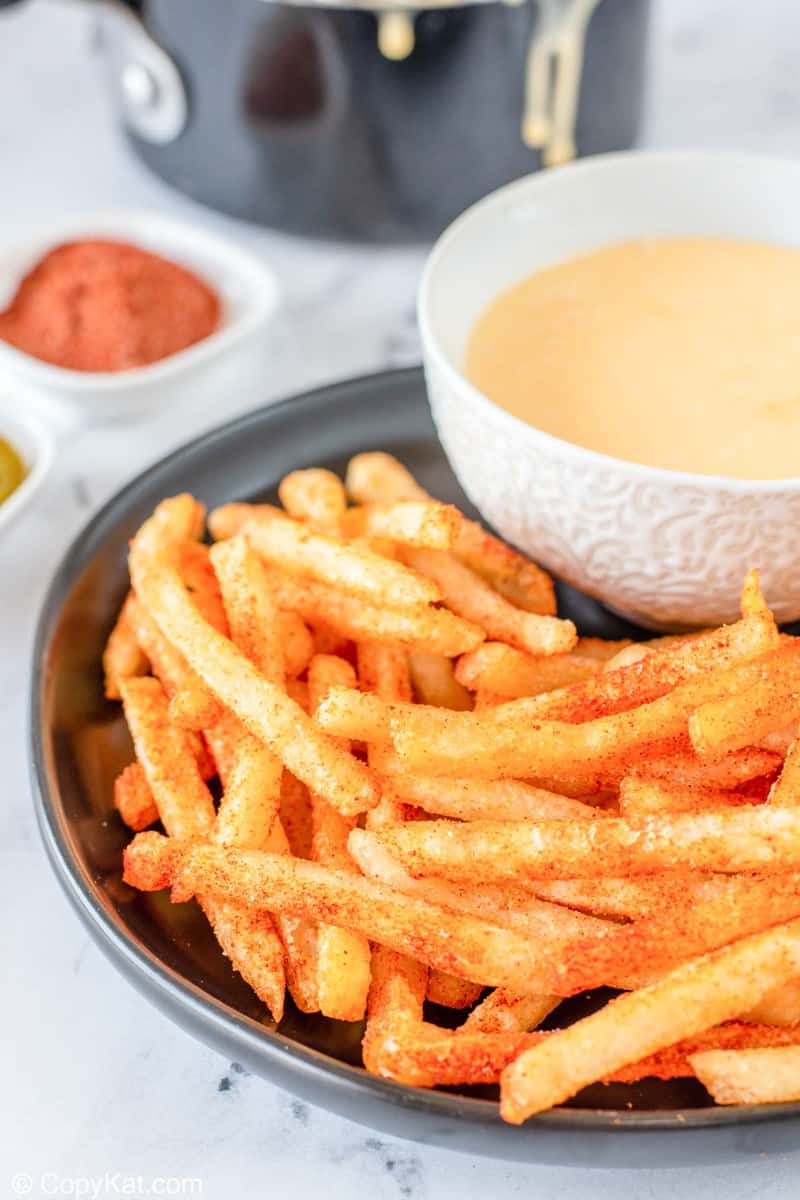 Love Taco Bell? Try these copycat recipes!
Popular Mexican Recipes
Check out more of my easy Mexican food recipes and the best Taco Bell recipes here on CopyKat!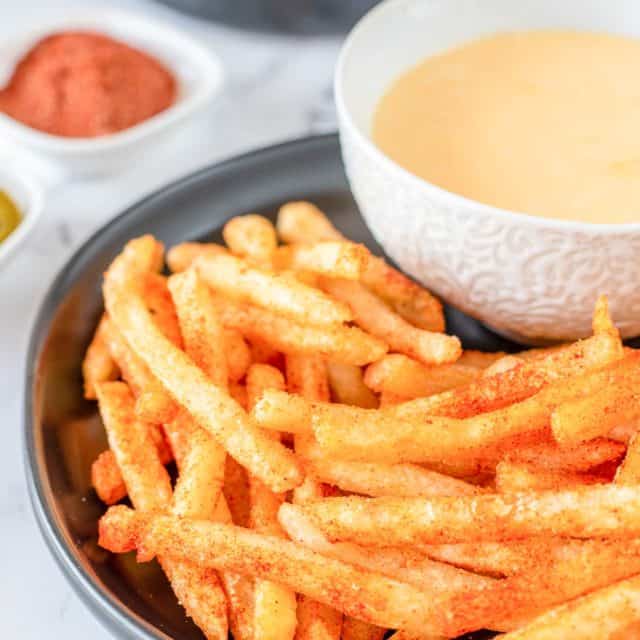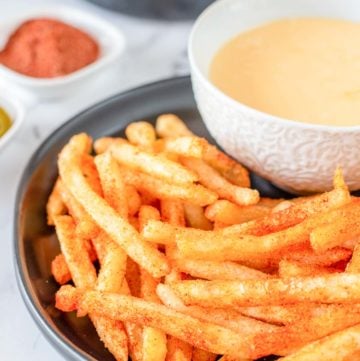 Ingredients
Taco Bell Nacho Cheese
1

tablespoon

salted butter

1/2

cup

whole milk

8

ounces

American cheese

1

tablespoon

Tobasco Jalapeno sauce

or juice from a jar of jalapeno slices for nachos
French Fry Seasoning
2

teaspoons

paprika

2

teaspoons

salt

1

teaspoon

chili powder

like McCormick's

1

teaspoon

garlic powder

do not use garlic salt

1

teaspoon

onion powder

do not use onion salt
French Fries
1

pound

Ore-Ida Extra Crispy Frozen Fast Food Fries

vegetable oil for frying
Instructions
Seasoning blend instructions
If you have a spice grinder or a mini food processor, process spices to grind them more finely, if not, skip this step. Store spice blend in a salt shaker or another shaker. You will have some left over, you can use this for tacos, or another batch of fries.
Taco Bell Nacho Cheese Sauce
Combine all ingredients in a small pot, heat on low until the cheese melts, stir to combine.
French Fries Instructions
Fill a large pot with enough vegetable oil to fill the pot 4 inches deep. Heat the oil to 350 degrees.

Cook the fries for 6 to 8 minutes or until crispy. Remove fries from the oil and place on a wire rack that is resting on a baking sheet, and sprinkle liberally with the seasoning blend.
How to assemble and serve
Place some of the fries onto an individual serving plate, and then serve with a small bowl of cheese sauce.
Nutrition
Calories:
688
kcal
|
Carbohydrates:
41
g
|
Protein:
15
g
|
Fat:
53
g
|
Saturated Fat:
19
g
|
Trans Fat:
1
g
|
Cholesterol:
67
mg
|
Sodium:
2715
mg
|
Potassium:
707
mg
|
Fiber:
7
g
|
Sugar:
3
g
|
Vitamin A:
2545
IU
|
Vitamin C:
7
mg
|
Calcium:
651
mg
|
Iron:
3
mg