Can't get enough of the Taco Bell Cinnamon Twists? You can make these at home! Enjoy these delicious crunchy treats anytime!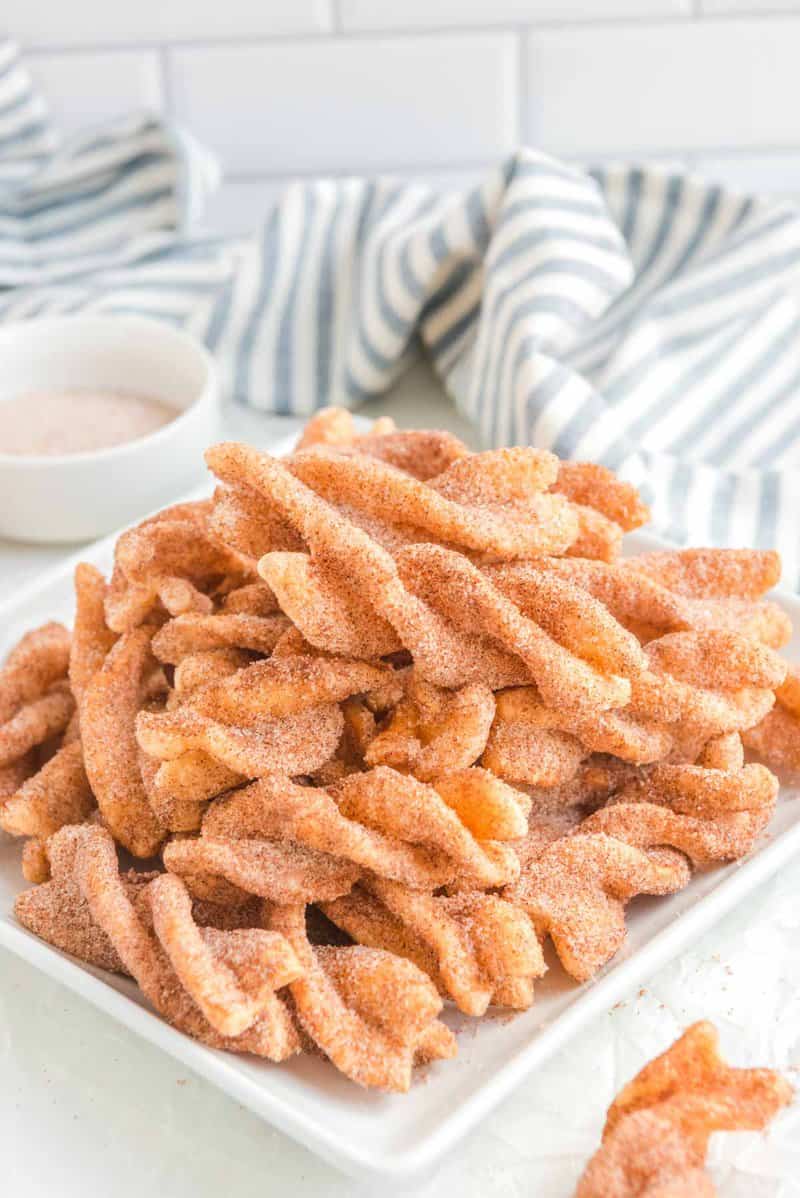 This post contains affiliate links. As an Amazon Associate, I earn from qualifying purchases.
Crunchy Cinnamon Sugar Snack
Taco Bell Cinnamon Twists are delicious sugary cinnamon snacks. This cinnamon twists recipe makes twists that taste just like the ones at Taco Bell, without the drive-thru experience.
They're crunchy and super light. Plus, the sugar/cinnamon mixture provides the perfect balance of spice and sweetness. And they're really easy to make.
Ingredients
Here's what you'll need to make copycat Taco Bell cinnamon twists:
White Granulated Sugar
Ground Cinnamon
Spiral-shaped Duros
Oil for Frying (vegetable or canola oil)
You can buy spiral-shaped duros online, I bought mine from Amazon.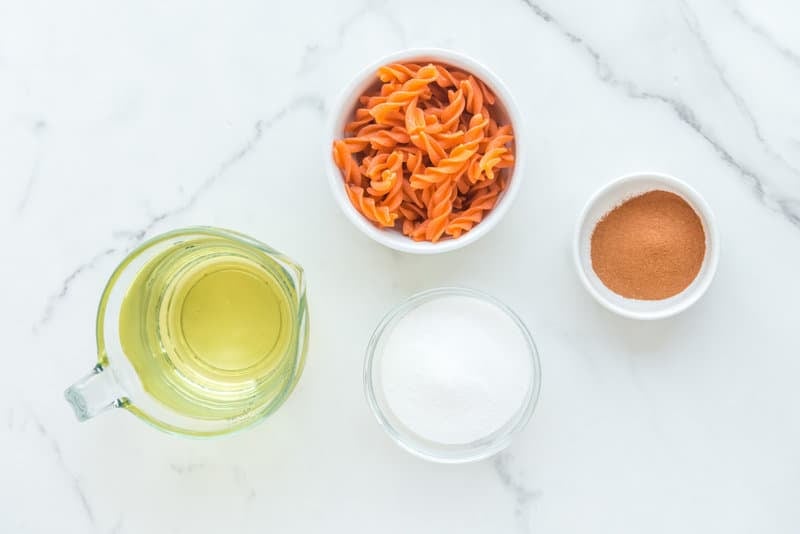 What are Duros?
What's the real secret here? Taco Bell Pasta noodles are really duros. These twists are made with a particular type of wheat pasta you can find at specialty Mexican markets. This pasta is called duros de harina.
What makes this type of pasta unique is that it puffs up when you cook it. This copycat cinnamon twist recipe is made by deep-frying the spiral-shaped pasta in vegetable oil at 350 degrees F.
The pasta will puff up in about 15 seconds while being cooked. Then these crispy bites are coated liberally with a cinnamon and sugar mixture. Please don't buy ordinary pasta and expect it to puff up – it won't!
Duros – Your 30 Second Snack
If you live in a neighborhood with a Latin American influence, you've probably seen bags of duros. They often come in shapes that look like tiny wagon wheels – and they almost resemble little sliced tomatoes.
They also come in different shapes, tiny worm, twisty pellets, sheets, and small 1-inch squares. They are very hard, which is maybe why they are called duros (after the Spanish word for hard).
A quick 20-30 second trip through the microwave will puff them up and you'll have a crunchy snack ready to eat. One traditional way to eat them is to sprinkle them with chili powder and lime juice.
If you want to make a large batch for family or friends, you can fry them, and they're just as tasty.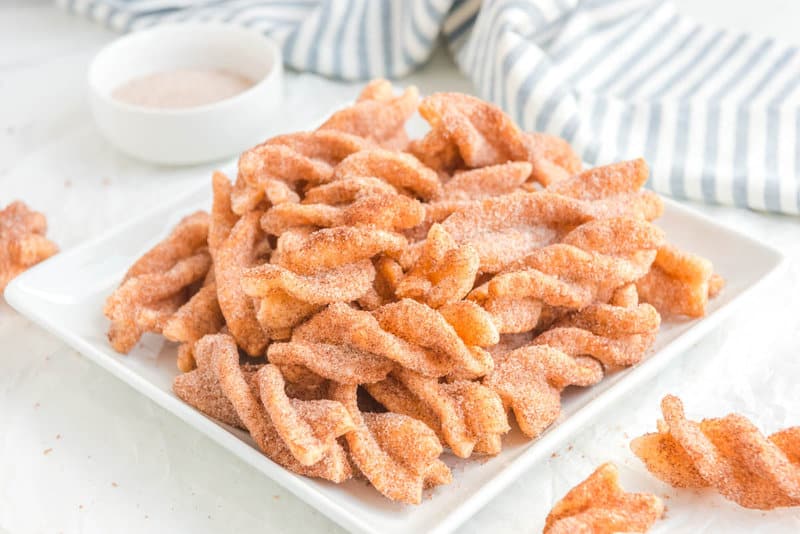 Can you make cinnamon twists with other types of noodles?
Save yourself some time on this one. The quick answer is … no. Regular pasta noodles do not puff. Nor do most grocery store varieties. Cooked, left-over pasta does not puff up when cooked.
This twisty treat recipe is easily made if you have a deep fryer (any size is fine). You can also make them in your Dutch oven. Just make sure you heat up the frying oil to a temperature between 300-350°F. Then you need a small plastic bag, twisty duros noodles, sugar, and cinnamon.
How to Make Taco Bell Cinnamon Twists
Place cinnamon and sugar in a small bowl.
Stir the cinnamon and sugar together.
Heat oil in a heavy-bottomed pot or deep fryer to 350°F.
Fry about a dozen of duros until they puff up.
Continue to fry them for another 5 seconds, until golden brown.
Use a slotted spoon or tongs to remove the cooked duros from the hot oil and drain them on a wire rack.
Liberally sprinkle the cinnamon sugar mixture on the twists.
Repeat with the remaining duros and cinnamon sugar. Serve immediately.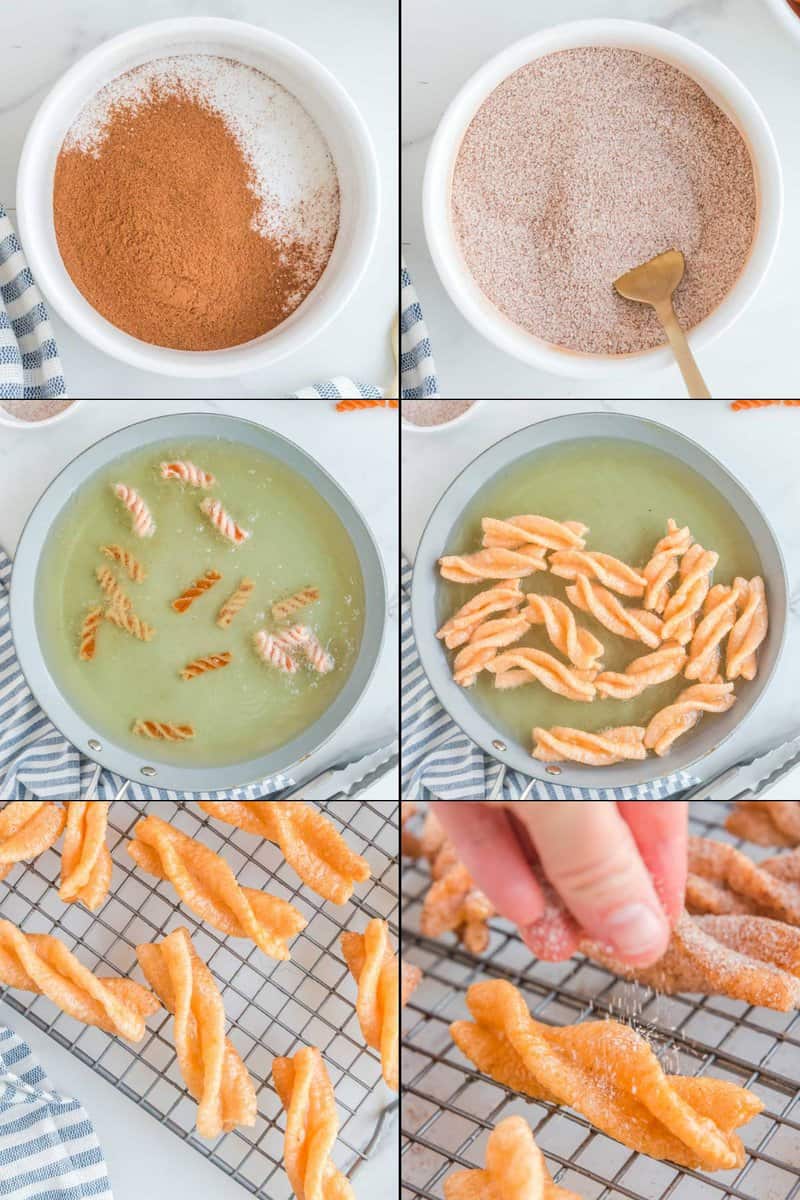 Can you make Taco Bell Cinnamon Twists in the air fryer?
You can, but I don't love the results. I cooked these in my air fryer at 490 degrees for about 6 to 7 minutes. They do puff up, they are crunchy, but for me, the problem was I couldn't get the cinnamon and sugar to stick.
I personally found the results of spraying the duros with some non-stick spray to be not as good. I prefer mine when I used the deep frying method.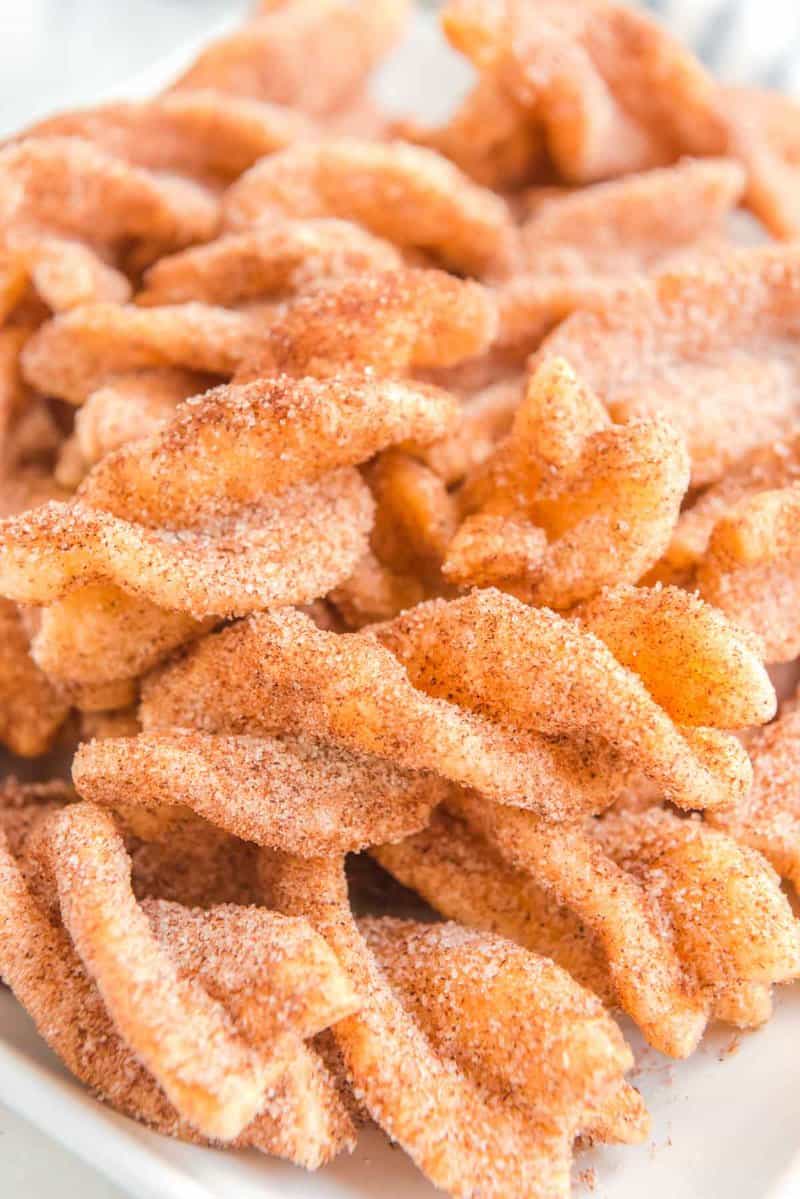 Love Taco Bell? Try these copycat recipes!
Popular Fast Food Copycat Recipes
Check out more of my easy snack recipes and the best Taco Bell recipes here on CopyKat.com!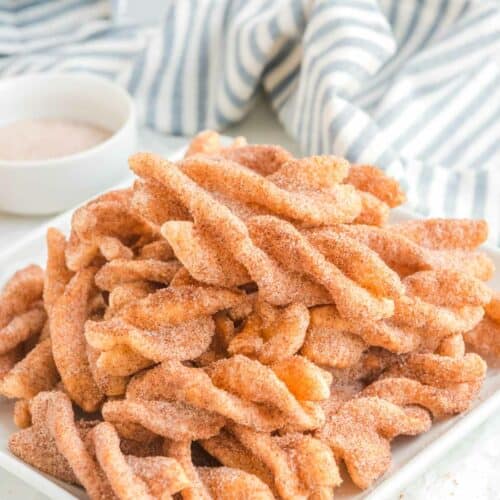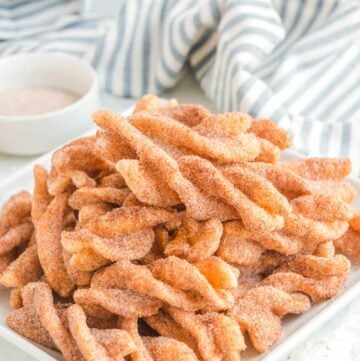 Ingredients
1/2

cup

sugar

1

tablespoon

ground cinnamon

vegetable oil

for frying

4

ounces

spiral-shaped duros
Instructions
Combine the sugar and cinnamon in a bowl and stir.

Heat the oil to 350°F in a deep fryer.

Place the duros into the fryer, about 15 at a time. Nothing will happen for the first few seconds. Then they will suddenly puff up. Continue cooking for 5 seconds after they have puffed up.

Remove the duros from the oil and transfer them to a

wire rack

to drain.

Sprinkle the duros liberally with cinnamon and sugar.
Notes
If you don't have a deep fryer you can fry the duros in a heavy-bottomed pot or Dutch oven. Use a candy or deep fry thermometer to monitor the oil temperature.
Nutrition
Calories:
250
kcal
|
Carbohydrates:
27
g
|
Protein:
1
g
|
Fat:
17
g
|
Saturated Fat:
1
g
|
Sodium:
1
mg
|
Fiber:
1
g
|
Sugar:
25
g
|
Calcium:
20
mg
|
Iron:
1
mg