Craving a Krystal Burger but don't want to go out? Unfortunately, you don't find Krystal restaurants everywhere. This easy homemade version can make the best Krystal burgers at home. These delightful burgers are perfect for a football game or serving late-night snacks.
This post contains affiliate links. As an Amazon Associate, I earn from qualifying purchases.
Homemade Krystal Burgers
Depending on where you grew up in the US, you might never have heard of Krystal burgers. if you grew up anywhere near Chattanooga, you know the name Krystal. You were busy devouring White Castle burgers if you didn't grow up in the South.
If you have never had an original Krystal burger or cheeseburger, you don't know what you are missing, and it's more than square hamburgers at low prices. You can correct that oversight by making these copycat Krystal burgers.
Krystal Burger vs White Castle Burger
While White Castle may be the granddaddy of steamed sliders, Krystal is no Johnny-come-lately. Opened in 1932, this southern-based fast food business aimed to replicate the success of White Castle restaurants in Kansas by selling very similar hamburgers. Although the burgers look almost the same, the two recipes have several subtle yet critical differences.
Order a Krystal burger, and it will come with mustard, a dill pickle slice, and diced onions, while a White Castle burger only has pickles and onions.
Oh, and then there is the patty itself. Although the meat patties from both places are super thin, the ones from White Castle have holes punched in them, while Krystal burgers do not.
But those aren't the only differences.
Take a closer look at the onions, and you'll notice something unusual. The Krystal burger's onions are tiny but bursting with beef flavor, while the White Castle's onions are larger and bland. That's the secret to how the Krystal burger recipe packs so much beefy taste into such a tiny beef patty.
Krystal uses dehydrated onions reconstituted in beef broth! What a brilliant idea you can easily use in other recipes to add extra meaty flavor without adding more beef. Whatever you do, don't use regular minced onions or skip adding the beef bouillon to the water. You'll regret it!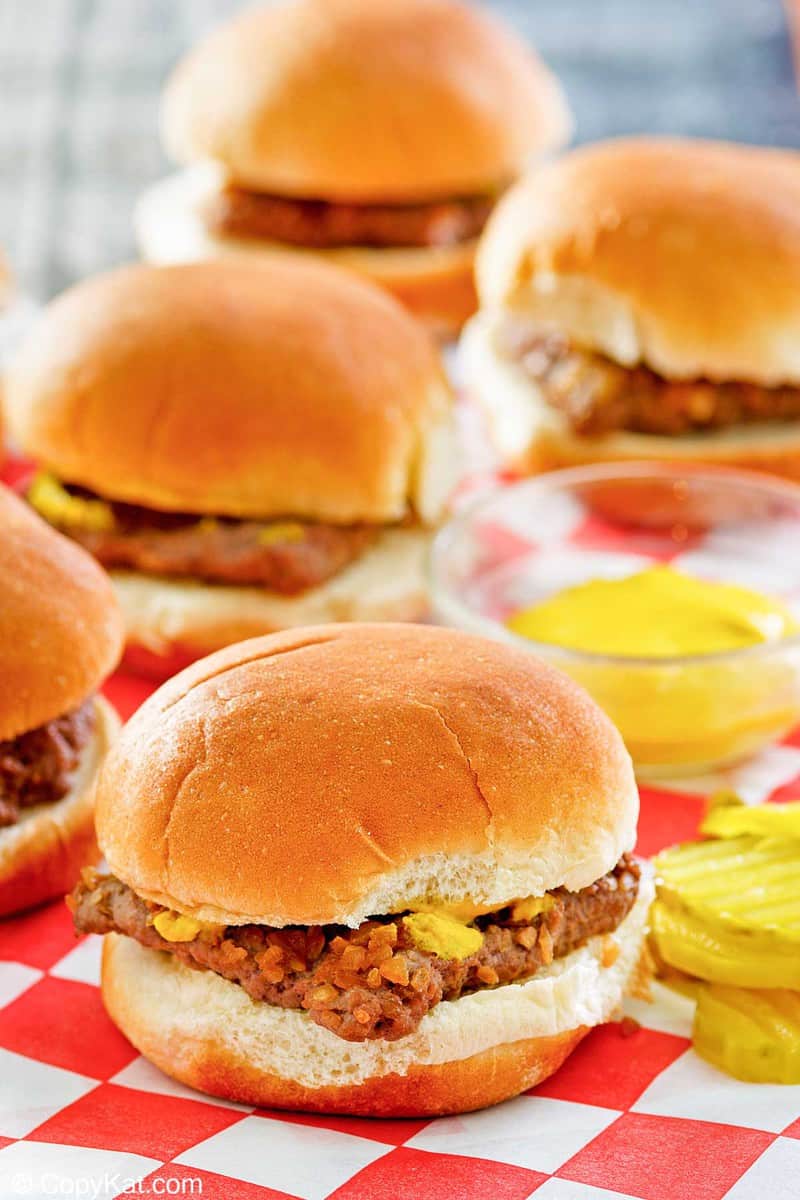 Krystal Burger Ingredients
Here's a list of what you need:
Dehydrated onion
Ground beef
Water
Salt
Beef bouillon cube
Yellow mustard
Hamburger dill pickle chips
Dinner rolls (soft and fluffy) or Hawaiian Rolls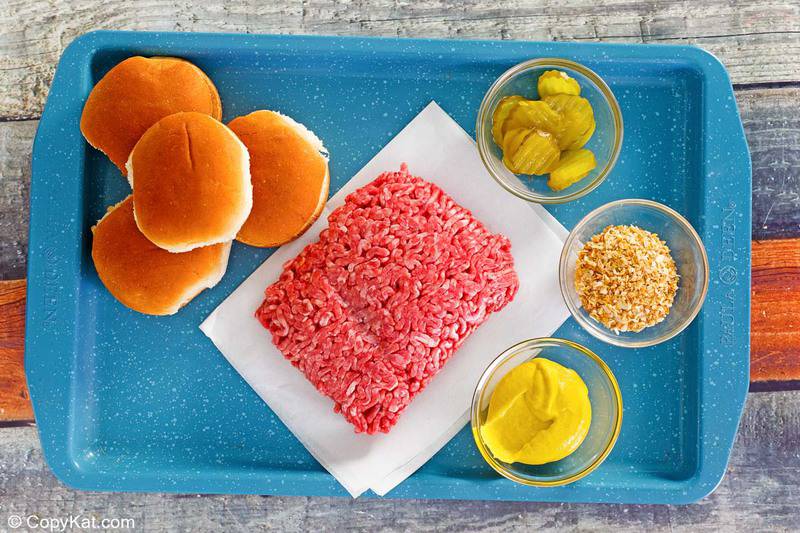 How to Make Krystal Burgers the Right Way
There is a lot that makes a Krystal burger a Krystal burger. If you want to capture the same taste and, more importantly, the texture at home, you need to steam the burgers as they do at the restaurant. Getting the steaming process right all starts with preparing the burger patties correctly.
Whizzing the uncooked ground beef with salt and water in a food processor is an essential step. Make sure to grind the burger mixture into a fine, almost paste-like consistency. Unfortunately, this isn't something you can do by hand, so digging out that Cuisinart from the back of your cupboard is worth digging out.
When you finish whizzing the burger meat mixture, distribute it onto a plastic wrap-lined jelly roll dish or a rimmed baking tray. Cover the meat with another sheet of plastic wrap on top and press down on the meat with another baking pan until it's about 1/4-inch thick.
Remove the top layer of plastic wrap and cut the pressed meat into 3 x 3-inch patties. Pop the tray in the freezer for 30 minutes to allow the burger mixture to firm up.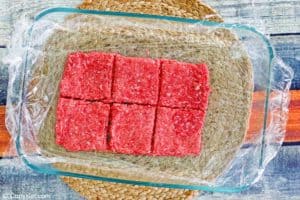 While the patties are in the freezer (or before making the patties), soak the dehydrated onions in warm water with bouillon.
Spread the reconstituted onions across the bottom of a skillet over medium-low heat.
Place the semi-frozen patties on top of the onions.
Top the patties with the bottom bun. Place the top bun on top of the bottom bun, cover, and allow the burgers to steam until done without turning.
After the burgers are cooked, use a spatula to remove them from the skillet. Top with one slice of dill pickle, a squirt of yellow mustard, and all those delicious onions.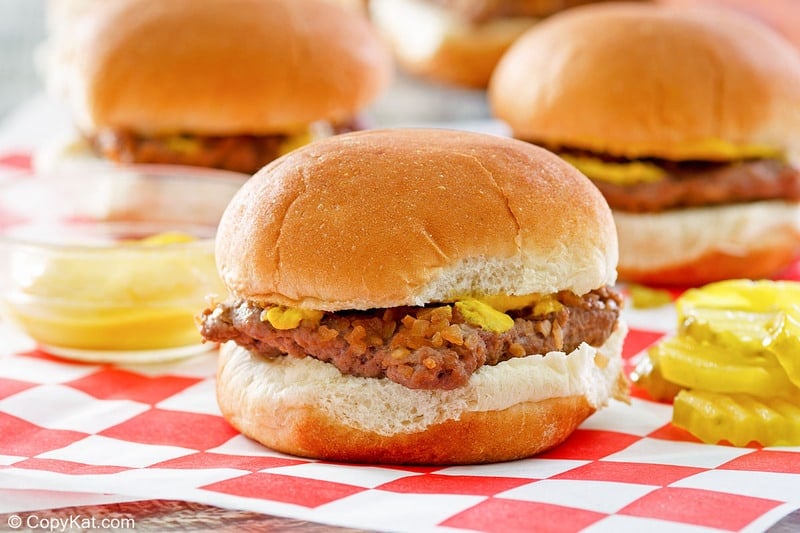 Krystal Burger Recipe Variations
Bacon Cheese Krystal – Add one slice of American cheese. Then, add one piece of cooked bacon, cut it in half, and place in a crisscross pattern.
Cheese Krystal – Add a slice of American cheese, if you want to upgrade your burger consider using Cheddar cheese.
Double Krystal – Has two layers of bottom bun, patty, pickles, and mustard.
How to Store, Freeze, and Reheat Leftovers
After indulging in your delicious homemade Krystal burgers, you might find yourself with a few leftovers. Properly storing them is essential to ensure they remain safe to eat and maintain their flavors. Follow these steps to store your Krystal burgers for later enjoyment:
Cooling the Burgers: Before you store the leftover Krystal burgers, allow them to cool down to room temperature. Give them about 30 minutes to cool on a clean plate or a wire rack.
Packaging: Wrap each leftover Krystal burger individually in plastic wrap or aluminum foil. This step helps prevent moisture loss and keeps the burgers from drying out.
Airtight Containers: You can store the wrapped burgers in airtight containers. These containers help maintain the burger's freshness and prevent any strong odors from the fridge from affecting its taste.
Refrigeration: Place the wrapped or containerized Krystal burgers in the refrigerator. Consume the leftovers within four days for the best quality and safety.
Freezing: If you anticipate not consuming the leftovers within a few days, freeze the wrapped Krystal burgers. Place them in a single layer on a baking sheet, freeze until solid, then transfer to a freezer-safe bag or container. Frozen Krystal burgers can be reheated directly from the freezer whenever you can enjoy them.
Reheating: When you're ready to enjoy your leftover Krystal burgers, consider reheating them to return their original taste and texture. You can use a microwave, oven, or stovetop to warm them gently. Be careful not to overheat, as it can cause the burgers to become dry.
Finally, there is no need to make a road trip to Georgia, Tennessee, Florida, or Alabama to go to Krystal. You can enjoy that tiny square hamburger anywhere with this easy copycat recipe.
Love burgers? Try these recipes!
Favorite Fast Food Recipes
Check out my tasty burger recipes and the best fast food recipes here on CopyKat!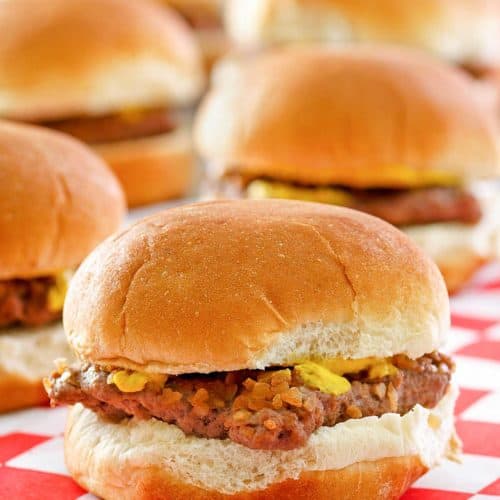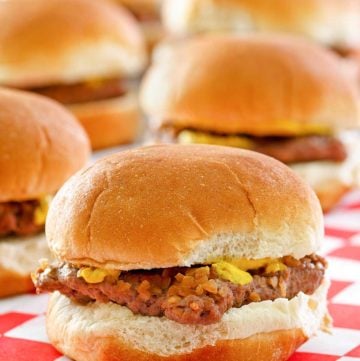 Ingredients
¼

cup

dehydrated onion

1

cup

water

divided

1

beef bouillon cube

1

pound

ground beef

1/2

teaspoon

salt

12

dinner rolls (soft and fluffy), sliced in half like hamburger buns

¼

cup

yellow mustard

12

dill pickle hamburger slices
Instructions
Soak the dehydrated onions in ½ cup of warm water with bouillon.

Place the ground beef, salt, and 1/2 cup of water in a food processor. Process for a few seconds, until the mixture is well blended and starting to become paste-like in consistency.

Cover the bottom of an 11×13-inch jelly roll pan with plastic wrap. Place the meat in the middle of the pan, cover with another piece of plastic wrap, and roll out the meat to 1/4-inch thickness.

Remove the top piece of plastic wrap and cut the meat into 3×3-inch squares, yielding 12 square patties. Leave the patties on the tray, cover with plastic wrap, and place in the freezer until partially frozen, but not solid.

Spread the reconstituted onions across the bottom of a skillet over medium-low heat.

Place the semi-frozen patties on top of the onions.

Top the patties with the bottom bun. Place the top bun on top of the bottom bun. Cover the pan and allow the burgers to steam until done without turning.

After the burgers are cooked, use a spatula to remove them from the skillet. Top each burger with onions, a dill pickle slice, and mustard.
Nutrition
Calories:
223
kcal
|
Carbohydrates:
21
g
|
Protein:
11
g
|
Fat:
11
g
|
Saturated Fat:
4
g
|
Polyunsaturated Fat:
1
g
|
Monounsaturated Fat:
5
g
|
Trans Fat:
1
g
|
Cholesterol:
27
mg
|
Sodium:
610
mg
|
Potassium:
192
mg
|
Fiber:
2
g
|
Sugar:
1
g
|
Vitamin A:
30
IU
|
Vitamin C:
1
mg
|
Calcium:
95
mg
|
Iron:
2
mg