Wendy's Baconator sandwich is a perfect burger for bacon lovers! Two ground beef patties, melted cheese slices, and six crispy bacon slices are stacked between toasted buns with mayo and ketchup.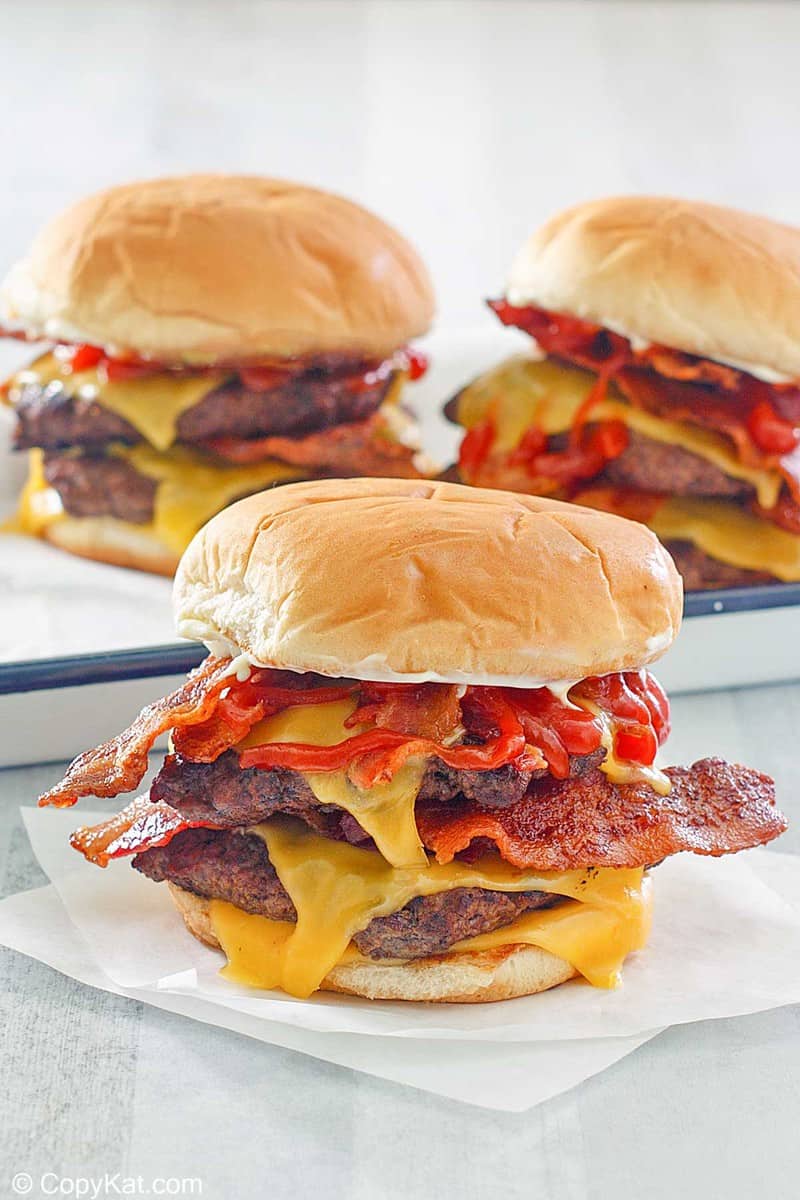 This post contains affiliate links. As an Amazon Associate, I earn from qualifying purchases.
The Baconator – Easily the Best Wendys Burger
Every burger joint has a bacon burger, but only Wendy's has the Baconator, and it is glorious. If you love bacon, and frankly, who doesn't, then you have to get your hands on one of these. This is one of those epic bacon cheeseburgers served up with six pieces of crispy applewood smoked bacon.
Wendy's Baconator is loaded with enough beef, American cheese, and savory bacon to satisfy even the biggest hunger. But there is no need to take a trip to your local Wendy's when you can make a pretty good imitation at home with this copycat recipe.
What Makes Wendy's Baconator So Good?
Isn't it obvious? Six pieces of thick-cut bacon! But that's not the only tasty trick Wendy's burger has under its, uh, bun. The meat lover in you will rejoice when you take a bite of pure fresh beef patties.
Two big, grilled-to-perfection beef patties and slices of American cheese elevate this manly back-to-the-basics burger above the ordinary bacon cheeseburger.
What Does a Baconator Taste Like?
This flavor balance between bacon and beef swings more toward bacon's favor. If you like the taste of bacon, you will love this burger. 
What is on a Wendy's Baconator?
The Baconator has two burger patties, each topped with a slice of cheese and three strips of quality bacon. Mayonnaise and ketchup come standard.
Wendy's Baconator Recipe Ingredients
To make a Baconator burger, here's a list of what you need:
Bacon
Ground beef chuck
Salt
American cheese slices
Mayonnaise
Ketchup
Hamburger buns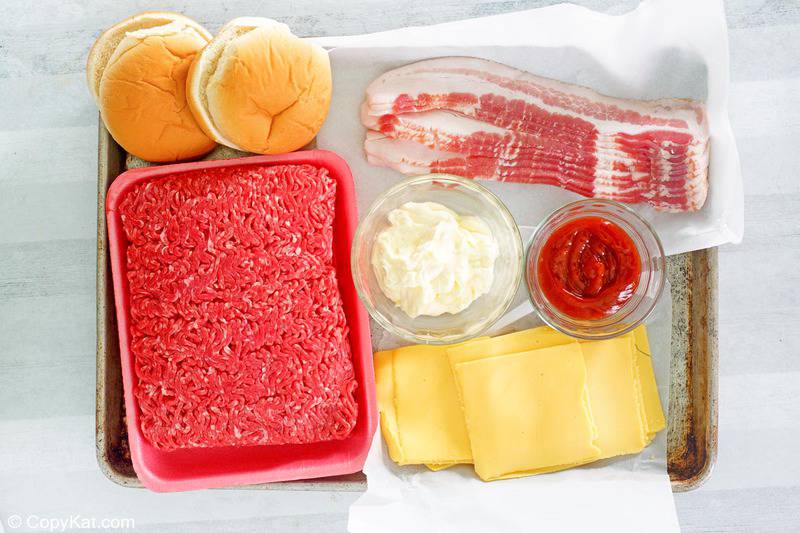 The Best Bacon to Use
This burger is all about bacon and there's plenty of bacon on this burger — three slices, to be exact.
You can use your favorite type, but if you want the most on-point recreation, it has to be applewood smoked bacon. Applewood smoked bacon spent a good bit of time over smoldering apple tree wood chips.
Smoking over applewood chips imparts bacon with a distinctly different flavor than that of other hardwoods. Applewood smoked bacon has a sweetness and a mild smokiness that most people love. Of course, you may prefer something with a little less subtlety, and in that case, you may want to choose mesquite-smoked bacon.
Since this burger is all about the bacon, it's nice to break out the good stuff. Uncured and particularly thick-cut varieties work well on Wendy's Baconator.
Brown sugar or maple glazed adds a bit of sweetness that the burger is otherwise missing. 
Once you choose your bacon, it's time to cook it. And for this recipe, the best method is in the oven.
Place a wire baking rack on a rimmed cooking tray and lay the bacon on top.
Place it in a cold, yes, cold oven, and set it to 425 degrees Fahrenheit.
Once the oven reaches temperature, cook for about 12 to 15 minutes, depending on how crispy you like your bacon.
What Beef Should I Use?
With so much emphasis on bacon, don't forget this is still a great burger, and a juicy beef burger starts with the right beef blend. When choosing ground beef for your burger, you need to consider the fat content and the cut of meat.
Beef chuck gives you the right meaty taste and texture for this recipe. Don't use ground beef that is too lean, or you will wind up with dry burgers that fall apart. Your best option is to go with 80/20 ground chuck.
Using an 80/20 blend, meaning 80 percent lean beef and 20 percent fat, is perfect for this recipe. Please don't buy anything leaner than that unless you like dry burgers. If you plan on grilling the beef patties, you can even go for 70/30 blends since the higher temperatures of the grill will quickly dry out leaner beef mixtures.
For a robust and beefy taste, use either chuck or round cuts. If you want to get a bit fancy, and your local supermarket has a friendly butcher, try asking for a ground beef mixture of about a third of short ribs and two-thirds chuck. Mixing in the short ribs adds an incredible amount of "beefiness" that just isn't there with typical prepackaged ground beef.
Remember, the patties will shrink once cooked; make them bigger than the buns you are using. Although you don't have to make square burgers like Wendy's, if you do, use a rimmed baking pan to help form them by lightly greasing the largest rimmed baking sheet you own. Wet your hands and spread the ground beef in the pan. Use a plastic spatula to cut out the square patties.
The Best Buns to Use
Don't skimp on the buns. Hearty kaiser rolls are much better than those cheap, squishy hamburger buns in this Baconator recipe.
How to Make Wendy's Baconator
If you wonder "how do you make a baconator?", here are the recipe steps:
Cook the bacon until crispy using your favorite method. To bake bacon in the oven, preheat the oven to 400 degrees and bake for about 15 minutes on the middle tray on a metal rack set inside a rimmed baking tray.
Drain the bacon and cut each slice in half.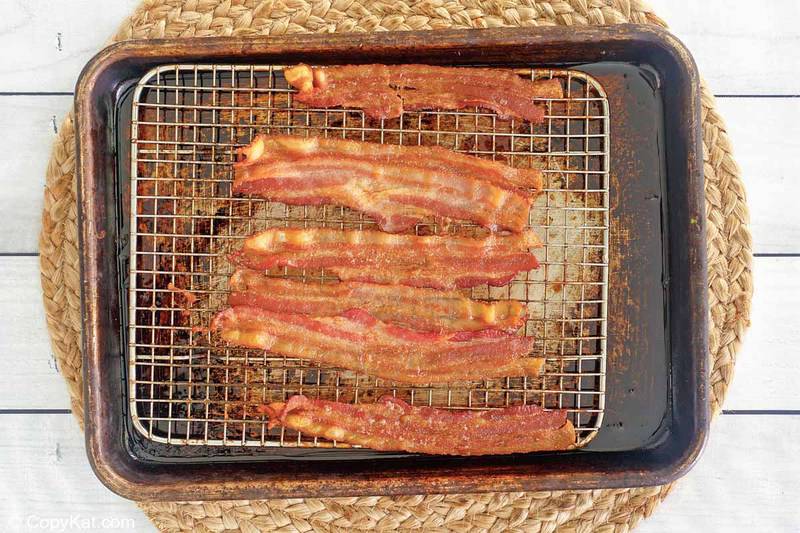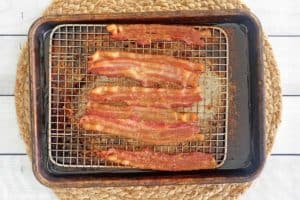 Divide the ground beef into eight portions.
Wet your hands and form patties just slightly wider than the buns you are using to allow for shrinking during the cooking process. Although Wendy's burgers are famously square, feel free to make round patties if it is easier for you. 
Put the patties on a parchment or plastic-lined baking sheet, cover them with plastic wrap, and stick them in the fridge for at least 15 minutes.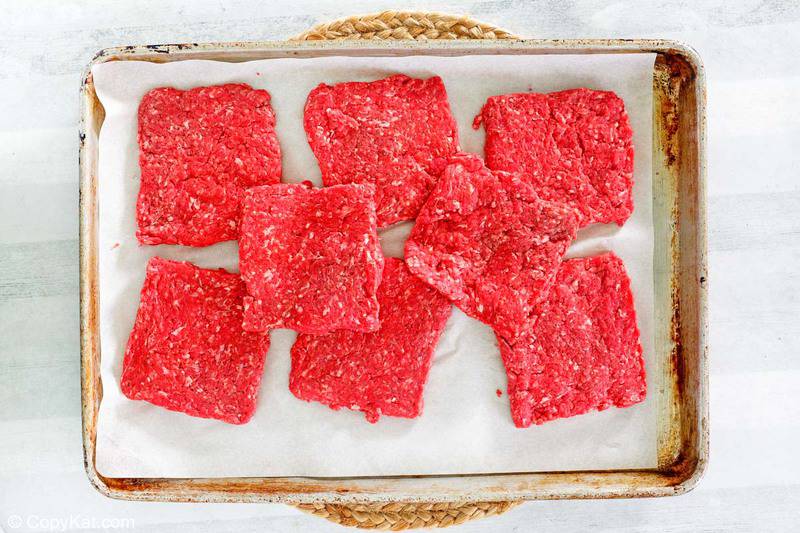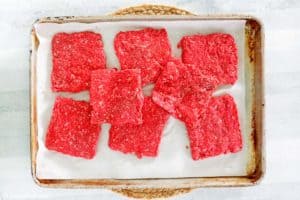 Meanwhile, heat a skillet over medium-high heat. For the best results, use a cast-iron or other heavy-bottomed pan to help maintain the temperature while cooking.
Remove the patties from the fridge and sprinkle a good pinch of salt on both sides.
Add the butter or oil to the pan, swirl to coat, and cook the burgers in batches. It should take about four minutes on the first side and three to four minutes on the second side for each patty to cook through. Remember, it is safer to eat well-done burgers.
Toast the buns in the same skillet you used to cook the burgers to soak up some of the extra juice and flavor from the meat.
Assemble the burgers so when finished it is in this order from top to bottom:

Place the bottom bun on a plate.
Layer the warm patty, a slice of cheese, and three half-strips of bacon on top of the bottom bun. The heat of the burger should gently melt the cheese.
Repeat Step 2.
Add a little ketchup and mayonnaise, and cover with the top bun.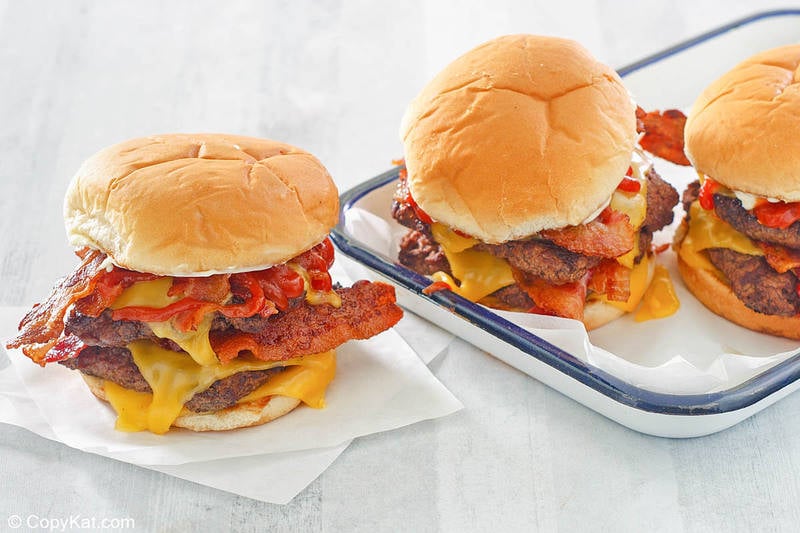 Tips for Making Wendy's Baconator
Make it a Triple Baconator. Is the regular Baconator just not big enough for you? Make it a triple by adding another layer of cheese, bacon, and beef. Or make it a Son of the Baconator using just one layer of cheese, bacon, and beef.
Customize the Baconator. Add anything you like to the burger. Change the cheese to asiago, muenster, or even blue cheese crumbles. Spice it up with a few jalapeño slices or cool things down with creamy avocado.
What's the Difference Between a Baconator and the Son of a Baconator?
What is On a Son of Baconator?
The Son of a Baconator has the same ingredients as a Baconator but uses smaller beef patties.
Is the Son of a Baconator Smaller Than a Baconator?
Yes, the Son of a Baconator is smaller than the Baconator. According to Wendy's menu, the Baconator has 960 calories while the Son of a Baconator has 630 calories.
What's the Difference Between a Baconator and a Double Baconator?
The Baconator and the Double Baconator are two different names for the same burger. When the Baconator came out in 2007, the menu item's name was simply the 'Baconator'.
But since the burger has two patties and two slices of American cheese, some folks refer to it as the Double Baconator. There is no Double Baconator on the official Wendy's menu.
Does Wendy's Still Have the Baconator?
Yes, Wendy's still sells the Baconator and the Son of a Baconator. You can even order the Breakfast Baconator sandwich if you like a fried egg on your burger.
Other members of the Baconator family, like the Spicy Baconator and the Baconator Single, are no longer offered by most franchises.  What is on the menu right now, is the Baconator Fries!
How Can You Store Leftover Hamburgers?
After forming the patties, you can keep them wrapped in plastic for about a day in the fridge. But the patties last much longer in the freezer. To freeze raw patties:
Lay the patties with at least an inch of space between them on a parchment-lined baking tray and freeze uncovered for two hours.
Remove the tray from the freezer and use kitchen shears to cut the parchment paper between the patties.
Stack the patties to ensure that there is parchment paper between them. Pop the stack of patties into a freezer bag and keep them in the freezer for up to four months
Love Wendy's? Try these copycat recipes!
Popular Burger Recipes
Check out more of my easy burger recipes and the best fast food recipes here on CopyKat!
See what we are up to on Facebook!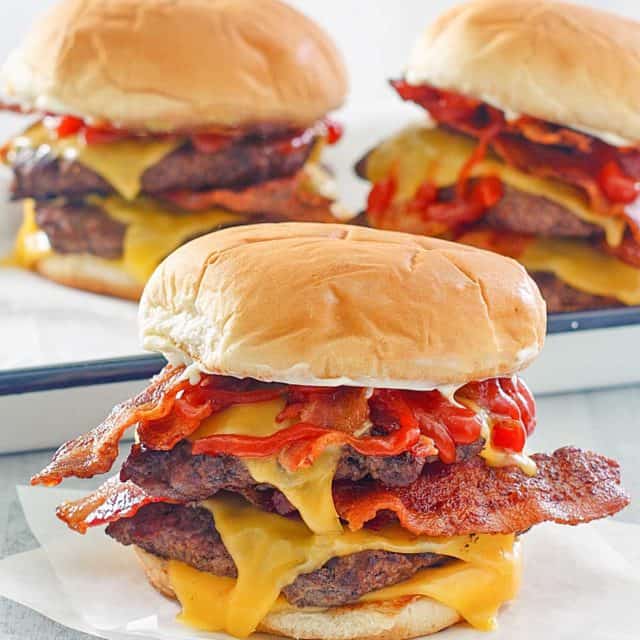 Wendy's Baconator
Wendy's Baconator is a perfect burger for bacon lovers! Two ground beef patties, cheese, and six pieces of crispy bacon are stacked between toasted buns with mayo and ketchup. You can make it at home with this easy copycat recipe.
Print
Pin
Rate
Add to Collection
Go to Collections
Ingredients
2

pounds

ground chuck

1

teaspoon

salt

12

slices

American cheese

12

slices

Bacon

4

hamburger buns

1/4

cup

mayonnaise

1/4

cup

ketchup
Instructions
Bacon
Place bacon on a baking sheet that has a wire rack on it. Bake at 425 degrees for about 12 to 15 minutes or until bacon is crisp.
Burgers
Divide into 8 portions. Gently shape each piece into squares. Grill burgers on either on a stainless grill, or cook them in a stainless steel skillet. Season burgers with salt as you cook them
Buns
Spread a little butter on the buns and toast them on the stainless steel griddle or toast under a broiler.
Building the burger
Place in the following order:

Top bun

Mayonnaise

Ketchup

Bacon

Cheese

Burger Patty

Bacon

Cheese

Burger Patty

Cheese

Bottom Bun
Nutrition
Calories:
1317
kcal
|
Carbohydrates:
29
g
|
Protein:
63
g
|
Fat:
104
g
|
Saturated Fat:
40
g
|
Trans Fat:
4
g
|
Cholesterol:
273
mg
|
Sodium:
2663
mg
|
Potassium:
931
mg
|
Fiber:
1
g
|
Sugar:
8
g
|
Vitamin A:
706
IU
|
Vitamin C:
1
mg
|
Calcium:
781
mg
|
Iron:
7
mg