Wendy's baconator fries are delicious! Get the easy copycat recipe for Wendy's Baconator Fries. These delicious French fries are covered in bacon and cheese. Learn how to make the best Baconator Fries today!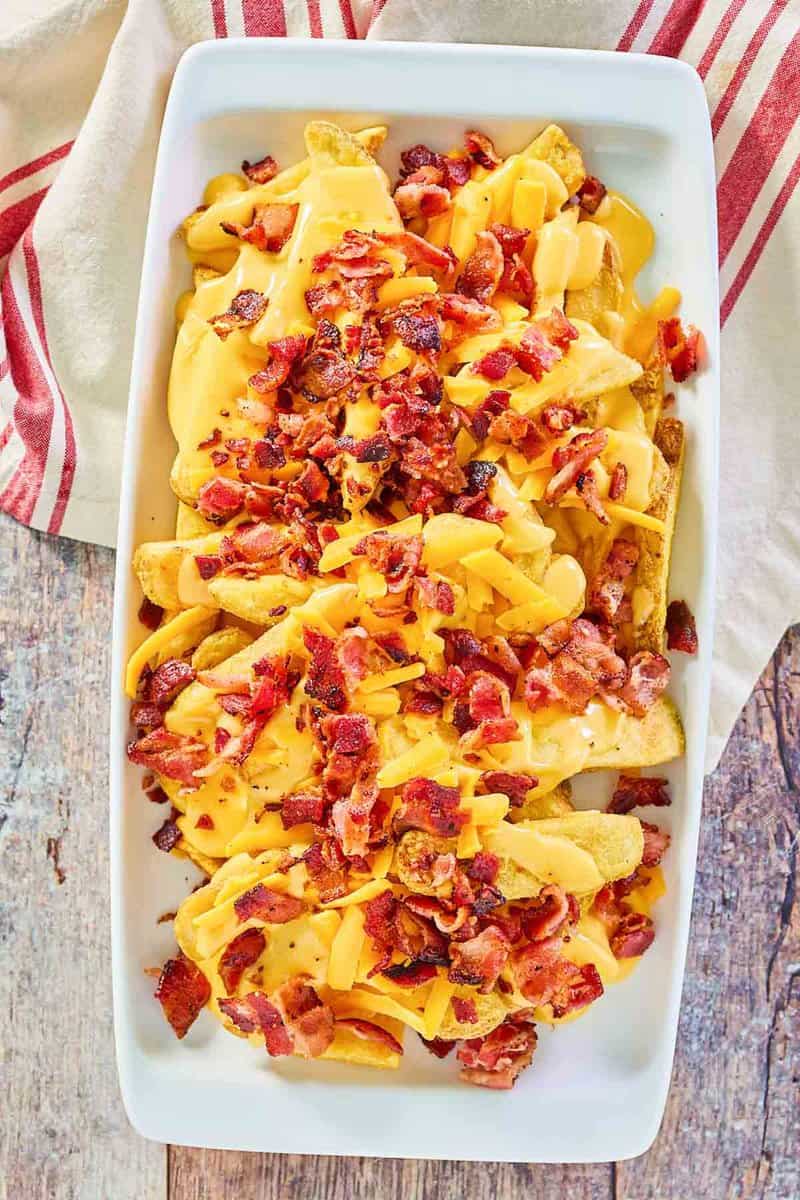 This post contains affiliate links. As an Amazon Associate, I earn from qualifying purchases.
What Comes on Baconator Fries?
So what are Baconator Fries, you ask? They start with crispy, thin-cut, skin-on natural-cut fries seasoned with just a touch of sea salt. That's good, but things only get better.
Next comes a rich and creamy cheese sauce made from two different types of cheese.
Great! But wait. The pièce de résistance is the glorious crumbled crispy applewood-smoked bacon on top.
Why You Should Try This Recipe
Easy. It's the bacon, silly. Just like Wendy's Baconator burgers are the ultimate choice for bacon lovers, you can't beat Wendy's Baconator Fries when you always have bacon on the brain.
So what are you waiting for? Make a big batch of Baconator Fries and be prepared to blow your cheese and bacon-loving mind! They are the best cheesy bacon fries!
Ingredients For Baconator Fries From Wendy's
To make this recipe, you'll need:
Bacon
Frozen french fries
Cheese sauce (see below)
To prepare the cheese sauce, you'll need:
American cheese
Cheddar cheese
Whole milk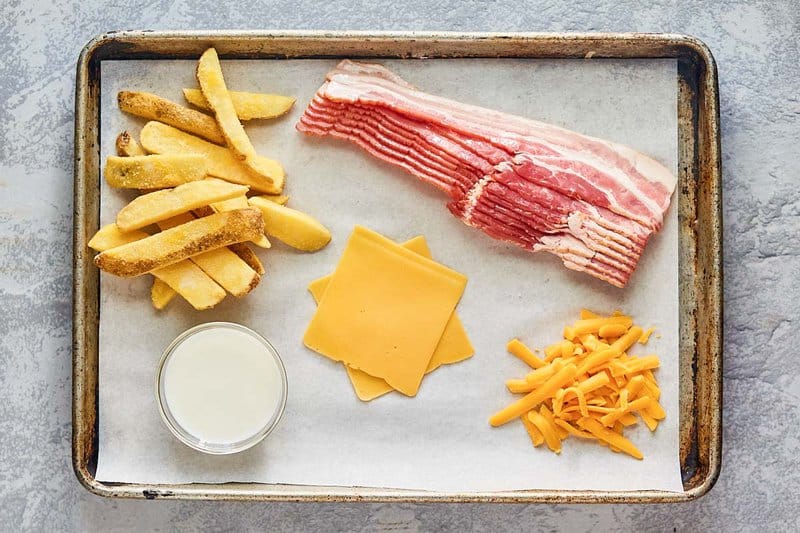 Ingredient Notes
Applewood smoked bacon is the type of bacon Wendy's uses in their Baconator Fries, but feel free to use your favorite.
Use your favorite brand of frozen french fries, but if you want to replicate the ones Wendy's serves, go with thin, skin-on fries like Alexia House Cut Fries with Sea Salt or Ore-Ida Country Style French Fries.
Buy the cheese in blocks and shred it yourself. Not only will you save some money, but your sauce will be smoother since many pre-shredded brands add ant-clumping agents to their products, affecting how the cheese melts. If you find the cheese sticks to the box grater, try spraying the inside and outside of the grater with vegetable oil spray.
How To Make Baconator Fries
To prepare the cheese sauce:
Place a small saucepan over low heat on the stovetop.
Pour the milk into the saucepan along with all the shredded American cheese and half the shredded cheddar cheese.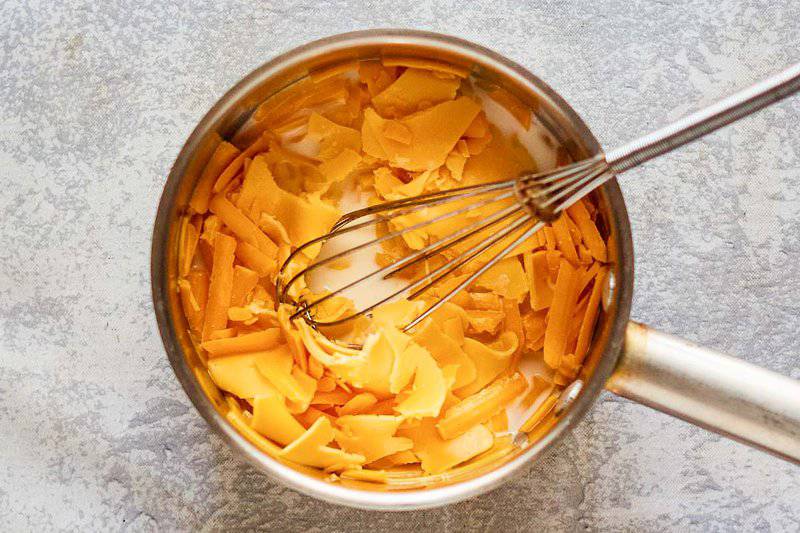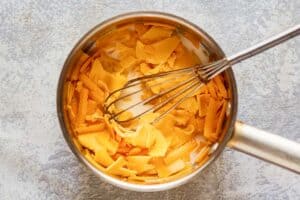 Stir the sauce with a whisk or silicone spatula just until the cheese melts.
Remove the saucepan from the heat and continue to stir until the sauce reaches a smooth consistency.
To cook the french fries:
Prepare the french fries according to the directions on the package.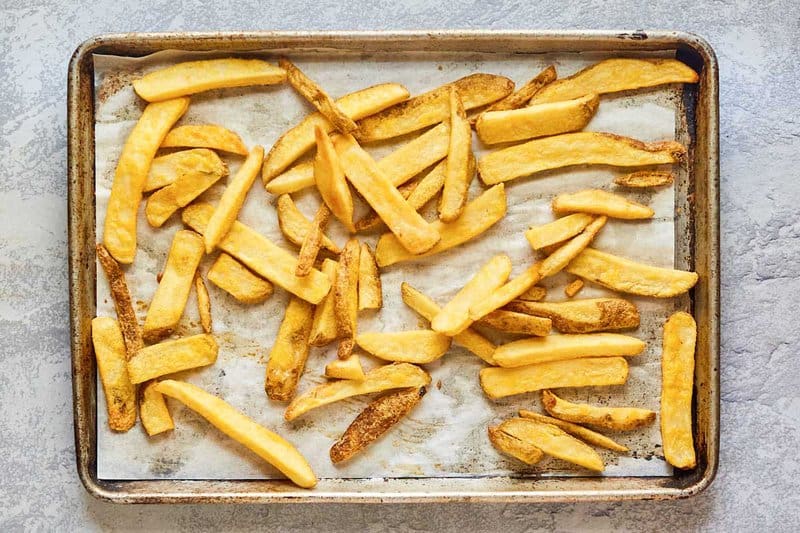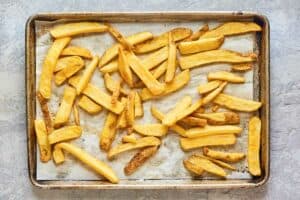 To cook the bacon:
Prepare the bacon using your favorite method. Try baking bacon in the oven for a fool-proof method that gets rid of some fat and makes the bacon extra crispy.
Chop the cooled bacon into pieces small pieces.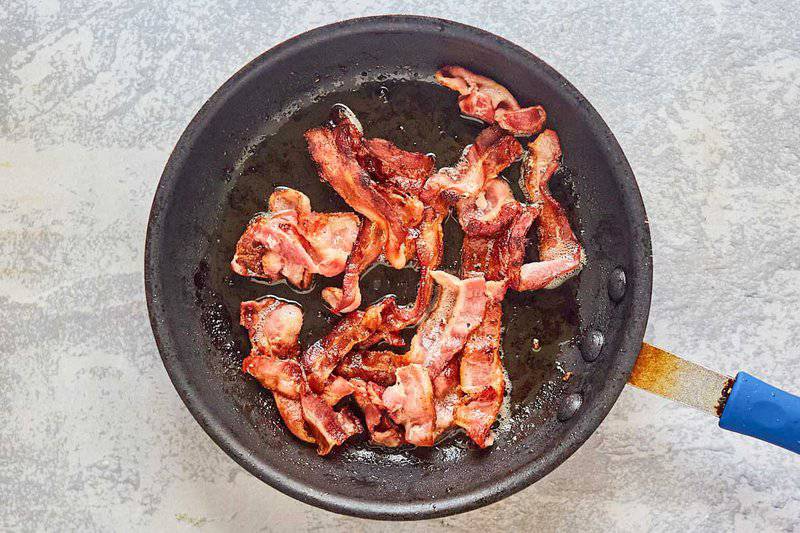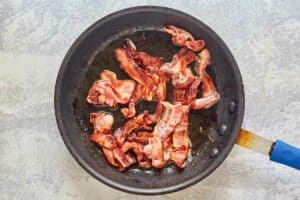 To assemble Wendy's Baconator Fries:
Lay the french fries in a thin layer on an oversized plate.
Warm the cheddar cheese sauce over low heat while stirring, then pour the sauce over the fries.
Sprinkle with the chopped bacon.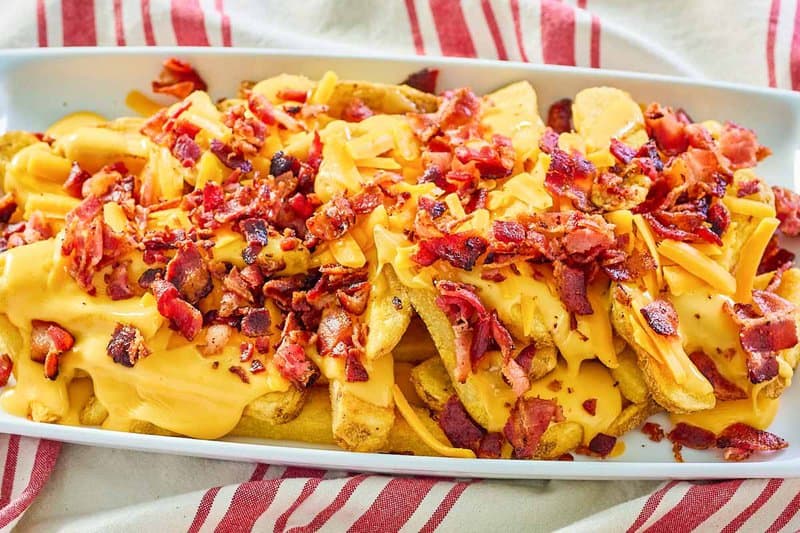 What To Serve Them With
Baconator Fries are perfect as a side dish for traditional fast food like burgers and hot dogs. But they also make a good snack while watching TV or sharing beers with your buddies.
How To Store the Leftovers
Although Baconator Fries do not store well, you can keep leftovers in an airtight container for a day or two. You should definitely eat them as soon as possible, and they won't have the same flavor and texture as when fresh.
Best Way to Reheat Wendy's Baconator Fries
An air fryer may be your go-to method for reheating french fries, but the cheese in this recipe can cause a real mess. Your best bet is using the oven:
Preheat the oven to 350°F.
Take the leftover fries out of the oven to come up to room temperature.
Spray a baking tray with cooking oil.
Lay the fries on the tray and bake for 8 to 10 minutes or until the fries are hot.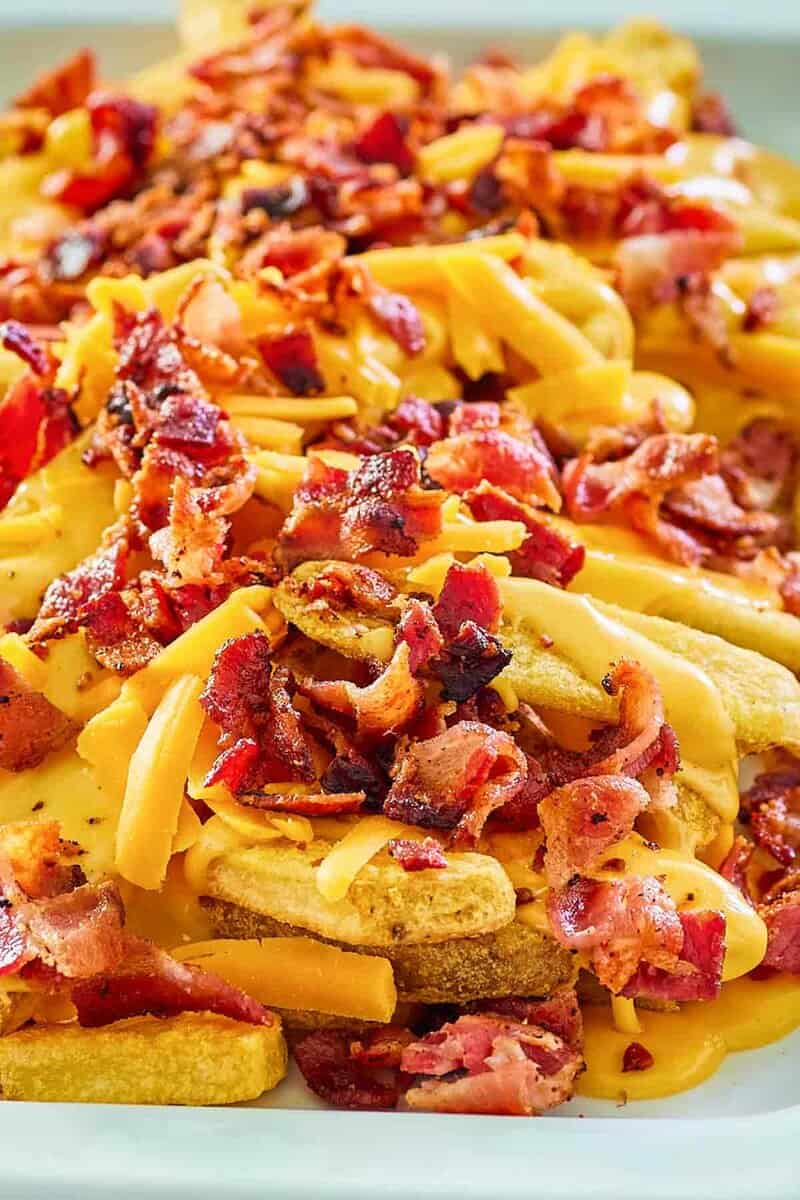 Favorite Wendy's Copycat Recipes
Popular Fast Food Recipes
Check out more of my easy side dish recipes and the best copycat fast food recipes on CopyKat!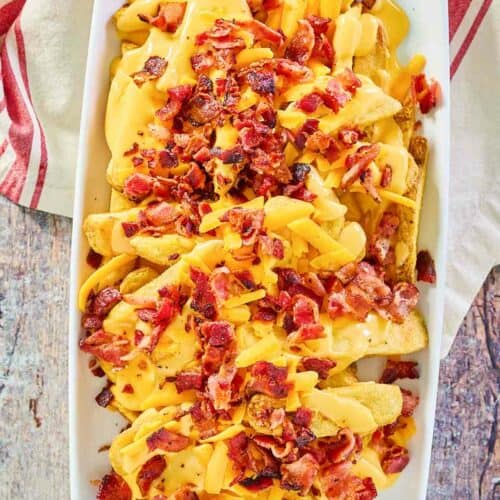 Ingredients
8

slices

applewood bacon

6

ounces

American cheese

4

tablespoons

cheddar cheese

divided use

2

tablespoons

milk

8

ounces

frozen french fries

I recommend Alexia® House Cut Fries with Sea Salt or Ore-Ida® Extra Crispy Fast Food Fries
Instructions
Cook the bacon until crisp in a skillet over medium heat or in an air fryer for 6 to 8 minutes at 350°F. Drain the bacon and chop it into small pieces.

To make the cheese sauce, heat the American cheese, 2 tablespoons of the cheddar cheese, and the milk in a small saucepan over low heat, stirring constantly until the cheese melts.

To prepare the french fries, you can either deep-fry them in oil or air-fry them.

In oil: In a large Dutch oven, add vegetable oil until it is 4 inches deep. Heat the oil to 350°F. Cook the frozen french fries for about 4 to 5 minutes or until they are crisp. Drain on a wire rack.

In an air fryer: Heat the air fryer to 350°F. Place the frozen french fries in a single layer in the air fryer and cook for 14 to 16 minutes or until they are crisp.

To assemble the Baconator Fries, place the french fries on a plate. Cover them with cheese sauce, and sprinkle the remaining cheddar cheese and the chopped bacon on top.
Notes
I recommend Alexia® House Cut Fries with Sea Salt (they have skins on them like Wendy's) or Ore-Ida® Potatoes – Extra Crispy Fast Food Fries® if you want to air fry your fries.
Nutrition
Calories:
554
kcal
|
Carbohydrates:
20
g
|
Protein:
19
g
|
Fat:
45
g
|
Saturated Fat:
19
g
|
Polyunsaturated Fat:
4
g
|
Monounsaturated Fat:
17
g
|
Trans Fat:
1
g
|
Cholesterol:
87
mg
|
Sodium:
1381
mg
|
Potassium:
410
mg
|
Fiber:
3
g
|
Sugar:
1
g
|
Vitamin A:
581
IU
|
Vitamin C:
4
mg
|
Calcium:
567
mg
|
Iron:
1
mg