Hot dogs made in the air fryer are a game changer. You will soon be on your way to making the perfect hot dog; imagine crispy hot dogs, juicy hot dogs, on a toasted bun. Never mind that; make this recipe, and unlock the secret to making the best hot dogs.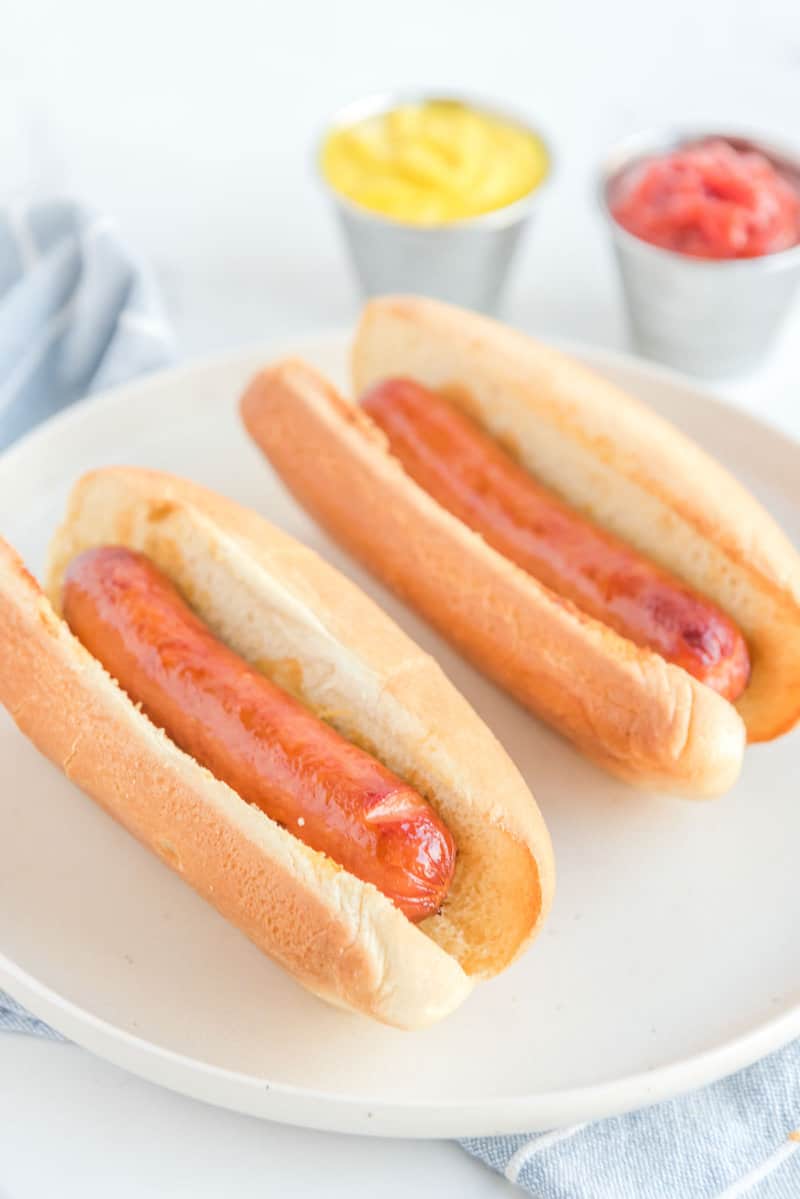 This post contains affiliate links. As an Amazon Associate, I earn from qualifying purchases.
Why You Should Try Air-fried Hot Dogs
Do you want a quick and delicious meal for the whole family? Top these with your favorite toppings and favorite condiments, and you will soon be on your way to the most delicious hot dogs ever. Do you love those grilled hot dogs? Learn the ultimate way, with this easy air fryer recipe.
Why You Should Try This Recipe
This is an easy way to make flavorful hot dogs. To be honest, once this method was tried in my house, we never went back to boiling, baking, or microwaving them. Best of all, there's no need to fire up the grill for a cookout when you can make tasty hot dogs in your air fryer.
Ingredients
Here's all you need to make the best air fryer hot dogs:
Hot Dogs – pick your favorite brand of hot dog. We enjoy beef hot dogs the best, so brands like Nathan's, Hebrew National, or whatever Costco is carrying is what we buy.
Hot Dog Buns – your standard hot dog bun is fine, but if you can find pretzel hot dog buns, you will thank me later.
You can also make air fryer hot dogs with cheese. See the recipe card below for instructions.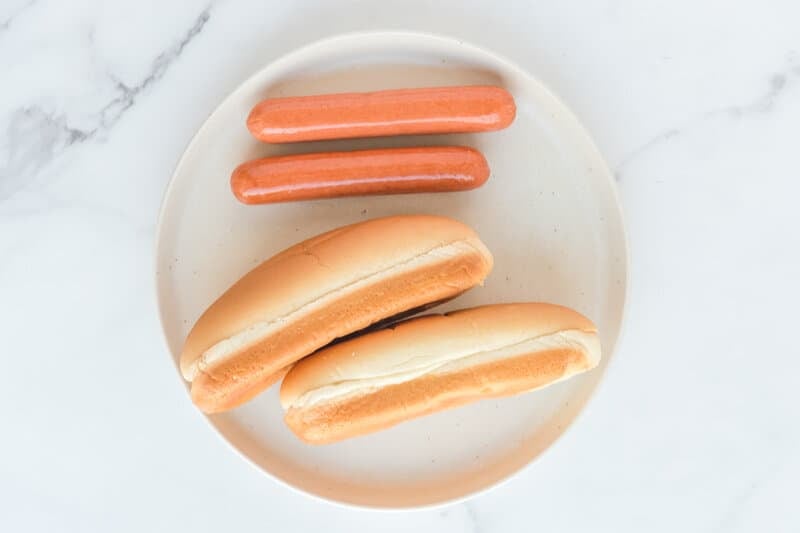 How to Air Fry Hot Dogs and Buns
I like my Phillips Air fryer. I turn up the heat to 390 degrees Fahrenheit. I pop a couple of hot dogs into the preheated air fryer right on the air fryer basket in a single layer and cook them for about 5 to 6 minutes. You should start to see crispy skin at this point.
I like to pull the hot dogs out of the cooker, place them into the hot dog buns, and cook them for 1 to 2 minutes more. This makes the outside of the hot dog bun crispy. Who doesn't love a crispy bun? And if you add a bit of cheese when you pop them back into the air fryer, the cheese melts perfectly.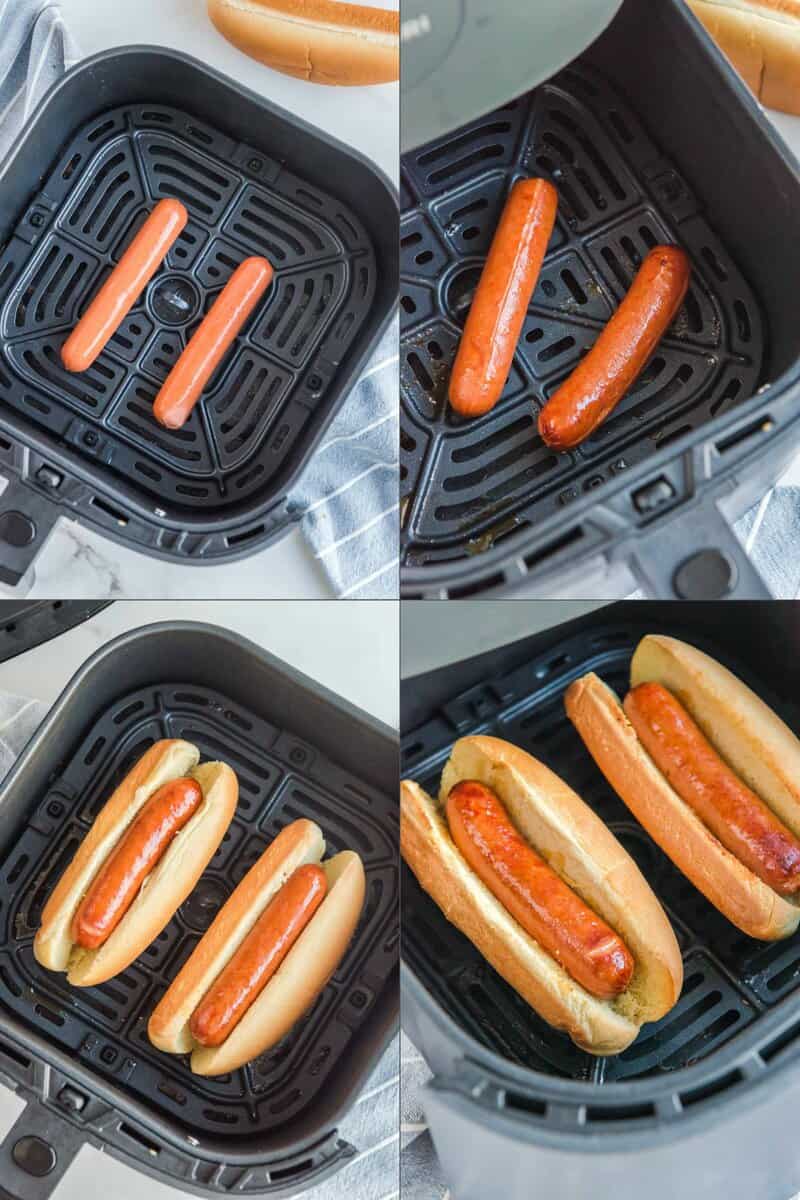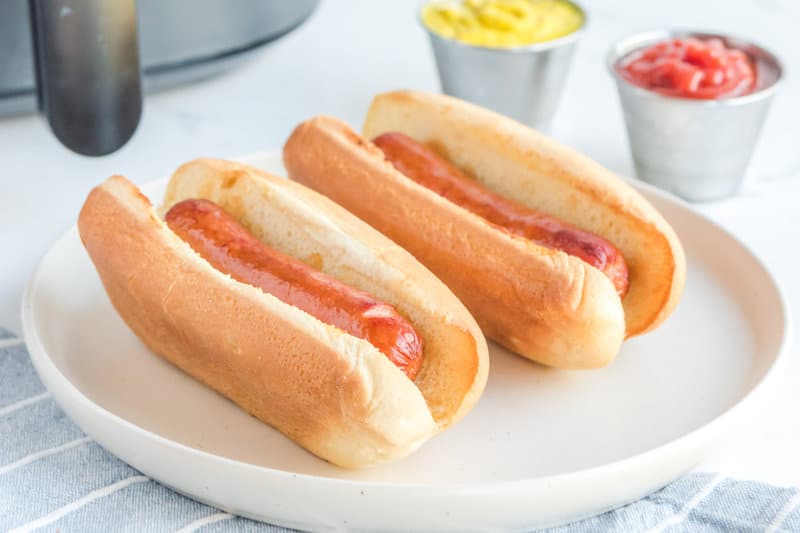 Recommendations on Hot Dog Buns
There is an endless variety of hot dog buns you can use for this air fryer hot dogs recipe. Here are some recommendations on what type of hot dog buns you may want to try.
Hot dog buns are a type of bread specifically designed to hold hot dogs or sausages. While the classic hot dog bun is a long, soft, and slightly sweet bun with a split down the middle, there are many variations in size, shape, and texture.
Here are some different types of hot dog buns you may come across:
Classic buns: As mentioned, classic hot dog buns are soft, slightly sweet, and often made with enriched wheat flour, which gives them their distinctive taste and texture.
New England-style buns: These are similar to classic hot dog buns but are rectangular and have flat sides instead of rounded ones. They are commonly used for lobster rolls in the Northeastern United States.
Steamed buns: Also known as Chinese bao buns, steamed hot dog buns are typically made with a mixture of wheat and rice flour and are often used for Asian-inspired hot dogs, such as ones topped with pickled vegetables or kimchi.
Pretzel buns: Pretzel buns have a chewy texture and a slightly salty, crusty exterior. They are a popular alternative to classic hot dog buns and are often used for gourmet or artisanal hot dogs.
Sourdough buns: Sourdough hot dog buns are made with sourdough starter, which gives them a tangy flavor and a slightly denser texture than classic hot dog buns.
Gluten-free buns: Gluten-free hot dog buns are made with alternative flours, such as rice, potato, or almond flour, to accommodate those with gluten sensitivities or celiac disease.
Wheat buns: I do not recommend placing these into an air fryer; they will dry out. This is because wheat buns contain more fiber and protein than white buns.
Overall, the type of hot dog bun you choose can significantly impact the overall taste and texture of your hot dog or sausage, and there are many options to suit different dietary needs and flavor preferences.
What can you serve with hot dogs?
These hot dogs can make a meal on their own, but here are a few suggestions:
Potato Salad: A classic side dish that's perfect for summer barbecues.
Baked Beans: A sweet and savory side dish that adds a hearty touch to your hot dog meal.
Corn on the Cob: Grilled or boiled, this sweet and juicy veggie is an excellent complement to hot dogs.
Coleslaw: A tangy, creamy side dish that adds a refreshing crunch to your hot dog meal.
French Fries: Regular, crinkle-cut, or waffle fries are a classic pairing with hot dogs.
Broccoli Pasta Salad: A cold pasta dish packed with veggies and dressing is a great side dish for hot dogs.
Potato Chips: From plain to flavored, they're a quick and easy side for hot dogs.
Tortilla Chips and Salsa: A crunchy and spicy snack perfect for dipping or topping your hot dog.
Watermelon: A sweet and juicy fruit perfect for a hot summer day.
Spicy Macaroni and Cheese: A creamy and cheesy pasta dish perfect for satisfying your comfort food cravings.
Fruit Salad: A sweet and refreshing dish perfect for a light and healthy side.
Pickles: A tangy and crunchy snack perfect for munching on between bites of a hot dog.
Whether you're grilling for a crowd or just looking for something quick and easy, these side dishes are sure to be a hit!
How Air Fryers Work
You might wonder How Air Fryers work. Your current toaster oven may already have an air fryer function built in.
This kitchen appliance works by circulating super-hot air in a small space. In the case of hot dogs, very hot air is circulated through the cooking area. This works for cooking the hot dog on the outside quickly. The excess fat will drip away from the hot dog. You may want to cook up a few tater tots along with the hot dogs.
My favorite air fryer is my Phillips Air Fryer. There are many different brands, but I have tried the Phillips and the Black and Decker versions, and for me, the Phillips brand circulated the air better and made for a better-finished product. My results with the Phillips tended to be crispier and it cooked at a higher temperature.
You can extend the use of your air fryer by cooking all sorts of things with it. I have made roasted corn in my air fryer. I have also enjoyed bacon-wrapped jalapeno poppers in the air fryer. Check out all my air fryer recipes.
10 Unforgetable Hot Dog Toppings Combinations You Must Try!
Here are many great options for you to try with his easy hot dog recipe. I know that you will find that the air fryer method is the way to make a perfectly cooked hot dog.
Classic Ketchup and Mustard: Never underestimate the power of the classic combination. A timeless classic for a reason!
Caramelized Onions: Slow-cook sliced onions in butter until they're golden and sweet, then heap them on top of your hot dog.
The New Yorker: Try this with Sabrett Onions
Swiss cheese, mustard, and sauerkraut: Fermented cabbage adds a tangy, slightly sour flavor to your hot dog.
Chili cheese dogs: Warm, meaty chili makes a delicious topping for hot dogs, especially when topped with a handful of shredded cheddar cheese.
Cheese: Shredded cheddar, Swiss, or American cheese can all be melted over a hot dog to create a delicious and gooey topping.
Guacamole: Rich and creamy guacamole makes a delicious topping for hot dogs, especially when combined with a squeeze of fresh lime juice.
Salsa: Fresh salsa adds flavor and a little heat to your hot dog.
Coleslaw: Sweet and tangy coleslaw is a classic topping for hot dogs, especially in summer. Try my KFC coleslaw.
BBQ Sauce, dill pickle relish, and chopped onion: Tangy and sweet, a drizzle of BBQ sauce can add some serious flavor to your hot dog.
More Favorite and Easy Air Fryer Recipes
Get the best recipes for restaurant appetizers and restaurant side dishes.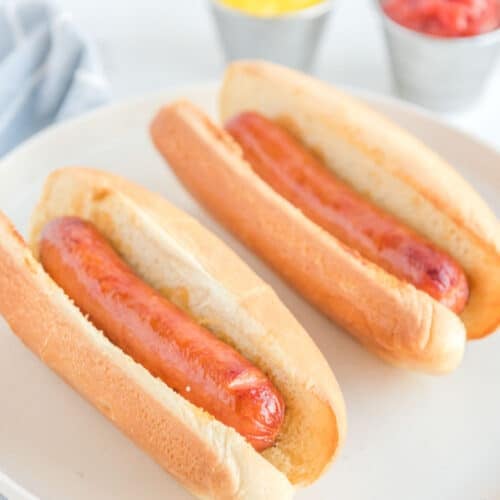 Ingredients
2

hot dogs

2

hot dog buns

2

tablespoons

grated cheese

if desired
Instructions
Preheat the air fryer to 390°F for about 4 minutes.

Place two hot dogs into the air fryer and cook for about 5 minutes. Remove the hot dogs from the air fryer.

Place each hot dog in a bun and add cheese if desired.

Return the dressed hot dogs to the air fryer and cook for an additional 2 minutes.
Nutrition
Calories:
289
kcal
|
Carbohydrates:
29
g
|
Protein:
12
g
|
Fat:
13
g
|
Saturated Fat:
5
g
|
Cholesterol:
36
mg
|
Sodium:
613
mg
|
Potassium:
119
mg
|
Fiber:
0
g
|
Sugar:
2
g
|
Vitamin A:
150
IU
|
Vitamin C:
0.6
mg
|
Calcium:
193
mg
|
Iron:
2.6
mg