Air Fryer Hot Dogs are a new dish that I have made in my air fryer. I know if you have an air fryer, or perhaps if you want to get one, you may wonder what else can you cook in your air fryer.
This post contains affiliate links. As an Amazon Associate, I earn from qualifying purchases.
Hot dogs, and yes, you can make air fryer hot dogs. Do you love hot dogs that are grilled? These hot dogs when cooked in your air fryer take about 8 minutes and they are cooked equally all the way around the hot dog. Enjoying the hot dogs cooked in your air fryer is quick and easy.
I like my Phillips Air fryer. I turn up the heat to 390 degrees. I pop a couple of hot dogs into the air fryer and cook them for about 5 to 6 minutes.
I like to then pull the hot dogs out of the cooker, and then place them into the hot dog buns and then cook them for 1 to 2 minutes more. This makes the outside of the hot dog bun crispy. And if you add a bit of cheese when you pop them back into the air fryer the cheese melts perfectly.
You can extend the use of your air fryer by cooking all sorts of things in there. I have made roasted corn in my air fryer. I have also enjoyed bacon-wrapped jalapeno poppers in the air fryer. Check out all my air fryer recipes.
You might wonder How Air Fryers Work.
This kitchen appliance works by circulating super-hot air in a small space. In the case of the hot dogs, the very hot air is circulated quickly through the cooking area. This works quickly to cook the hot dog on the outside. The excess fat will drip away from the hot dog. You may want to cook up a few tater tots along with the hot dogs.
My favorite air fryer is my Phillips Air Fryer. There are many different brands, but I have tried the Phillips and the Black and Decker version, and for me, the Phillips brand circulated the air better and made for a better-finished product. My results with the Phillips tended to be crispier and it cooked at a higher temperature.
Hot Dog Toppings
Here are some great toppings for hot dogs:
Popular Air Fryer Recipes
Get the best recipes for restaurant appetizers and restaurant side dishes.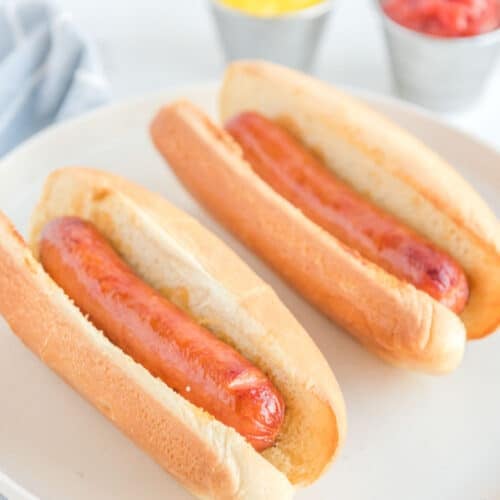 Ingredients
2

hot dogs

2

hot dog buns

2

tablespoons

grated cheese

if desired
Instructions
Preheat the air fryer to 390°F for about 4 minutes.

Place two hot dogs into the air fryer and cook for about 5 minutes. Remove the hot dogs from the air fryer.

Place each hot dog in a bun and add cheese if desired.

Return the dressed hot dog to the air fryer and cook for an additional 2 minutes.
Nutrition
Calories:
289
kcal
|
Carbohydrates:
29
g
|
Protein:
12
g
|
Fat:
13
g
|
Saturated Fat:
5
g
|
Cholesterol:
36
mg
|
Sodium:
613
mg
|
Potassium:
119
mg
|
Fiber:
0
g
|
Sugar:
2
g
|
Vitamin A:
150
IU
|
Vitamin C:
0.6
mg
|
Calcium:
193
mg
|
Iron:
2.6
mg